Monday Night Football gave us a doubleheader in which running backs were the story of the night. Both the San Francisco 49ers and Pittsburgh Steelers had running backs returning from injury, complicating their rotations. To add to that, Washington running back Antonio Gibson left with a toe injury, making life difficult for the Football Team offense, and then both Buffalo Bills backs left the second game of the night within the first five minutes.
As always, this collection of fantasy reactions will include snap counts for skill players on each team, along with notes on players who saw their fantasy stocks rise or fall during the action.
Thomas played a huge role in Washington's offense throughout the game. He caught all nine passes thrown his way for 98 yards and a touchdown. His previous single-game career-high was 66 receiving yards. His fourth-quarter touchdown tied the game for Washington.
Thomas' role in the offense was unchanged compared to previous weeks; he was just more successful on his targets. He shouldn't be expected to repeat this performance in future weeks.
McLaurin has been one of the most consistent receivers in fantasyland this season. He gained at least 60 receiving yards in 10 of the first 11 games of the season and reached at least 90 receiving yards in over half of his games.
The Ohio State product put together his worst game of the season tonight. He was targeted six times but gained only 14 yards on two catches in a game where multiple Steelers defensive backs were dealing with injuries. Washington ended up relying much more heavily on their other skill players.
McLaurin has had poor games before and rebounded just fine, so he should still be trusted in the fantasy playoffs.
Gibson left the game early in the first quarter with a toe injury and was quickly ruled doubtful to return. J.D. McKissic took the vast majority of the remaining snaps, with Peyton Barber coming in for some running situations.
Neither back found much success on the ground, with Barber gaining 23 yards on 14 carries while McKissic gained 8 yards on five carries. Barber scored Washington's only touchdown on the ground, but McKissic was more involved with the passing game, catching all 10 passes thrown his way for 70 yards.
The toe injury could potentially leave Gibson out of one or more games. McKissic would be the player to have, as he should continue to see plenty of targets while gaining some of the runs. He's already on rosters in half of leagues but should get picked up in the other half. McKissic was in for two-thirds of the goal line snaps, so he has better odds of scoring than Barber in future games.
Next week's matchup against the 49ers will be tough for any Washington back, but the following two games are ones McKissic can do well in. Barber should also be picked up in deeper leagues.
The Steelers didn't have James Conner for the second straight week, but they did get some good news with Samuels' return. Samuels took 38% of the offensive snaps, with the Steelers mostly using him in passing situations. He didn't make much of an impact, however, as he gained 1 yard on one carry and 11 yards on three catches. The rest of the Steelers backs didn't fare much better.
Benny Snell Jr. gained 5 yards on eight carries and another 5 yards receiving. Anthony McFarland Jr. looked the best of the group, despite playing the fewest snaps, recording 15 yards on four carries.
If Conner is back next week, all three of these backs will go back to single-digit offensive snaps. If not, it wouldn't be surprising if McFarland cut further into Snell's playing time.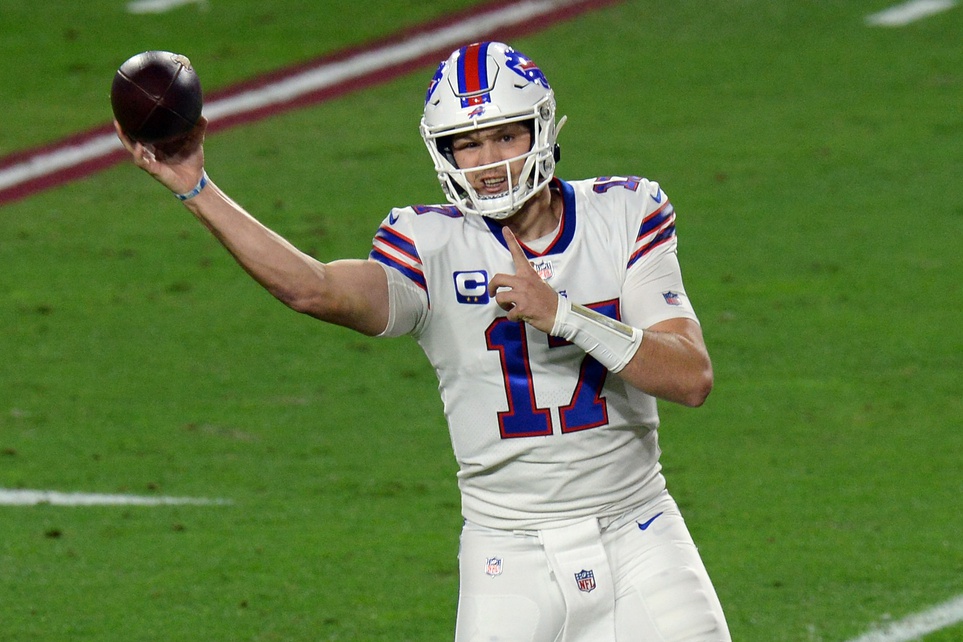 Allen looked great, constantly driving the Bills down the field for scores. The first Buffalo drive made it to the 1-yard line and was lost on downs, while the second drive ended with a Zack Moss fumble. The following six all ended in scores.
Allen threw four touchdowns to four different receivers and completed 32-of-40 passes for 375 yards. Cole Beasley was his favorite target of the day, catching nine passes for 130 yards and a touchdown. Allen likely secured some fantasy managers spots in the fantasy football playoffs tonight.
Moss led the Bills in snaps for most of the middle part of the season, though Devin Singletary started to take the lead back last week against the Chargers. Singletary ran the ball more, caught more passes and was more effective on his touches.
Moss received eight of the 12 snaps on the first drive of tonight's game and then fumbled the ball away on the second drive. Singletary proceeded to take all of the running back snaps for the second and third quarter. Moss only returned to the game in the fourth quarter for two snaps.
Singletary looked okay with 61 yards on 18 carries plus an additional 22 yards on three catches. He will probably be the starter and see the majority of touches next week, but the situation will be fluid.
Raheem Mostert and Jeff Wilson Jr. returned from injury a week ago, while Coleman returned tonight. Mostert took over half of the early-down snaps, with Wilson seeing 40% of them and Coleman playing the rest. Wilson took over as the primary third-down back with eight snaps, while Mostert and Jerick McKinnon each took two.
McKinnon can be cut from fantasy rosters if he hasn't already, as his role is smaller than it's been all season. He didn't receive a carry or target. Coleman lost 11 yards on his two carries. There is a chance they eased him into action, but this game didn't give much reason for hope.
The split between Mostert and Wilson could be here to stay for the rest of the season. Wilson looked the best today, with 47 yards on seven carries. Mostert ran twice more but gained five fewer yards. Two of the following three matchups are favorable for the 49ers running backs, and both backs are borderline RB2s for those games as long as Coleman doesn't see an increased role.