Draft season is in full swing as we count down the days until the NFL regular season begins (43 as I type), and I've spent the last six weeks talking about fantasy football draft-day bargains and value picks. Today we're flipping the script and considering the other side of the equation and looking at players for IDP leagues who fantasy owners need be cautious about.
No need to beat around the bush here, as good as Watt is (hint: he's really f'n good), he's only played eight games and recorded 1.5 sacks in the last two seasons. That's a huge red flag considering his perceived draft-day value, which still considers him a top-three defensive end. Does he deserve to sit that high in the rankings? As the only player to ever record two 20-plus-sack seasons and having averaged 17.5 sacks and 79 total tackles a season over a four-year spell, a healthy Watt for 16 games without question should sit atop the defensive lineman ranks.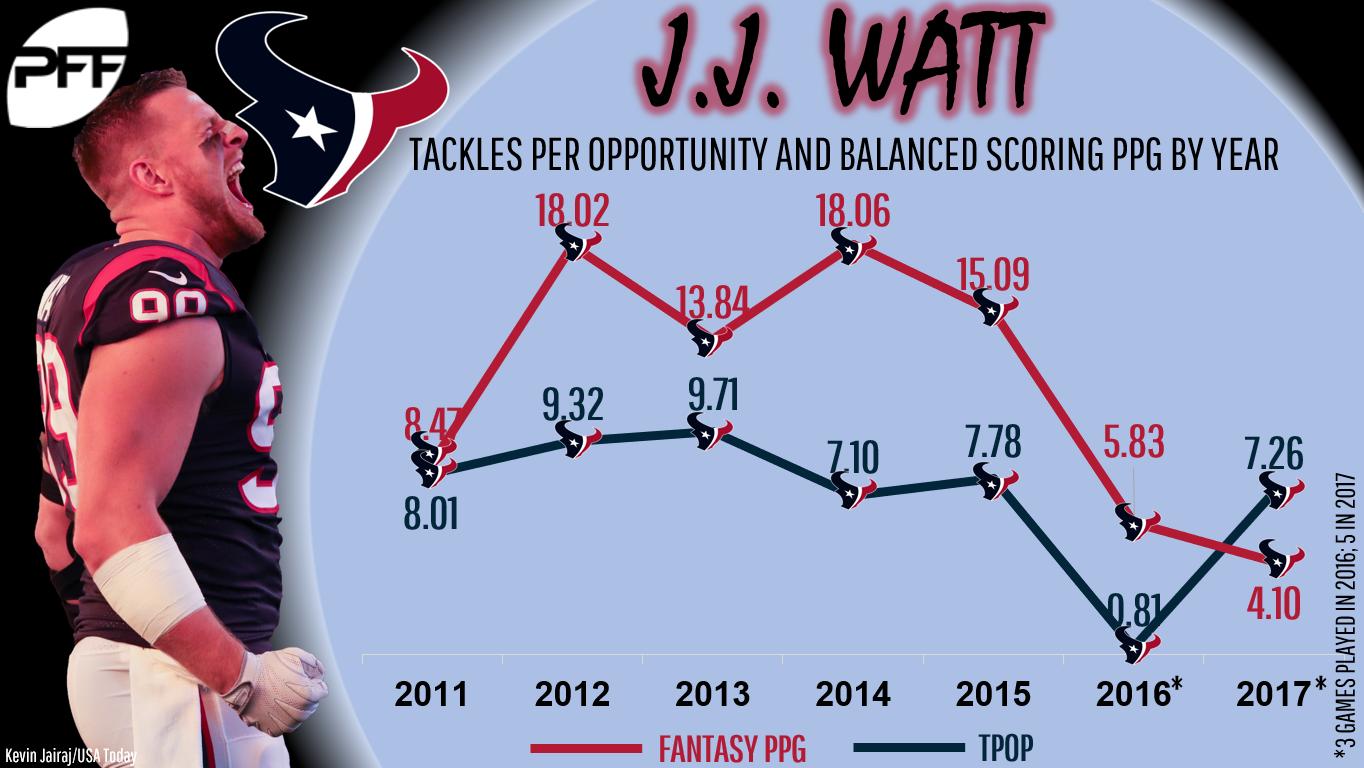 A more pertinent question is whether he is draftable there? My take is no – it's too risky a pick considering the draft capital you'll need to invest to roster him. The alternatives Khalil Mack (not missed a game in four seasons) and Joey Bosa (28 consecutive starts) offer much more dependability on that front and a comparable fantasy output, while slight downgrades Calais Campbell (missed just six games in a 10-year career) and Aaron Donald (missed two games in four seasons due to contract issues) are further examples of elite D-Lineman who can be trusted to suit up on Sunday, which isn't the case for Watt based on recent evidence.
Last year was a resurgence for Davis, having been traded back to the Jets after a one-year stint in Cleveland. Davis found a second life back in the Big Apple. He racked up a league-leading 97 solo tackles last season (135 total) while padding his fantasy stats with five sacks that pushed him firmly into the LB1 tier. Davis then parlayed that bumper season into a huge payday this offseason, earning a three-year, $24 million contract from the Saints, where he is expected to slide into a three-down role as the team's Mike linebacker.
There are three red flags for me here:
It's his third different team in three seasons;
What's his motivation after his bumper payday?;
How sustainable was his stat line, considering he averaged 103 total tackles and 2.25 sacks a season over the previous four years?
2017 marked a 31 percent increase in his tackle output and he doubled his average sack production, so I find it hard to believe he can repeat that performance on a different team in his first season. I'm not against Davis being a solid LB2, but I wouldn't be backing him to be a LB1 this coming season.
One of the breakout players last year, Byard put himself on the fantasy map with a huge three-interception game in Week 7, and then followed it up with a pair of interceptions in Week 8. The second-year pro out of Middle Tennessee State almost doubled his snap count in his second season and impressed the PFF analysts along the way, grading out as their third-best safety in the league. He also garnered further plaudits winning two Defensive Player of the Week awards during the year and ended the season as a top-end DB1. However, 30 percent of his season-long fantasy score came from those Week 7 and 8 interception-fests, and if he scored more in line with his weekly scores those games instead, he'd have fallen to be a middle of the pack DB2 rather than a top-end DB1. Furthermore, on only three occasions did he record more than four total tackles in a game. Compare that to the likes of Reshad Jones (12 games), Landon Collins (nine), and Keanu Neal (10), the elite trio of fantasy safeties, and Byard profiles very differently. He's extremely dependant on his splash plays to make him fantasy-relevant, and while those huge scores will likely propel you to victory when he has them, his mediocre returns for the other 10-12 games over the course of a season make him a suspect DB1 in my book.