Predicting the future is never easy, even with all of the data available to PFF, but that's what we will attempt to do by identifying fantasy football players likely to bust in 2020. Players bust every season, and while sometimes nobody saw it coming, in other cases there were signs we could have used to show us the way ahead of time.
Subscribe to PFF's EDGE or ELITE subscriptions to get access to the following tools, charts, etc. 
– All Premium Article Content
– Fantasy Football Rankings & Projections
– Fantasy Football Draft Guide, Cheat Sheets & Advanced Stats
– Fantasy Football Mock Draft Tool (DraftMaster)
– Fantasy Football Strength of Schedule Matrix
– NFL Player Grades
– NFL Premium Stats
Here are nine players who, for various reasons, stand out as potential bust candidates for fantasy football in 2020 given their current ADPs.
Quarterbacks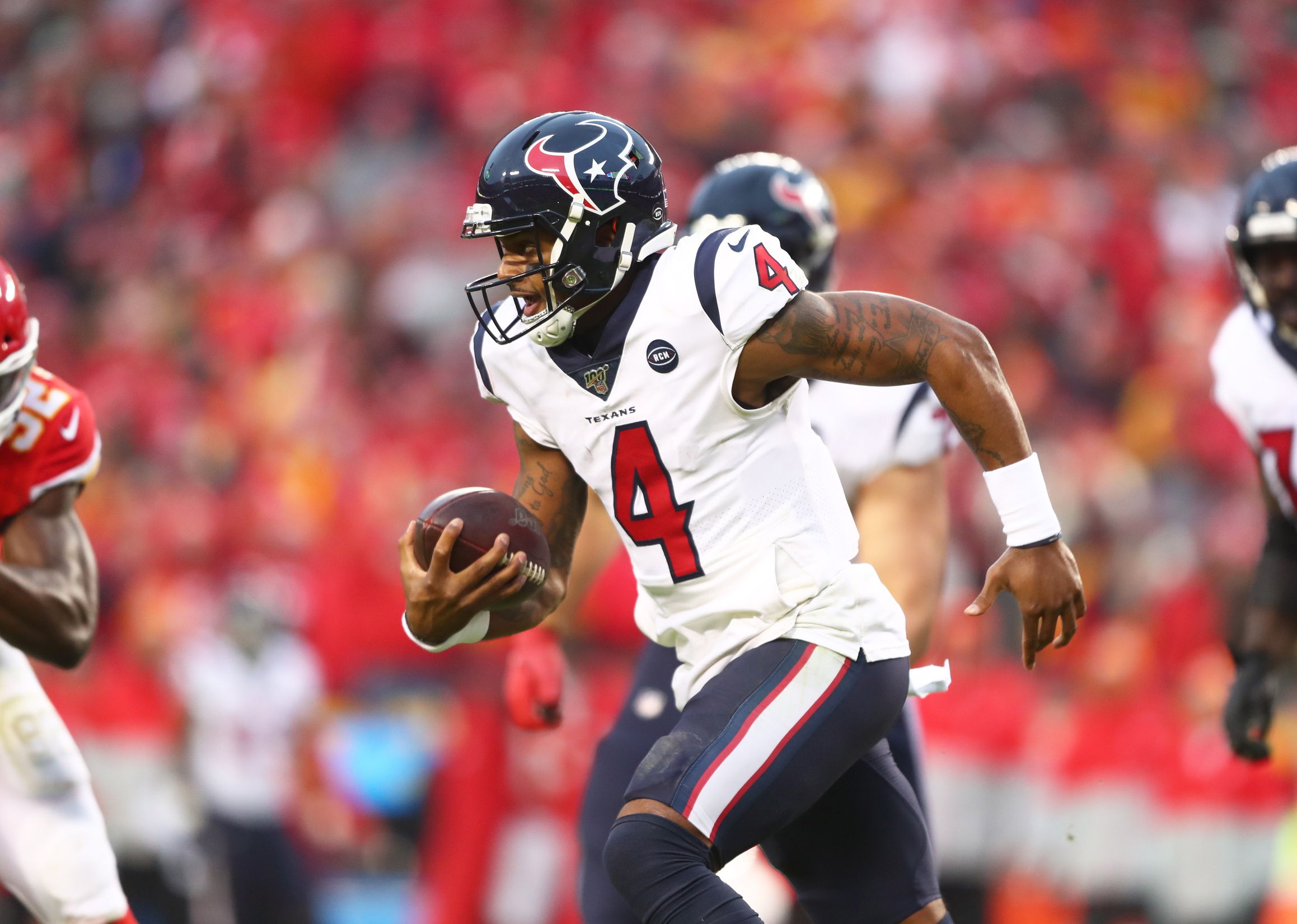 Any time you trade away one of the best receivers in football, it's going to have a negative impact on the quarterback, but there is another dynamic at play — what does it do to Watson's overall effectiveness as a field marshal for the Texans? Having to work through his progression honestly in 2020, rather than just targeting DeAndre Hopkins when in doubt, could actually see Watson develop into a better quarterback, but it might not result in better fantasy numbers. When Matthew Stafford played his first season without Calvin Johnson, his PFF grade jumped almost 15 points but he threw eight fewer touchdowns despite 34 more dropbacks.
Watson may become a better fundamental quarterback, but Hopkins has accounted for 4,115 yards and 31 touchdowns over the past three seasons, and that's a lot of slack to pick up. The other potential negative with Watson is spectre of the bad-Watson games. Last season, Watson threw for fewer than 200 yards four times, failing to score a passing touchdown in any of those games. The highest fantasy points he scored in those four games was 13.6, and that was with Hopkins. Until Watson irons out those games, he always has the potential to torpedo your week.
There is no doubt that Murray is a tremendously exciting prospect and a player whose potential is sky high, but it might be time to tap the brakes on that development for 2020. Murray is QB5 right now despite coming off a rookie season in which he didn't earn a PFF grade higher than the rest of his rookie contemporaries at the position, and there are still significant question marks in Arizona. He now has Hopkins to throw to, but he alone won't transform Murray into an elite quarterback and actually might cause him to develop some bad habits in terms of forcing the football when it shouldn't necessarily go his way.
The Kingsbury offensive system is also still a work in progress, and right now PFF projects 19 different quarterbacks to throw for more passing yards than Murray in 2020. Murray obviously adds value with his legs, but even with that added in, PFF's projections still see 15 quarterbacks with more fantasy points in 2020. Murray's ability is without question, but we may be getting a little carried away with his potential to crush a fantasy team.
Running Backs
Fournette rushed for 1,152 yards last season and was the only rusher in the league to top 1,000 yards and earn a PFF grade below 65.0 overall. Fournette's highest grade was fumbling, as he let the ball come loose just once on 265 carries, but that grade speaks to a player that was not making a lot happen by himself and could be primed for a significant regression.
What further adds to this case is the fact that the Jaguars have the 26th-ranked offensive line in the league heading into the season. That's not a new issue for them — they finished the 2019 season ranked 26th — but given what we know about how much blocking affects rushing success, it only increases the likelihood of that regression coming. Fournette also had a couple of big runs (an 81-yarder, for example) helping his numbers last season, flattering his performance. Fournette broke just 42 tackles on 265 carries, and even though he fared far better as a receiver (24 on 76 catches), he was still ranked just 12th in PFF's elusive rating, a metric with a strong correlation to year-to-year performance and success.
The Indianapolis Colts enter the season with the best offensive line in football, and there is no doubt that this offense will run the ball well. The problem is that there may not be a bell-cow role to be had in the backfield, and this team will operate with a committee in part because of how successful they are likely to be doing so. Taylor is the favorite to take over the starting job from Marlon Mack at some point, but Mack's likely success behind that line may delay the transition.
Taylor will also need to show he can be trusted in pass protection, though none of the current backs were very proficient at that in 2019. Mack in particular had a PFF pass-blocking grade of 24.4 last season, allowing three sacks and seven total pressures on 37 snaps where he was kept in to block. Nyheim Hines also looms as a third-down specialist who could see an expanded role with Philip Rivers at quarterback. Taylor may be the most talented back in this draft class, but the Colts backfield may remain too cluttered for fantasy purposes.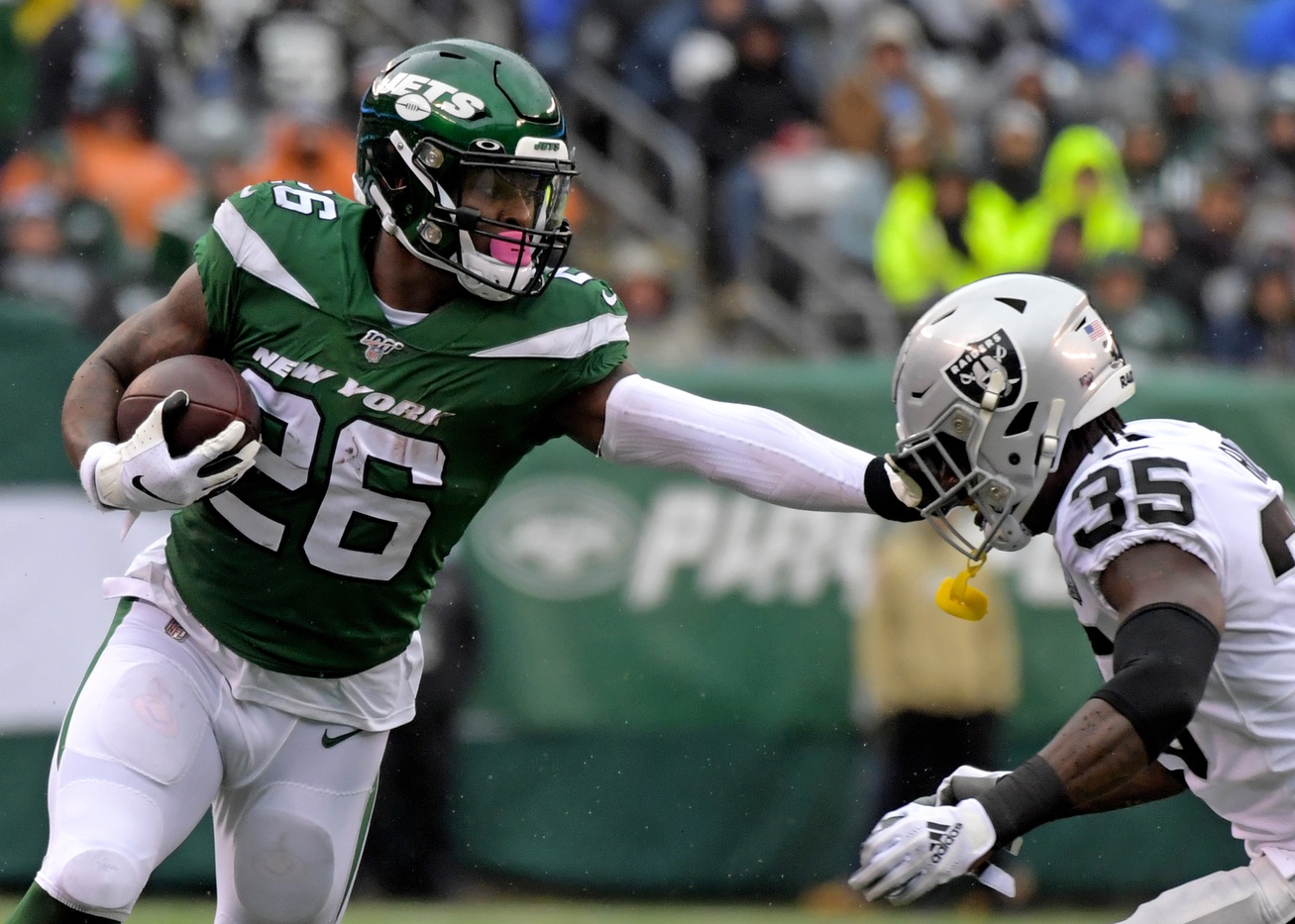 Le'Veon Bell's resume convinces us that eventually he'll get back to past levels of production because the reason for the drop-off isn't injury. The problem is that the reasons for the dropoff are environmental and potentially still very much in existence. We know that the blocking last season was vastly inferior to what Bell was used to in Pittsburgh, but just because the Jets overhauled their offensive line this offseason doesn't necessarily mean it got dramatically better.
Most of the players the Jets brought in have various question marks, and the chances of even half of them working out and being dramatic upgrades are slim. It will take a lot of work for the unit as a whole to form a greater cohesion as a combined force. Bell is still dealing with an offensive line that ranks 27th in the league heading into the season, a quarterback facing a make-or-break season and a system that has not been generating significant value over the sum of its talent. The days of Bell's fantasy greatness may be long gone.
Beware of New England running backs. No team operates on a game-by-game, plan-oriented system like the Patriots do. This permeates all levels of the team but is especially relevant to their backfield. In 2019, James White, Rex Burkhead and Sony Michel each had games in which they were the lead back, earning 40 or more snaps, but Michel owns the 12 highest single-game totals for carries. The most carries White had was 14, and though he has been a major part of their passing game, most of the statistical impact came in the form of receptions rather than yardage or touchdowns.
White only scored a touchdown in one of his 10 most-targeted games and only cleared 50 receiving yards in two of his six most-targeted games. White is certainly capable of huge games that will define your week, but trying to predict when they will happen will lead to a lot of hair torn out and ignoring other more reliable options.
Wide Receivers
Ben Roethlisberger is back, therefore JuJu Smith-Schuster is back, right? Not so fast. Remember, the last time Smith-Schuster looked worthy of this ADP he had Antonio Brown as the primary threat in that passing offense, and he was plying his trade primarily in the slot. When Brown departed, there were questions about whether Smith-Schuster could replicate such an impressive season as the No. 1 guy, as well as doing it outside of the slot when the rest of the NFL was ready for it.
All of those questions were put on hold in 2019 because of the quarterback situation in Pittsburgh, as well as injuries, but they don't cease to exist. In his three-year career, Smith-Schuster has racked up a little over 2,500 snaps, and 1,420 of them have come lined up in the slot. Even last season, in what was supposed to be a move outside, he spent more time inside than out wide. That opened the door for Diontae Johnson to emerge as the team's next potential stud. Johnson saw his workload increase as the season wore on and finished with four-straight games of at least seven targets — he earned PFF grades of at least 70.0 in each.
We have seen some excellent play from Smith-Schuster, but there are a lot of question marks still to be answered — including those of his quarterback — for him to justify this kind of ADP.
DeVante Parker's breakout year in 2019 was one of the stories of the season, particularly as it came for a team in the hunt for the No. 1 overall pick with Ryan Fitzpatrick as its quarterback. Parker being a former first-round draft pick himself, it felt like he had finally arrived, but it's also possible that last season was something of an anomaly or outlier for him and 2020 will see a regression. For as impressive as Parker's numbers were, his PFF grade wasn't that much better than we have seen from him in the past. His overall mark of 79.2 was a career high and 10 points higher than his 2018 grade, but it was just four grading points better than his previous best and only good enough to rank 17th among wideouts.
Parker also took Stephon Gilmore to town in the final week of the season, catching eight passes for 137 yards against the league's best secondary. That performance may be an indication of the player we can now expect to see in 2020. On the other hand, he may be due for a regression, and Parker will be staring into a tough strength of schedule this year. While Fitzpatrick returns, he has also been performing at an unusually high level for him over the past season or two, and at some point he'll make way for Tua Tagovailoa, whose performance is unlikely to be an immediate upgrade over what the team had in 2019. Parker certainly has the ability to replicate last year, but the circumstances suggest that it's worth labeling him buyer beware in spite of that.
Tight End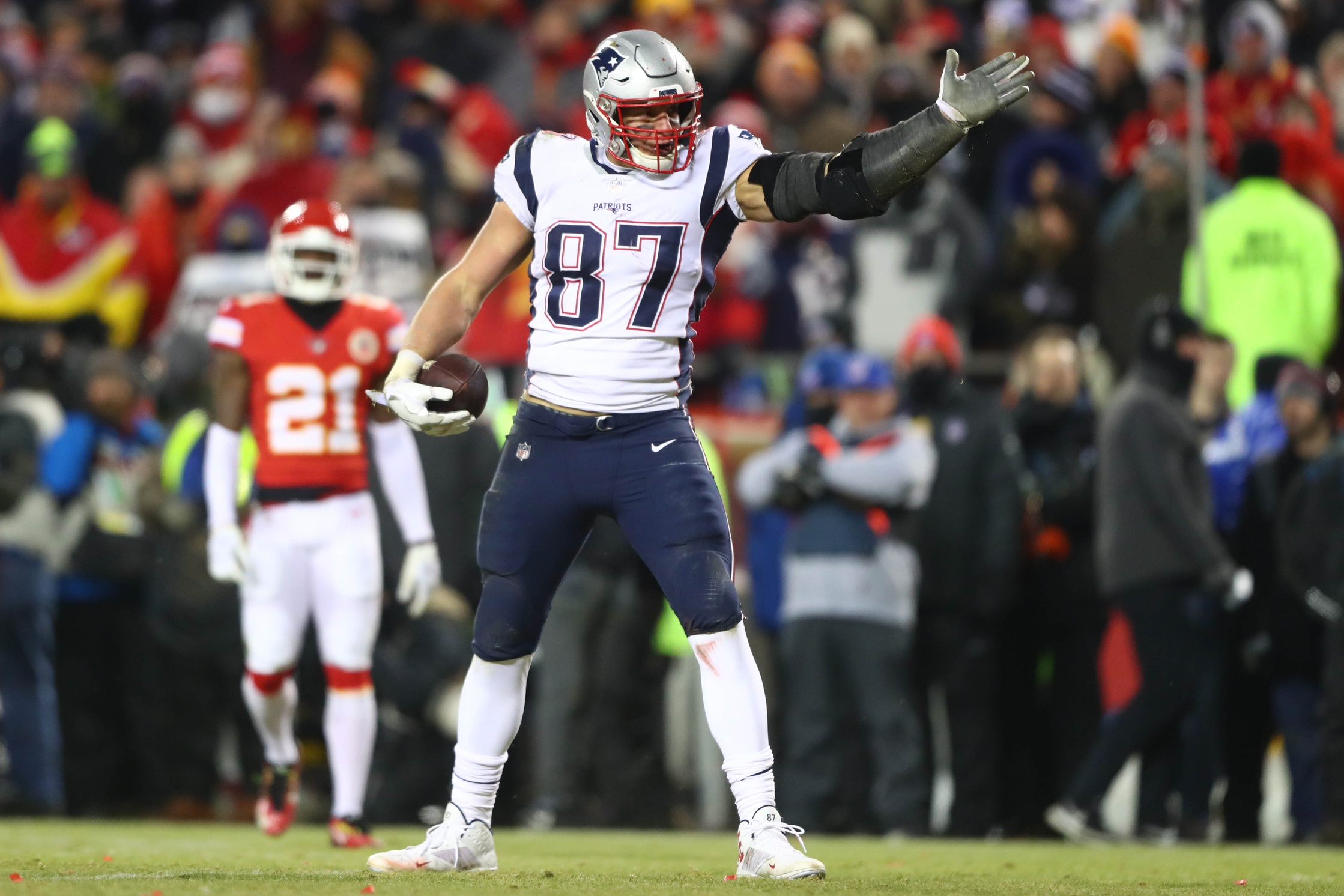 The story of Rob Gronkowski reuniting with Tom Brady for one last run at a Super Bowl, this time in Tampa Bay, is too enticing to resist. A year away from the game certainly could have rejuvenated Gronk, but it's also important to bear in mind the things working against him having a dominant year in 2020.
Firstly, the last time we saw him he was a shadow of himself. In 2018, Gronk broke a streak of seven consecutive seasons with an overall PFF grade above 90.0, and it dropped all the way to 75.2 as he gained just 682 yards in the regular season. Though he found some juice in the playoffs, this was a player who didn't have what he once did. Was that something that can be erased with some time off to heal, or has Gronkowski just lost what once made him great?
Secondly, the Bucs have other weapons and tight ends to steal targets. In Mike Evans and Chris Godwin, they have two of the best-10-graded receivers in the league last year. At Gronk's own position, they have Cameron Brate and O.J. Howard, each of whom is likely a more dynamic athlete at this point.
Lastly, Bruce Arians' offense typically doesn't feature the TE position as much as other teams. Last season, they threw 113 passes to tight ends, 15th-most in the league. Now, they have the complicating factor of Brady joining forces with Arians and whatever compromise offense is created between the meeting of the two. There is certainly a world where Gronkowski dominates like the player of old, but a lot of stars need to align for that to materialize.