Offense trumps defense when it comes to wins and losses in football. However, that's not to say any team can get by with a lackluster defense. After all, a team has to stop their opponents from scoring to win games.
[Related: Top 10 offenses in college football ahead of 2021 season]
There is, of course, a clear advantage to having an elite, lockdown defense over an above-average one. And there are a few teams this college football season that might just meet those standards.
Below are PFF's top 10 defenses heading into the 2021 college football season, chosen based on a variety of factors, including PFF's College Football Preview Magazine, PFF grades and other advanced stats.
Subscribe to
Last year's Alabama defense got off to a rough start but rallied and ranked third in successful play rate against in the Power Five from Week 7 on. And despite losing a couple of marquee players in cornerback Patrick Surtain II and interior defensive lineman Christan Barmore, this Crimson Tide defense looks special again.
The secondary boasts one of the best outside corners (Josh Jobe), slot corners (Malachi Moore) and safeties (Jordan Battle) in the country. No one in the Power Five allowed fewer yards per coverage snap playing in press last year than Jobe. Moore was thrown into the deep end as a true freshman last year but emerged down the stretch. From Week 7 on, Moore put up the highest slot coverage grade in the FBS, and no one made more plays on the ball in the slot (10). Battle is coming off a sophomore year in which he was the sixth-highest-graded safety in the Power Five.
The defensive front is anchored by edge defender Will Anderson Jr., who is a "breakout to elite" candidate for 2021. Anderson came to Alabama as a five-star recruit who ranked in the top 20 of the 2020 class, according to 247Sports, and he finished his first season with a whopping 60 pressures. Not only was his total more than double that of any other true freshman, but it was also the most in the FBS. Anderson's 17.4% pressure rate ranked eighth.
Alabama has never ranked outside the top 10 in the FBS in team defense grade in the PFF College era, and it'd be a shock if that streak ended in 2021.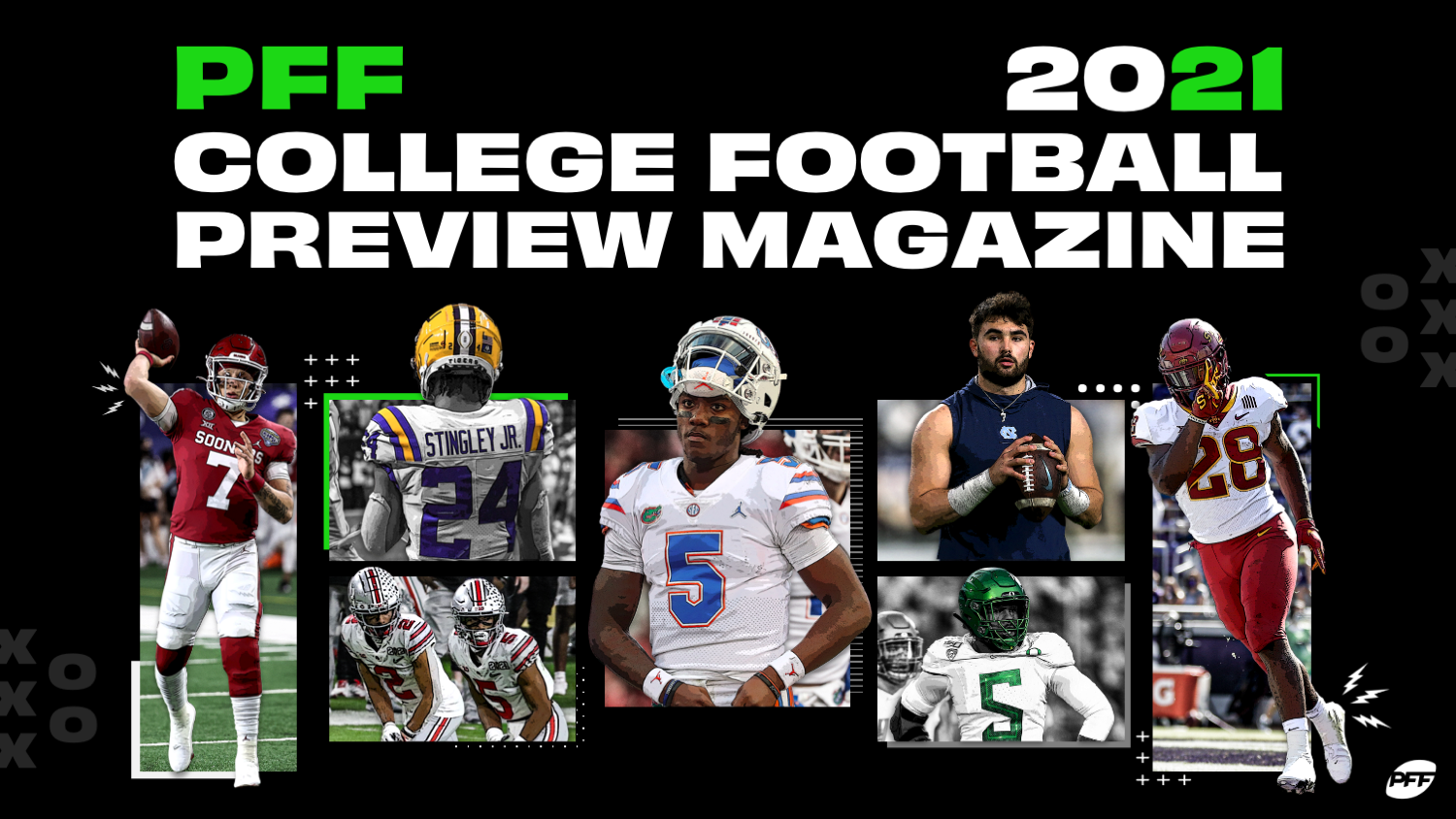 Georgia's defense is raw, but it has the potential to be among the best in the PFF College era.
The X-factors of the unit are the two new starting outside corners, Derion Kendrick and Kelee Ringo. Kendrick comes over from Clemson, where he notoriously locked up the average and above-average wide receivers of the world but struggled against talented route-runners in big moments.
In his three games against Ohio State and LSU, Kendrick gave up 286 yards and five touchdowns. But in his 21 other games, he allowed only 259 yards and one score, which are true shutdown numbers. He is still fresh to the position after switching from wide receiver just two years ago. Yet, he has the traits to be great.
Ringo, the fourth-ranked recruit in the 2020 class, didn't play a down in Year 1 but also possesses incredible potential. He is the whole package from a physical tools standpoint. Now, he needs to put those traits into action.
The rest of the defense can confidently be projected to produce at a high level in 2021. The best player is slot corner Tykee Smith, who transferred this offseason from West Virginia. As an underclassman in 2019 and 2020, Smith recorded the third-best slot coverage grade in the FBS. He is physical with great eyes in coverage.
Another player to keep an eye on is edge defender Adam Anderson. The 2018 five-star recruit hasn't started a game, but he's racked up just shy of 200 pass-rush snaps in his college career, recording a 90.9 pass-rush grade, 24.5% win rate and 23.7% pressure rate.
Kirby Smart has groomed this group to routinely be in the conversation for the best in the country, and that's going to be the case again this year.
The Tigers' defense is loaded with rising stars, including 2020 No. 1 overall recruit Bryan Bresee and 2020 No. 7 overall recruit Myles Murphy, who were each standout performers along the defensive line as true freshmen. Bresee posted an 81.2 pass-rush grade and a 14.1% pass-rush win rate, both of which ranked sixth or better among Power Five interior defensive linemen. Meanwhile, Murphy posted a 92.5 run-defense grade (first in FBS) last season. He also had the most tackling attempts overall without a miss (31).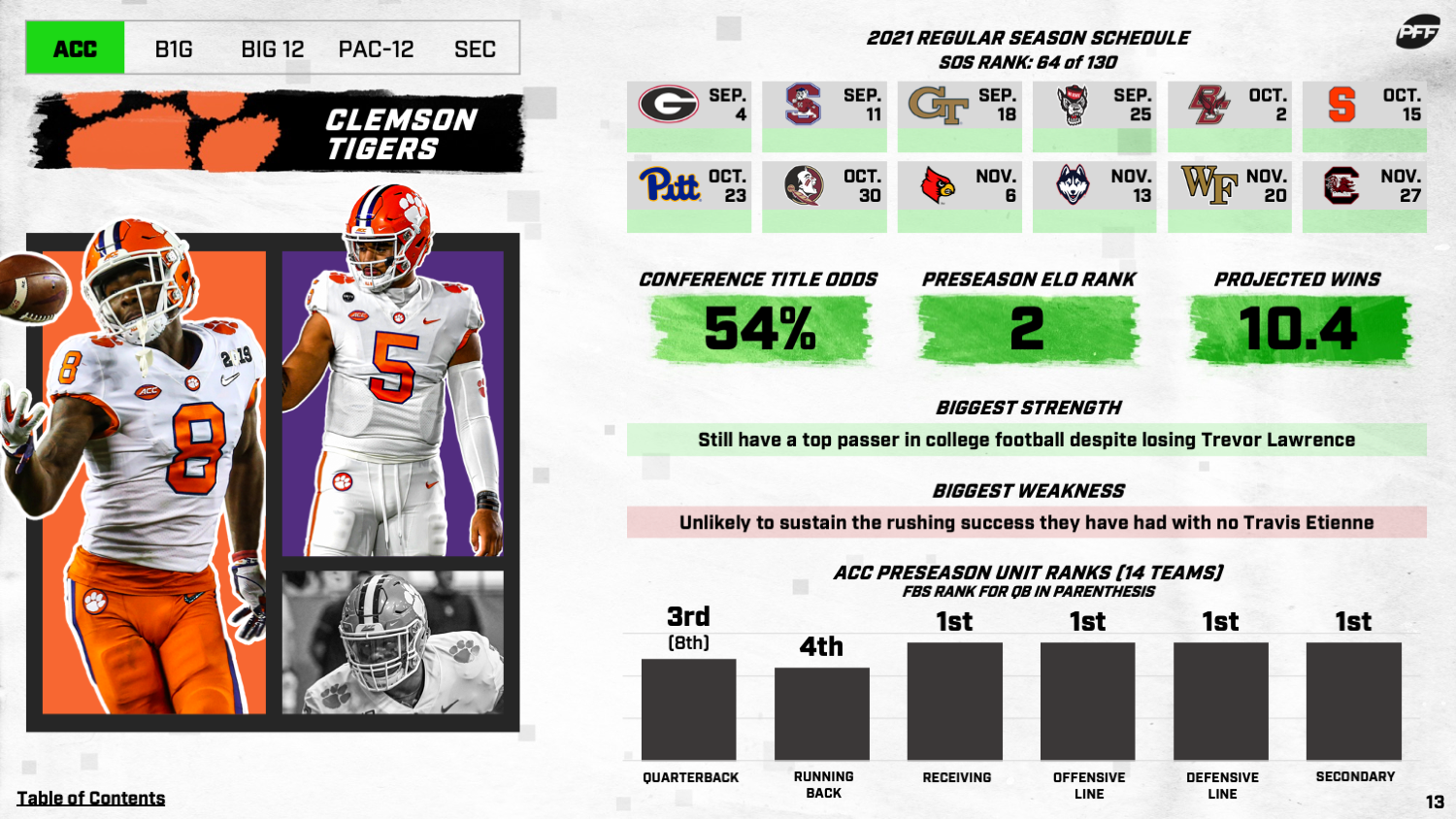 The secondary is headlined by safety Nolan Turner, the most valuable returning player at the position in the ACC, and cornerback Andrew Booth Jr., who shut down almost every receiver he faced in a mostly reserve role in 2020. Clemson led the Power Five in expected points added (EPA) allowed per play three times over the past four years. And the team finished second in the other season. Defensive coordinator Brent Venables is a mastermind, and he's going to have a plethora of talent to work with yet again.
Cincinnati was barely on the outside looking in for the College Football Playoff in 2020, and the Bearcats have every chance to be in the conversation again this fall despite losing a handful of key players on defense as well as coordinator Marcus Freeman.
New defensive coordinator Mike Tressel isn't going to deviate much from what this group grew accustomed to. The defensive line is led by edge defender Myjai Sanders and interior defensive linemen Curtis Brooks, who rank first and fourth, respectively, at their positions in pass-rush grade among AAC returners.
Sanders is one of the best edge defenders in the country. The 6-foot-5, 258-pound speed rusher posted a 90.1 pass-rushing grade in 2020 that featured four or more pressures in all but one of his games. The Bearcats also welcome back Cincinnati native Jowon Briggs on the interior. The Virginia transfer and former top-100 recruit is full of power and has all the traits to be a consistent pocket pusher.
In the secondary, Cincinnati houses one of the top Thorpe Award candidates in college football in cornerback Ahmad Gardner, who has yet to allow a touchdown in his career and is one of the top press-man corners in the country. Opposite him is one of the five highest-graded returning corners in the conference, Coby Bryant, who combined for 11 pass breakups and interceptions in 2020.
There are plenty of other rising talents on this defense, but long story short, last year's star-studded defense is back in full force for 2021.
While edge defender Zion Tupuola-Fetui ruptured his Achilles this offseason, don't write this unit off just yet. Cornerbacks Trent McDuffie and Kyler Gordon rank first and third, respectively, among all returning Pac-12 corners in PFF Wins Above Average (WAA) generated over the past two seasons, and Gordon did that despite seeing just a handful of starts.
Meanwhile, linebacker Edefuan Ulofoshio claims the top spot at his respective position over the same period, and edge defender Ryan Bowman ranks second at his position despite playing in only two games in 2020. The Huskies also replaced Elijah Molden with Brendan Radley-Hiles, an Oklahoma transfer and one of the best slot corners in college football. Washington's defensive scheme remains despite the departure of defensive coordinator Pete Kwiatkowski, and the talent is there to execute it at a high level.
The Aggies have a special defensive line, anchored by 6-foot-4, 290-pound edge defender DeMarvin Leal. He has so much power and impressive twitch. Leal notched an 80.0-plus grade as both a run defender and a pass rusher in 2020, something only four other Power Five edge defenders accomplished this past year. Interior defensive lineman Jayden Peevy and edge defender Tyree Johnson are two other impactful players alongside Leal.
The other top two players on this defense belong to the secondary. The first is safety Demani Richardson, a 2019 top-100 recruit who improved last season after struggling in coverage as a true freshman. His coverage grade increased by over 20 grading points to 76.7 (23rd in Power Five). He's also one of the best tackling safeties in college football. He missed just 2.7% of his attempts in 2020, ranking second in the Power Five.
Cornerback Myles Jones enters 2021 coming off a late-career breakout. He earned a 76.2 coverage grade in his senior year in 2020, the 10th-best among SEC outside cornerbacks. Taking out his bad day against Alabama, when he got beaten for five catches, 142 yards and a touchdown, his grade jumps to the second-best in the SEC (allowed only 118 yards in the other seven games).
The Blazers are the slight favorites to take home the Conference USA title in 2021, and their defense is a major reason why. Last year's group was the fifth-highest-graded nationally and ranked fourth in successful play rate allowed.
UAB did lose star edge defender Jordan Smith and starting cornerback Brontae Harris to the NFL, but the defense returns every other key contributor. Interior defender Tyree Turner (90.0 PFF grade in 2020) and edge defender Alex Wright (78.8 PFF grade in 2020) lead the way up front. The secondary is highlighted by Damon Miller and Will Boler, who led UAB to the 13th-highest-graded safety room in coverage last season, and slot cornerback Dy'jonn Turner owns the highest slot coverage grade in the Group of Five since 2019.
Led by defensive coordinator Patrick Toney, one of the rising defensive minds in college football, Louisiana fielded a top secondary in the Group of Five in 2020 and will do so again in 2021.
The coverage unit was the driving force behind the team's success. Louisiana ranked top 10 nationally in team coverage grade and fifth in expected points added (EPA) allowed per pass (-0.21). The Ragin' Cajuns bring back every contributing defensive back from that group, so there is no reason to expect a dip in performance for 2021.
Safety Bralen Trahan leads the pack, ranking as one of the 10 best returning players at the position this fall. He's assignment-sound and a true playmaker on the back end. He racked up 11 combined pass breakups and interceptions in 2020, which led all FBS safeties, and posted an 89.4 coverage grade for the year.
The Ragin' Cajuns are also set up to be strong up front. Interior defensive lineman Zi'Yon Hill is the leader of the line and will look to build on an excellent 2020 season that saw him rank sixth in the FBS in PFF grade and finish as one of five interior defenders with 80.0-plus grades as a run defender and a pass rusher.
Significant question marks surround Pittsburgh's offense, but there's nothing to be worried about on the other side of the ball. Pat Narduzzi's defense has hit its stride the past two seasons. Since 2019, Pittsburgh is tied for sixth in the FBS in successful play rate against and tied for 16th in expected points added (EPA) allowed per play. 
The Panthers do lose a quality starting outside cornerback in Jason Pinnock, but they gain Damarri Mathis, who missed all of 2020 after an incredible 2019 campaign. He allowed the third-lowest catch rate among Power Five corners that year (36.8%) while combining for 10 pass breakups and interceptions. He'll rejoin the starting lineup opposite Marquis Williams, who impressed in his first year in a full-time role with the fourth-best forced incompletion rate in the Power Five (24.2%). Those two are bound for success in this press-quarters defense.
Pittsburgh has been a defensive line factory as of late, and that'll continue into 2021. Only three Power Five interior defensive linemen ranked inside the top 10 in both run-defense grade and pass-rush grade in 2020. Two are in the NFL, and the other is Pittsburgh's Calijah Kancey, who at the time was a redshirt freshman with no previous college snaps to his name. Alongside him are Keyshon Camp and Devin Danielson — two more quality players.
As noted in the 2021 PFF College Football Preview Magazine, the Panthers utilize tremendous blitz packages, and they have one of the best blitzing off-ball linebackers in Cam Bright, who has produced 46 pressures and an 87.1 pass-rush grade since 2019.
LSU has a higher ceiling and a lower floor than some other teams in these rankings. Last year's unit ranked a lowly 68th in expected points added (EPA) allowed per pass, busted far too many coverages and was simply inconsistent. The group will undergo some schematic changes that'll possibly be reminiscent of the team's 2019 unit, but regardless, there's too much talent on this LSU defense for them to not be significantly improved from 2020.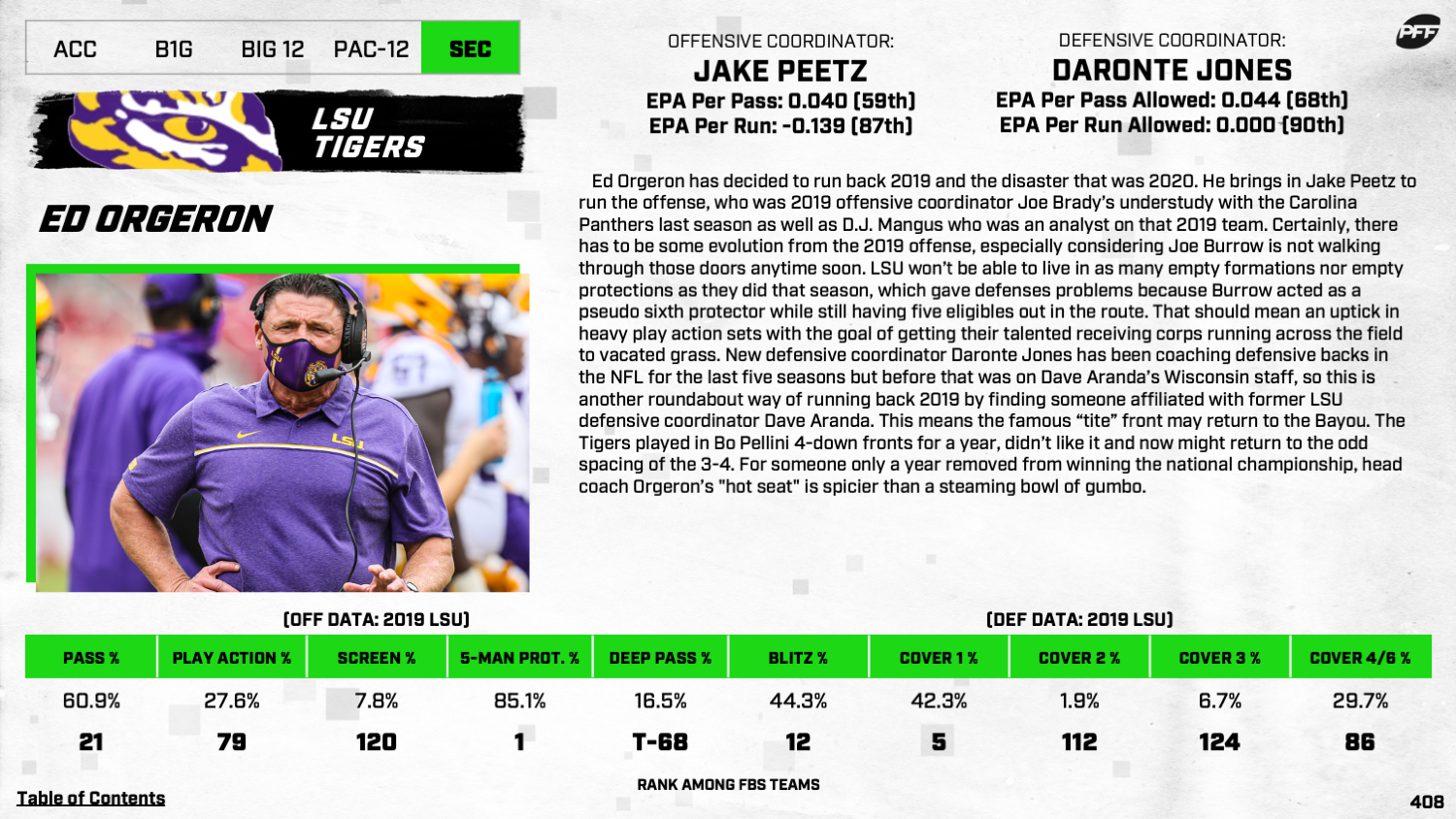 Manning the two outside corner starting spots is Derek Stingley Jr. and Eli Ricks — arguably the best cornerback tandem of the PFF College era. They are responsible for the first- and fourth-highest-graded seasons by a Power Five true freshman cornerback in that time span (Stingley in 2019 and Ricks in 2020).
Stingley saw 30 targets over his seven outings last season, allowing just seven first downs while forcing five incompletions, three of which came against Missouri despite him playing most of the game with an ankle injury.
LSU also added Mike Jones Jr., college football's best off-ball linebacker in coverage. He is an exceptional athlete who is coming off a year in which he posted a 90.2 coverage grade and showcased his blitzing prowess with 11 pressures on 48 rushes.
B.J. Ojulari and Ali Gaye headline the defensive line. Ojulari's true freshman year in 2020 was a tale of two halves. Through his first five games, he recorded an 86.7 PFF grade and an astounding 28% pass-rush win rate. In his last five games, he had a 55.7 PFF grade and an 8% pass-rush win rate. That being said, the first-half version of Ojulari was no fluke. He's capable of being an elite player in 2021. Gaye was a highly-ranked JUCO recruit and lived up to that billing for the Tigers in 2020. He finished the year with an 83.4 pass-rush grade that ranked fourth among SEC edge defenders and 17th in the Power Five.
LSU barely secures a top-10 spot here. The potential is clearly there for the defense to be great, but we're less confident in the Tigers' unit than others on this list.
---
Dive into PFF's guides to get the most out of the 2021 season, from the 2022 NFL Draft to college football to fantasy football! Get 40% off a PFF subscription with promo code SAVE40