Michigan versus Georgia at the Orange Bowl, battling for a spot in the College Football Playoff national championship game.
Predicting that matchup ahead of the 2021 college football season would have been met with scowls. That's because the Wolverines' preseason win total was set at just 7.5, and they carried longshot odds to make the four-team playoff. But none of that matters anymore.
Led by one of the top defenses in the country, Michigan went 11-1 in the regular season, featuring their first victory over Ohio State in a decade and a blowout win over Iowa in the Big Ten Championship game.
Now, the Wolverines go up against the Bulldogs, a team with a vaunted defense and good-not-great quarterback play. Georgia did stumble against Alabama in the SEC Championship game, but its perfect regular season was historic. After all, the Bulldogs allowed only eight touchdowns to opposing offenses in 12 regular-season games and under 100 combined points in that span.
Georgia is favored by 7.5 points in this semifinal showdown, although the public is heavy on Michigan — 89% of the cash is on the Wolverines to cover the number, and 83% of the cash is on them to win outright.
But do they really have what it takes? It's possible, and here's what they can do to secure a spot in the national championship game.
Click here for more PFF tools:
Rankings & Projections | WR/CB Matchup Chart | NFL & NCAA Betting Dashboards | NFL Player Props tool | NFL & NCAA Power Rankings
Best Bets Tool

MICHIGAN'S DEFENSE VS. GEORGIA'S OFFENSE
Watch for heavy-personnel play action on early downs
Georgia's offense rarely played from behind in 2021 — with the exception of the SEC title game — because of the team's stingy defense. Obvious passing situations hardly existed for the Bulldogs on offense due to that and the team's early-down play-action success.
Offensive coordinator Todd Monken is trotting out heavy personnel (11 personnel usage; 1 RB, 1 TE, 3 WR) on 59% of early downs this season compared to 46% in 2020, and he's using play action on 48% of such downs compared to 33% last year.  And when the Bulldogs use standard 11 personnel, there is a run-pass option (RPO) — which is an extension of the run game when the quarterback pulls — attached over one-third of the time.
With those tweaks, Georgia has seen its early-down passing efficiency — better known as expected points added (EPA) per pass — go from a flat zero in 2020 to +0.36 in 2021. The latter mark is the highest in the Power Five.
Michigan needs to stay disciplined and ready for those play-action concepts. The Wolverines rank 31st in the Power Five in EPA allowed per play-action pass and have surrendered a 114.1 passer rating to the opposition on such plays. They are allowing 4.3 yards per play on non-play-action dropbacks as opposed to 6.9 yards per play on play-action dropbacks.
That issue was most clear in the team's contest against Nebraska. That day, Michigan skated by with a three-point road victory despite allowing catches on all nine play-action attempts for 194 yards and three touchdowns.
Michigan also hasn't quite seen a tight end like Georgia's Brock Bowers — who is the highest-graded and most productive player at the position in the Power Five this season.
Get to the money down, rattle QB Stetson Bennett with MUG looks and bring pressure
Georgia wants to take Michigan star edge defender Aidan Hutchinson out of the game. And they'll attempt to do so by removing true pass-rush opportunities, as they have done with other opponents. The Bulldogs have tasked their offensive line with a true pass set just 30% of the time in 2021, the sixth-lowest rate in the Power Five. A true pass set is a play in which there is no play action, RPO, screen, quick throw or designed rollout. Given how Georgia uses some of those concepts, that low rate of true pass sets shouldn't be a surprise. All that being said, if the Wolverines can get to third down and force Georgia quarterback Stetson Bennett into an obvious passing situation, they will have the advantage.
Hutchinson is the best pass-rusher in college football. Outside of removing true pass-rush opportunities, Georgia is likely to do whatever it can to stop him, using chips and double teams. Hutchinson boasts an FBS-leading 93.6 pass-rush grade this season. He has generated 0.81 PFF Wins Above Average (WAA), which is over 0.2 more than the next best edge defender in the PFF College era (since 2014). From Hutchinson's power to his get-off to his hand placement, there just isn't a more advanced pass-rusher in college football.
ladies and gentlemen, Aidan Hutchinson: pic.twitter.com/I2t7g7O9vV

— Anthony Treash (@PFF_Anthony) December 5, 2021
Having him on the edge in an obvious passing situation against Bennett is an advantage, but the Wolverines can do even more to possibly cause turnover havoc in those scenarios. It's relatively easy to disrupt Bennett when he's in an obvious passing situation, which hasn't happened a lot this year. As we saw against Alabama, MUG looks and post-snap trickery throw Bennett off his game.
Stetson Bennett vs. MUG looks in 2021
| | |
| --- | --- |
| Passing Grade | 36.2 |
| Dropbacks | 32 |
| Comp/Att | 14/26 |
| Yards | 126 (4.8) |
| BTT:TWP | 1:3 |
*BTT = big-time throw; TWP = turnover-worthy play
Nine of those 32 dropbacks came against Alabama in the SEC title game. 
A MUG look is when the off-ball linebacker(s) walk up to the gaps at the line of scrimmage — A- or B-gap, depending on the front — like so: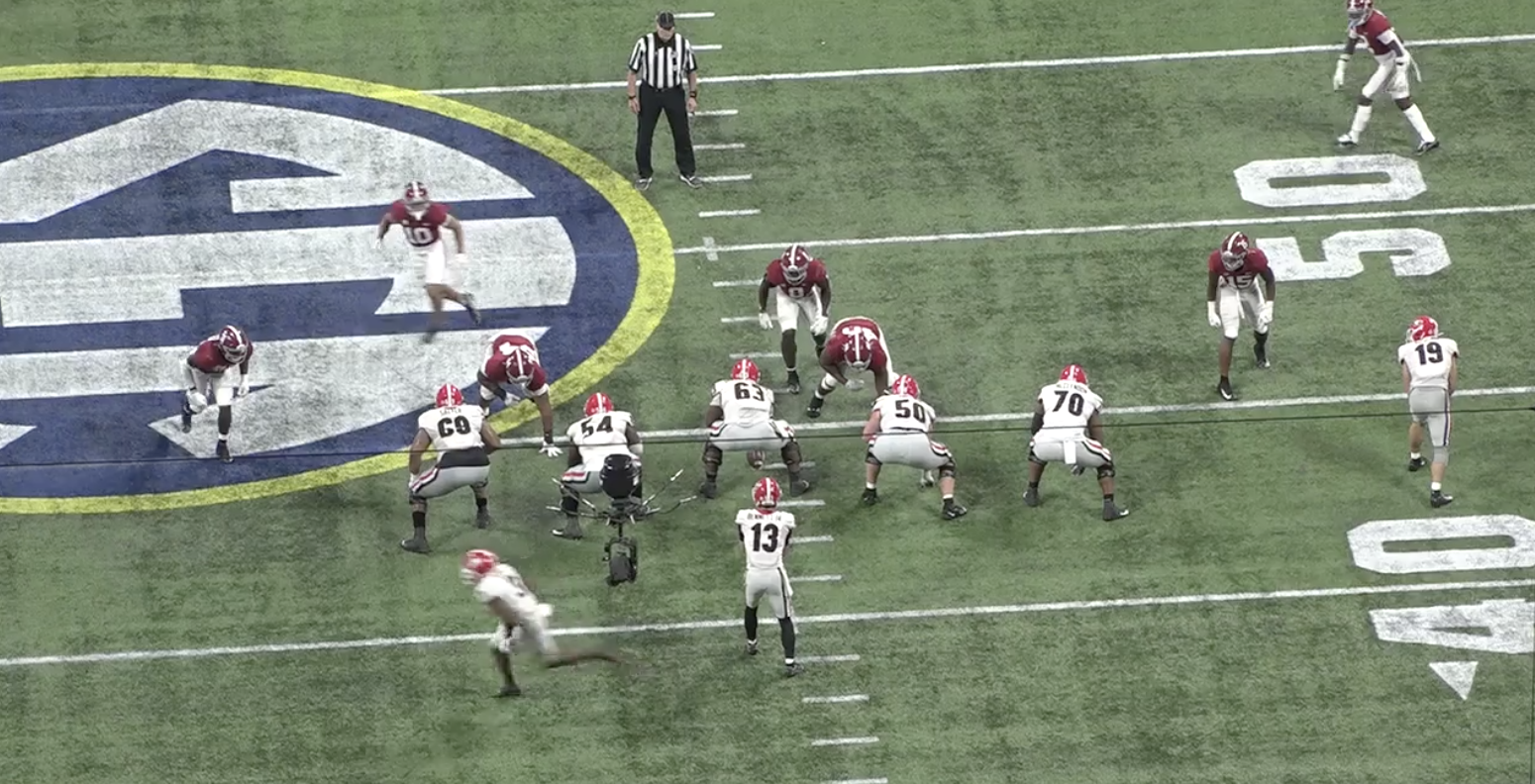 On that play, the Alabama off-ball linebacker crept up to the A-gap once the running back motioned out to put Bennett in an empty formation. After the snap, the outside linebacker over the right tackle dropped into coverage and the off-ball linebacker in the A-gap penetrated the opposite gap as a part of a stunt. The defensive tackle looped around and forced Bennett off his spot, eventually resulting in a sack. This type of play is also called a SIM pressure.
Alabama showed pressure before the snap. The Crimson Tide put five players on the line but ended up rushing only four. SIM pressures make the job of the offensive line more difficult and can throw off the quarterback's timing.
"The quarterback feels like he's being rushed because the pressure is being simulated, but it's really a four-man rush. So he feels like the timing and the operation of the pass play has to be that much faster when, in actuality, it doesn't." — Florida Gators co-defensive coordinator Patrick Toney on SIM pressure
MUG looks in obvious passing situations are one way to stress the offensive line and quarterback. They can be an all-out blitz or a simulated pressure, like the play outlined above, and include stunts to cause more chaos. Bennett and Georgia's offensive line really struggle against this, from what we've seen. Take a look at another example from the SEC title game on a big third down on Georgia's first possession:
On 3rd & 10, Stetson Bennett incomplete almost pick 6#GoDawgs 0 #RollTide 0 Q1 #UGAvsBAMA pic.twitter.com/0iCq91gfoH

— Sports 24/7 (@Sports24x7_) December 4, 2021
Alabama is showing pressure but drops the two players overloading the left tackle into coverage, rushes the linebacker in the A-gap with the nose and right outside linebacker and brings the strong safety down with a free path at the quarterback. Bennett reacts by throwing the ball right into the face of a defender. It was dropped, but it very well could have resulted in a pick-six.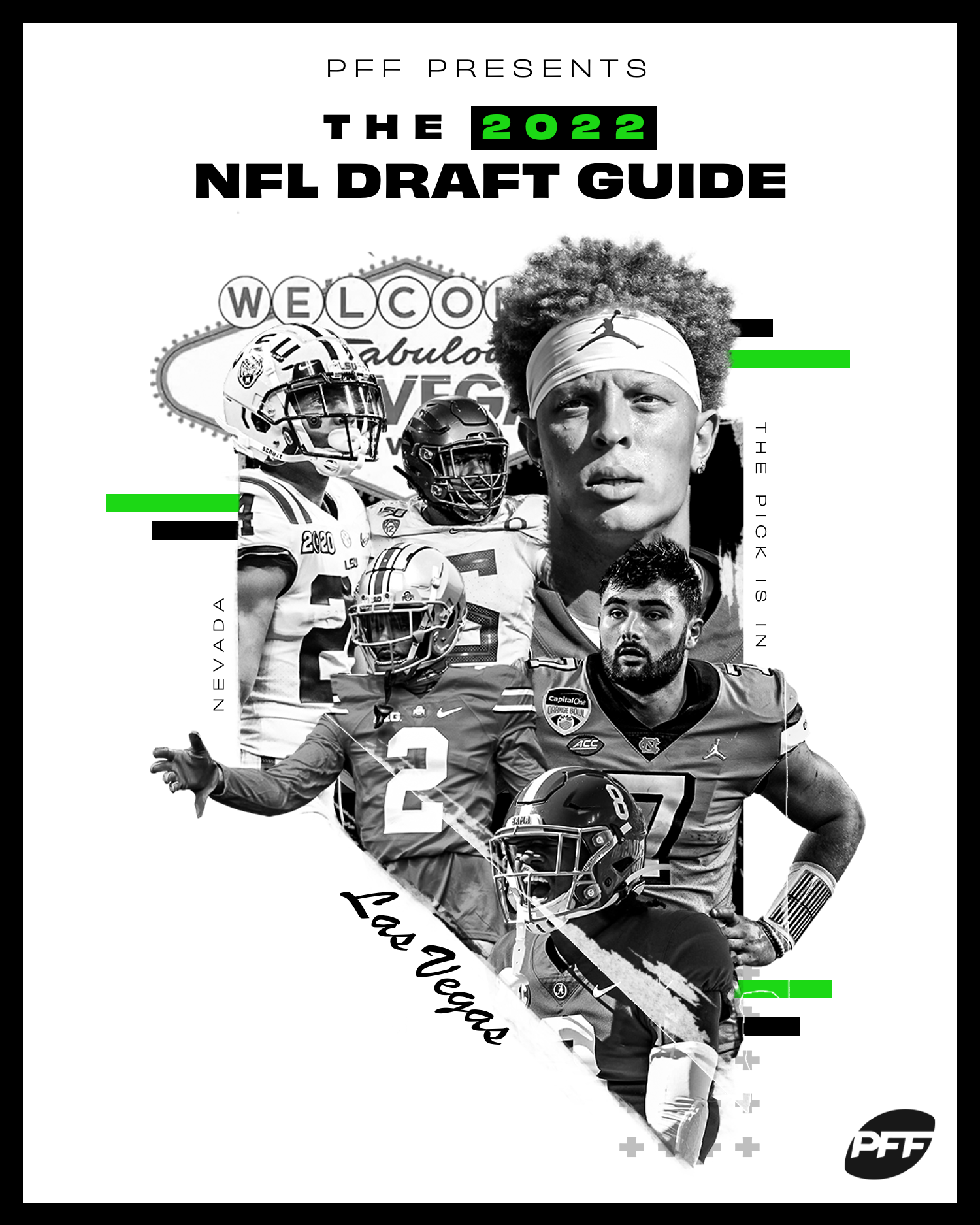 MICHIGAN'S OFFENSE VS. GEORGIA'S DEFENSE
Don't expect to run the ball down Georgia's throat
Michigan's run game is the bread-and-butter of its offense. The unit is the highest-graded running back room in the country, led by Hassan Haskins and Blake Corum. The Wolverines are the fifth-most efficient offense in the Power Five when handing the ball off to one of those players. They actually have the same success rate on a running back carry as they do when dropping back to pass this season.
All of that rushing success is going to be hard to replicate against Georgia, though. The Bulldogs possess one of the most dominant defensive fronts against the run that PFF College has ever seen. They rank in the top three in the Power Five this season in team run-defense grade and successful run rate allowed. The most yards a single running back has put up against Georgia in one outing is 69 (Dameon Pierce, Florida), and the most an entire running back room has recorded this year outside of garbage time was 110 (Georgia Tech across 25 attempts). Just once have Michigan's running backs failed to collectively combine for 100 yards in a game this year (at Wisconsin in Week 5).
Michigan has been running inside zone more than anything down the stretch this year (38% of its runs against Iowa). But Georgia has shined against every run scheme this year, including inside zone. Take a look at this diagram of an inside zone play South Carolina ran against Georgia: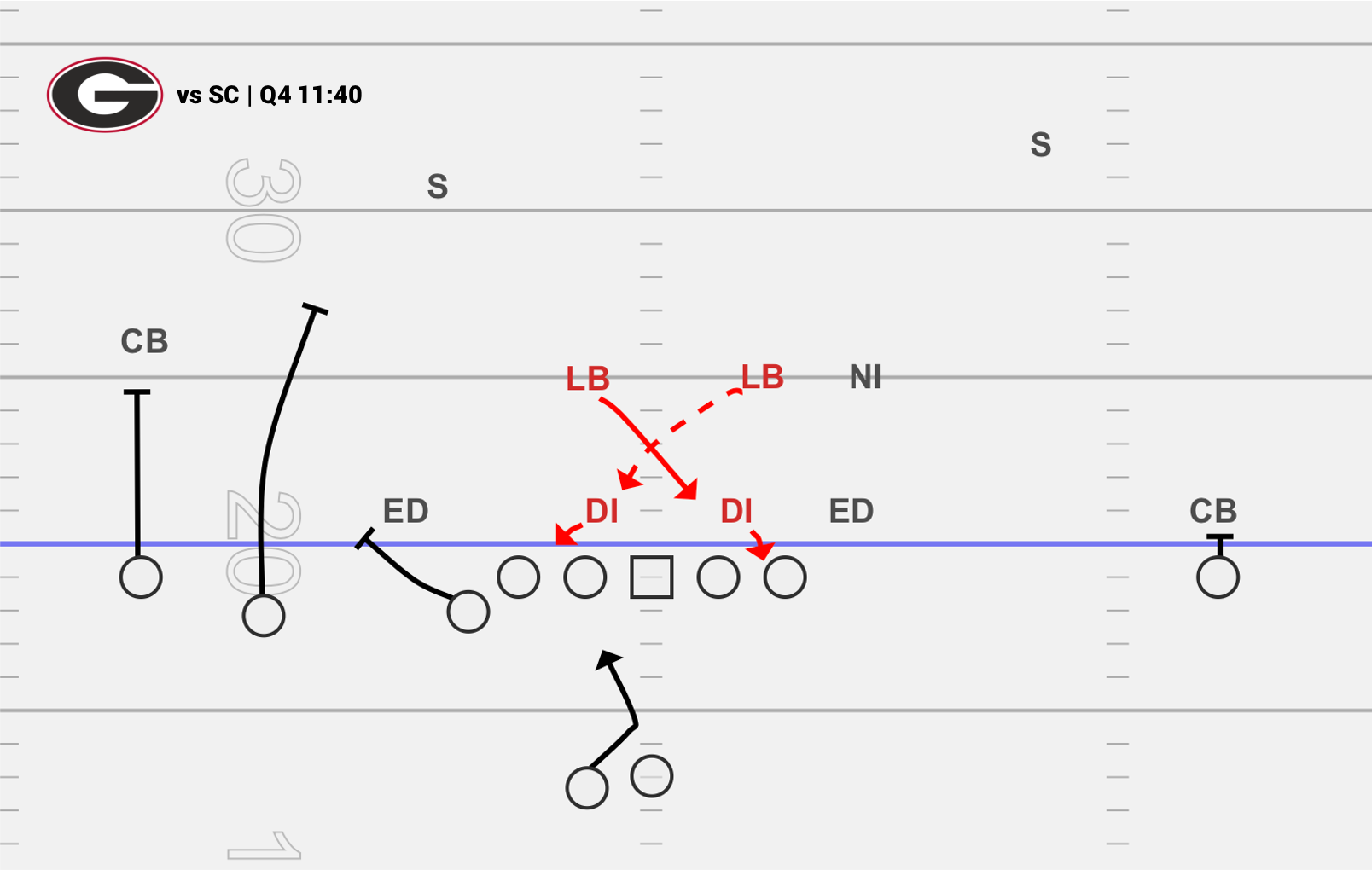 The offensive line and running back are working to the right. Georgia's backside defensive tackle takes a jabstep to the left tackle and goes inside his right shoulder while the off-ball linebacker across the running back crashes down and crosses the center. This forces the ball-carrier to cut back where the other off-ball linebacker is waiting patiently at the line of scrimmage for a stop. Georgia has done this repeatedly this season. Here is PFF's Seth Galina breaking it down in further detail:
Georgia is putting together as dominant a defense as we've seen in college football, especially on first down where they have dominated the run from 2- high safety alignments.
When scheme, technique and talent all come together it's beautiful to watch
I broke it down here: pic.twitter.com/vWNJ1DKRO7

— Seth Galina (@pff_seth) December 3, 2021
Georgia's scheme and technique against the run have been nearly flawless, but it also helps to have such a talented defensive line. Georgia fields three of the top 15 highest-graded interior run-defenders at the Power Five level: Devonte Wyatt, Jalen Carter and Jordan Davis. All are capable of controlling the line.
Highest Positively Graded Run Play Rate | Power Five Interior Defenders
| | |
| --- | --- |
| Player | Rate |
| 1. Jalen Carter, Georgia | 38.7% |
| 2. PJ Mustipher, Penn State | 31.8% |
| 3. Devonte Wyatt, Georgia | 28.9% |
| 4. Jordan Davis, Georgia | 27.3% |
The Bulldogs will take away the run game from Michigan. 
Attack the slot
Michigan needs to monitor Georgia's STAR position (i.e., the nickel). Latavious Brini, who manned the position for the entirety of the 2021 season, did not play in the SEC Championship game for unknown reasons and was reportedly healthy. Instead, Georgia trotted out William Poole, and it went badly.
Between him and a few bad reps from others, Georgia's defenders covering the slot allowed a season-high 168 yards across 10 catches, one of which was a score. The group combined for a 43.1 slot coverage grade, their lowest mark of the season by 16 grading points. If Georgia doesn't play Brini, it might be wise for Michigan to attack the inside that let up multiple big plays to the Crimson Tide.
Michigan needs to get tricky
No team in the Power Five has generated more expected points added from trick plays this season than the Michigan Wolverines (+28.8). For reference, second place stands at +24.7, and third place sits at +16.3. Just take Michigan's most recent game against Iowa, for example. Running back Donovan Edwards threw arguably the best pass of the game on a trick play that resulted in a 75-yard touchdown to put the Wolverines up 14-0.
Michigan RB Donovan Edwards just tossed a DIME ????

75-yard trick play TD

(via @CFBONFOX)
pic.twitter.com/9dJt47iAXA

— Bleacher Report (@BleacherReport) December 5, 2021
Offensive coordinator Josh Gattis also dialed up a flea-flicker in the fourth quarter, resulting in a 38-yard gain and putting Michigan into Iowa territory. The Wolverines are unafraid to bring the trickery on offense, and they are going to need some plays up their sleeve to overcome the lack of an explosive passing attack behind quarterback Cade McNamara and their run game being essentially eliminated.
McNamara is a limited passer by nature, rarely showing out in the true dropback passing game. Michigan has brought out the flea-flickers, the non-quarterback passes and the wide receiver runs, and the team even puts pressure on opposing defense by bringing in five-star true freshman quarterback JJ McCarthy — who possesses elite wheels — on a whim. McCarthy has thrown 41 passes this year, and four of those were considered a big-time throw. He's averaged 9.4 yards per pass attempt while churning out six explosive runs on 21 attempts, most being a zone read. 
Michigan has gotten tricky all year long, and it needs some of those fluky plays to hit on New Year's Eve if Georgia is to lose.
BOTTOM LINE
Michigan needs to stay disciplined on defense and be ready to handle ample early-down play action. Get Georgia to a long money down and put pressure on Stetson Bennett with blitzes and simulated pressure. That's when the quarterback mistakes will occur and when the Wolverines' strong defensive front, featuring players Hutchinson and David Ojabo, will shine. On offense, they can't expect to run the ball with ease. They should put pressure on the slot and hope some luck goes their way with trick plays, just as it has all year long.
A lot needs to go Michigan's way if the team is to pull off an upset. But anything is possible in the College Football Playoff. Game week is here, and we will soon see if the Wolverines have what it takes to knock off Georgia as 7.5-point dogs.