"Thunder and Lightning" is too played out, you know? Hold up, what about "Zoom and Boom"? No, that was Alvin Kamara and Mark Ingram II's thing. "Smash and Dash" is a classic, but again, that was LenDale and CJ2k's vibe with the Tennessee Titans, and too many duos have tried to claim that nickname.
I asked N.C. State running backs Zonovan Knight and Ricky Person Jr. if they had a nickname for the dominant duo they've created as two of the top returning backs in the ACC. And with a half-smile, they both said they hadn't found one that has stuck.

Click here for more PFF tools:
Fantasy Draft Kit | PFF Betting Dashboard | PFF Fantasy Rankings
PFF Fantasy Projections | NFL Premium Stats | Win Totals Tracker
---
"I know it was my freshman year when we had Reggie [Gallaspy]," Person said in a recent interview with PFF. "They named me and him "Thunder and Lightning," but I don't like Thunder [the nickname]."
Well, they better hit a brainstorming session quickly, because after the performance they put on this past weekend, people are going to want a quicker, slicker, almost hero-like name for one of the best backfields in college football. And they didn't like any of my suggestions either. Hey, I tried.
Knight and Person led the Wolfpack in total yards from scrimmage last season. Rushing and receiving, Knight recorded 924 total yards while Person recorded 779. For their debut in 2021, the duo did something that hadn't been done at N.C. State since 2015 — they both topped 100 rushing yards in the same game.
| | | |
| --- | --- | --- |
| | Ricky Person Jr. | Zonovan Knight |
| Rush attempts | 16 | 16 |
| Rush yards | 105 | 163 |
| Rush yards after contact | 57 | 57 |
| Missed tackles forced | 13 | 7 |
| | | |
| Receptions | 4 | 2 |
| Receiving yards | 43 | 16 |
| Yards per route run | 3.58 | 1.60 |
| | | |
| PFF Overall Grade | 83.8 | 72.9 |
Knight led the way in rushing yards with 163 yards and one touchdown on 16 carries, while Person scored three times — twice on the ground and once in the passing game — to go along with 105 rushing yards and 43 additional receiving yards.
"[Zonovan] was like 'Ricky, you gonna save some for me, man? Like come on," Person said with a laugh. "I told him, it was the drive that he had just went out there after I scored the last one, I'm like 'yo you're going to score on this drive, just trust what I'm telling you, just stick to what I'm telling you, and it's going to pop, it's going to be there.' Then here it go, wide zone, bailing down the sideline, I'm running down the sideline like this, touchdown."
For as much as Knight and Person are competitive about everything, the competition for who can get the most yards is matched by who can be the other's biggest fan and supporter on the sidelines.
"Man, honestly, Ricky was going crazy," Knight said, watching Person score three times this past weekend. "He was out here going nuts. It was good to see Ricky get in and make those impact plays."
Many expected the N.C. State Wolfpack to start their season off on a high note, especially offensively. After all, the team was returning its top five leaders in scrimmage yards from a year ago. Still, a 45-0 shutout victory over the USF Bulls? Even for the most ardent Wolfpack fans, that was a dream start. In fact, it was the largest margin of victory for the program since 1990, and much of that came with Knight and Person leading the way.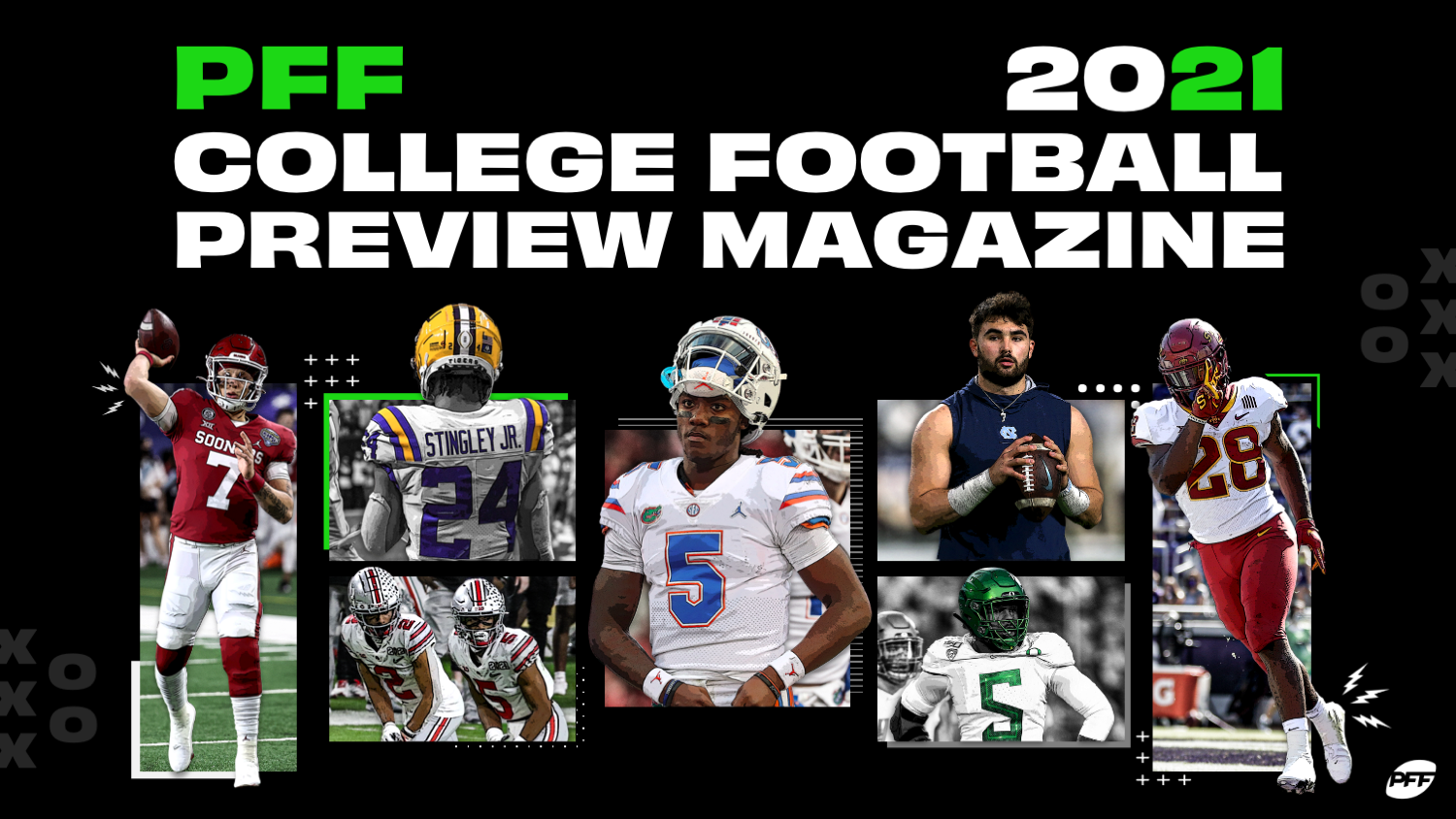 Knight was one of the top rushers in college football last season. The 5-foot-11, 210-pound back earned an 84.2 overall grade a season ago while scoring an even higher rushing grade of 87.1. His 48 missed tackles forced was a top-five number in college football and ranked second in the ACC behind only UNC's Javonte Williams.
The next goal for Knight is to finally become that 1,000-yard player.
Zonovan Knight: PFF rushing statistics and rank among running backs in 2020 (ranks among backs with 100 or more carries)
| | | |
| --- | --- | --- |
| Stat | | Rank |
| PFF rushing grade | 87.1 | 15th of 95 |
| Yards after contact per attempt | 3.40 | 30th of 95 |
| Runs of 10 or more yards | 26 | 19th of 95 |
| Missed tackles forced | 48 | 5th of 95 |
"One of my season goals this year is to try to pass that 1,000-yard mark because I've been so close the past two years," Knight said. "To expand my game and have some more of those breakthrough games where it puts me higher up there.
[I've been] working on my quickness and making moves in open space. I was really good at that in high school, but I got to college and put on more weight and lost my touch, so I focused on getting that back this offseason."
Knight even mentioned he's been following the work of Rischad Whitfield, also known as the "Footwork King," a Houston-based trainer who trains athletes at every position from high school to college and NFL.
"I'm pretty sure you've heard of him by now, Footwork King. There's other guys like that. There's one in Florida that I get a lot of drills from," Knight said. "Because I've always been big on doing wide receiver drills versus running back drills, to kind of work on that agility and that change of direction, so I've always done that. I think that's what has separated my game, just my change of direction and my elusiveness."
As for Person, his 2020 overall grade was lower than Knight's, but that 71.8 grade was well-rounded with a 70.7 grade as a receiver and a 73.3 grade as a rusher. He also showed well as a pass-blocker in a handful of performances last season.
Like Knight, Person has set the bar high to be a 1,000-yard rusher this upcoming season.
Ricky Person Jr: PFF rushing statistics and rank among running backs in 2020 (ranks among backs with 100 or more carries)
| | | |
| --- | --- | --- |
| Stat | | Rank |
| PFF rushing grade | 73.3 | 40th of 95 |
| Yards after contact per attempt | 3.23 | 45th of 95 |
| Runs of 10 or more yards | 17 | 59th of 95 |
| Missed tackles forced | 30 | 40th of 95 |
"Honestly, I know one thing that people kinda say about me is that 'Oh, he's a big back,' and you know that 'he's not as fast as everyone else,'" Person said. "So, I mean, I took that to heart. And as you can tell, this offseason, I was with coach Thunder (Dantonio Burnette). He helped me with the speed work and got my speed work down. I believe me and [Zonovan] were in competition like we were the fastest two running backs in the room. Our times were like 21.4 or whatever. And that's something that I'm big on, as you can tell. I had instances where in the first play of the game, I was able to just pull away from the linebacker that was trying to run out with me on the wheel route."
When you put these two in a room or on a Zoom call, it doesn't take long for their personalities and friendship to show.
I had some fun putting the two through a football teammate version of The Newlyweds Game. Right off the bat, you could tell how genuine the friendship was between the two, especially since the first question was about who was faster.
RP: "Me. Me. Without a doubt."
ZK: "I gotta say me. He picked my slowest time this summer."
RP: "Do we need to put the numbers up?"
RP: "It was summer workouts from summer speed school. I ran a 21.4. Bam ran a 21.2. So I'm just saying the numbers don't lie. And I can also go to midsummer early when camp first started."
ZK: "I was limited, Rick!"
Throughout the back-and-forth, I learned that Ricky is the better singer between the two (R&B is his specialty). I learned that Zonovan has the more diverse movie taste, though they both say they're avid movie people. Person cares more about his in-game uniform aesthetics, or so his teammate says. And though Person says he's the better cook (his spaghetti is another specialty) and Zonovan says he eats out more, Person did mention he does have a specific pre-game routine that is, well, his football version of comfort food.
RP: "I wanna put this on the interview because I hope Chad OchoCinco hears. We gotta tag him in this, but before every game, Bam, tell them what's up before every game."
ZK: "Ricky gets his mom to bring him McDonald's the night before every game."
RP: "It has to be the same thing every game. The day before the game, I get a 10-piece nugget with a large fry and some water."
As you can imagine, we all had a good laugh after that answer.
As the interview began to come to a close, I continued to think of a nickname for two good friends who just happen to form one of the best running back duos in college football. They love their movies, their music and where they are from. They're all about improving their games beyond their natural ability and cheering the other on as they reap the rewards of that work. They're also all about their cars. Person has a "Dodge Magnum, sitting on some 22s, blacked out with some speakers inside the car" with an old-school feel. Knight couldn't stop smiling when he talked about his Dodge Challenger, making sure I knew it was the Scat Pack edition.
Scat Pack. Hmm. Scat is a running back term; Pack can be short for the Wolfpack they play for. It's a play on the cars they love. So, maybe that's the nickname.
Ah, we'll workshop it. We've got time. You'll only hear about these two more and more.