The NFL offseason is almost over, with some teams' rookies making their way to facilities this week. As such, our days of looking at various futures markets are coming to a close.
Before then, I want to look at a market I think is fun from a scenario-planning standpoint: the Coach of the Year market.
The NFL Coach of the Year Award generally goes to a head coach of a team that goes over its win total, but not necessarily on the back of elite players. Let's take a look at old winners:
Season
Coach of the Year
Team, Record
(Preseason RSW)
Player with most
PFFWAR
2021
Mike Vrabel
TEN 12-5 (9.5)
Ryan Tannehill
2020
Kevin Stefanski
CLE 11-5 (8.5)
Baker Mayfield
2019
John Harbaugh
BAL 14-2 (8.5)
Lamar Jackson
2018
Matt Nagy
CHI 12-4 (7.5)
Kyle Fuller
2017
Sean McVay
LA 11-5 (6.0)
Jared Goff
2016
Jason Garrett
DAL 13-3 (8.5)
Dak Prescott
Aside from Baltimore's Lamar Jackson — whose rushing brilliance is difficult to capture in PFF WAR — none of the most valuable players on these teams is a marquee quarterback with a WAR of over 4.0 (Baker Mayfield's mark of 3.2 in 2020 is the highest). Additionally, only the Tennessee Titans had a season win total above nine during the preseason, and theirs was in a 17-game schedule.
Thus, when examining the market on DraftKings Sportsbook, we can eliminate some of the coaches using the criterion from the past: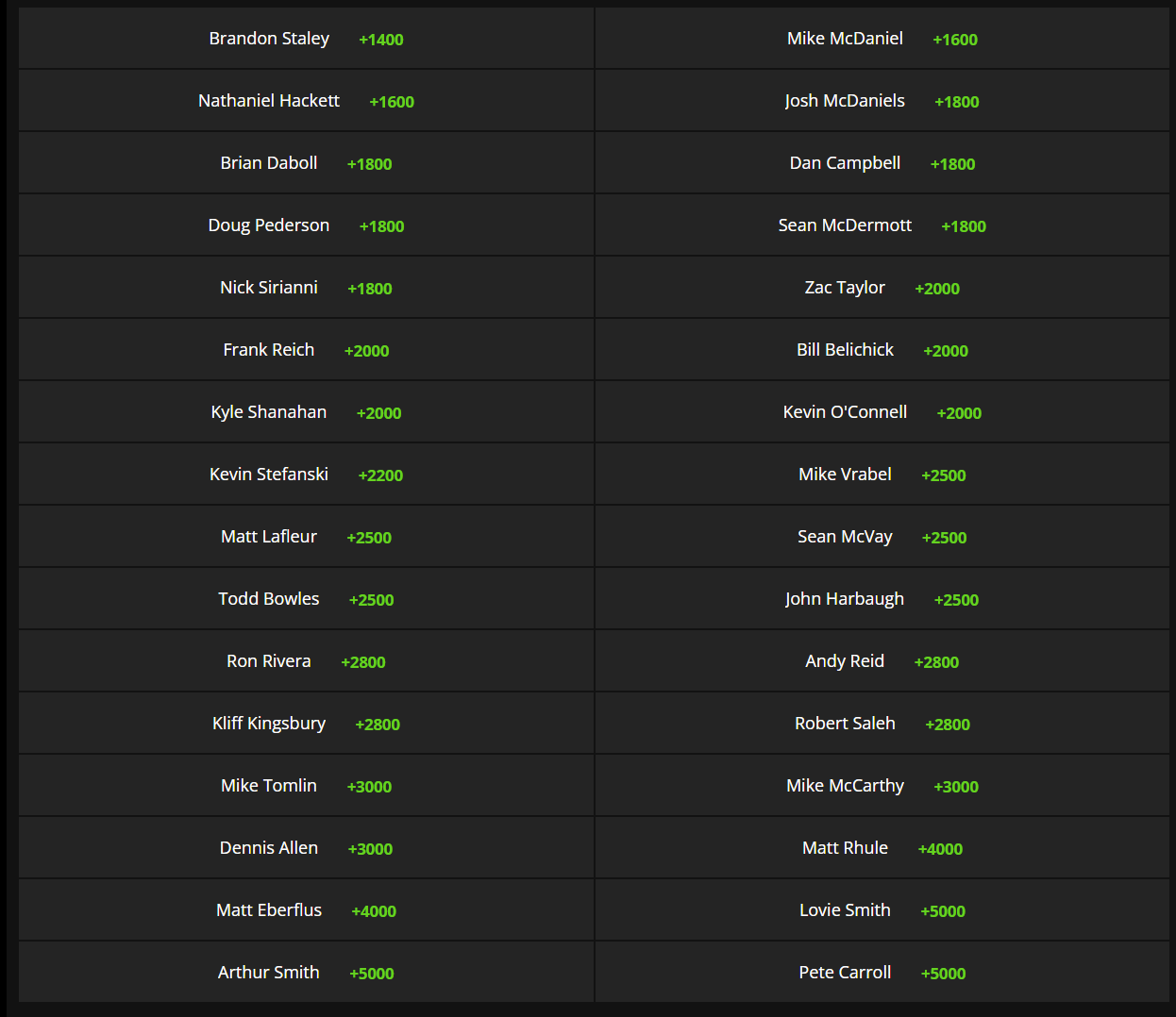 Working conditionally here, if the Los Angeles Chargers (Staley), Denver Broncos (Hackett), Buffalo Bills (McDermott), Cincinnati Bengals (Taylor) or the Indianapolis Colts (Reich) finish with good enough records for their coach to be considered a Coach of the Year candidate, the quarterback involved will likely be a 4.0-WAR player, making it difficult to consider them for a bet.
The same is probably true for Josh McDaniels in Las Vegas, as Derek Carr has seen his WAR increase each year since they changed from Jack Del Rio to Jon Gruden, and he should be near 4.0 WAR if the Raiders have another playoff-caliber season in 2022.
Carr's career arc tracks pretty well with this graph of his WAR by year pic.twitter.com/6x6spSUNht

— Eric Eager ???????? (@PFF_Eric) February 16, 2022
For the other favorite-types, I think there's a better way than Coach of the Year to bet on their success. If the Miami Dolphins are really good, the bets like them to win the Super Bowl (40/1), the AFC (20/1) or even the AFC East (9/2) are in play. Additionally, much of the praise for the Dolphins' success will likely be applied to players like Tyreek Hill or the defense as a whole. I'm not buying the Dolphins this year, so I'm not taking McDaniels.
Similar things are true about Brian Daboll, Doug Pederson and Dan Campbell, whose teams all have an easy schedule and have quarterbacks who — if they can lead good seasons — very much fall into the Ryan Tannehill–Baker Mayfield category. Heck, Jared Goff in Year 2 was a <3.0 WAR player who got Sean McVay to the podium with the award.
However, at this point, the narrative on all of these coaches is that they are plus additions, which means the value is in betting on the team and not the coach — where the value is sucked out of the market. Nick Sirianni will certainly get a lot of credit at 20/1 should the Philadelphia Eagles make waves again in 2022, but given the talent acquired by the team in the offseason, I don't think he gets enough of the credit — nor do I think they will be good enough — for him to win the award.
Now for the long(ish) shots. Call me a hater, but I don't see the Seattle Seahawks, Chicago Bears, Atlanta Falcons, Houston Texans or Carolina Panthers doing anything to warrant their coaches — all listed at 40/1 or longer — winning the award. Additionally, Stefanski, Vrabel and McVay would all be repeat winners, which we haven't seen in a while.
Lastly, Patrick Mahomes, Aaron Rodgers, Kyler Murray, Tom Brady and Dak Prescott are 4.0-WAR players if their team does well enough for its coach to be considered a COY winner, which leaves them out for me.
Coach of the Year Candidates
Shanahan has never won the award, even though he has taken the 49ers to a Super Bowl and two NFC Championship games with a quarterback who very much fits into the narrative of a Tannehill, Goff or Mayfield.
All indications are that Trey Lance will start in 2022, which makes this a difficult bet to make, as the type of season that propels the 49ers into a place that wins Shanahan the award likely coincides with a great season from Lance — at least statistically. If Shanahan can coax offensive brilliance without a great season fundamentally from Lance, will voters be able to discern this?
DOMINATE FANTASY FOOTBALL & BETTING WITH AI-POWERED DATA & TOOLS TRUSTED BY ALL 32
Unlimited Fantasy League Sync
Fantasy Start/Sit Line-Up Optimizer & Waiver Wire
WR-CB & OL-DL Matchups, PFF Player Grades, & Premium Stats 2.0 Tools
Nathan Jahnkes Rankings - #1 Most Accurate Last 70 Weeks
PFF Best Bets, Player Props, & Power Ranking Tools
NFL Mock Draft Sim with Trades & Draft Grades
Already have a subscription? Log In