Earlier this offseason, we featured the top 25 players who will tip the scales at no older than 25 years old when the 2018 NFL season begins. We even highlighted that with a possible future 10 players who could grace the list in the coming years.
Shifting the focus here, we venture to the other end of the spectrum and take a stab at the 'old guys' in the league by showcasing the top 10 NFL players who will be older than 35 when the season begins. While this list undoubtedly holds the likes of Tom Brady and Drew Brees, the list of veteran athletes who continue to dominate or wreak havoc on a weekly basis is a varietal list of who's who across the top in terms of their positions.
That being said, here are the top 10 NFL players who will be older than 35 years of age when the season begins this fall: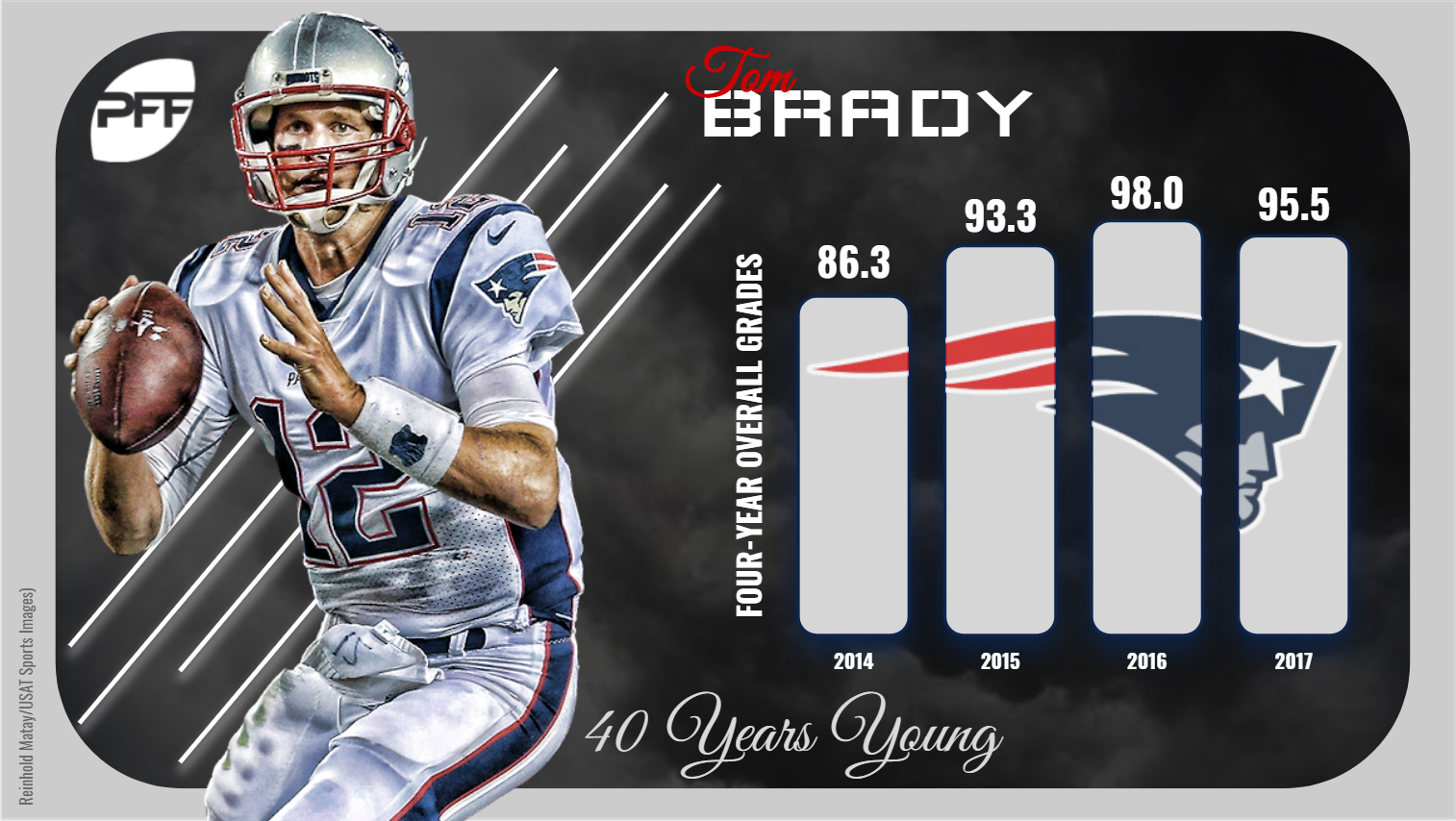 Brady has proven age is just a number in the latter years of his career, as the five-time Super Bowl winner has finished as the highest-graded quarterback at age 39 and 40 (2016-17).
Most recently, Brady led the league in total big-time throws and ranked third in big-time throw percentage (6.2). He also continued to keep the ball out of harm's way at an outstanding rate, as he finished fourth in turnover-worthy throw percentage (1.83) among qualified signal-callers. He has recorded a sub-2.0 percent turnover-worthy throw rate in each of his past three seasons.
Whatever Brady is doing, it's working. Just look at where he ranks in each of our advanced quarterback accuracy charting, whether it's by separation, throw type or pass depth, Brady is dotted across the lists. His high-end grading and production haven't faltered with his age, pushing expected regression much further down the road for future Hall of Famer.
Like Brady, Brees has managed to maintain elite-level play as the candles clutter the surface of his birthday cake, earning 86.6-plus overall grades in each of his past four seasons under center in The Big Easy.
In addition to year-to-year consistency, Brees recorded high marks in several categories during his 38-year-old season, finishing first adjusted completion percentage (80.1) and eighth in big-time throw percentage (5.91) last season. More specifically, Brees blew the doors off of our new accuracy metrics this past season, finishing first among 41 qualifiers in overall, open and step/closing throw accuracy in 2017.
With pinpoint accuracy still in his back pocket, Brees' seat among the elite signal-callers in the league isn't going anywhere anytime soon, regardless of his age.
While injury cut his 2017 season short, Peters still had significant success in his 423 offensive snaps before tearing his ACL and MCL in Week 7. And his play in seasons prior has been among the best despite his older age.
Through Week 7, Peters tied to rank second among qualifying offensive tackles in overall grade (86.4). He also allowed just seven total pressures (six hurries, one sack), which was good for the second-ranked pass-blocking efficiency (97.7) among offensive tackles with at least 100 pass-blocking snaps in that same span.
Even at 36 years young, Peters is a top-five talent at the tackle position when healthy.
Time's ticking down on Big Ben's illustrious career, as the Steelers' two-time Super Bowl-winning signal-caller has contemplated retirement multiple times in recent years. However, as long as Roethlisberger continues to take the field, he'll be among the best in the league.
In 2017, Roethlisberger ranked 10th in big-time throw percentage and fifth in passing grade from a clean pocket, leading to fourth-ranked overall grade (88.5) among quarterbacks. He also ranked inside the top-10 in several of our new advanced accuracy quarterback charting. He has now earned 85.0-plus overall grades in eight of his last nine seasons under center, as well.
While Roethlisberger's supporting cast has propped him up quite a bit in recent years, he has still excelled in his own right and should continue to do so for as long as his cleats are kept off the rack.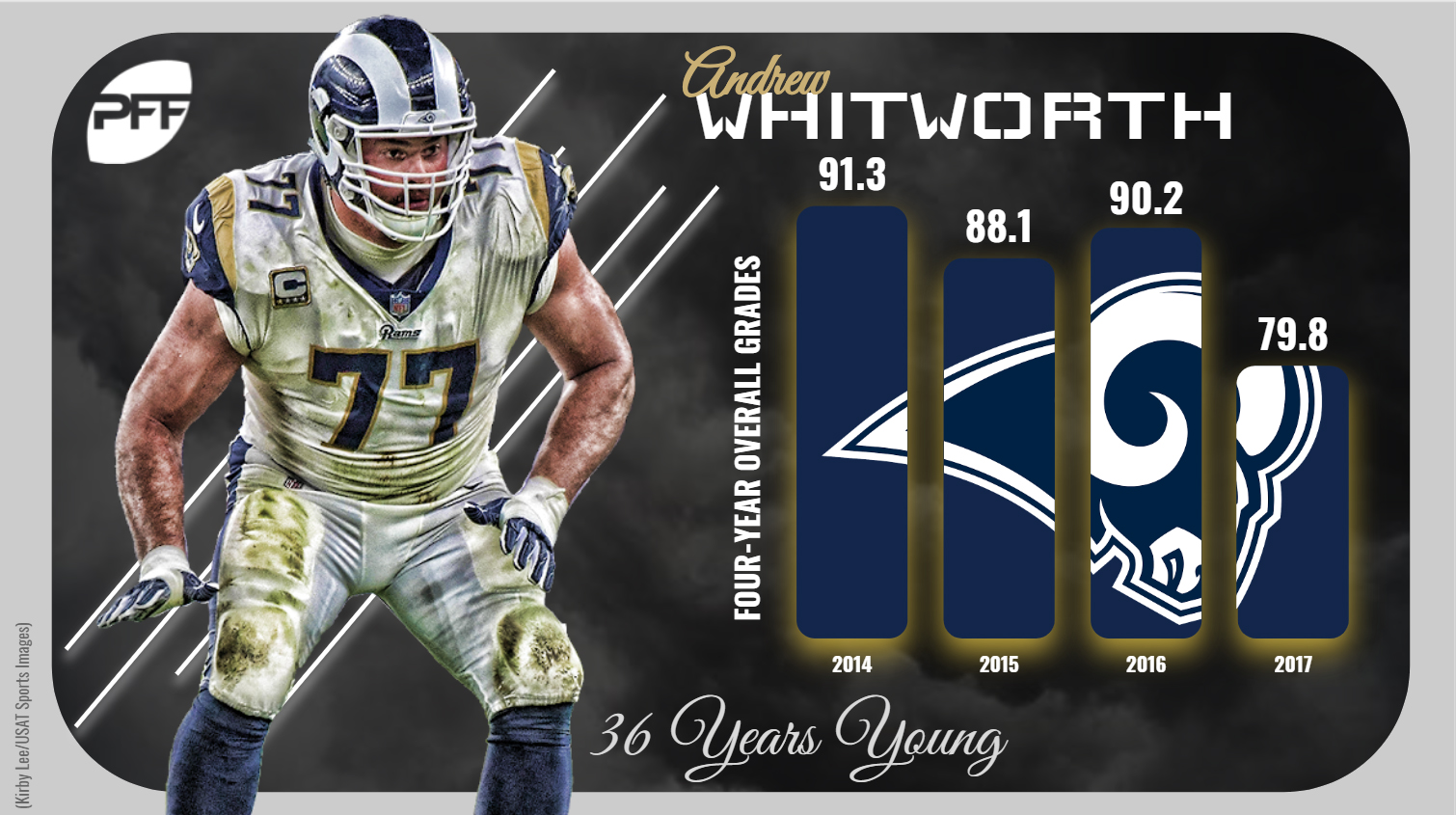 There's no doubting the 12-year veteran Whitworth took a bit of a step back in his debut season with the Rams in 2017, earning his first sub-85.0 overall grade since 2008. However, the 36-year-old Whitworth still put together a strong enough campaign last season to warrant a spot on this list.
Allowing just 24 total pressures across his 506 pass-blocking snaps, Whitworth tied for 13th in pass-blocking efficiency (96.1) among offensive tackles with at least 337 pass-blocking snaps in 2017. He also ranked 11th in run-block success percentage (10.4) among offensive tackles with at least 300 run-block snaps this past season.
Whitworth's elite years may be behind him if his 2017 campaign is indeed a sign of regression, but his floor remains relatively high compared to others at his age.
Rivers has stood tall as one of the league's best at the position in nearly all 14 years of his career, and rather than regressing in 2017, he put up his highest overall grade (85.5).
Rivers ranked sixth in adjusted completion percentage (75.4) and first in accuracy+ percentage on throws 0-9 yards past the line of scrimmage (23.5) among the 41 qualifying quarterbacks last season. He also ranked inside the top-15 in grade from a clean pocket, grade under pressure and third-down grade among the same group of quarterbacks.
In typical Rivers fashion, he still had a tendency to put the ball in harm's way more often than most offensive coordinators would like, as evidenced by his 24th-ranked turnover-worthy throw percentage (3.86) in 2017. He, however, still is vastly productive given his age and more than capable of leading the Bolts to a deep playoff run if he and his teammates can stay healthy.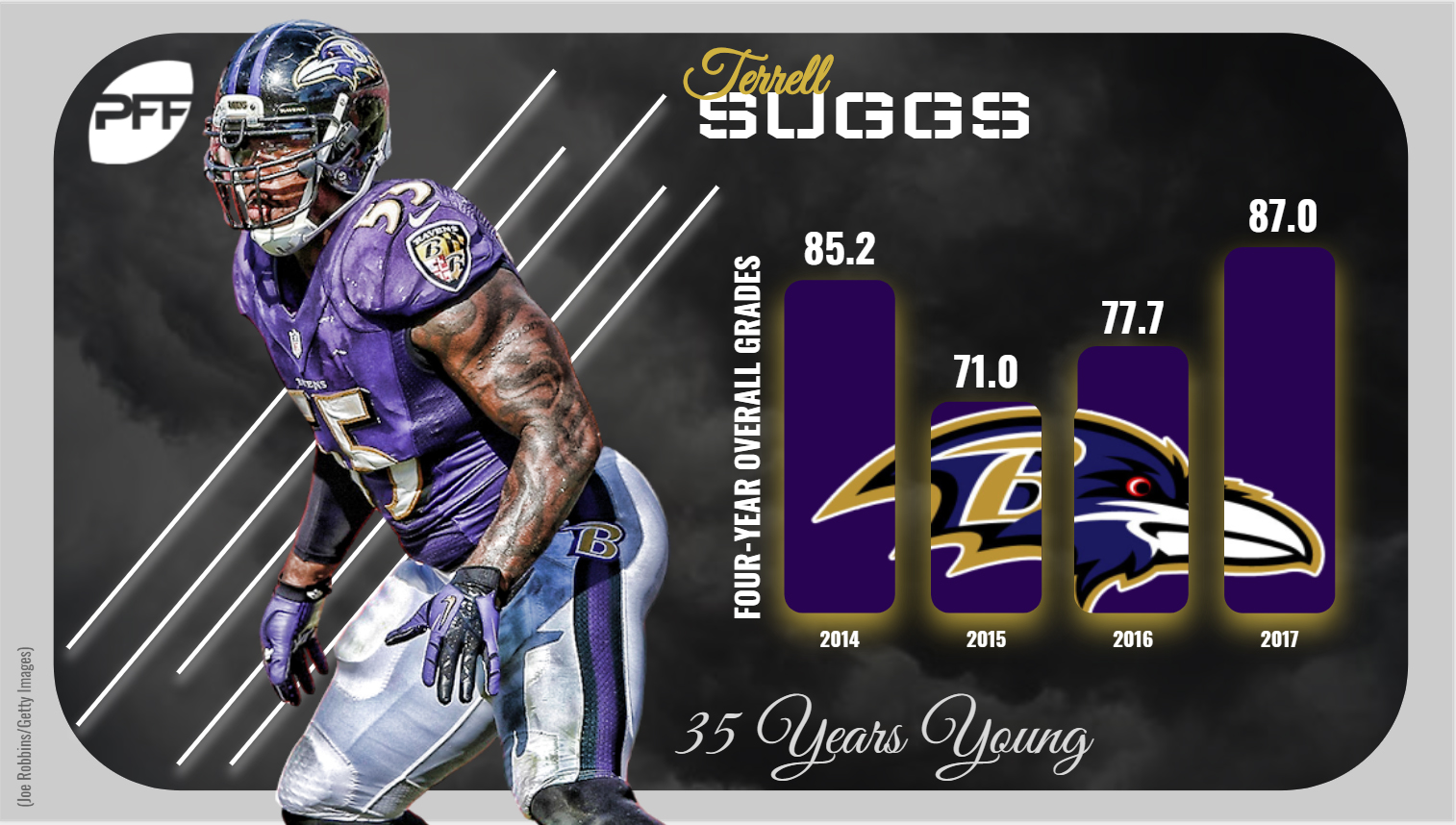 Returning from a torn Achilles in 2016, Suggs earned an unconventional 77.7 overall grade across 697 defensive snaps, pushing some to believe his best days were behind him. Of course, Suggs proved his doubters wrong in 2017.
The 35-year-old Suggs earned an 87.0 overall grade this past season, his highest mark since 2011. He also recorded 79 total pressures and 33 defensive stops, which ranked fourth and 15th among edge defenders in 2017, respectively. Suggs' production speaks for itself. He can still get after the quarterback and his play against the run hasn't wavered in the slightest.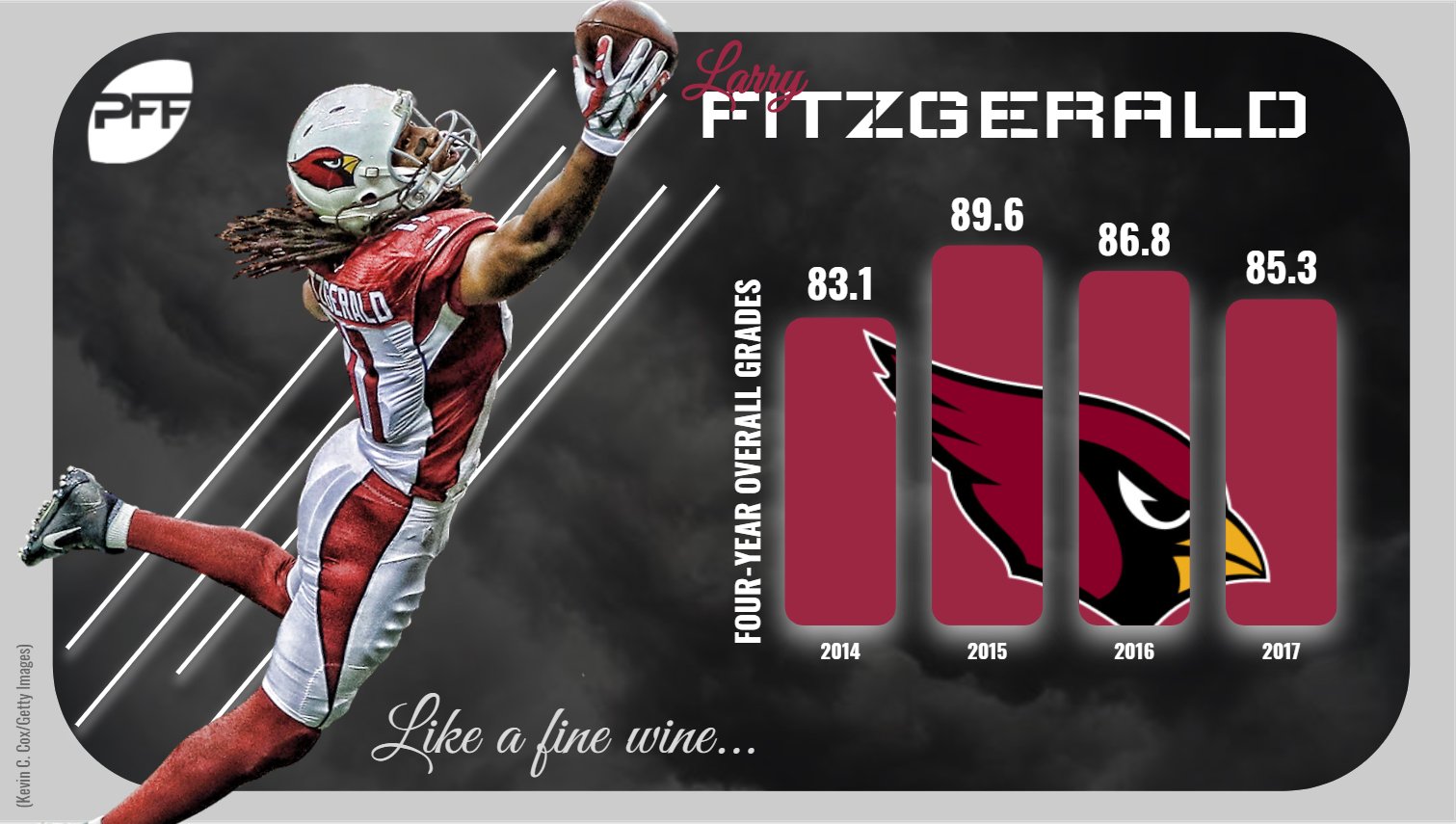 Turning in the ninth-ranked overall grade (85.3) among qualifying wide receivers last season, Fitzgerald thrived playing an increased percentage of his offensive snaps from an inside alignment, which, if continued, could increase the longevity of his success as he gets older.
Fitzgerald, while running 62.2 percent of his routes from the slot, ranked 14th in passer rating when targeted and tied for 15th in yards per route run (1.78) among wideouts with at least 82 targets in 2017. He also ranked sixth in drop rate (3.54) among the same group of wide receivers.
Specifically looking at his slot production, Fitzgerald caught 65-of-93 targets for 779 yards and three touchdowns, ranking fifth in yards per route run (1.93) and 17th in catch rate (69.9) among qualifiers. Now, with veterans Sam Bradford and Mike Glennon as well as Josh Rosen stepping in place in the Cardinals' quarterback carousel, Fitzgerald will have a good chance of repeating his 2017 production, if not improve on it in 2018.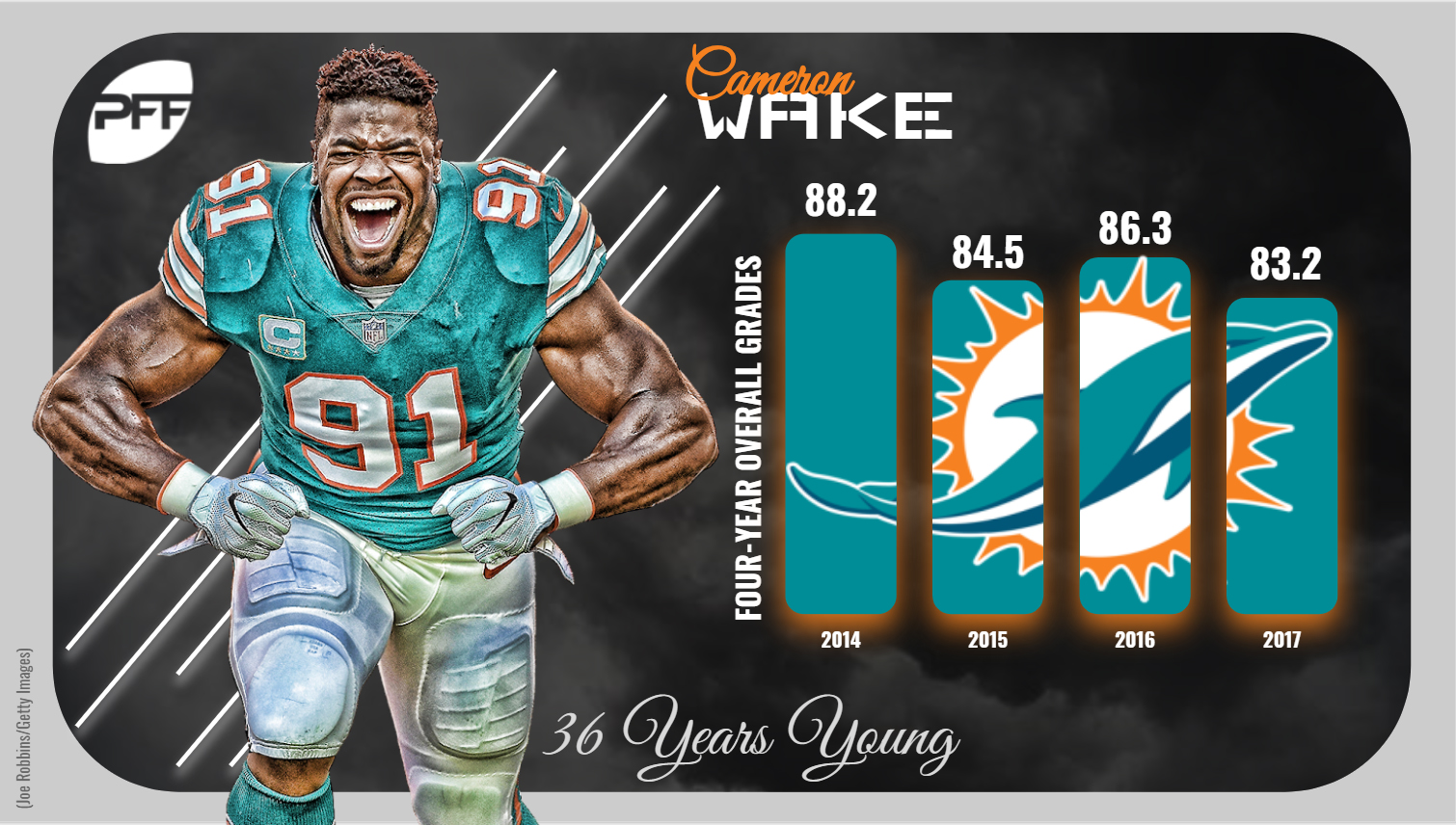 Wake did earn a career-low overall grade in 2017, but the fact that his said grade is just 83.2 is telling of just how consistent the former Penn State standout has been throughout his nine-year NFL career.
Wake has earned 85.0-plus overall grades in seven of his nine seasons in the NFL, topping out at a 94.9 in 2012. Even in what is technically his worst season, he ranked 16th in total pressures (62) and third in pass-rush productivity (13.5) among edge defenders with at least 150 pass-rush snaps in 2017.
Despite turning 36 years old in January of this year, Wake brings high-floor production to the table for as long as he's suiting up in South Beach.
Another oldie but goodie standing the test of time, 11-year veteran cornerback Grimes has maintained a high level of play with three different NFL teams in his career, the most recent of which being with the Bucs. In his two years in Tampa, he has earned 90.2 (2016) and 82.0 (2017) overall grades as the team's primary outside cornerback.
In 2017, Grimes really turned it on down the stretch, as he allowed just a 34.7 passer rating when targeted and 0.65 yards per coverage snap in Weeks 14-17 (four games), ranking fifth and 12th, respectively, among cornerbacks with at least 100 coverage snaps in said span. He also ranked 12th in catch percentage allowed (41.2) among that same group of cornerbacks.
Grimes' dominance late in the 2017 season makes it that much harder to count the wily veteran out as he prepares to play the 2018 season at 35 years of age.
*Player will turn 35 prior to Week 1 of the NFL season