Carson Wentz's run among the top 10 rookies this season is no more. After owning the No. 1 spot for the first four weeks, Wentz has steadily tumbled off the list. There was a distinctive turning point in his season, starting with the Eagles' Week 7 matchup against the Vikings. From that point on, the former North Dakota State Bison has been the third-lowest-graded quarterback in the NFL, with a 69.5 passer rating.
Now, on to those who did make our top 10 entering Week 14:
1. Ezekiel Elliott, RB, Cowboys
I'm truly running out of new things to say about Ezekiel Elliott. He's good. The Dallas offensive line is good (those two don't have to be mutually exclusive). When combined, the result is a rushing attack that gives defensive coordinators nightmares. Elliott's stat-line from last week may not look great (20 carries, 86 yards), but it featured multiple long runs reduced due to penalty.
2. Dak Prescott, QB, Cowboys
When reviewing body of work, I seriously considered flipping Dak Prescott and Ezekiel Elliott this week—that's how good the Cowboys quarterback has been. The offense may have stagnated against the Vikings last Thursday night, but Prescott was still tight as a passer. He didn't make a single turnover-worthy throw yet again, and his raw stats were inhibited by only 18 passing attempts.
3. Jack Conklin, RT, Titans
In nearly any other season, Titans RT Jack Conklin would be a shoo-in for PFF's Rookie of the Year. He's putting together a rookie season the likes of which we haven't seen since Dallas LT Tyron Smith's in 2011. The right tackle has become an NFL wasteland, with almost every team treating it as an afterthought at this point. With Philadelphia RT Lane Johnson out, Conklin has graded out as far and away the best right tackle in the league, and he's already a top-notch pass protector. If his 96.1 pass-blocking efficiency holds up, it will be the best by a rookie since Matt Kalil in 2012.
4. Joey Bosa, DE, Chargers
Maybe a better indication of how good Joey Bosa has been isn't the fact that he's had dominant eight-pressure performances already, but rather, that he hasn't had a bad game yet. Bosa has registered at least three QB pressures in every game sans Week 10, but that was also the game he rushed the passer the fewest times (19). That kind of consistency is rare for a rookie.
5. Chris Jones, DT, Chiefs
In PFF's now 11 seasons of charting and grading, no interior defensive lineman for the Chiefs has come close to the production as a pass-rusher that Chris Jones has already shown as a rookie. His 9.9 pass-rushing productivity is third among all NFL interior defensive linemen, behind only Aaron Donald an Geno Atkins. His 31 QB pressures on 240 pass-rushes are only four fewer than fellow rookie DeForest Buckner (49ers) has registered—except Buckner's have come on 123 more total pass-rushing snaps.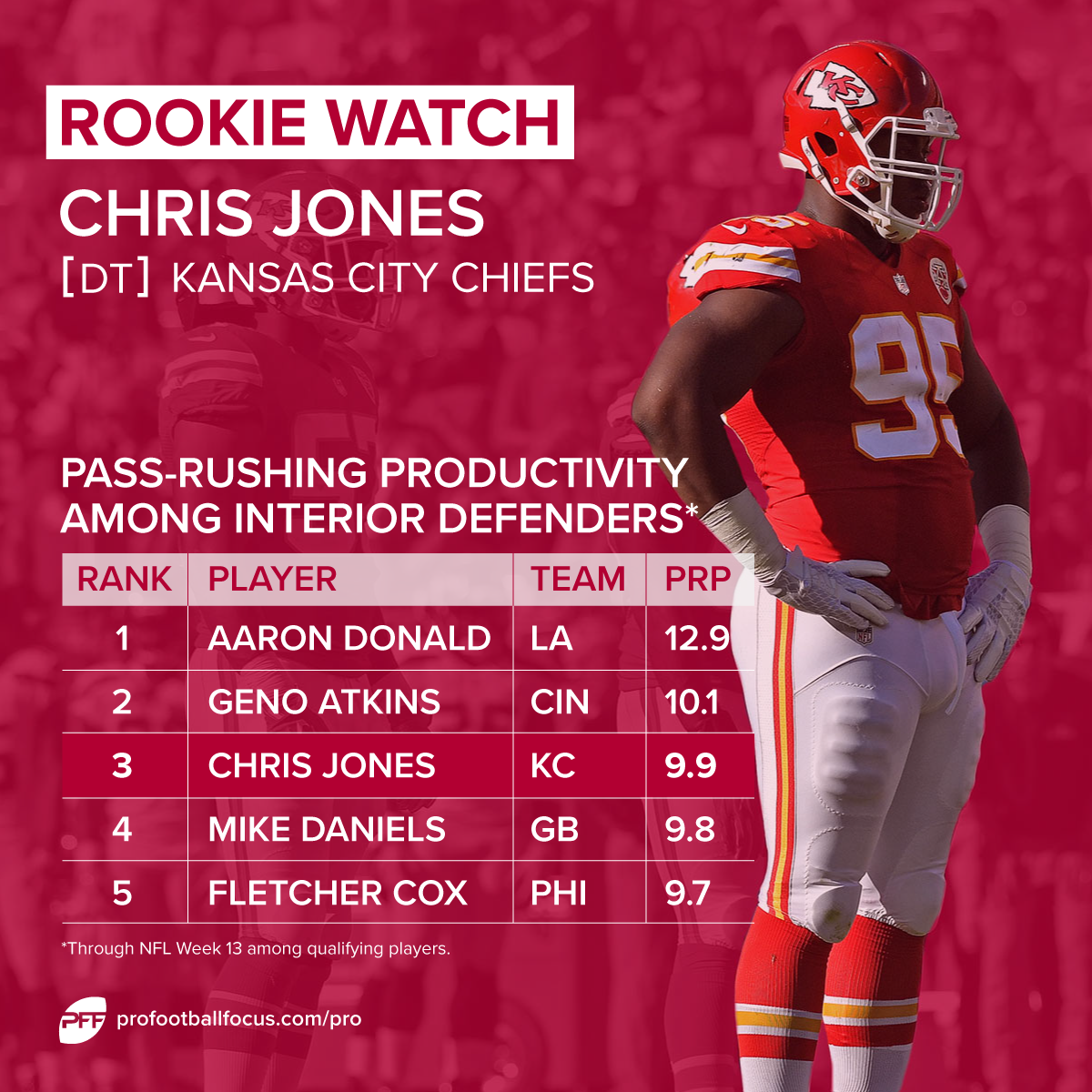 6. Michael Thomas, WR, Saints
There's not much to speak of from Michael Thomas this week, but even a down game for him consists of four catches for 42 yards. That now gives him 71 catches on the season, compared with only two drops. Compared with other starting WRs, only seven wideouts have a better drop rate than Thomas' 2.8 percent. The former Buckeye already has 831 yards on the season, while the five receivers drafted in front of him have 1,394 yards combined.
7. Jordan Howard, RB, Bears
With the ball in his hands, Jordan Howard has been truly exceptional. His 57.2 elusive rating is third-best in the league among RBs, and he's broken a ridiculous 10 tackles on 22 receptions. The only problem, however, has been getting the ball into his hands; Howard already has seven drops on the season. If he can fix that issue, look out.
8. Tyreek Hill, WR, Chiefs
I understand that the Chiefs can't realistically run screens and jet sweeps to Tyreek Hill every single play, but I'd be lying if I said I wouldn't like to see them try. The rookie is electric with the ball in his hands, and is a mismatch when streaking deep down the field. You can't coach sub-4.3 speed and ball skills. The rookie has one drop and 13 broken tackles to go with 50 receptions this year.
9. Taylor Decker, LT, Lions
Taylor Decker had some struggles early in the season, including a seven-pressure performance against the Packers that kept him off this list for so long. But over the past seven games, the former Buckeye been incredibly solid and consistent, warranting his position among the top 10. From Week 6 and on, Decker has been the seventh-highest-graded left tackle in the NFL, and hasn't surrendered a single sack.
10. Cody Whitehair, C, Bears
Cody Whitehair is back on this list after a bit of a hiatus. He was dominant against the weak 49ers' front last Sunday in the snow. Whitehair didn't allow a single QB pressure and opened up more than a few lanes for Bears running back Jordan Howard. For the season, he's been above-average as a run blocker, in pass protection, and on screens.