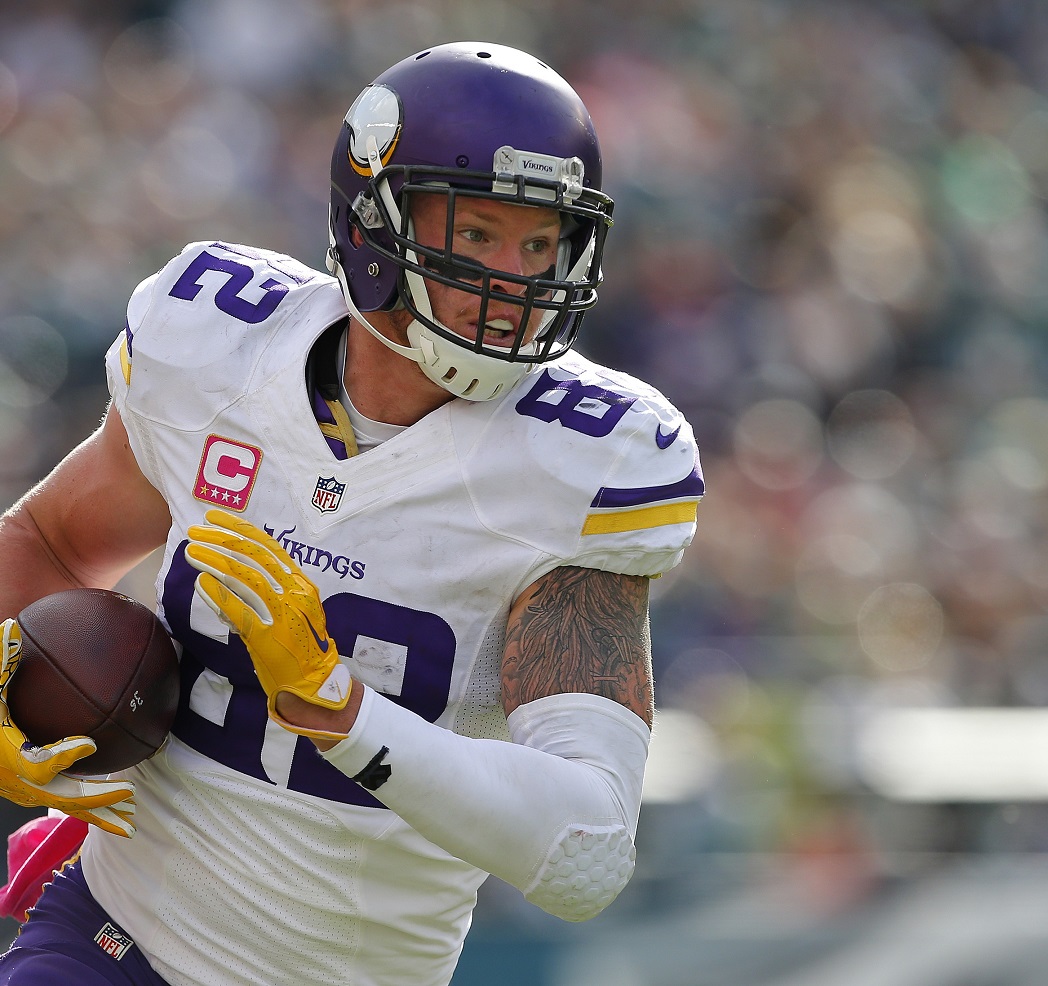 PHILADELPHIA, PA - OCTOBER 23: Kyle Rudolph #82 of the Minnesota Vikings runs after a catch for a first down during the second quarter of a game against the Philadelphia Eagles at Lincoln Financial Field on October 23, 2016 in Philadelphia, Pennsylvania. (Photo by Rich Schultz/Getty Images)
In an interview with the Minnesota Star Tribune, Minnesota Vikings head coach Mike Zimmer said tight end Kyle Rudolph has improved as a blocker this offseason.
Rudolph is coming off a breakout year in which he saw 120 targets, second-most among tight ends. He caught 83 passes for 840 yards and seven touchdowns. Rudolph also saw the most targets (25) and the most receptions (15) inside the red zone among tight ends. He earned a PFF overall grade of 78.1, 13th in the NFL.
Rudolph was used in pass protection on 12.2 percent of his snaps last season. He allowed three pressures on 75 pass-blocking snaps, earning him a pass-blocking efficiency of 97.0, ranking 16th of 46 tight ends with at least 30 pass-blocking snaps. This was a vast improvement to his 2015 season, when his pass-blocking efficiency of 92.2 ranked 45th of 53 qualified tight ends.
Rudolph has recently struggled at run-blocking, and has received run-blocking grades below 50 in three of the last four seasons. His 2016 run-blocking grade of 41.5 ranked 54th of 63 qualified tight ends. The Vikings ended the 2016 season averaging 3.2 yards per carry, the lowest mark of all teams in the league and their average of 75.3 yards per game also ranked them last, so Rudolph's improvement will be a key factor in jump-starting a run game that needs help.