Inside the confines of FedEx Field, the Washington Redskins were able to defeat the Arizona Cardinals 20-15.
QB Kirk Cousins was 18-of-26 for 196 yards, with no turnovers and two touchdowns to his credit. RB Samaje Perine led the way on the ground with 15 carries, however he only managed 2.5 yards per carry on hte day. WR Jamison Crowder led his team in receiving with 55 yards, also drawing in one of Cousins' touchdown passes.
QB Blaine Gabbert struggled statistically, throwing an interception and putting the ball on the turf no less than three times, however he lost one fumble on the day. He had only 189 passing yards and no touchdowns to offset his struggles. The Arizona stable of backs, with help from Gabbert's 28 yards, rushed for 141 yards on the day. With that, we give you our PFF-exclusive takeaways from the contest for each team.

Top 5 Grades:
Edge Junior Galette, 85.2 overall grade
Edge Preston Smith, 84.6 overall grade
RB Samaje Perine, 84.5 overall grade
DI Anthony Lanier, 81.8 overall grade
RT Morgan Moses, 81.7 overall grade
Performances of note:
So what do Washington do with Cousins at the end of the year? He's played well without ever reaching the level the top quarterbacks do, and that was largely the case against a Cardinals team that took away his ability to move the ball downfield. In fact, Cousins threw just seven passes deeper than 10 yards in the air, completing just three of them as Washington struggled to move the ball on offense throughout. Perhaps with more consistency at the wide receiver spot and fewer injuries on the offensive line things would have been different, but this has not been the year anyone expected.
With Washington struggling to move the ball in the air, it came down to Perine to get the hard yards to give them just enough breathing room. On the surface 37 yards in nothing to write home about, but with 35 of those coming after contact you get to understand just how hard he had to work for those. It's not eye-popping, but those extra yards kept Washington in manageable down and distances, proving vital in a close game where they didn't have the ball a lot.
It was a day of splash plays for Lanier, the former undrafted free agent who had himself a career day. He ended up with a couple of sacks and an incredible three batted passes as he really made life hard for Blaine Gabbert. The 51 snaps Lanier played represented a career best and are an indication of how high the team must be on him as the season draws to a close.
The last five games have proved one thing about Galette; He still has plenty of pass-rushing juice left. He only walked away with one sack, but with three quick wins elsewhere he showed plenty of explosion on his 20 pass-rushing snaps.

Top 5 Grades:
S Budda Baker, 86.9 overall grade
CB Tyrann Mathieu, 83.5 overall grade
S Antoine Bethea, 81.7 overall grade
G Alex Boone, 80.7 overall grade
Edge Chandler Jones, 77.7 overall grade
Performances of note:
Another contest, another outing that showcased the limitations of Gabbert. The Cardinals were able to sustain drives but their inability to make plays when it mattered most ultimately secured the fate of their 2017 season. Gabbert wasn't helped with four drops but all too often he struggled to move the ball down the field with just five completions going further than 10 yards in the air all game.
Getting a first career start at left tackle with the Cardinals suffering more injuries, you might have expected an even worse grade for the fifth-round rookie. But despite have a number of plays where he got beaten quickly (resulting in one sack and three quarterback hits), it could have been worse with the Cardinals passing 41 times. With eyes looking at the 2018 season there was enough here to warrant another look.
One of the bright spots for the Cardinals this year has been, as it seems to be year on year, the play of a rookie defensive back. This year is the turn of Baker who, since entering the lineup as a starter in Week 11, has caught eyes with his playmaking nature. This was a quiet effort for him on the stat sheet, but his ability to stand up blockers to disrupt edge runs caused the Redskins running backs more than a few problems.
When the Cardinals let Calais Campbell walk, they most likely envisaged Nkemdiche filling the void left by the stud lineman. It hasn't happened. Whether the lingering effects of an early-season calf injury or a lack of faith from the coaching staff, Nkemdiche has done anything but fill the void and against the Redskins nothing changed there. Just 9 snaps on defense for him, bringing him up to 202 on the year and just 284 on his career. Players with his talent will always get a chance to prove themselves, but his 2018 is going to need to be a lot better. Otherwise the man with four career tackles will start hearing the bust word.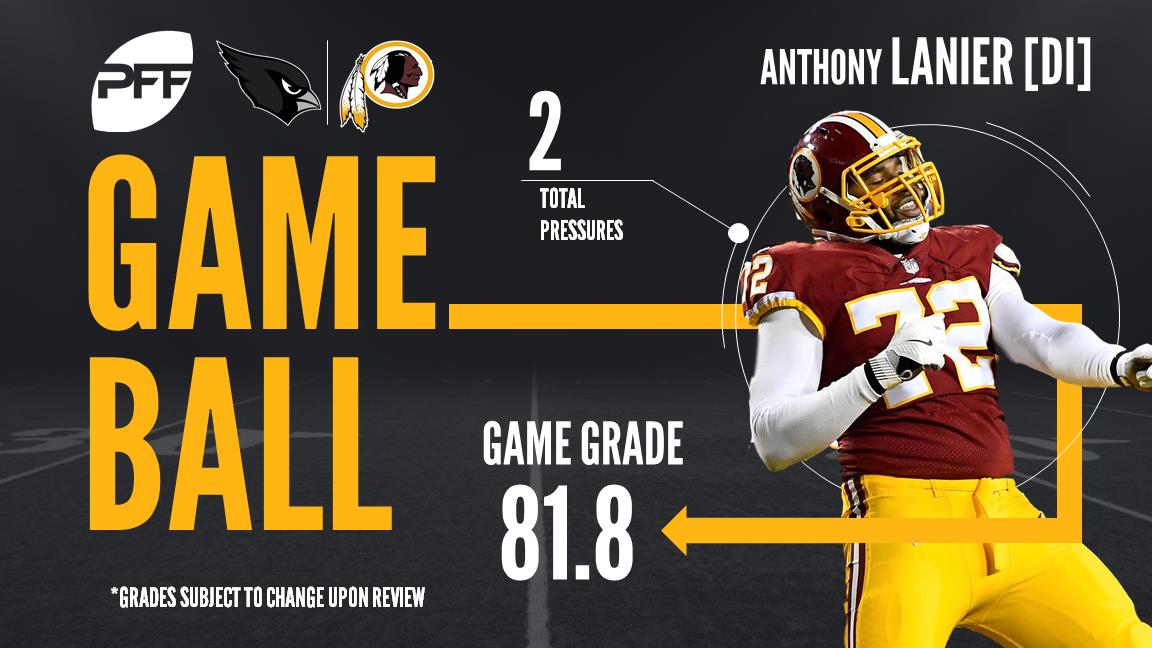 *Grades subject to change