The Buffalo Bills defeated the Chicago Bears on Thursday evening, 28-27 continuing the fourth full week of preseason action in the NFL.
PFF's ReFocused series this season features immediate takeaways and a key to the victory from two Senior Analysts who graded the performance, watching every player, on every play of the game. For more data and analysis from the game, utilize our Premium Stats 2.0 dashboard to expand your knowledge on the key players, signature stats and much more.

FINAL SCORE
Buffalo Bills 28, Chicago Bears 27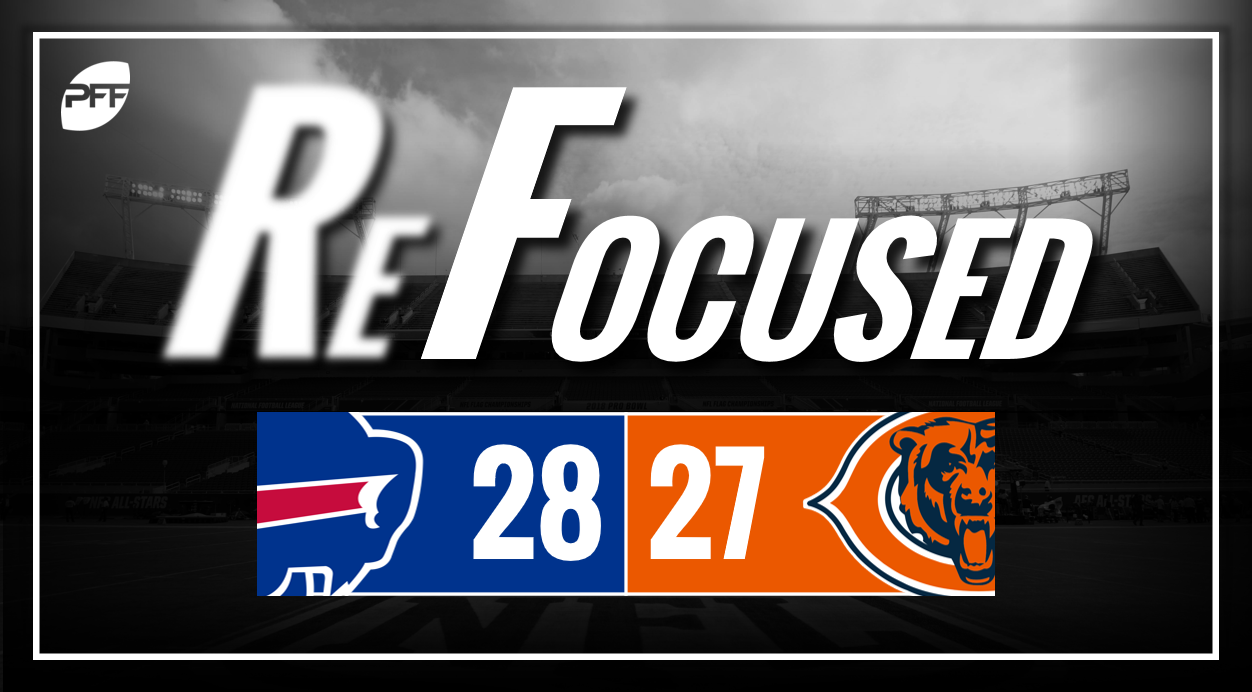 Analyst Takeaways

The Bills offense struggled through three quarters, but then quarterback AJ McCarron exploded for four touchdowns in the fourth quarter, with three coming through the air and one on the ground. McCarron didn't display great field vision throughout the day, but enough of his deep passes connected late in the game to fuel the Bills' comeback.
Bills running back Travaris Cadet had the team's longest run of the day with a 44-yard scamper.  However, the Bills offensive line struggled to open up holes for most of the game. The offensive line also struggled in pass protection, with McCarron taking five sacks.
Edge defender Ryan Russell dominated the Bears offensive line throughout the game, showing up in the backfield time and time again. Russell was a big reason the Bears offense was slowed in the second half.
Edge defender Mike Love had similar success as Russell. Whether he was winning quickly to disrupt the running game or getting pressure to force errant throws, he was all over the field.

Quarterback Tyler Bray got the start and played all the way through the game with mixed results. His best throw of the night was a well-placed corner to tight end Daniel Brown, but for the majority of the game, he showed spotty accuracy, limiting his receivers run after the catch opportunities.
Running back Ryan Nall showed his versatility throughout the game. Nall had some explosive runs, finishing with a game-high 79 yards on just four carries.
Edge defender Kylie Fitts beat up on Buffalo's tackles all night, racking up pressures and drawing some holding penalties.
Cornerback Doran Grant showed playmaking ability, recording a pick-six of McCarron in the first quarter. However, he also committed a pass interference penalty.
KEY TO THE GAME
Buffalo: Through three quarters, the story of the game looked to be AJ McCarron's ineptitude to lead the Bills on a touchdown drive. But after producing four such drives in the final quarter, McCarron showed plenty of resilience, topping it off with a game-winning touchdown pass with thirteen seconds left in the contest.
Chicago: The combination of Chicago's offensive line unable to create lanes in the running game and Bray being unable to complete passes played a large part in why the Bears were unable to hold on to their fourth-quarter lead.