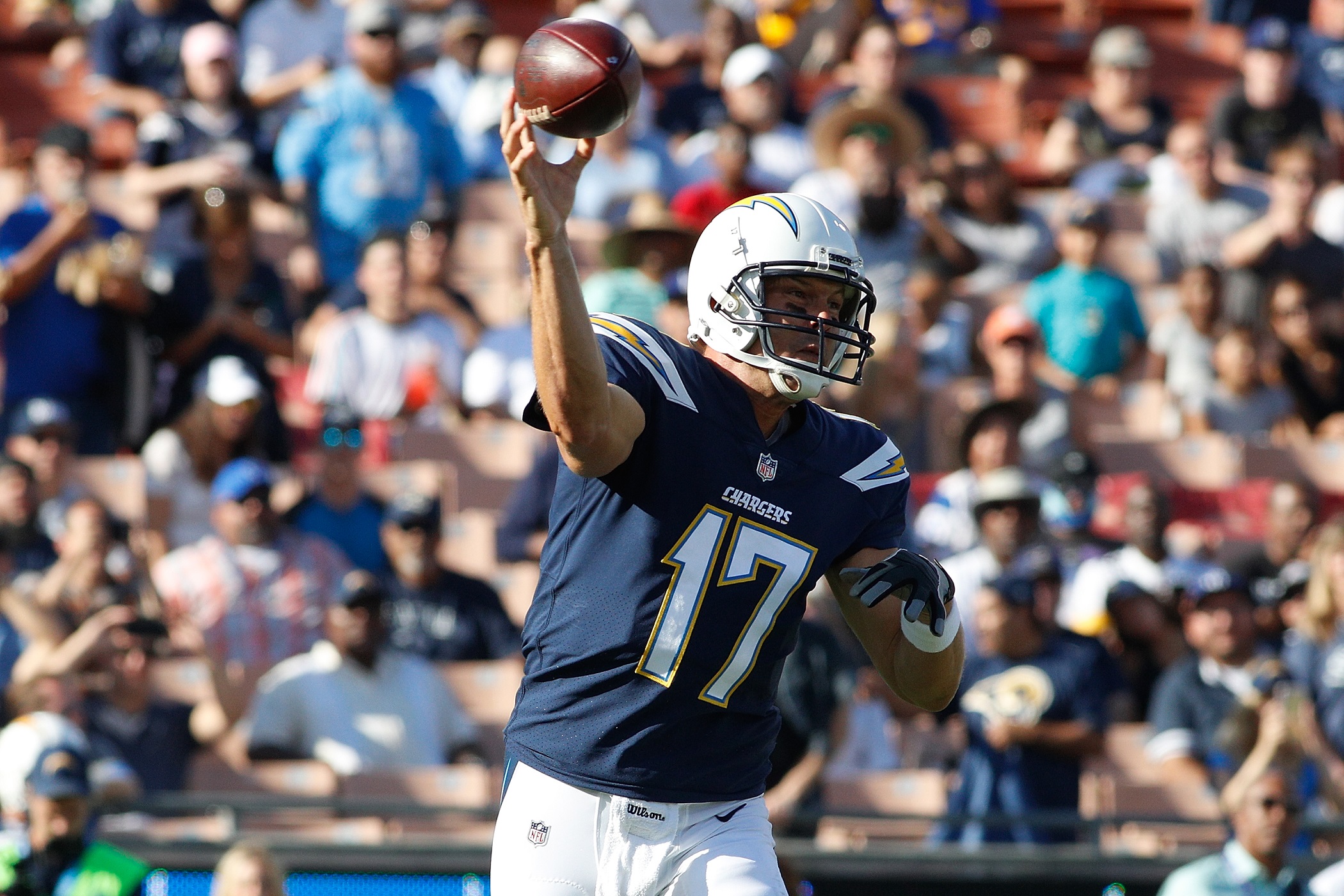 LOS ANGELES, CA - AUGUST 26: Philip Rivers #17 of the Los Angeles Chargers throws a pass during the preseason game between the Los Angeles Rams and Los Angeles Chargers at the Los Angeles Memorial Coliseum on August 26, 2017 in Los Angeles, California. (Photo by Josh Lefkowitz/Getty Images)
With no Aaron Donald, Philip Rivers was able to operate cleanly, finding Keenan Allen multiple times and then Travis Benjamin for a long score on third and five. A Joey Bosa strip-sack fumble was returned by Melvin Ingram for a touchdown on the Rams first drive, and a Jason Verrett interception of Jared Goff ended their second drive.
While the Chargers did all their work in the first quarter, the Rams surged back on the strength of 4 field goals and a Josh Reynolds touchdown catch. However, the Chargers would prevail 21-19. With that. we give you our PFF exclusive takeaways from the contest for each team.

Top 5 Grades:
DI Chris McCain, 87.9 overall grade
S Jahleel Addae, 86.2 overall grade
S Adrian Phillips, 85.9 overall grade
ED Joey Bosa, 84.2 overall grade
T Sam Tevi, 78.4 overall grade
Performances of Note:
Allen played just 17 snaps, but he quickly got into a rhythm with QB Phillip Rivers. Allen ran just eight routes but still managed to catch all five of his targets to pick up 45 yards while largely working the underneath areas. It was a promising showing after he missed nearly the entire season last year, even with Saturday night being just a preseason game.
The rookie running back out of Western Colorado got his first carries of the preseason, and showed a nice burst of speed, and even some yardage through contact despite his smaller size. Ekeler out-rushed the other Chargers' other three backup running backs 37-to-29 despite receiving half as many carries. Ekeler also had a solid 29-yard kick return on special teams.
Chris McCain had at least three total pressures for the third-consecutive game, bringing his preseason total to 12 on 62 pass rushing snaps. He also added two stops in the run game, and a batted pass.
Addae was flying all around the field on Saturday night. He was targeted just twice in coverage, allowing one catch for 3 yards and breaking up the other pass. He also made to two tackles against the run that resulted in defensive stops.
Top 5 Grades:
S Marqui Christian, 86.1 overall grade
S Isaiah Johnson, 83.8 overall grade
S Blake Countess, 83.7 overall grade
DI Casey Sayles, 82.4 overall grade
S Cody Davis, 80.7 overall grade
Performances of Note:
With Todd Gurley sitting out, Malcolm Brown got the nod as the starting running back and did not disappoint in his brief playing time. He averaged nearly five yards per carry and forced five missed tackles on just nine runs. He also added a 22-yard reception.
Cooper had a productive game as a receiver, with five catches for 70 yards, including two catches that went for over 20 yards each. A dropped pass and a couple tackles allowed as a run blocker brought down his overall grade though.
Christian bounced back from a couple sub-par outings in coverage over the first two weeks to allow just one catch for seven yards against the Chargers. He also had two runs stops as part of a game-high seven tackles overall.
Sayles played as many snaps versus the Chargers as he did in the first two preseason games combined (24) and has shown improvement each week. The rookie made two run defense stops on just 11 snaps against the run. While he failed to get a pressure, he did get a batted pass on third down to force a punt and get the Rams offense the ball back in the final three minutes of the game when down two points.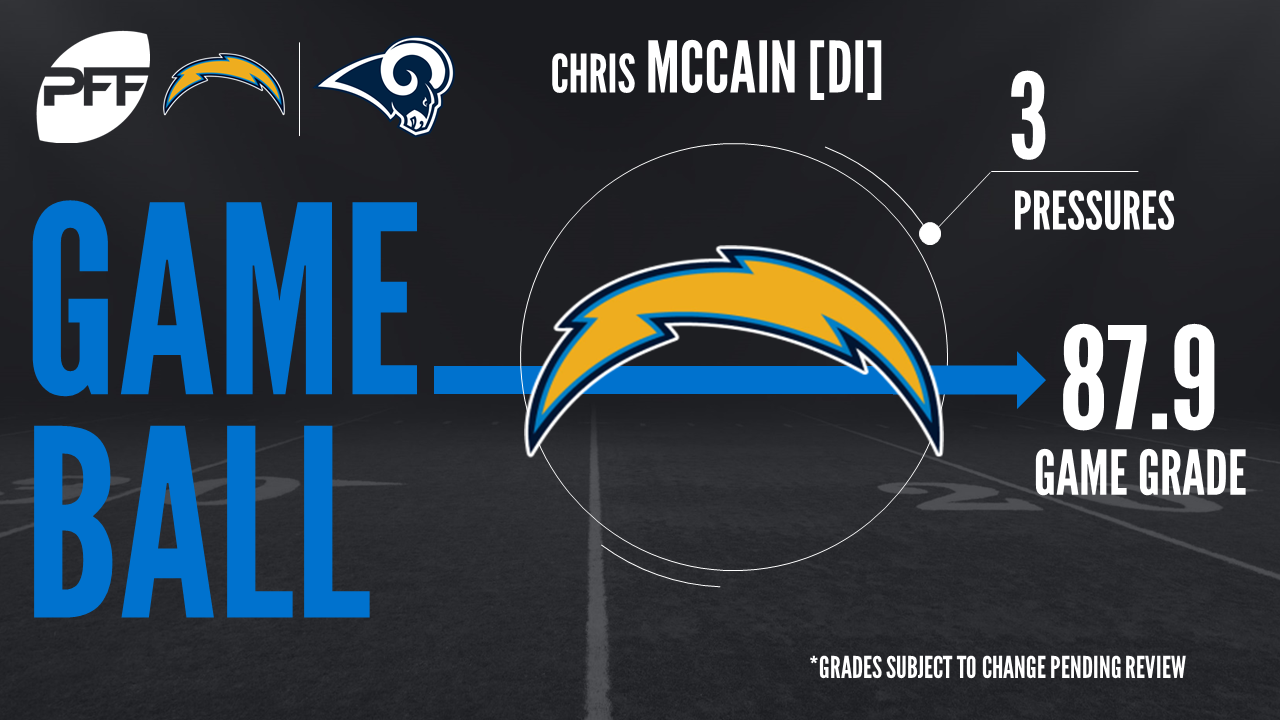 *Grades subject to change pending review