The Cleveland Browns defeated the New York Giants on Thursday night, 20-10 to open the first full week of preseason action in the NFL.
PFF's ReFocused series this season features immediate takeaways and a key to the victory from two Senior Analysts who graded the performance, watching every player, on every play of the game. For more data and analysis from the game, utilize our Premium Stats 2.0 dashboard to expand your knowledge on the key players, signature stats and much more.

FINAL SCORE
Cleveland Browns 20, New York Giants 10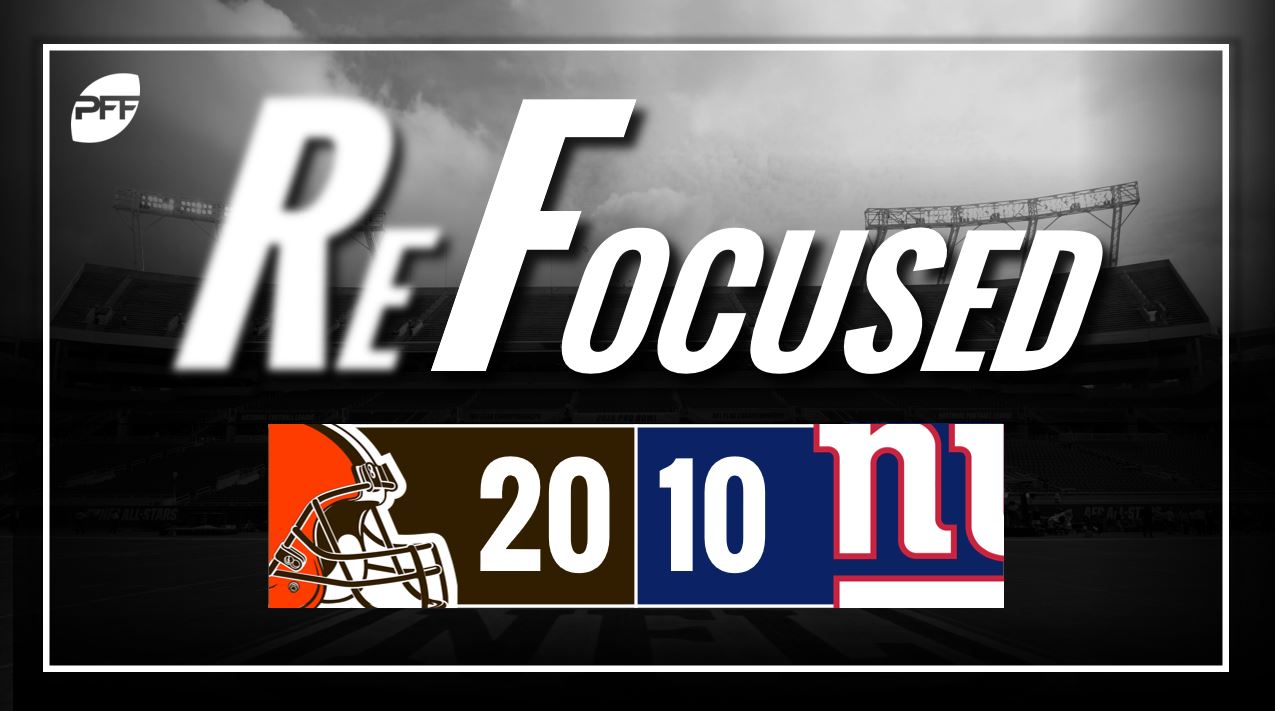 Analyst Takeaways

Baker Mayfield was as advertised, making plays throughout the night. His first touchdown pass was threaded between defenders to David Njoku in the endzone. He showed his accuracy on a slant to Antonio Callaway in tight coverage which Callaway was able to take for Mayfield's second touchdown of the game. Callaway was solid in his debut hauling in three catches for 87 yards and that touchdown. His lone score was an impressive catch in tight coverage and was able to make the free safety miss and take it 54 yards to the house.
The fact that it was preseason didn't stop the Browns from blitzing during a significant portion of the game, leading to a number of players recording multiple pressures. Mychal Kendricks led the charge with several pressures on the night. Jermaine Grace put together a good fourth quarter, particularly in coverage where he was swift in closing on underneath routes and limiting yards after the catch.

Davis Webb struggled tremendously with accuracy throughout the night, completing just 41 percent of his passes and failing to connect on anything down the field. Webb left a number of plays on the field, including an overthrow of Russell Shepard deep down the left sideline early in the second quarter.
Drops were a consistent theme throughout the game regardless of who was at quarterback, with the Giants pass-catchers failing to take advantage when they did receive an on-target throw.
On defense, Leonard Johnson had a tough night surrenduring two touchdown passes and multiple catches when he was in coverage. There weren't too many bright spots but Calvin Munson showed well in the running game. The Giants defense surrendered just 1.5 yards per attempt on 33 rushes for the night.
KEY TO the game
Cleveland: Mayfield's 212 yards on 20 attempts were key to the Browns victory.
New York: Drops. And lack of yards on the ground despite Saquon Barkley's 39-yard opening scamper, he gained just four yards on four carries after that.