Dallas Cowboys running back Ezekiel Elliott is considering holding out from training camp, according to multiple reports. It is difficult to evaluate the impact of Elliott missing the preseason since there have been players who missed practices or did not play at all in the preseason and still performed at a high level during the regular season.
However, what this article will attempt to do is look at what it would mean for the Cowboys if Elliott's holdout extended into the regular season. There has been a debate going on about whether Dallas should extend Elliott at his asking price, and while that is a conversation to be had, this article will not try to answer that question.
Let's look first at what Elliott offers to the Cowboys and what he brought to the table over the first three years of his career. The first thing that comes to mind is volume. Despite missing eight games, no non-quarterback has touched the ball more times than Elliott over the last three seasons — and it's not particularly close either. The former Ohio State Buckeye had 55 more carries than Los Angeles Rams running back Todd Gurley over that time span, even with five fewer games. Furthermore, he is 607 rushing yards ahead of Gurley over these three seasons with a total of 4,048 yards. In addition, he also ranks 12th among running backs with 165 targets in that period.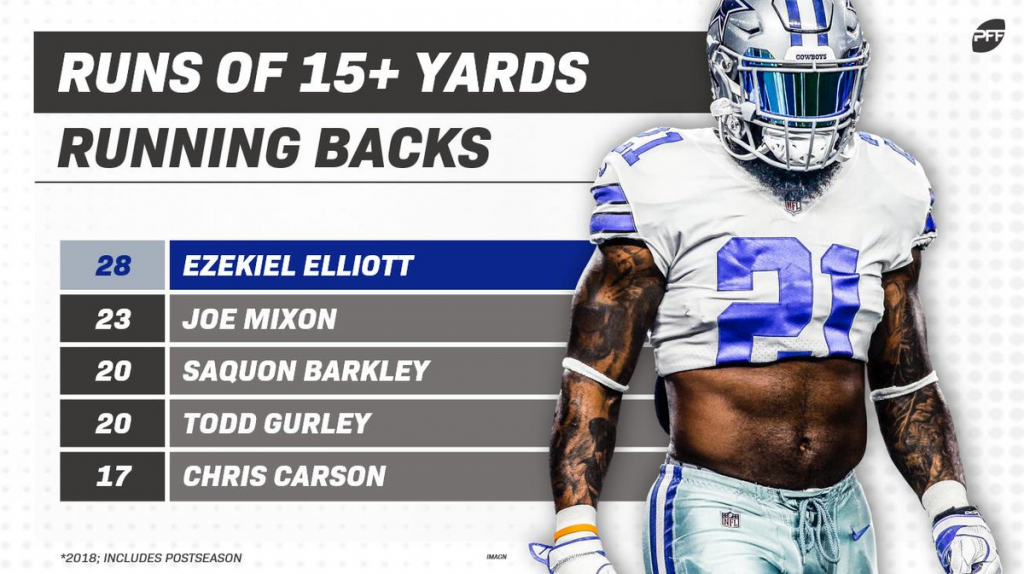 While it is not a stretch to call him the most durable running back who also has to take on the heaviest workload, Elliott's efficiency on these carries has been good, but not great. There are 100 running backs with at least 100 rushing attempts over the last three seasons, and the Cowboys' back ranks 18th among them with 3.0 yards after contact, while his rate of forcing 0.12 missed tackles per carry is tied for just 64th.
In addition, ball security has been a concern as Elliott put the ball on the ground on 1.38% of his carries, which ranks just 81st among the 100 qualifying running backs. However, despite the latter issues, Elliott's big-play ability is highlighted by his PFF rushing grade of 79.5, which ranks 15th on this list.
One aspect where Elliott offers more value now than he used to is receiving. With the increasing importance of the passing game, it is crucial to emphasize that Elliott has been a true three-down back for his entire career, and he even managed to take a step forward in that facet in 2018. He ranked fifth in the league among running backs with 94 targets and 78 receptions — both career highs — and he also tied his career-best of 1.31 yards per route run. This development is a big part of why we recently included Elliott among the 10 best running backs entering the 2019 season.
So who would step up for the Cowboys to fill the void and replace Elliott's production if his holdout meant he would miss regular-season action? This is the part where I would break down what other Dallas running backs have achieved in the NFL and how they can best help the Cowboys. However, the other four Dallas running backs on the roster played a total of 18 snaps on offense in the NFL, and they all came in Week 17 of the 2018 season when Darius Jackson played in place of Elliott, who was rested by the Dallas coaching staff.
Consequently, neither of the Cowboys' young running backs have the track record to suggest that they have Elliott's durability and could replace his production. While it would not be as significant a change as at other positions due to positional value, the Cowboys would most likely see a substantial drop-off if they needed to play any of their other players as a feature running back. As a result, Dallas has to hope that Elliott ends his holdout before the regular season, either with or without a new contract.