Oakland Raiders wide receiver Amari Cooper, while predominantly used outside the numbers, has quietly become one of the league's most efficient route runners from the slot.
Despite running just 17.9 percent of his routes away from the outside boundary, Cooper has averaged 2.81 yards per route run from the slot in his three-year NFL career. He has also brought in seven of his 15 receiving touchdowns (46.7 percent) at slot receiver.
To add perspective, Cooper's 2.81 YPRR from the slot would rank No. 4 in the PFF era (since 2006) if measured against the top season performances — in terms of YPRR – by a starting slot receiver. His career 1.76 career YPRR would drop to just 1.53 if we were to subtract his slot production from his NFL stat line.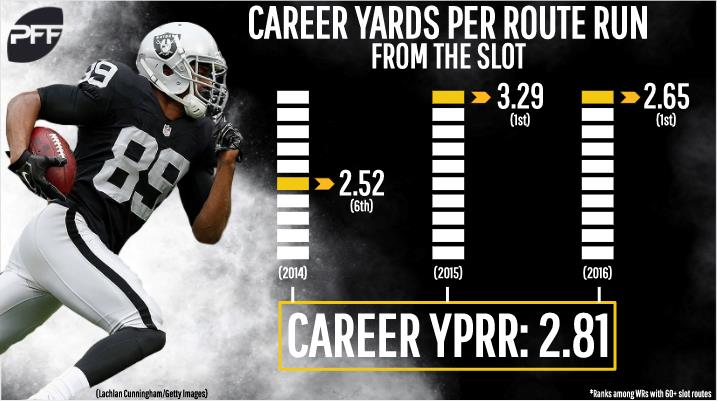 The Alabama product's dominance in the slot even dates back to his final year in Tuscaloosa, as he totaled 443 receiving yards and four touchdowns on just 66 slot routes to average 6.71 YPRR with the Crimson Tide in 2014.
Oddly enough, Cooper's consistent production at slot receiver has yet to translate into an increase in slot snaps for the 23-year-old standout.
Cooper leads 61 qualifying NFL receivers with at least 72 slot routes in 2017 with his 2.65 slot YPRR; however, he ranks 59th among that same group of pass-catchers in percentage of routes run from the slot at 22.1. In Week 11, he ran just 11 slot routes (23.4 percent) against a New England Patriots defense that entered the matchup having allowed a league-high 105.3 yards in slot coverage per game.
By comparison, Seth Roberts, the Raiders' leading receiver in slot route percentage, has averaged just 0.97 yards per route run from the slot to rank 48th on the list.
On pace to earn an overall grade below 45.0 for the third consecutive year, Roberts has seemingly given Oakland every reason to dial back his slot reps in exchange for an increased slot role for Cooper in 2017.
Roberts' top two route concepts in terms of total routes run this season have been the hitch (50) and seam (32), where he has averaged 1.08 and 1.75 yards per route run, respectively. Cooper, on the other hand, has run just 10 hitches and seven seam routes from the slot this season but still has averaged 4.00 and 3.71 yards per route run, respectively.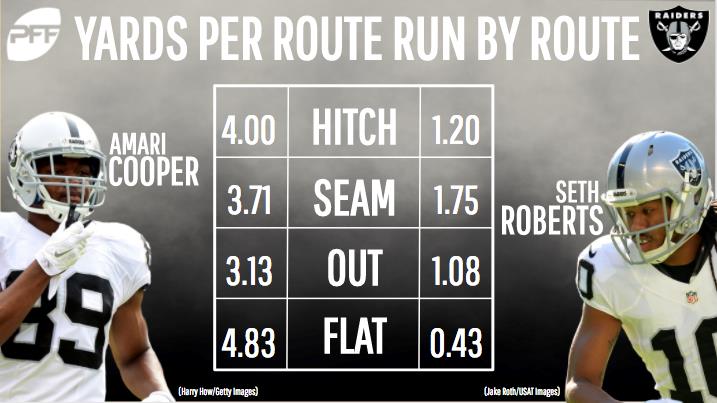 Cooper has specifically bested Roberts on outward-breaking routes (flats, outs), as he has totaled 79 yards on 22 such routes (3.59 YPPR), while Roberts has amassed just 50 yards on 43 flats/outs (1.16 YPRR).
Whether Cooper can maintain his production within an increased slot role is yet to be determined, but given the glaring disparities between his and Roberts' play inside the hashes, asking him to take more snaps inside could prove to be a worthwhile experiment for the silver and black.