Tyler Eifert flashed upper echelon potential in his 2015 season with the Cincinnati Bengals, where he caught 13 touchdowns passes and saw 75 targets. Of course, as we know, injuries have told the story since, as Eifert has missed 34 games in the last three seasons.

Pro Football Focus will be running through 50-plus pending/soon-to-be free agents between January 7, 2019 and March 8, 2019 to offer a detailed analysis of the top players bound for new contracts and (possibly) new teams in 2019. We want to house all of the important grades, advanced stats and key analysis for each player, so you know exactly what your team is getting in free agency.
To review all of our free agent profiles in one place, please visit this page.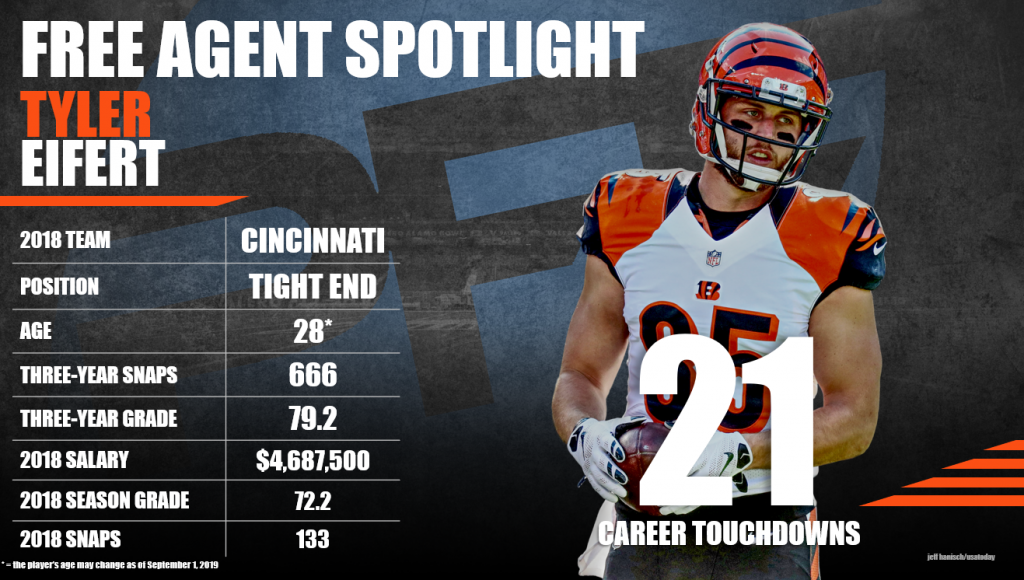 The 2013 first-round pick signed a one-year deal with the Bengals this past offseason that came with a chance to prove his worth and durability. Unfortunately, Eifert proceeded to miss more than half the season following a gruesome ankle injury in the fourth game of the season. Eifert is a high-risk player, but he is still a young 28-year old tight end who has caught 21 career touchdowns and 1,774 total yards. In Eifert's career year (2015), he ranked fifth among all tight ends (87.5) and earned the highest passer rating when targeted (145.1) among qualifying tight ends.
Subscribe to Pro Football Focus' ELITE subscription to research Tyler Eifert's grades, advanced stats, snaps and more in Premium Stats 2.0.