It was another week for underdogs, where Pittsburgh, Los Angeles, Miami, Washington, and Dallas won outright, while Denver, Kansas City, San Francisco, Buffalo, and Arizona at least pushed against the spread. As such, there continues to be less certainty as to which teams are truly the elite outfits in the NFL, outside of maybe the top four or five teams. Until that changes, there will likely be value on underdogs, so head to PFF Greenline to see our selections.
Like all ELO systems, PFF ELO is an iterative system that updates each team's rating after each game based on two things: how well they played against their opponent and how well they were expected to play against their opponent. The PFF ELO rating system measures the former using our unique offensive, defensive and special teams grades, while the latter is determined by the PFF ELO ratings leading up to the game and where the game is played.
For example, a heavy favorite playing at home is expected to outplay the visitor – so a victory would result in only a small rise in their PFF ELO rating and a similarly-small decrease in the defeated team's. However, if an upset were to happen, the visiting team would see their PFF ELO rating rise substantially, and the home team's see a similarly-sized drop.
Check back to profootballfocus.com for weekly college spread picks using this model (as well as other information) and check out PFF Greenline for our NFL version of the product.
Note: for week seven we've adjusted the ratings slightly to incorporate the return of players like Aaron Rodgers to the Packers from injury, as well as the injury to Jimmy Garoppolo. These adjustments will be rare but will reflect the output of other quantitative models we use as a part of Greenline – in which PFF ELO is just one.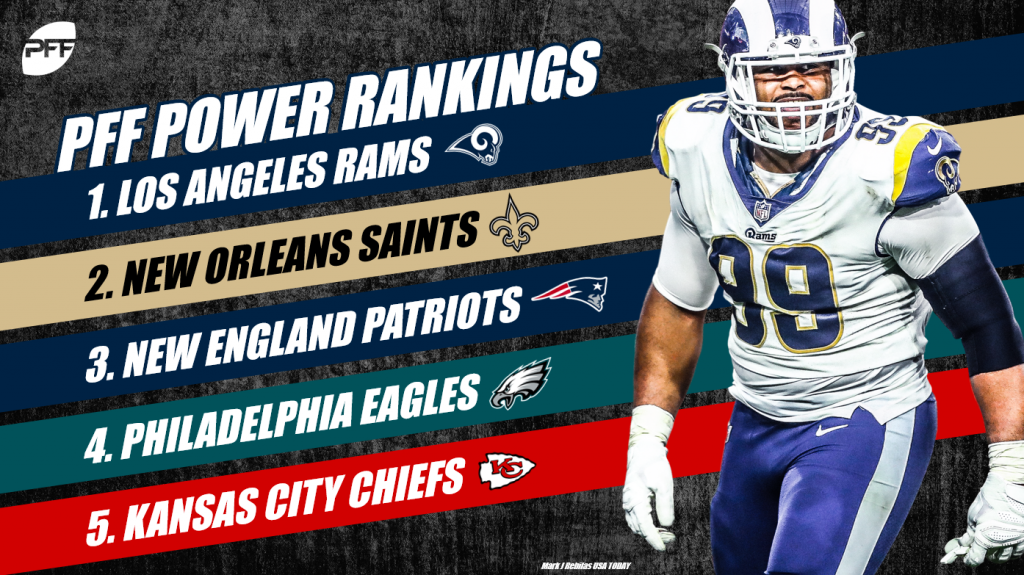 2018 Week 7 ELO Ranking: 1
The Rams rode their dominating defense and Todd Gurley to a victory in Denver, pushing their record to 6-0. Running backs very rarely matter these days, but rushing in the right situations while contributing 131 yards after contact can do wonders for an NFL offense. This defense deserves recognition for their hot start, as they are allowing the lowest EPA allowed on early down pass attempts. Nickell Robey-Coleman has thrived under Sean Mcvay, becoming one of the premier slot corners in the NFL.

2018 Week 7 ELO Ranking: 2
The Saints moved up one spot on their bye week, heading now to Baltimore to try and answer whether defenses matter over a one-game sample. Since offenses dictate success in the NFL, the Saints are sitting pretty with a successful pass attempt on 64% of early downs. Drew Brees is on point with an accuracy percentage of 84.1%, and he has over four times as many big-time throws to turnover-worthy throws. With a current expected win total of 10.5 games, the Saints are closely following the Rams as the class of the NFC.

2018 Week 7 ELO Ranking: 3
The Patriots outlasted the Chiefs in a thrilling game that sets up a potential playoff matchup in the AFC. Neither offense could be stopped in the second half. The Patriots were fortunate to finish with the ball as time expired, which allowed Stephen Gostkowski to hit the game-winning field goal. The Patriots have been efficient when passing, but Tom Brady isn't necessarily posting career popping numbers. His EPA per dropback is the lowest it's been since 2013 and in the PFF Era, he has only two seasons with a lower EPA per dropback than his current mark. Josh Gordon and Julian Edelman are getting up to speed and that should help Brady prop up his numbers over the second half of the season.

2018 Week 7 ELO Ranking: 4
The Eagles broke their losing skid by dominating the Giants on Thursday night. Carson Wentz is rounding into form with an 82.4 PFF passing grade, and he currently has the lowest percentage of negatively graded throws among starting quarterbacks. At 3-3, our model still likes them to win nine games and lock up the NFC East. Their pass defense will need to get better, however, as right now they are allowing a successful pass on just under 50% of early down attempts.

2018 Week 7 ELO Ranking: 5
The Chiefs went into Foxboro and proved they can play with anyone, as they put on an offensive display that fell just short in its comeback attempt. Any room for improvement has to be found on the defensive side of the ball, where they are allowing both a successful pass and rush on well over 50% of attempts. They have recorded pressure, except in Foxboro, but have been abysmal in coverage with one of the lowest contested ball rates in the NFL.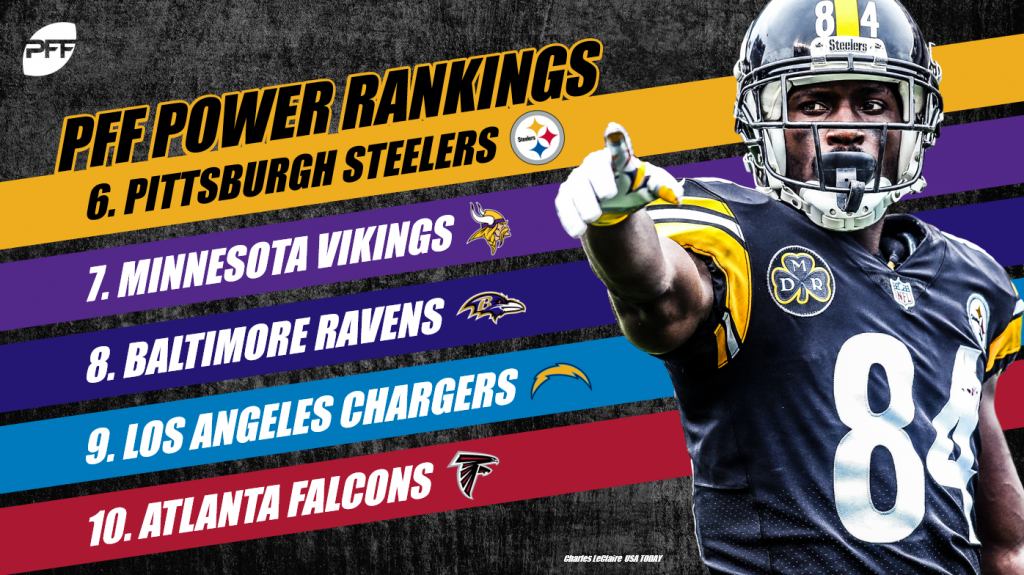 2018 Week 7 ELO Ranking: 6
Back atop the AFC North (by our win projections), the Steelers went on the road and did what they seemingly always do – beat the Bengals on the strength of Ben Roethlisberger, Antonio Brown and a defense that was…good enough. Stephon Tuitt was brilliant against Cincinnati, with one sack, one hit, four hurries and three stops. While they struggled early on, in today's NFL a middle-of-the-pack defense is enough to win, and the Steelers can produce that most weeks.

2018 Week 7 ELO Ranking: 7
It's difficult to take anything away from a game in which the Vikings pushed a 10-point spread against a Cardinals team that is offering almost no support to its rookie quarterback and wants to trade its entire defense. They are (weirdly) only three-point road favorites against the Jets this week, likely because they have allowed a successful early down pass on almost 60% of their opponent's attempts. 

2018 Week 7 ELO Ranking: 8
Two head-scratching division losses to the Bengals and the Browns are all that's between the Ravens and being in the upper-echelon of the league. Their defense has allowed the lowest percentage of early-down run plays to generate success so far this year (28.45%), and with opponents behind the sticks on later downs, they've been able to leverage a solid pass-rush/coverage combination to victory more often than not. In what we thought would be a pretty division, look out for a compelling finish in the AFC North during the second half of the season.

2018 Week 7 ELO Ranking: 9
The Chargers appear to be hitting on all cylinders to start 2018, after dominating the Browns on the road. Philip Rivers is playing at an elite level, as the only quarterbacks to have a higher EPA per dropback than he are Patrick Mahomes, Jared Goff, and Drew Brees. Rivers has three times as many big-time throws as turnover-worthy throws and is off to one of the best starts in his career. Missing some of their elite players, the Chargers defense wasn't expected to be this dominant but has performed well, as one of only a handful of teams that is yielding a negative EPA on both passing and rushing attempts. 

2018 Week 7 ELO Ranking: 10
The Sweatlanta Falcons ground out a victory (and a cover), snapping a three-game losing streak. At 2-4 it would take a historic performance for the Falcons to find themselves in the playoffs in 2018. Right now, our model has them pegged to win 7.5 games. The injuries have been crippling to this team, but if you are only going to be good at one facet of football, it's best to make it the passing game – which keeps us optimistic about the Falcons for now.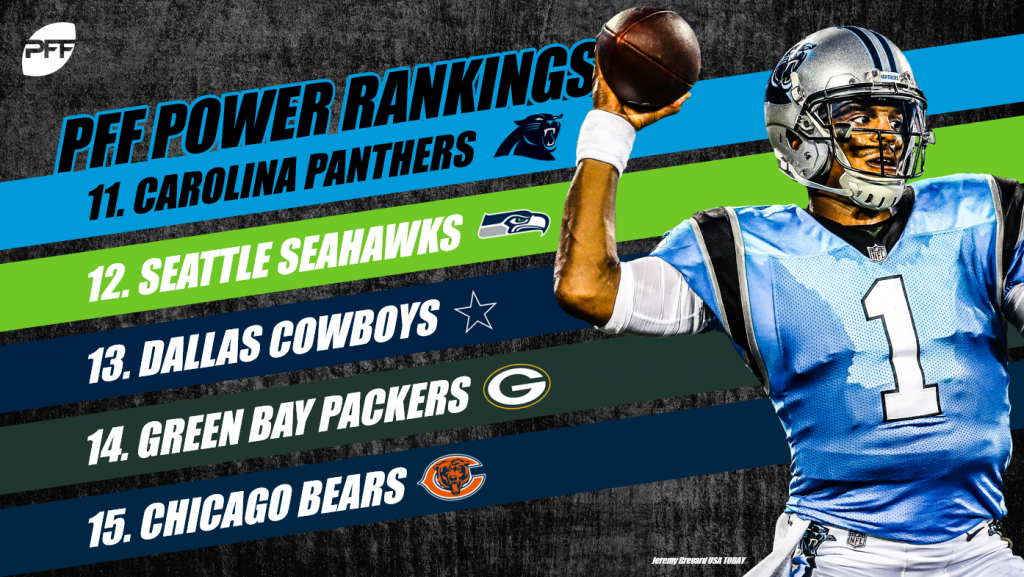 2018 Week 7 ELO Ranking: 11
Bad Cam Newton showed up in Washington on Sunday, posting his first below-average PFF passing grade in 2018. The Panthers have a successful pass on 52.5% of early down attempts, but Newton is struggling to avoid turnover-worthy throws, as he has a higher percentage of those than the big-time throws. Defensively, they have had little success stopping anyone and are allowing 0.19 EPA per pass attempt. 

2018 Week 7 ELO Ranking: 12
The Seahawks will continue to go as far as Russell Wilson can take them. Outside of Kansas City, Wilson has the highest percentage of big-time throws in the NFL. With the Rams hot start, Wilson may need to turn in an MVP caliber performance to secure a wild card spot in 2018. Our model has a win total expectation of 8.5 which sets their playoff chances almost dead even.

2018 Week 7 ELO Ranking: 13
After starting to get written off for 2018, the Cowboys came to life and obliterated the Jaguars at home. Defensively, they have dominated against the run and been fairly successful in coverage. They apply pressure at one of the highest rates in the NFC and rarely need to blitz to generate productivity. Dak Prescott continues to flash every few games, but has to be more consistent if the Cowboys want any shot at winning the NFC East.

2018 Week 7 ELO Ranking: 14
While Green Bay's ELO rating is slightly higher than Chicago's, their difficult schedule, starting with the Rams and the Patriots after the bye, has Chicago favored over them in terms of projected win total and playoff odds. Quarterback Aaron Rodgers' 0.11 EPA generated per dropback is far lower than that of quarterbacks who have similar PFF grades, so there is some hope that the offense could take off after the bye week. 

2018 Week 7 ELO Ranking: 15
Chicago was brocked from atop their perch atop the NFC North with a stunning loss against the Miami Dolphins Sunday. Chicago's biggest nightmare; that Mitch Trubisky's great game against Tampa was a mirage and not a trend, was realized against the Dolphins, and he remains one of the rare starters with as many negatively-graded throws as positively-graded ones after five weeks.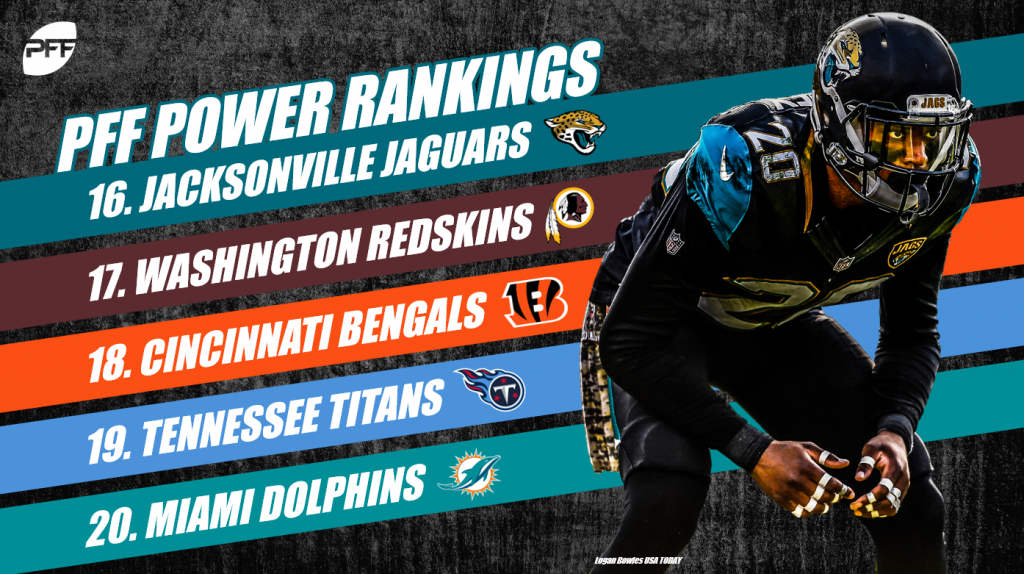 2018 Week 7 ELO Ranking: 16
The Jaguars stumbled to 3-3 after barely showing up in Dallas on Sunday. They have taken a tumble in our rankings and currently project to win a mere eight games in 2018 and miss the playoffs. The main issue with the defense is its lack of stability in year over year performance. The 2018 Jaguars may one day be a case study in football analytics attesting to how unpredictable defensive performance truly is.

2018 Week 7 ELO Ranking: 17
The Redskins jumped out to an early lead and relied on turnovers to hold onto the victory. Josh Norman posted his best coverage graded game since 2016, as he forced a fumble and intercepted Cam Newton, allowing a passer rating of 63.8 when in coverage. At 3-2 our model has the Redskins winning 8.5 games. If they want to have a shot at the playoffs they will need to play pass defense as they did against the Panthers, as to date, they have allowed a successful pass on 49% of early down attempts.

2018 Week 7 ELO Ranking: 18
Going 5-1 with wins over the Ravens and the Steelers (and two games left with the Browns to play) would have been a nice spot for the Bengals, who are now projected to win the AFC North in just 22.67% of our simulations. They have a chance to prove themselves again this week in Kansas City. A loss leads us to question whether their come-from-behind wins against teams like the Colts, Falcons, and Dolphins were the results of luck rather than a sign of something real. A road win puts them in position to challenge for AFC supremacy for the first time since 2015. 

2018 Week 7 ELO Ranking: 19
The Titans laid an egg at home on Sunday, and they got embarrassed by the Ravens dominating pass-rush. Marcus Mariota has compounded issues when pressured and has posted the highest percentage of sacks when under pressure in the NFL. When he is able to avoid a sack,  he has performed above expectation under pressure with a passer rating of 80.2. No other useful information can be gleaned from the Titans performance on Sunday. At 3-3 the Titans are still one of the most perplexing teams in the league, especially to project, but right now our model has them winning eight games.

2018 Week 7 ELO Ranking: 20
It's Brocktober, and there's not a whole lot any of us can do about it. Miami's speed on offense has been a godsend, with Albert Wilson and his 2.92 yards per route run one of the low-key, great free agent signings of this past offseason. Ryan Tannehill has more than twice as many turnover-worthy plays as big-time throws, so the quarterback situation throwing to these receivers will be one to monitor as they try to make the playoffs for the second time in three years.

2018 Week 7 ELO Ranking: 21
When you look at the other team inhabiting MetLife Stadium, you have to wonder how big of a blunder it was to allow Sam Darnold to fall to three in late April. Darnold hasn't been perfect, producing more turnover-worthy plays than big-time throws so far, but his rate of positively-graded throws (24.4%) has been enough to A) keep the Jets in games and B) give Jets fans hope for the future. A big-play running game (generating 0.01 EPA per run) helps as well.

2018 Week 7 ELO Ranking: 22
A week off. A week where the Bears lost in Miami, and the Vikings and Packers looked unimpressive in victories over NFC West foes, Detroit remains right in the thick of it in the NFC North, even at 2-3, they're still 1-0 in the division. Golden Tate and Kenny Golladay, both averaging over two yards per route run, are one of the league's best duos for Matthew Stafford, and with Marvin Jones, Kerryon Johnson and Theo Riddick in the fold, there's no reason their offense shouldn't be able to keep up with the modern NFL. 

2018 Week 7 ELO Ranking: 23
Tampa Bay fought hard against the Falcons Sunday, with Jameis Winston his usual, productive self. He led all passers in the percentage of dropbacks earning a positive grade in 2017, and he's tops again this season through one-plus games at 36.2%. The Bucs defense is in shambles, allowing a league-worst 61.71% of early-down passes to be successful against them, which has worked out to almost half of an expected point each dropback. With Mike Smith now fired, will that help? They get something of a reprieve this week against the Browns as they look to get back to 0.500 after a promising 2-0 start.

2018 Week 7 ELO Ranking: 24
The Texans are likely the worst 3-3 team in the league, with an offensive line that has not helped second-year quarterback Deshaun Watson one bit. He's been resilient nonetheless, generating a positively-graded play on almost one-third of his dropbacks so far. Their defense won the game against the Bills and was stout against Dallas, but they have not been good when having to face good opponents, either.

2018 Week 7 ELO Ranking: 25
Denver used to be able to pride themselves on their defense, but so far this year, they've allowed positive EPA on early-down passes and runs. Being unable to keep scores low has not been conducive to breaking in new quarterback Case Keenum, who has almost twice as many turnover-worthy plays this season as he has big-time throws. His percentage of negatively-graded throws is almost as high as his rate of positively-graded ones, something that needs to improve if he's going to continue to be Denver's quarterback moving forward.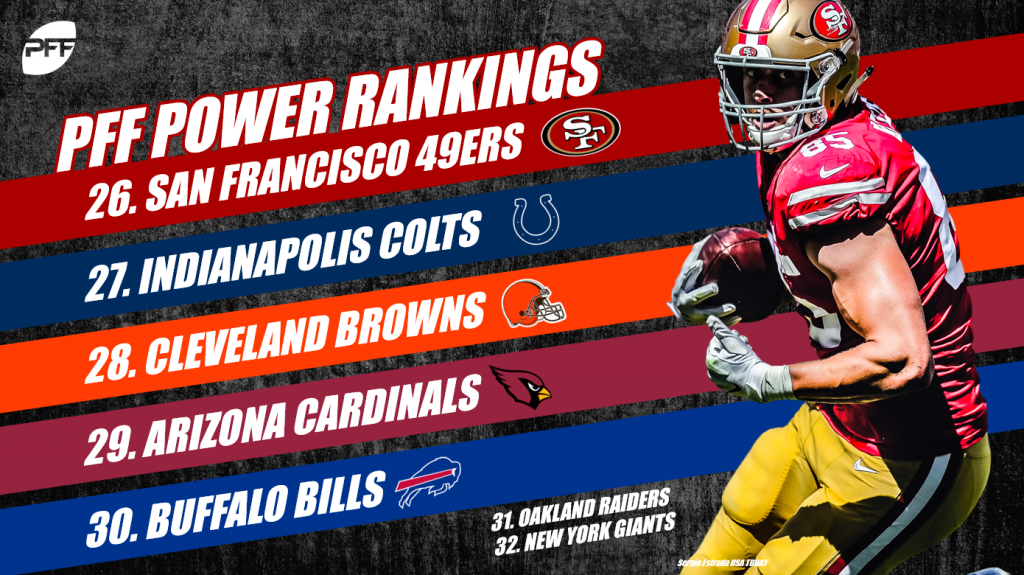 2018 Week 7 ELO Ranking: 26
The 49ers played well Monday night against Green Bay but simply couldn't close the door on a Green Bay team that gave them plenty of opportunities to do so. That makes two impressive outings in three tries for the C.J. Beathard-led San Francisco offense. While the second-year backup from Iowa has been better than expected, a lot of the praise should be directed at his supporting cast, which has taken every air yard Beathard has thrown and made an average of 1.40 receiving yards from it, highest among qualifying quarterbacks so far this year.

2018 Week 7 ELO Ranking: 27
As bad as it looks right now for the Colts, they are only two games back in the AFC South, despite being a M.A.S.H. unit on both sides of the ball the last few weeks. Andrew Luck's 12 touchdown passes from a clean pocket have been second in the NFL, despite playing significant parts of the season without Jack Doyle or T.Y. Hilton. If you want one team to monitor from the bottom of the list, this is it.

2018 Week 7 ELO Ranking: 28
Last week was a rough one for the Browns, whose improving defense was dragged up and down the field by Los Angeles in a game where their offense was out of sync the entire time. Baker Mayfield's receivers' drop rate is a full two percentage points worse than any other quarterback's in the league, mitigating his whopping 6.4 big-time throw rate through the first four games of his pro career.

2018 Week 7 ELO Ranking: 29
The offense has been nothing short of a disaster through the first six weeks of the Steve Wilks era. That said, the defense appears to have some redeemable pieces in Josh Bynes, Chandler Jones, Budda Baker and Patrick Peterson, who have all graded well in adjusting to Wilks' zone scheme. With some of the aforementioned reportedly on the trading block, we'll have to see how long they can keep the band together and make something of this season.

2018 Week 7 ELO Ranking: 30
It's hard not to be a little encouraged with half of a Buffalo team that has kept them in road games against Minnesota and Houston, as well as a home game against Tennessee in the last four weeks. Allowing -0.25 EPA per early-down run play, their pass defense has gotten substantially better of late, allowing fewer than 150 yards in the air the last two weeks and less than 300 yards in each of their games so far this year. While Josh Allen/Nathan Peterman will always limit their potential, they might be in a lot of games this year due simply to their throwback unit on the defensive side of the ball.

2018 Week 7 ELO Ranking: 31
Things have changed so much in just two years. Derek Carr was a quarterback for which we were re-writing the script – a second-round quarterback turned into a franchise guy. Now he's unlikely to be Oakland's starter come 2019. The third-quickest thrower in the league, Carr has managed just a 88.3 passer rating on throws quicker than 2.5 seconds. While drops had been an issue in previous seasons, his receivers are actually in the middle of the pack there this year, so he mostly has himself to blame here.

2018 Week 7 ELO Ranking: 32
After Thursday night, it's really difficult to make a case for any other team than the Giants for the NFL's worst. While Saquon Barkley's 37 combined missed tackles, almost evenly dispersed between the running and the passing game, has been very impressive, Eli Manning has a passer rating using play action just north of 72.0, meaning that the designs the Giants had in selecting the rookie from Penn State have not materialized.