The Houston Texans are winless no more — life post-Bill O'Brien got off to a winning start against the Jacksonville Jaguars. While it was probably their most encouraging game of the season, it was still far from a perfect performance.
Editor's note: All of PFF's grades and advanced stats from this game will be finalized and made available to ELITE subscribers within 24 hours of the final whistle.
Story of the Game
Brandin Cooks had himself a huge day, and there were signs that this stable of speedy receivers can build a connection with Deshaun Watson and help to replace what the team lost when DeAndre Hopkins was traded away.
Cooks had 11 targets, eight catches, 161 yards and a touchdown on the day as he carved up a depleted Jacksonville secondary. Watson was far better in this game than he has been most of the season but still had two interceptions, which threatened to undo much of the good work he was otherwise doing. The first of those plays was tipped by a defensive lineman in his face, which made it fly badly and die behind his intended receiver, ending up in the arms of Sidney Jones. The second was a bad breakdown between Watson and his intended receiver deep down the field.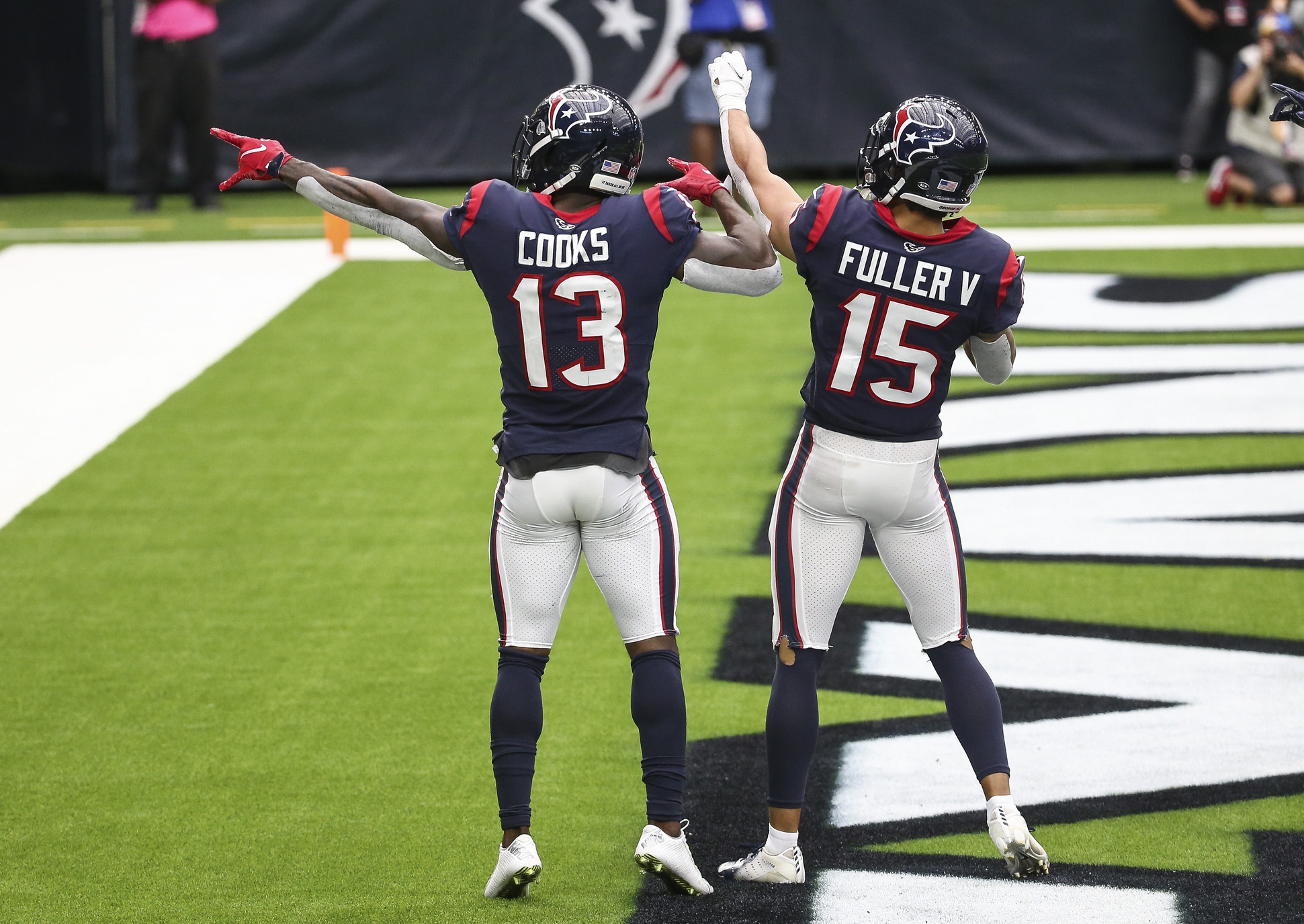 Gardner Minshew did his best to keep pace, and the biggest negative play for Jacksonville came when rookie James Robinson lost the handle on the ball as he was changing his grip on it to pass on a trick HB-option play. The Texans recovered the football and stole a cheap possession in the game. The Jaguars could have used that one back as the game went on.
The Texans will be encouraged that they were able to see signs of life on offense, but they'll also be acutely aware of the opposition.
Rookie Watch
Laviska Shenault continues to flash ability for the Jags. He caught seven of eight targets for 79 yards, moving the chains six times for first downs. Fifth-round receiver Collin Johnson caught three of the four passes thrown his way for 30 yards and a score, with the fourth being an underthrown end zone target from Minshew. Johnson is clearly a factor for the Jags when they get to the red zone area.
Robinson had 13 carries for 48 yards, with 32 of them coming after contact, along with five catches. But his biggest contribution to this game was a negative one in the shape of that fumble.
With the Jaguars being forced deep into the bench, seventh-round rookie corner Chris Claybrooks played 58 snaps at cornerback. That helps to explain much of the Texans' passing success. Claybrooks surrendered over 100 yards in the game as well as a touchdown.
K'Lavon Chaisson played 48 snaps because of how much Houston was passing but came away with just two hurries on 34 rushes. Interior defensive lineman Davon Hamilton played 30 snaps without distinguishing himself, and fellow interior lineman Doug Costin was similarly uninspiring on 22.  Jacksonville also saw 28 snaps at safety from Daniel Thomas, who had seven tackles, two of which were defensive stops.
Houston was far less reliant on rookie help, with just two players seeing snaps on defense. Ross Blacklock played just 10 snaps on the defensive line, while Jonathan Greenard was in for only two — though one of them did produce a hurry on the quarterback.
ELITE subscribers can view player grades, advanced statistics, positional snap counts and more in Premium Stats 2.0. Use promo code KICKOFF30 here to save 30% off your new PFF subscription today.