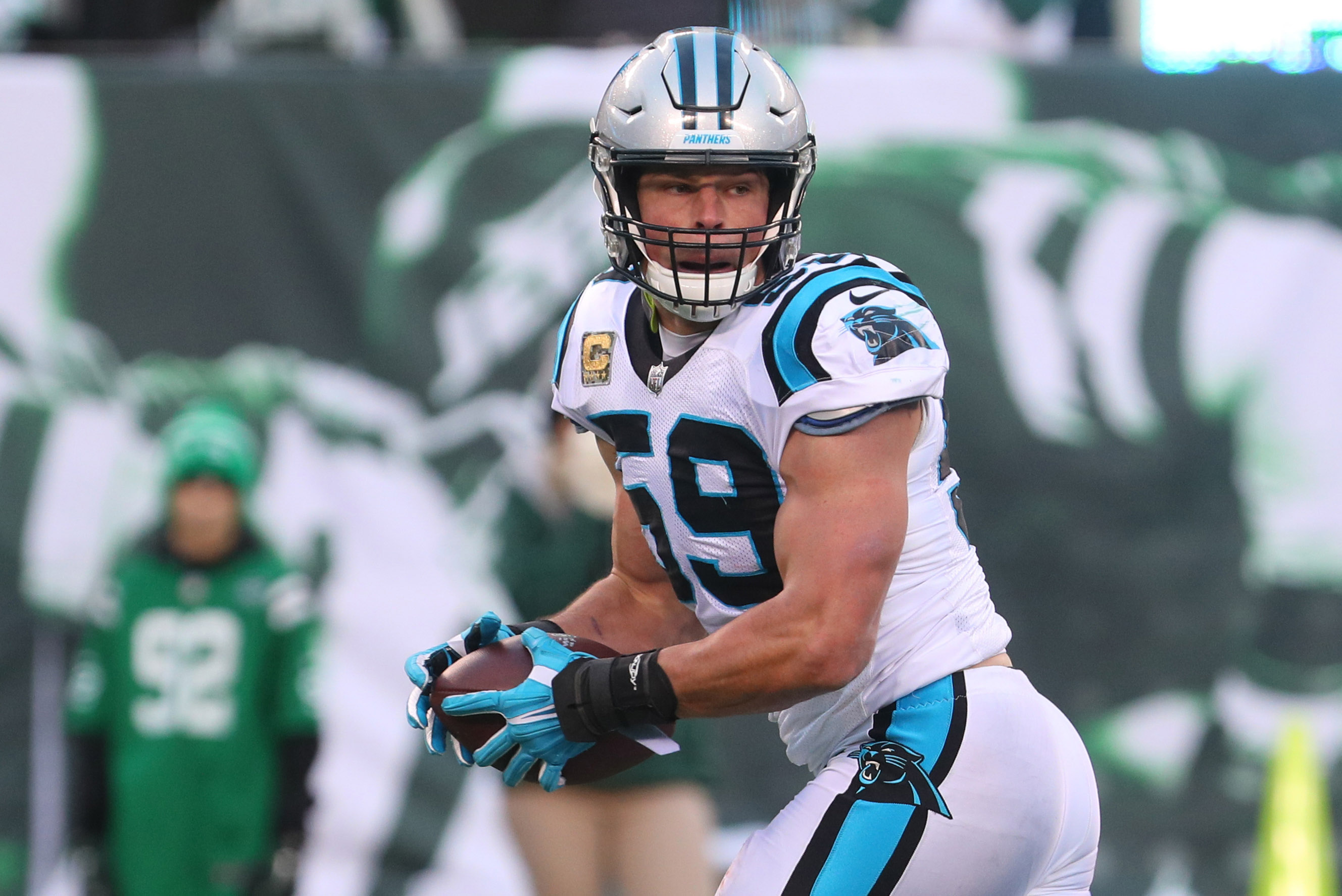 Nov 26, 2017; East Rutherford, NJ, USA; Carolina Panthers middle linebacker Luke Kuechly (59) runs for a touchdown after recovering a fumble during the second half of their game against the New York Jets at MetLife Stadium. Mandatory Credit: Ed Mulholland-USA TODAY Sports
Week 12 saw several offensive players grab the headlines, but don't let that make you think we didn't see plenty of standouts on the defensive side of the ball. From game defining touchdowns, to dominant pass-rushing performances, here are the defensive Sunday Standouts from Week 12.
LB Luke Kuechly, Carolina Panthers, 95.0 overall grade
Not only did Carolina Panthers linebacker Luke Kuechly make the game-defining play, scooping up a fumble and taking it back for a score, he was also just generally dominant throughout the game. From 24 snaps against the run, Kuechly registered three tackles resulting in a defensive stop, good for a 12.5 run stop percentage.
CB Buster Skrine, New York Jets, 91.3 overall grade
Despite the loss, it was a big day for New York Jets cornerbacks, with two of them making our Sunday Standouts list in a game where they made life difficult for Cam Newton and the Panthers passing game. Buster Skrine was targeted six times in coverage, but allowed just two receptions for just 27 yards.
LB Bobby Wagner, Seattle Seahawks, 90.9 overall grade
A ridiculous interception that he wrestled from the receiver highlighted another performance where Seattle Seahawks linebacker Bobby Wagner showcased his defensive player of the year credentials. Though not the main part of his game, Wagner was able to make an impact as a blitzer, with two hurries on both of his pass-rushing snaps, giving him a pass-rushing productivity rating of 75.0.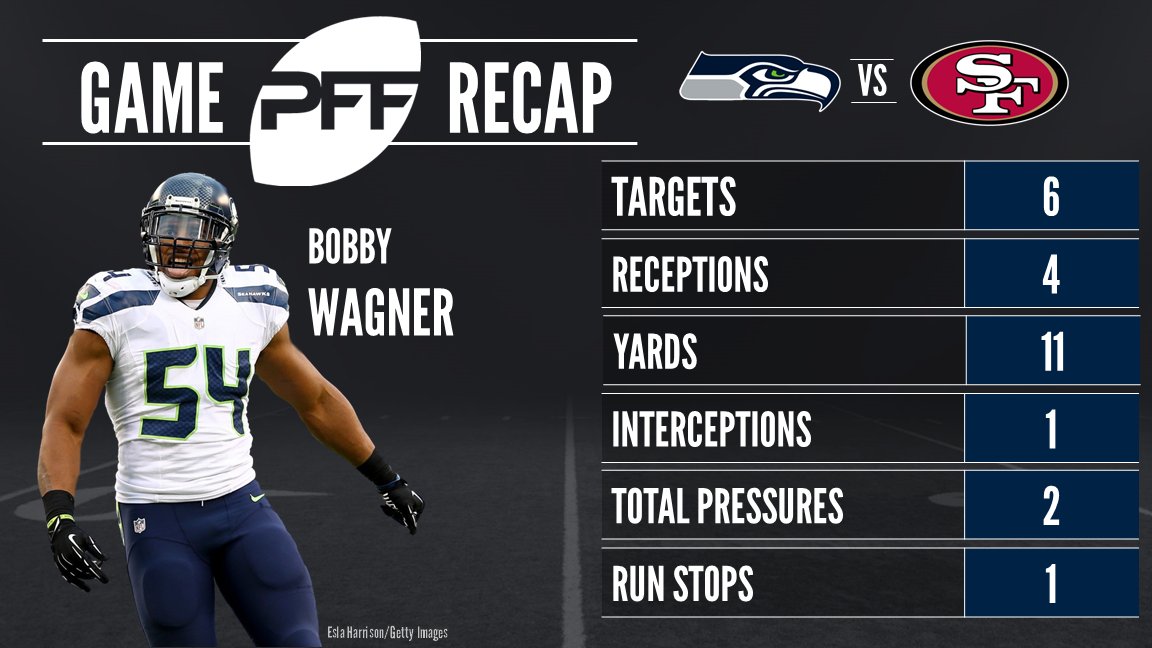 Edge Myles Garrett, Cleveland Browns, 90.4 overall grade
If the Cleveland Browns are to take positives from this season, how well their top draft pick Myles Garrett has played when he's been on the field has to be close to the top of the list. Garrett registered a sack, a hit and a hurry on 24 pass-rushing snaps on Sunday, good for a 10.4 pass-rushing productivity rating.
CB Morris Claiborne, New York Jets, 89.7 overall grade
The second Jets cornerback on the list, Morris Claiborne was targeted three times in coverage and allowed just one reception for six yards. Coming away with a pass breakup to his name too, Claiborne finished the game having allowed an NFL passer rating of just 42.4 on throws into his coverage.
CB Stephon Gilmore, New England Patriots, 89.3 overall grade
New England Patriots cornerback Stephon Gilmore has had an up and down first season with his new team, but Sunday was definitely one of the highlights of the year for him. Targeted three times in coverage, he allowed just one receptions for five yards, and had an interception, resulting in an NFL passer rating allowed of just 16.7.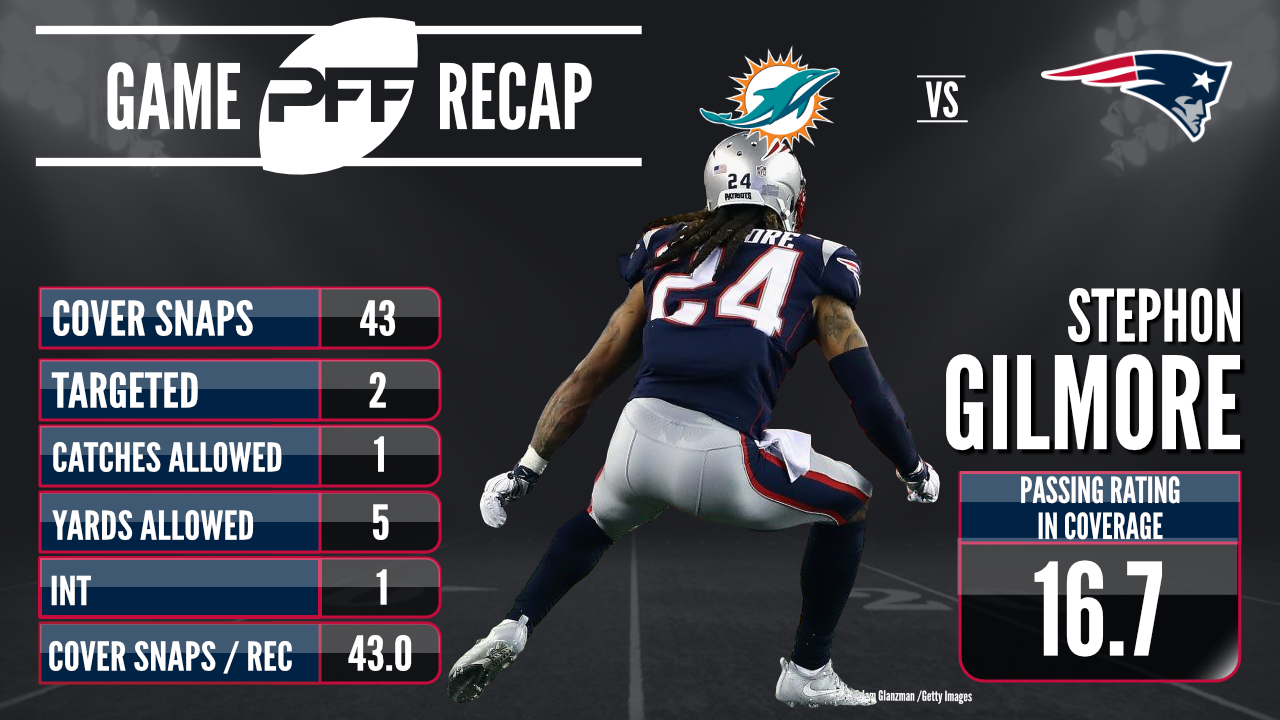 DI Kawann Short, Carolina Panthers, 89.1 overall grade
The second Panthers defender on this list this week, defensive tackle Kawann Short was too much for the Jets interior offensive line to handle. Against the run he registered two tackles resulting in a defensive stop, good for a 12.5 run stop percentage on 16 snaps in run defense.
DI Geno Atkins, Cincinnati Bengals, 88.5 overall grade
Disruptive as a pass-rusher in the Cincinnati Bengals win over the Browns, defensive tackle Geno Atkins was a menace against the interior of the Browns offensive line. Rushing the passer 30 times, Atkins racked up two sacks, two hits and two hurries, giving him a 16.7 pass-rushing productivity rating which is currently the top mark among players on the defensive interior this week.
Edge Calais Campbell, Jacksonville Jaguars, 88.5 overall grade
It might not have been a winning return to Arizona for Jacksonville Jaguars defensive end Calais Campbell, but he certainly did his part, including returning a fumble for a touchdown. As a pass-rusher has racked up a hit and three hurries from 36 pass-rushing snaps, good for a pass-rushing productivity rating of 8.3.
Edge Cameron Jordan, New Orleans Saints, 88.4 overall grade
Continuing a strong season for the New Orleans Saints, edge defender Cameron Jordan was disruptive once again in the defeat to the Los Angeles Rams. Jordan registered two sacks and four hurries on 47 pass-rushing snaps, giving him a 10.6 pass-rushing productivity rating.