Tim Tebow's fairytale return to the NFL didn't last very long.
The former first-round quarterback saw 15 snaps of action against the Cleveland Browns in Week 1 of the 2021 NFL preseason, our first real look at his chances of making it as a newly minted NFL tight end.
The early returns weren't great. In fact, they were so bad that the Jacksonville Jaguars released Tebow as part of their first round of cuts Tuesday.
Thankful for the highs and even the lows, the opportunities, and the setbacks. I've never wanted to make decisions out of fear of failure and I'm grateful for the chance to have pursued a dream…

— Tim Tebow (@TimTebow) August 17, 2021
There was significant pushback to the idea that a 34-year-old Tebow could just pick up playing tight end after spending the past five years toiling in an attempt to make it as a major league baseball player. It's not that Tebow is ill-suited for the position switch — after all, some people mockingly called him a tight end when analyzing his play as a quarterback a decade ago — but it was more the idea that he could turn his hand to it for the first time at a stage most established veterans are approaching retirement.
His first snap set the tone for what was to come.
OK, this is objectively hilarious https://t.co/LFvMTLbMJE

— Sam Monson (@PFF_Sam) August 16, 2021
As part of a route concept on the right side of the formation, Tebow tried to settle in space once he cleared the underneath defender rather than continue into open real estate, only to find wide receiver Tavon Austin spring in front of a ball that looked destined for him.
This was Austin's play to make, of course, but the way it unfolded for Tebow was almost farcical. Technically, that target was never intended for Austin in the first place, yet he still ended up robbing his teammate of what would have been his first — and likely only — reception as an NFL tight end.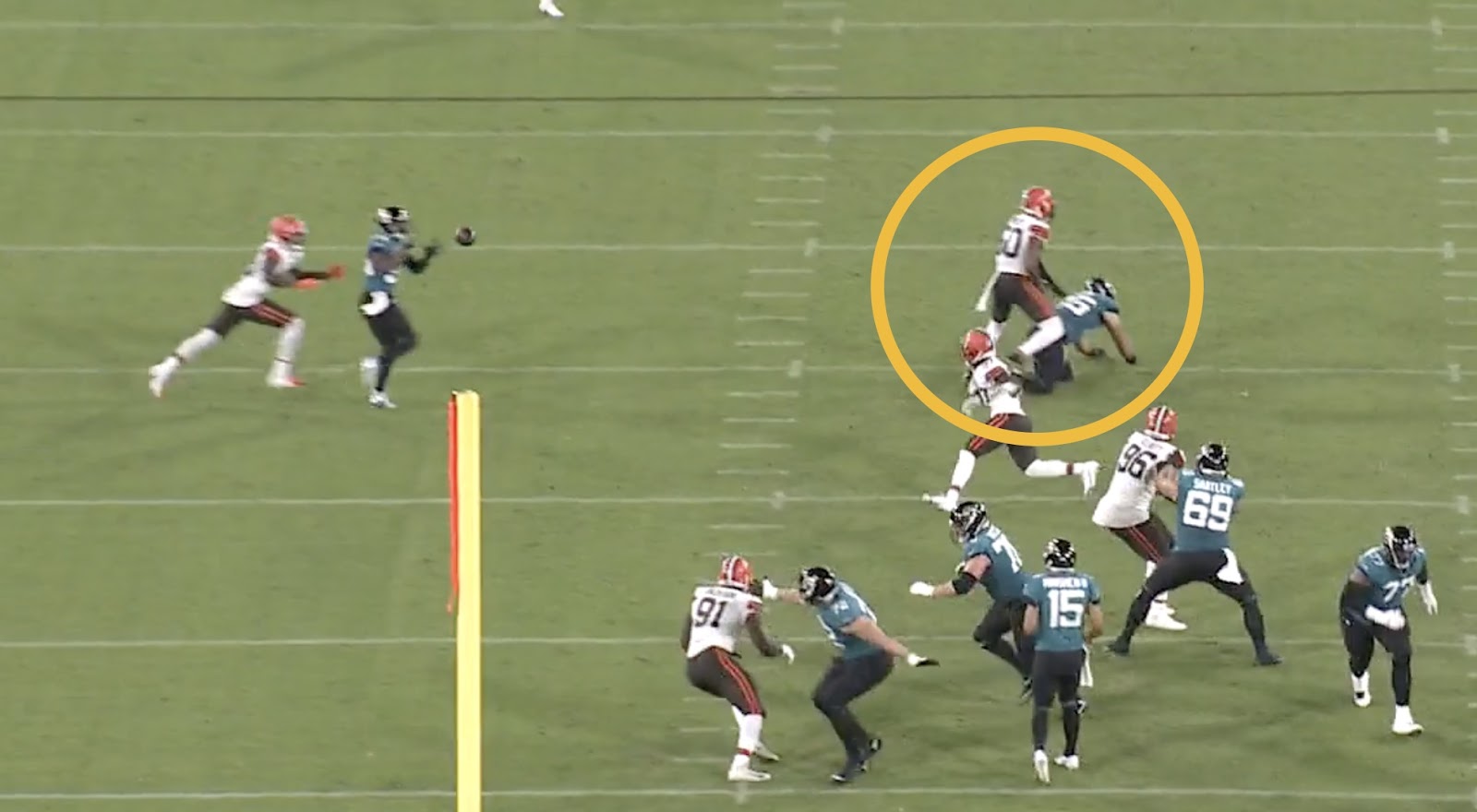 His second snap featured a similar concept on the other side. This time, the pass to Austin came on double slants with Tebow clearing the space to the inside, but Tebow was already face-first in the turf by the time the ball arrived after getting tangled up with the linebacker tasked with covering him.
Again, these things happen. Players trip and fall all the time, but there was an inescapable air of comedic timing with Tebow's misfortunes in this game that just can't be ignored.
---
More of PFF's 2021 Fantasy Football tools here: 
Fantasy Football Draft Kit | Rankings & Tiers | Draft Guide | Cheat Sheets
Projections | Strength of Schedule | Expected Points | Weekly Finishes
---
Snap No. 4 was where we first saw Tebow's work as a blocker — the play that quickly went viral on Twitter. Tebow went into motion across the formation pre-snap, a tell-tale sign to the defensive end — his assignment — that he would be coming back across and to look out for some kind of run or play-action bootleg to that side by the quarterback. Tebow then made a beeline for that defensive end at the snap and then just threw his head at him, as if hoping the sheer force of personality or inertia would execute the block well enough for him.
Tim Tebow "blocking" … ????pic.twitter.com/MdNe0jHFEK

— The MMQB (@theMMQB) August 15, 2021
To his (minimal) credit, he did just enough to get in the way so that the running back could bounce the play outside and pick up a solid gain. You could easily put this down to the defensive end entirely rather than any effect Tebow's block had, but there's a case to be made here that Tebow did his job, however ugly it looked from a technique standpoint.
The same case cannot be made on the very next play, however, when the Jags faced third-and-2 at the Cleveland 5-yard line and set up to run the back right up the middle behind duo — two powerful double-team blocks that would hopefully create some space in front of him.
Those double-teams may have gotten the job done, but the back never made it that far because Tebow was rag-dolled by the defensive end, who met the back three yards deep in the backfield. Yes, Tebow actually positioned himself well, but he provided almost no resistance at all as his assignment just swiped him to the inside and carried on his way to the ball carrier.
Tim Tebow (No. 85) "blocking" Part 2pic.twitter.com/SqXKcD8i24

— The MMQB (@theMMQB) August 16, 2021
In one snap, it highlighted the ruthless power of a weak link in the blocking chain — everybody else can execute their assignment well, but one guy getting blown up can invalidate the entire play. And while a player doesn't necessarily need to be a good blocker to get by at the NFL level,  there will be problems if that player is catastrophic.
The slapstick continued late in the fourth quarter. Tebow saw the ball come his way for real this time, but a hand from rookie defensive lineman Tommy Togiai popped the ball up and deflected it just far enough that Tebow's chance at a catch became just a hand batting the ball up in the air, a position from which it was picked off.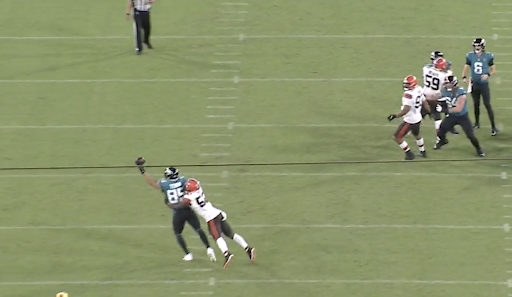 It's tough to blame Tebow much for this play. Had he reeled it in, it would have been a spectacular one-handed catch off a deflection at the line while a linebacker was draped all over him. But he didn't, and it just further reinforces the "Murphy's law" element to this debut.
Thankfully, that's where the misery ended. Tebow's best play — by some distance — came late in the fourth quarter, where he put a defensive end to his knees briefly with a nice chip block before releasing into a shallow crossing pattern. He ended the game with half a dozen largely unremarkable snaps that at least didn't feature the kind of absurdity we saw in his first half-dozen.
So, where did that leave Tebow's prospects of making a roster? Did Tebow show anything to suggest this is a viable idea, if not for the Jags but some other franchise interested in the Tebow tight end test?
Tim Tebow: PFF grades from preseason Week 1

Overall grade
43.3
Run-blocking grade
42.8
Snaps played: 16
No.
Not even close. The former quarterback's blocking was prohibitively bad, and though he is an unquestionably good athlete, he isn't the kind of dynamic athletic freak at the position that would make anybody consider overlooking that blocking ineptitude.
He's new to the position, and there's no telling how much he could develop with a year on a practice squad, but there is no evidence in this tape that says he would be anything other than a wasted active roster spot. He simply can't be on an NFL field at the level he displayed in Week 1 of the 2021 preseason, and the Jaguars no doubt knew it.