No team in the NFL has had a more brutal start to the 2020 NFL season than the Atlanta Falcons.
After getting taken down 38-25 by Russell Wilson and the Seattle Seahawks in Week 1, Atlanta came back and had a strong Dallas Cowboys team on the ropes in Week 2, leading 39-24 in the middle of the fourth quarter. After a Dallas scoring drive and a failed 2-point conversion, Atlanta punted the ball away, up by 9, with less than 3 minutes to play.
The Cowboys marched down the field, scored and lined up ready to attempt an onside kick — which has a success rate of roughly 6% under the new rules — with 1:49 remaining on the clock. Then disaster struck.
[Editor's Note: PFF's advanced statistics and player grades are powered by AWS machine learning capabilities.]
Atlanta's special teams unit seemingly forgot the rules of football and practically handed the ball back to Dallas, who went on to win the game on a 46-yard field goal as time expired.
It was yet another soul-crushing loss for a team that has made a bad habit of snatching defeat from the jaws of victory, the latest in a series of reminders that the win isn't secured until the final whistle blares. The good news: it was seemingly still early enough in the season to right the ship and focus on finishing football games. The bad news: the Falcons had become the first team since the 1994 New England Patriots to score 64-plus points over the first two weeks of a season and still start 0-2. It was a nightmare start in an already tough NFC South.
Then it happened again.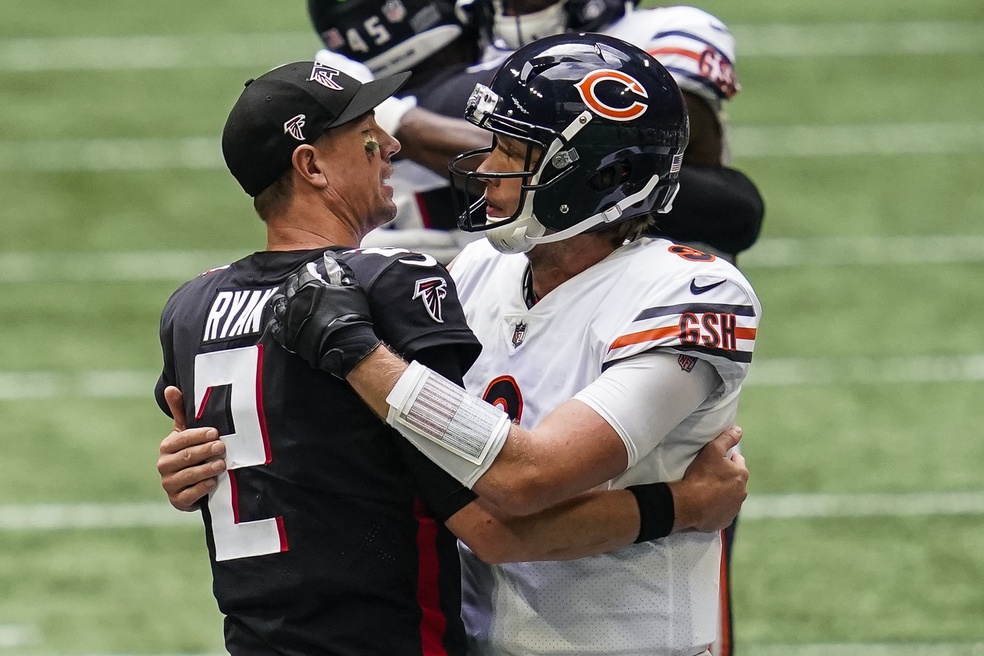 As is so often the case, things started well for the Falcons in Week 3, and it was actually beginning to look as if the perennially tortured franchise was on the way to a bounce-back win over the Chicago Bears. Atlanta took over the first three quarters and remained in control as Chicago quarterback Mitchell Trubisky stumbled to a 49.9 PFF passing grade, completing just 13 of 22 passes for 128 yards, one touchdown and one interception while leading his offense to an abysmal -0.091 expected points added (EPA) per play.
Trubisky lasted almost six minutes into the third quarter before Bears head coach Matt Nagy had finally seen enough, relieving the 2017 second overall pick of his duties and inserting veteran Nick Foles.
By the time the middle of the fourth quarter had rolled around, Atlanta was up by 16; their first win of the 2020 season was right within reach. But after punting the ball away with about 9 minutes left to play, they surrendered a touchdown on a three-minute-long drive, though they did manage to hold up against a failed 2-point conversion.
Now up 10 with 6 minutes to go, the Falcons got the ball back to finish it off. Todd Gurley II managed a 1-yard run on first-and-10 before two consecutive Matt Ryan incompletions forced the punting unit back onto the field. Chicago was given the ball at midfield with 5 minutes to play, and three plays later, we had a Bears touchdown.
Their lead down to 3 points, Atlanta took the ball at their own 25 with just over 4 minutes left. Incompletion. Incompletion. False start. Incompletion. Punt. Fifteen-yard unnecessary roughness penalty. Bears ball on their 41, 3:59 to play.
We knew what was going to happen next — Foles completed 3 of 4 attempts for 36 yards and the go-ahead touchdown, and four plays into Atlanta's last-ditch comeback attempt, Matt Ryan lofted a ball up into the grateful arms of Bears safety Tashaun Gipson Sr. Ball game.
Tashaun Gipson takes it back for the Bears! #DaBears

????: #CHIvsATL on FOX
????: NFL app // Yahoo Sports app: https://t.co/9RobDGGsOD pic.twitter.com/yQoAG5QJPM

— NFL (@NFL) September 27, 2020
Twenty unanswered points in under 9 minutes. Another typical Atlanta Falcons choke. One more reminder of Super Bowl LI.
These crushing losses highlight a few different issues, one of which is centered around coaching and playcalling while another revolves around a defense that has struggled to step up when the team has needed them the most.
At this point, it's quite clear that Atlanta's defense isn't going to lead the team to the promised land — the coverage unit has allowed 0.24 EPA per pass play so far, fifth-worst in the NFL. On fourth-quarter third downs, the Falcons have already allowed seven first downs (most in the NFL) and 165 yards passing, 69 more than any other team. 
Of course, the woes on the defensive side of the ball aren't all that new, but it's arguably even worse this year with cornerback Desmond Trufant out of the picture. Since 2018, Atlanta ranks fifth-to-last in EPA per pass play allowed; their team coverage grade of 65.5 ranks 26th league-wide, while their 105.6 passer rating allowed ranks 29th.
Interior defensive lineman Grady Jarrett and off-ball linebacker Deion Jones are obviously the two key pieces on this defense — they are top-10, if not top-five, players at their respective positions. Those two, however, can only get you so far. The positions that matter most to defensive success lie within the secondary, and that area still needs a lot of work.
The team recently invested heavy draft capital in that need by taking cornerback A.J. Terrell 16th overall in the 2020 NFL Draft. And while we've only seen two games from the rookie corner up until this point, we have also seen mixed results — he allowed a whopping 100 yards in coverage in his debut back in Week 1, but he allowed just seven yards against a formidable Dallas receiving corps in Week 2. Overall, though, Terrell has allowed a 153.2 passer rating on targets when manning the outside, the third-worst in the NFL.
Outside of Terrell, the Falcons are relying on the combination of Darqueze Dennard, Blidi Wreh-Wilson and Isaiah Oliver to man the cornerback positions. Dennard has graded above 70.0 just three times in six full seasons, Wreh-Wilson has played all of 1,568 coverage snaps since entering the league in 2013, earning a coverage grade of only 47.3 over that span, and Oliver has given up a passer rating north of 100.0 in both of his full seasons as a pro.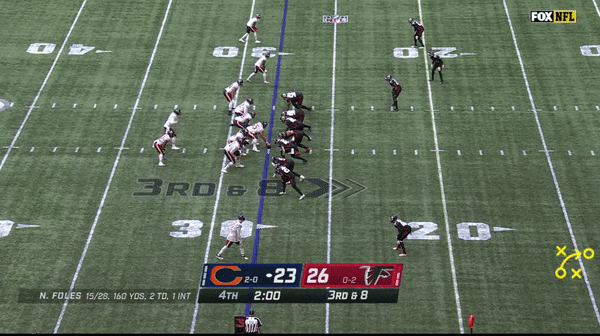 The Falcons' outside cornerbacks have surrendered 11 explosive plays of 15-plus yards this year, the second-most in the NFL. And get this: nine of those have in the second half in pivotal moments. Oh, and this secondary still has to face Aaron Rodgers, Patrick Mahomes and Tom Brady (twice). They allowed Nick Foles to walk all over them in the fourth quarter of their Week 3 loss, and even though they had two opportunities to capitalize on turnover-worthy throws, they still couldn't come through.
This secondary is all but set to finish as one of the worst by season's end, and very few teams that started a season 0-3 have shown the ability to overcome those kinds of weak links on the defensive side of the ball.
Do you know who doesn't have time to stick around and wait until 2021 for his secondary to improve? That would be 35-year-old quarterback Matt Ryan, who is essentially carrying this Atlanta team as it is.