Seattle Seahawks safety Jamal Adams cemented his status as one of the best pickups of the offseason with some stellar play on Sunday afternoon against the Atlanta Falcons. Adams wreaked havoc around the line of scrimmage, lending more credence to the case for Seattle to find their way to the Super Bowl.
Doubts were cast in the offseason about a Falcons defense bereft of talent. And Russell Wilson went ahead and took a blowtorch to Atlanta's secondary, burning it to pieces quarter to quarter.
Editor's note: All of PFF's grades and advanced stats from this game will be finalized and made available to ELITE subscribers within 24 hours of the final whistle.
Story Of The Game
Shown on camera, Pete Carroll looked befuddled walking off the field at the half. The Falcons were within striking distance early, trailing by five points.
The second half was an entirely different story. Do not be fooled by the 25 points for Atlanta, as two garbage-time scores came late after Seattle led 31-12 with 10 minutes left.
Falcons QB Matt Ryan passed for over 300 yards, and Julio Jones and Calvin Ridley recorded over 100 receiving yards apiece, but the unit failed to keep pace with Seattle's scoring efficiency.
The Falcons' pass-rush did a good job of moving Wilson off his spot, bringing him to the ground with four sacks and downright outperforming Seattle's mediocre defensive line. Wilson was pressured on 30.8% of his dropbacks to Ryan's 12.5%. The Seahawks' unremarkable play in the trenches once again looks as though it will hold them back, much like it did in 2019.
A Week 1 victory came courtesy of Wilson's knack for the spectacular. In the fourth quarter, on second-and-29, he completed two passes for kicker Jason Myers to make a field goal on fourth-and-2. At that point, the Seahawks were on a 17-0 scoring run since halftime.
Adams was everywhere on the field. Patrolling centerfield at free safety for 40% of his total snaps, Adams showed his effectiveness in the box, on the edge and even recorded one sack off a blitz.
 Rookie Watch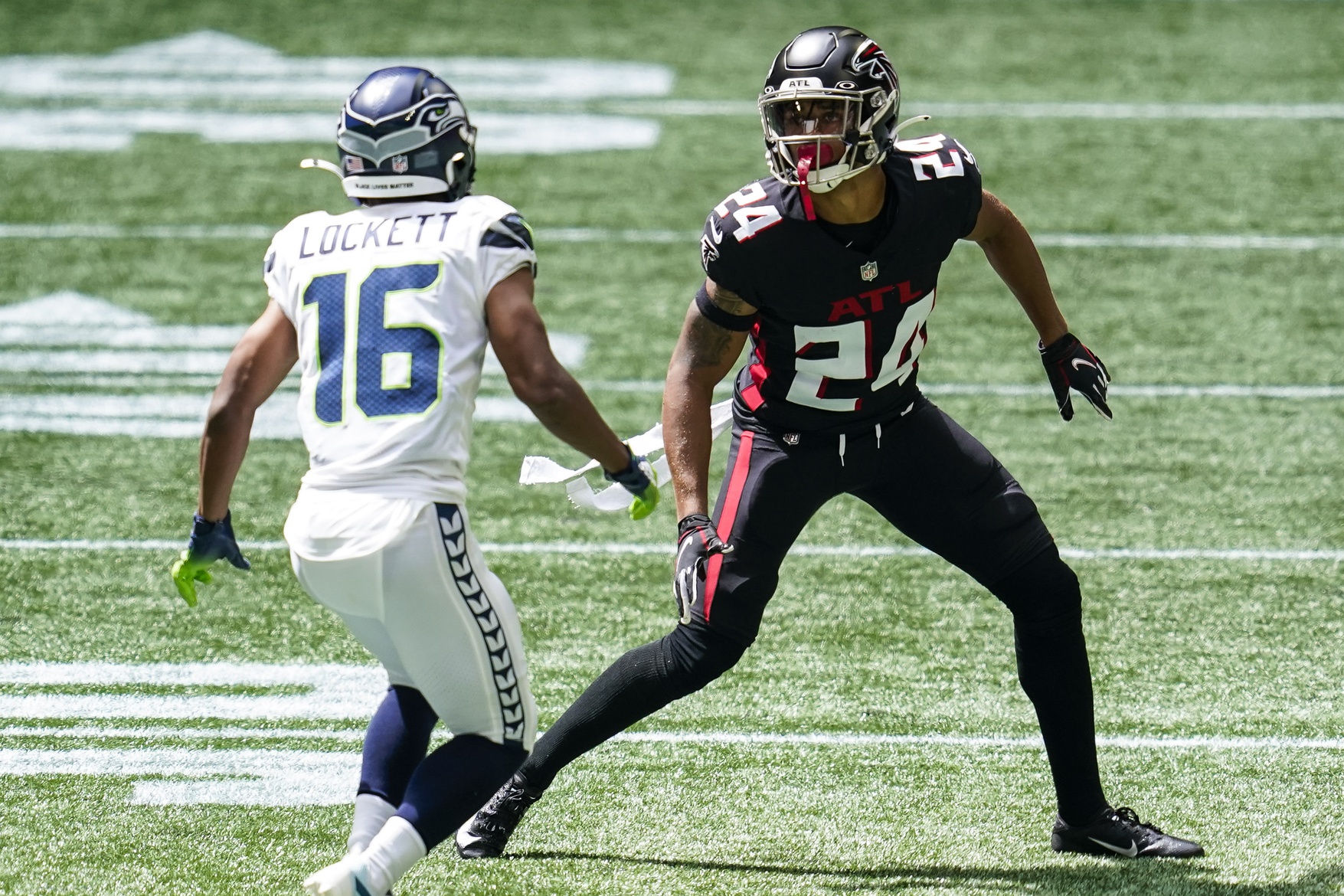 Selected at 16th overall in the 2020 NFL Draft, rookie cornerback A.J. Terrell was expected to slot right into the Falcons defense as its No.1 corner. He had a long afternoon against the likes of D.K. Metcalf and Tyler Lockett. Lined up at wide corner for 84% of his total snaps, he surrendered a completion on every single one of his targets in coverage.
Linebacker Jordyn Brooks, Seattle's first-round selection this past April, made a cameo appearance with seven snaps. His presence provided the opportunity for a breather to teammates K.J. Wright and Bobby Wagner.
This Sunday afternoon matchup was a clash of two veteran clubs. Outside of A.J. Terrell, neither team gave a considerable amount of snaps to first-year players. Terrell faces an uphill climb in the NFC South, which is home to the likes of Mike Evans, Chris Godwin, Michael Thomas, Emmanuel Sanders and D.J. Moore. He will need to improve considerably, or those opposing receivers will make wins in Atlanta difficult to come by.
ELITE subscribers can view player grades, advanced statistics, positional snap counts and more in Premium Stats 2.0. Use promo code KICKOFF30 here to save 30% off your new PFF subscription today.