Both the Seattle Seahawks and Washington Football Team badly needed a win to help bolster their playoff odds and seeding. The Football Team, however, was without starting quarterback Alex Smith due to injury, which thrust Dwayne Haskins back in the starting job after he was benched earlier in the season.
Instead of getting redemption, Haskins and the Football Team fell short in a 20-15 loss that clinched the Seahawks a playoff spot.
Editor's note: All of PFF's grades and advanced stats from this game will be finalized and made available to ELITE subscribers within 24 hours of the final whistle.
Story of the Game
Washington's passing offense got off to a brutal start in the first half, causing them to go into halftime down a couple of scores. Just 28% of their pass plays in the first half ended up being a successful play, by far the worst rate of the week.
Seattle then opened up the second half with a 50-yard rushing touchdown to go up 20-3, and then Haskins threw an ugly interception. After that, things got better for the Football Team passing offense. Their successful pass play rate jumped to 61% following the interception, thanks to dink-and-dunk passes. Things got a least a little bit interesting as they cut the lead to 5 points with just a few minutes left to play.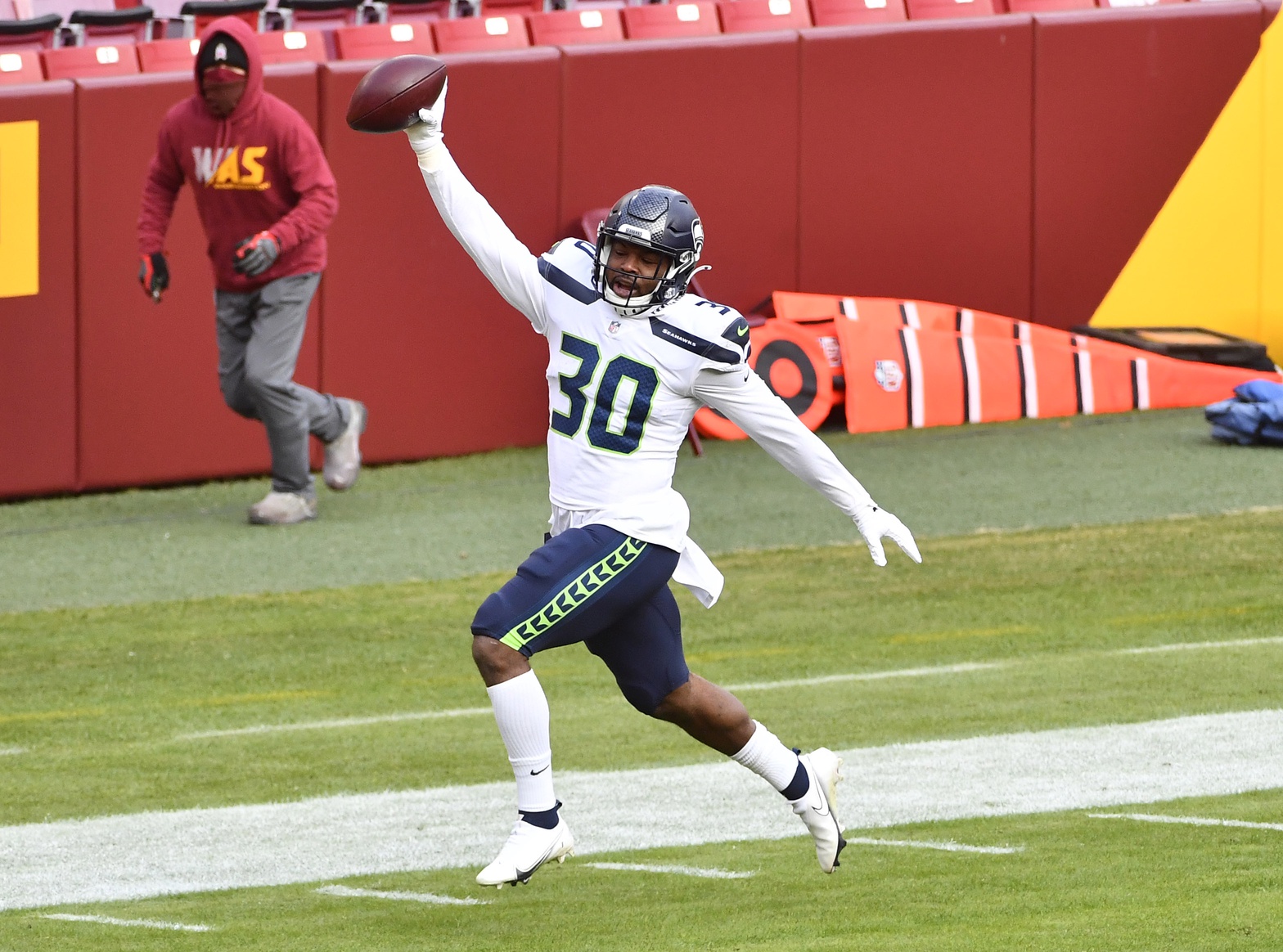 The reason why Washington was even able to move the ball with Haskins under center was due to the short passes. Haskins attempted 43 passes that were less than nine yards downfield and completed 36 (three drops) for 248 yards and a touchdown. That was 15 more passes under nine yards than anyone of the week so far, and the total actually tied for the most we have ever seen in a single game over the past decade.
On throws of 10 or more yards, Haskins completed just two of 10 for 47 yards with two interceptions. Overall, Washington threw the ball over 76% of the time. While we are proponents of passing the ball, there has to be more completions deep downfield.
The man on the other side of the field, Russell Wilson, wasn't much better. He completed only two passes over 10 yards downfield on four attempts. That was the fewest such completions and attempts in a single game this season from Wilson. He also had his second-lowest average depth of target in a single game of his entire NFL career (5.1). Clearly, Russ was not cooking.
Seattle clinched a playoff spot, but it was a fairly lethargic performance.
Rookie Watch
Right guard Damien Lewis entered the week after a rough stretch of games in pass-protection, but against Washington he had one of his better pass-blocking outings of his rookie campaign. He lost a couple of reps on 33 pass-block snaps, but neither were the type of severe losses that we had seen pop up routinely up to this point. His performance in the run game wasn't quite up to par, with what looks like more negatively graded run blocks than positively graded ones, but it could have been worse.
Lewis, however, wasn't the marquee rookie of the day like he often has been recently. That was interior defensive lineman Alton Robinson, who picked up a couple of pressures with one being a strip-sack.
Chase Young didn't have any big plays like he did last week, but he still had a productive day. The second overall pick won on 18.5% of pass-rush reps and generated four pressures. That win rate was the second-best of his rookie season, and the pressure total tied his career high.
Khaleke Hudson entered the week with just three career snaps to his name, but the fifth-round rookie saw substantial action in Week 15 with 28 total snaps. Hudson didn't play too bad in that limited action, with a couple of run stops as well as a passing stop. He did miss a tackle, but he didn't give up any first downs in coverage.
Kamren Curl entered the week on a hot stretch, but that streak came to an end against Seattle. The safety was poor in run support with three total missed tackles, all of which resulted in an explosive rush of 10 or more yards.
ELITE subscribers can view player grades, advanced statistics, positional snap counts and more in Premium Stats 2.0.