Every NFL offseason, we see players with high upside hyped up to the point they are no longer values at ADP when fantasy football drafts come around. These are players who have put up fantasy production in the past that for whatever reason is unlikely to continue, along with rookies and other young players with plenty of talent but a long path to playing time. Whatever the reason, these players are being drafted too early up and down the draft board. 
Subscribe to
Using my personal rankings, the PFF consensus rankings and PFF projections, I've found players worth avoiding in every round who are overvalued. ADPs are from BestBall10s during the week of Aug. 9-15.  The list ends with Round 13 since the players in the last few rounds are all low-probability upside picks, kickers and team defenses.
Round 1: RB Joe Mixon | ADP: 1.09
Over the second half of the 2019 season, the Bengals offense was mostly Joe Mixon when he ran the ball over 22 times per game. Despite running 33 more times than anyone else, Mixon only came in as the RB4 during that stretch. He is being drafted like he'll continue to see close to that volume, but that is very unlikely. The only running back this decade to see that volume over an entire season was DeMarco Murray in 2012. 
The Bengals rushed the ball on 42.9% of their plays during the second half of last season — that was the third-most behind the Ravens and Titans. There are several reasons why that won't continue. Bengals head coach Zac Taylor was with the Rams during the 2017 an 2018 seasons — during those two years the Rams ran the ball on only 35.9% of first-half plays, which was fifth-lowest rate. PFF's projections show Mixon averaging just under 17 rushing attempts per game and coming in as the 12th highest scoring back on the season.
Giovani Bernard is likely to retain his third down and clear passing role situation he has had the last few seasons. This limits Mixon's upside in the pass game and should push him into the second round.
Jackson is obviously a top-tier talent at the quarterback position. One reason he's on this list is because his fantasy production is bound to regress. Of the 21 quarterbacks to score at least 350 or more fantasy points from 2010-2018, 20 of them scored at least 30 fewer points the following year. The five with 400 or more points averaged a 90 point drop. Jackson can still be MVP-caliber and see a substantial decrease to his fantasy production. If you take him here, there's certainly a high chance he will finish as a QB1 as long as he doesn't get hurt — but that comes at the cost of an elite WR or high-end RB2.
Waiting at quarterback can still net you a future Hall of Famer. As late as Round 10 could still offer the likes of Drew Brees, Aaron Rodgers and Tom Brady. Wait even longer and there are plenty of veteran quarterbacks who have been a QB1 in the past. Every year, there's a good sense of which quarterbacks will be in the QB1 conversation — but the order they finish changes. If the options are Brees and a second round running back, or Jackson and a 10th-round running back, the latter is the better play. 
Fournette is still slated to be the lead back in Jacksonville, but he has a lot working against him. His fantasy production in 2019 was all from quantity instead of quality — his fantasy points per snap (0.29) was the lowest of the 60 RB1 seasons over the last five years. And it wasn't only this past season when Fournette got his fantasy production from volume — over the last four years, among the 31 running backs with at least 500 attempts, Fournette has the second-lowest PFF run grade at 66.1.
There is reason to believe his playing time could see a significant decrease in 2020. For the last five seasons, Chris Thompson was Washington's receiving back while Jay Gruden was the head coach. Both men are in Jacksonville now, so it is likely Thompson will take passing downs. Fournette's fifth-year option has been declined, likely making this his final season in Jacksonville. With the team not expecting to be part of the playoff chase, it wouldn't be surprising to see 2019 fifth-round pick Ryquell Armstead or Devine Ozigbo get more of an opportunity later on.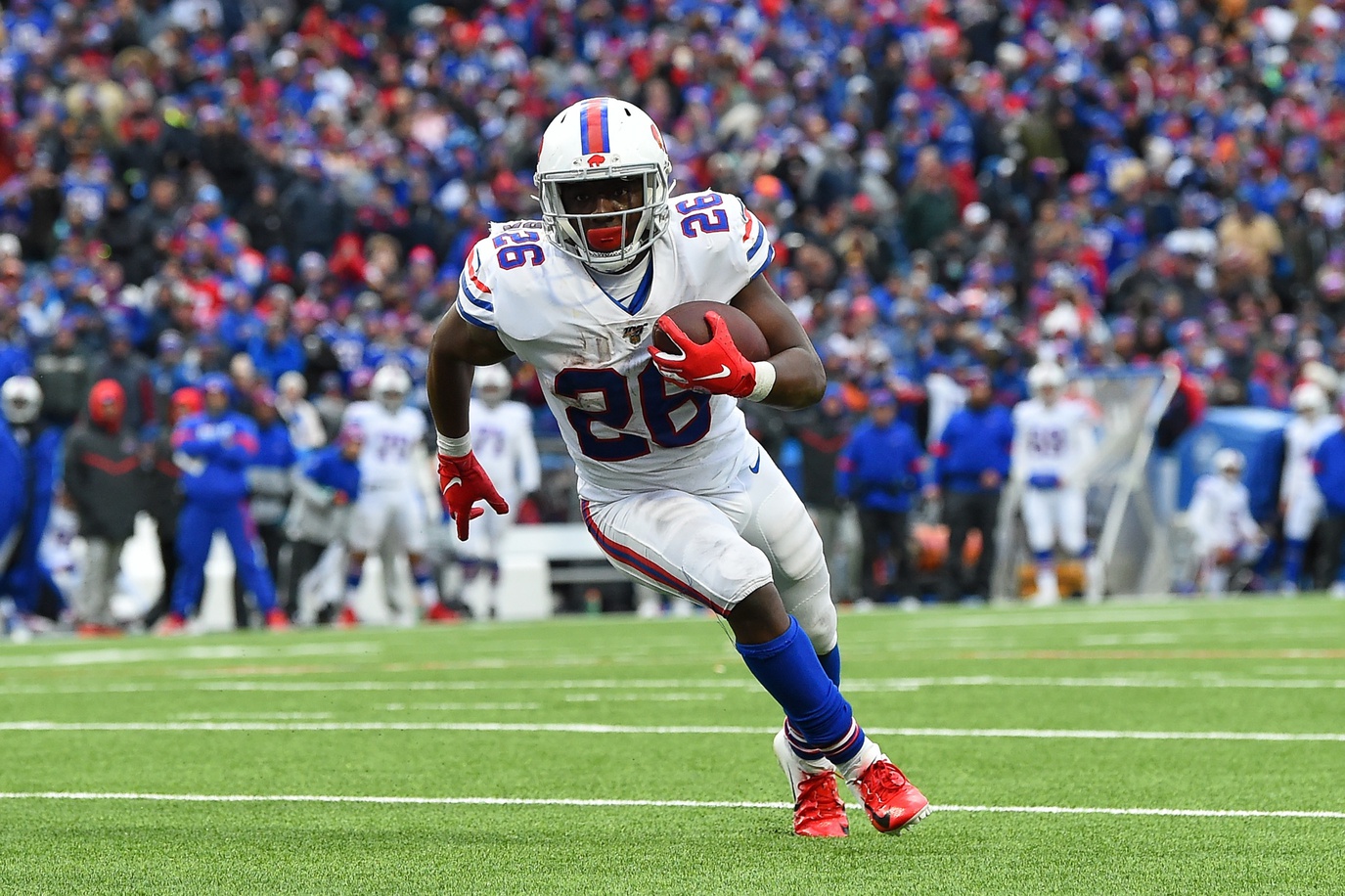 If there is one round where players aren't being overdrafted, it's the fourth, but if there is someone from that group who is going a little high, it's Singletary. After missing time early in the season, he was the clear workhorse back starting in Week 9. From that point on he was RB21, and he is being drafted as the RB23.
The problem is that his main competition in 2019 was a 36-year-old Frank Gore, who was overworked in the first half of the season while Singletary was out. This year, his competition comes from Zack Moss, a rookie who was drafted in the same round Singletary. Moss was the second-best running back on PFF's big board and we called him the most elusive in our draft guide. 
While Singletary might be able to remain the lead back, we expect Moss to take a bigger role than what Gore had late in the season. The best case scenario involves Singletary ending up around RB21 again, which matches his ADP. That's a low ceiling for a fourth-round pick. Most likely, he ends up at least a little lower than that, and the worst case sees Moss taking more snaps than Singletary.
Final PFF 2020 Draft Rankings for Top HBs
| | |
| --- | --- |
| 74 | D'Andre Swift |
| 77 | Zack Moss |
| 80 | Jonathan Taylor |
| 81 | Clyde Edwards-Helaire |
| 95 | J.K. Dobbins |
| 108 | Cam Akers |
Round 5: RB Cam Akers | ADP: 5.07
The Bills situation has some similarities to the Rams, as they both drafted a running back in the third round in 2019 and have other young talent already on the roster. In PFF's 2019 draft guide, we had Darrell Henderson ahead of Devin Singletary. Each team added to the RB position in 2020 — within 18 spots of where they drafted their 2019 backs. With our rankings in mind, Henderson and Moss seem like the players to eventually lead their backfields when talent prevails, but it's Singletary and Akers with the much higher ADPs.
What makes the Rams situation scarier for fantasy drafters is that they also have running backs Malcolm Brown and John Kelly in the mix. Sean McVay recently described all four as NFL starting-caliber. He also mentioned the success the 49ers had with their running back by committee approach. The 49ers' backfield gave three different backs between 250 and 400 total snaps. There are plenty of running backs, including Moss or Henderson, that have upside like Akers, but those backs can be found in later rounds.
Among the number of rookie backs who have seen their ADPs rise in hopes of having a breakout season, Dobbins is the riskiest of the ones being drafted this early. The clear problem is the Ravens still have Mark Ingram II. His 79.8 overall grade in 2019 was eighth-best for backs with at least 200 snaps.
Some of the other rookie backs have a path to an every-down role if they play well, but Ingram is too good to be relegated to a backup role. With Dobbins, you're relying on an injury to Ingram for the pick to pay off. Per our handcuff index, he would be a RB1 if that were to happen. However, there are a number of running backs with RB1 potential if there is an injury, and the rest can be drafted later than the sixth round.
Round 7: RB Marlon Mack | ADP: 7.03
Marlon Mack is the single most overvalued player in drafts. Based on both our consensus rankings and projections, he should be going closer to the 13th round. The first problem is that he already lost his third down role as 2019 went on. As his third-down playing time decreased, so did his fantasy value. 
Over the first five weeks of the season, Mack came in at RB17. Over the following four game stretch when the Colts' backs were healthy, he was RB21. Mack was RB30 over the last three games when the Colts backs were healthy.
He is being drafted at RB32, which would make sense if the running back situation was similar to 2019. But the Colts spent the 41st overall pick on Jonathan Taylor. The expectation is for Taylor to end up getting more carries this season than Mack. Even if Taylor is limited to a few runs per game to start off, that is enough for Mack to drop below RB30. It would take one RB injury for Mack to live up to his ADP and two for him to exceed it.
Percentage of third-down snaps in 2019 (At least one back wasn't healthy in the excluded weeks.)
| | | | |
| --- | --- | --- | --- |
| | Weeks 1-5 | Weeks 7-10 | Weeks 14-16 |
| Marlon Mack | 58.1% | 41.1% | 7.3% |
| Nyheim Hines | 25.7% | 30.4% | 53.7% |
| Jordan Wilkins | 16.2% | 21.4% | 39.0% |
The future for Mecole Hardman looks bright, just not in 2020. There are too many Chiefs players who will see more targets than Hardman. Tyreek Hill is the top wide receiver, and tight end Travis Kelce just signed a contract extension, so he also isn't leaving Kansas City anytime soon.
There was speculation late in the season that Sammy Watkins might not returning, but he's back in the second wide receiver role. Watkins both graded better than Hardman and had significantly more snaps. Even Demarcus Robinson played more snaps than Hardman, and he also re-signed with the team. If the Chiefs were ready to let Hardman have a much larger role, they probably wouldn't have brought back both players. The Chiefs spent their first-round pick on Clyde Edwards-Helaire, so there should be more targets to Chiefs backs this year compared to last.
Even more discouraging, Hardman's role decreased as the season went on. Over the last four weeks of the regular season and playoffs, Watkins had three times the snaps as Hardman, while Robinson had twice as many. From Week 6 to Week 13, after Hill returned from injury, neither Watkins nor Robinson had twice as many. The majority of the time when we expect someone to have a breakout sophomore season, they earned more playing time, not less.
Even if Hardman earns the clear third wide receiver spot, it would take multiple injuries for us to rely on him in re-draft. If Hardman is the No. 2 receiver next year, this will be an appropriate spot for him. Until then, he is being way overvalued.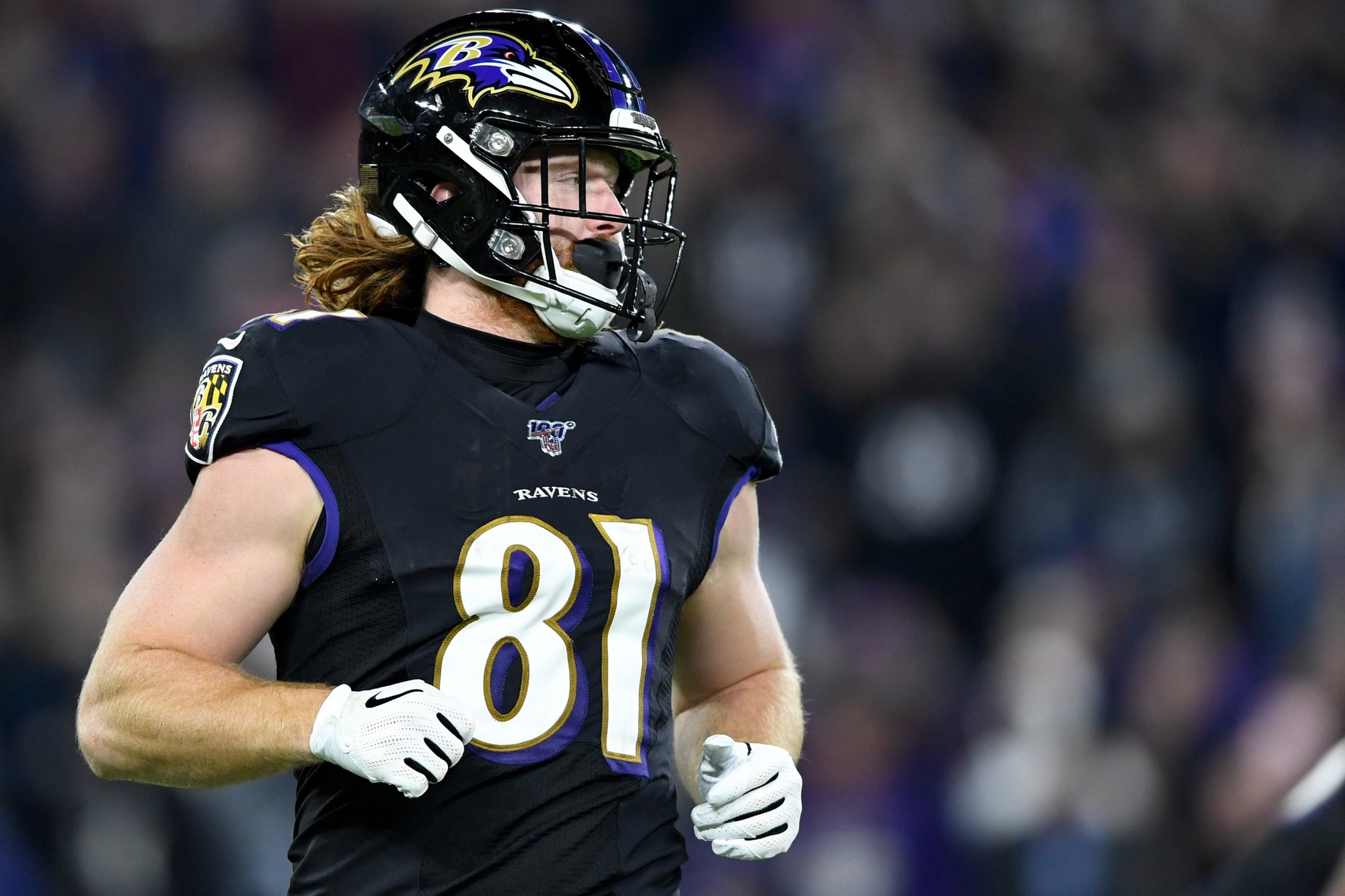 Hurst isn't entirely to blame for being under-valued in the ninth round — part of the issue is the nature of tight ends this year. At this point of the draft, half of drafters will have a starting tight end, while the other half are feeling anxious to pull the trigger on one. As long as the people who drafted a top-five tight end don't get their backups early, it's safe to wait longer than the ninth round.
Last season's rookies with early-round pedigree — T.J. Hockenson, Noah Fant and Irv Smith Jr. — should all improve in their sophomore seasons. Mike Gesicki, Dallas Goedert, Chris Herndon and Will Dissly are third-year tight ends who could also have big seasons. In Hurst's draft class, there aren't any statistics or grades where he stands out.
Playing for the Falcons with Matt Ryan at the helm is an obvious advantage for Hurst — Austin Hooper was TE6 each of the last two seasons in this offense. But it's not clear Hurst will play as well as Hooper did. Over the last two seasons, Hooper had 23 contested catches — third-most for tight ends. His 63.9% contested catch rate is the best for tight ends with at least 20 contested targets. Hurst has only caught three of nine.
With unknowns here and several mouths to feed within the offense, there are similar tight ends available. If you can wait another few rounds and pick two tight ends later, then you can keep stockpiling running backs and wide receivers.
Career Yards Per Route Run | 2018 TE Draft Class
| | |
| --- | --- |
| Mark Andrews | 2.47 |
| Will Dissly | 2.43 |
| Chris Herndon | 1.62 |
| Dallas Goedert | 1.57 |
| Hayden Hurst | 1.57 |
Some of the arguments against Hurst in Round 9 are shared here. Hooper is is a proven mid-tier TE1, but there is also an upside to plenty of tight ends who are drafted after Hooper. As mentioned in my tight end tiers piece, Hooper is going to a team with a quarterback who is less accurate on his throws and has typically thrown to tight ends less than Atlanta. His new coach has run an offense that hasn't thrown to tight ends as much, either.
For as talented as Hooper is, our projections have him at 73 targets — 13th-most among tight ends. Other talented weapons like Odell Beckham Jr., Jarvis Landry, Nick Chubb and Kareem Hunt will all see a decent number of targets. I expect him to be a safe, low-end TE1/high end TE2, but there are other tight ends who fit that profile getting picked later.
Round 11: WR Jalen Reagor | ADP: 11.02
At this point of the draft, you're drafting for upside, so no one from this point on is as overvalued as the players listed earlier. For these players, there is reason to believe their upside could be limited compared to others drafted around them. Reagor joins an Eagles team that ran 12 personnel over half of its plays — no other team was above 34%. While part of that was due to injuries to wide receivers, Philadelphia is also likely to want both Zach Ertz and Dallas Goedert on the field.
At wide receiver, the Eagles also have DeSean Jackson and Alshon Jeffrey. Over the past three seasons, they have PFF grades of 82.6 and 82.5, respectively, which are 20th- and 21st-best among the 109 receivers with at least 1,000 snaps in that time. There are definitely injury concerns there, but when everyone is healthy, Reagor doesn't see the field in their most-used offensive personnel with starters in.
There is also reason to be concerned about the Eagles offense in general at offensive line, even though it's usually excellent. Andre Dillard graded out at 59.7 on 338 snaps as a rookie. Jason Kelce will be turning 33 midseason, and his PFF grade has declined each of the last two seasons. Jason Peters is 38 and learning a new position. While Reagor has a path to targets, other wide receivers drafted around him, like Sterling Shepard and Preston Williams, have a clearer path to big seasons.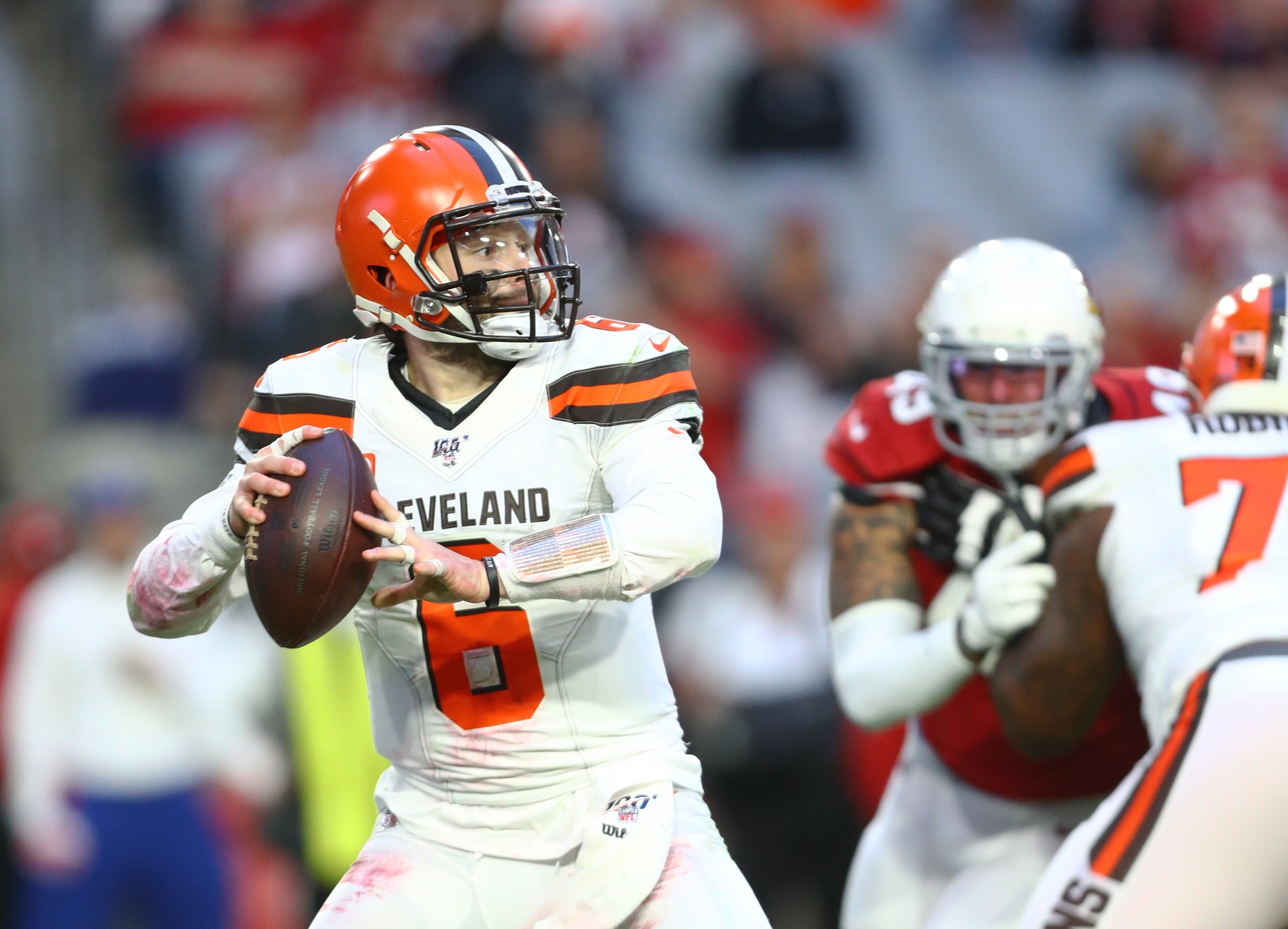 There is certainly a chance this is the year Baker Mayfield becomes a great quarterback, living up to his college potential and taking advantage of the talent around him. There are other quarterbacks being drafted after Mayfield who have just as much if not more reason to be optimistic about. Jared Goff, Kirk Cousins and Philip Rivers have all outscored Mayfield in each of the last two seasons. While Rivers is in a new situation that will likely hinder his fantasy value, Goff and Cousins still have the weapons around them to potentially be QB1s.
Ben Roethlisberger and Cam Newton both outperformed him in 2018 before each missed most of 2019. Newton has the rushing value that Mayfield doesn't, while Roethlisberger has a longer track record. Jimmy Garapollo outscored him last year and has new weapons. If you really want a young quarterback with a strong supporting cast, there is always Joe Burrow. 
The new Cleveland coaching staff could certainly improve Mayfield's performance this year, though it could take some time with this unique off-season. It could make sense to go with a different position in Round 12 to get a quarterback of similar value in Round 13 or 14.
Round 13: TE Ian Thomas | ADP: 13.11
Ian Thomas is primed for a larger role in Carolina's offense now that Greg Olsen is in Seattle. Despite the larger role, it's unlikely he will have many TE1 weeks. Of the 38 tight ends with at least 400 routes run over the last two seasons, both his 55.5 receiving grade and 0.94 yards per route run are third-lowest. During two weeks when Olsen missed time, Thomas finished TE6 in one game and TE29 in the other. The TE6 week involved 46 routes to catch five passes.
Having Teddy Bridgewater at quarterback probably won't help much. In 2014 and 2015 when Bridgewater was the starter with the Vikings, Minnesota tight ends had 177 targets, which was in the bottom 10 for teams. If someone is picking Thomas, he is either a third tight end on the roster or backup to an elite tight end. Either way, it's probably better to get another running back or wide receiver with upside and just grab a tight end off the waiver wire if necessary in-season.