More than 40 AAF players have signed with the NFL since the league disbanded. Of those 40 players, a few of these names might be worth knowing for fantasy football.
Although none of these players should be high on our immediate radar, and maybe only a few will still be on an NFL team in Week 1, it never hurts to be as prepared as possible.
So, let's take a look at some of the skill-position players who have already signed.
Quarterbacks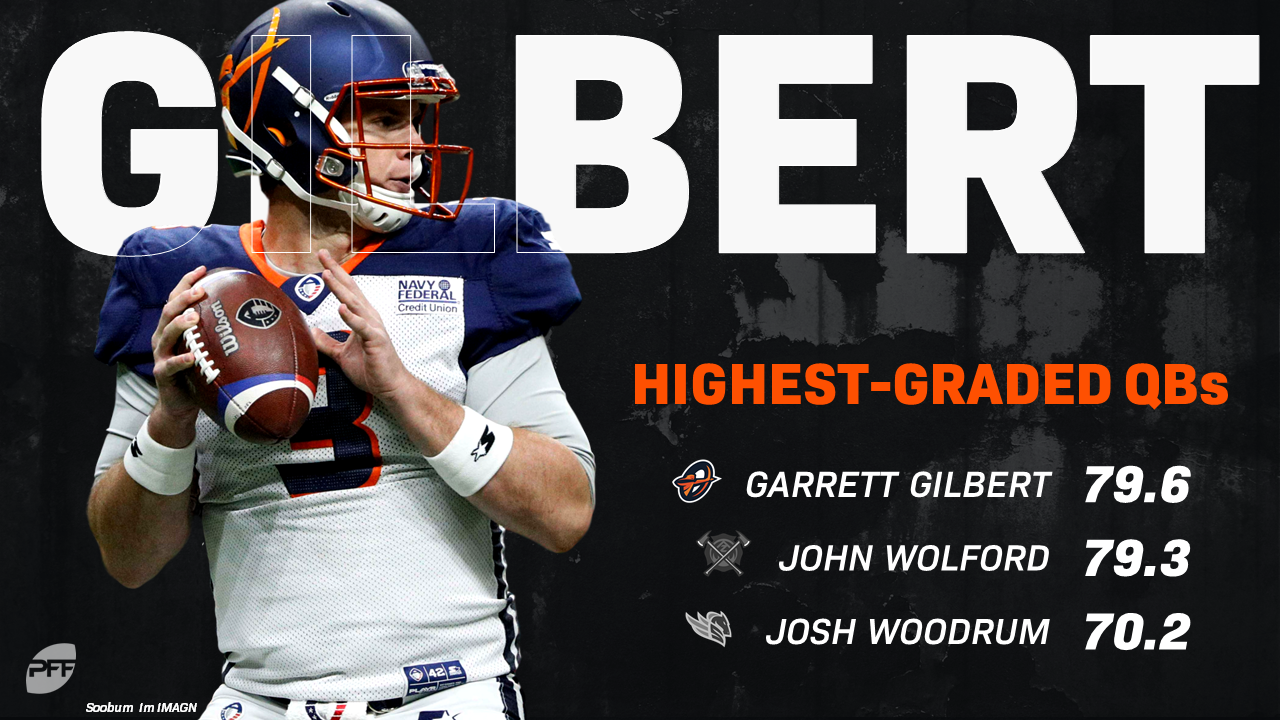 Though a surprisingly high number of quarterbacks signed with NFL teams, only Wolford and Gilbert are on my radar. And even so, both have an uphill battle to even be their respective team's primary backups – Wolford would need to beat out Blake Bortles and Gilbert would need to beat out Drew Stanton.
Gilbert led all AAF quarterbacks in passing yards (2,152), yards per attempt (8.3), touchdown-to-interception ratio (4.3), PFF grade (79.6), and passer rating (99.1). Wolford ranked second in passing yards (1,616), yards per attempt (7.8), touchdown-to-interception ratio (2.0), PFF grade (79.3), and passer rating (95.9). The next-closest quarterback in each category was a sizeable distance behind both passers.
Gilbert was a sixth-round pick in the 2014 NFL Draft, playing briefly with the Rams, Patriots, Lions, Raiders, and Panthers. He's thrown just three passes at the NFL level. Wolford went undrafted in 2018 but enjoyed a brief stint with the Jets before getting cut in early September. In his final season at Wake Forest he was our fourth-highest-graded passer, behind only Baker Mayfield, Will Grier, and Justin Herbert.
Running backs
Farrow went undrafted in 2016 but still played 13 games with the Chargers, garnering 73 touches. He enjoyed a brief stint with the Patriots last season but failed to appear in any game. In the AAF, Farrow ranked third among all running backs in snaps (274), third in rushing yards (372), and ninth in receiving yards (95). Unfortunately, he didn't rank highly in our grades or in any of our efficiency metrics. For that reason, he's not really on my radar. If you want to argue for him as a deep sleeper, it would be because he is on a Dolphins depth chart that currently only includes Kenyan Drake and Kalen Ballage in addition to him, but that's the only real point in his favor.
Wide receivers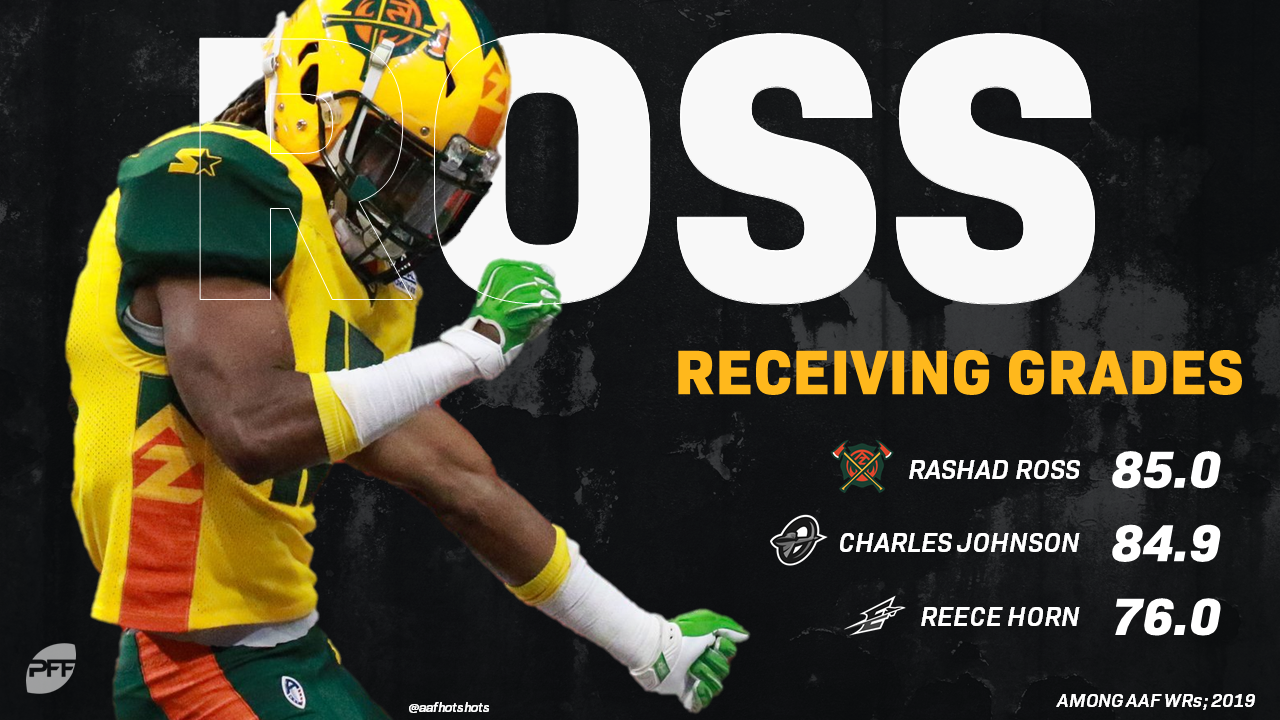 Of the names listed in this article, Johnson and Ross probably have the best chances of proving to be fantasy producers at some point this year. Both were also our highest-graded and most productive receivers, and both have already found some success at the NFL level.
Johnson led all wide receivers in receptions (68), receiving yards (687), PFF grade (85.5), first downs (36), and ranked second in receiving touchdowns (five). Ross ranked second in receiving yards (583), PFF grade (83.2), first downs (28), and first in receiving touchdowns (seven). Ross ranked first and Johnson second in yardage market share (34% to 32%). Ross also ranked slightly better in yards per target average (11.0 to 10.1). Among all wide receivers to see at least 20 targets, Ross also ranked first (136.2) and Johnson ranked second (123.8) in WR rating. No other wide receiver came close in any category.
Horn was our third-highest-graded wide receiver, Pierson-El fourth, and Ward 19th. Horn (429) and Pierson-El (427) both ranked top-five in receiving yards, and both are considerably younger than Johnson and Ross. Horn is 26 and Pierson-El is 23. Horn put up big numbers in college (albeit at a Division II school), while Pierson-El was far less productive at Nebraska. Ward was easily the least-productive of the group, catching just 22 of 40 targets for 214 yards and zero touchdowns.
Notes: In the AAF, Ross, Pierson-El, and Horn ran the vast majority of their routes from the slot.
Tight ends
Keith Towbridge signed with the Titans
Thomas Duarte signed with the Panthers
Duarte is a former wide receiver convert who was drafted by the Dolphins in 2016. He was our second-highest-graded tight end in the AAF (77.3), behind only Nick Truesdell (80.9). He saw 12 targets, catching eight for 111 yards and two scores. He also ranked fourth-best in yards per route run (1.59).
Towbridge went undrafted in 2017, and then signed with the Bills but never in an NFL game. He ranked fourth among all AAF tight ends in targets (26) and fifth in receiving yards (196). Towbridge graded much worse than Duarte overall but was our sixth-highest-graded pass blocking tight end (77.9).
Duarte might be worth a roster spot on an extremely deep tight end premium dynasty league, but both players are really just longshots to be on an NFL team in Week 1.