This is our weekly check-in on IDP fantasy football leagues. Heading into Week 4 of the NFL season we're taking a look at the key start-or-sit decisions on the defensive side.
It's seems like the 2018 NFL season just kicked off yet here we are entering Week 4, which is basically the quarter point. We've also entered the bye-week portion of the season and will be without players from the Carolina Panthers and Washington Redskins this week.
How time flies, when so many of the top IDP options are falling victim to injuries or underperforming. Yes. I'm looking at you, Reshad Jones, Landon Collins (more on him later), and Demario Davis. There's plenty more but let's give it one more week before dusting off the panic button.
Here are some of the top start/sit options for Week 4.
Defensive linemen
Start
Jerry Hughes, Buffalo Bills (@ Green Bay)
The veteran Hughes has been on a hot streak over the past two games. In Weeks 2 and 3, Hughes has put up seven total tackles (six solo) along with two sacks along with a forced fumble. On the season Hughes has been putting up DL2 numbers, tying for the league lead with 20 QB pressures. Always a bit of a boom-or-bust type of player Hughes has a matchup this week that favors a boom outcome. The Packers have been struggling to protect a hobbled Aaron Rodgers and have allowed 10 sacks to defensive linemen. Green Bay has also allowed big plays to defensive linemen, having given up an interception and two forced and one recovered fumble.
Margus Hunt, Indianapolis Colts (vs. Houston)
Hopefully IDP owners took the advice offered in an earlier IDP waiver wire article and picked up the 6-8, 298-pound Hunt. It appears that at the ripe old age of 31 years old the light has gone on for Hunt this season. Through the first three games of the season, Hunt is putting up top-12 fantasy totals among defensive linemen, with 10 total tackles, three sacks, and a forced fumble. In two of the first three weeks Hunt put up top-10 fantasy numbers. The Texans offensive line has allowed over 60 quarterback pressures in three games and eight sacks to defensive linemen. Hunt leads all defensive linemen/edge rushers in snaps this season with 177 and has a good matchup for another big week.
Sit
Danielle Hunter, Minnesota Vikings (@ LA Rams)
Following a down 2017 campaign, Hunter is off to a nice start, with a sack in each of the first three games. The tackles numbers have been solid for Hunter as his 13 solo stops ties him for the league lead at the defensive line position. The "sit" designation is due in part to Minnesota playing on a short week, Everson Griffen having already been ruled out and a tough matchup. The Rams offensive line has been credited with allowing just 17 pressures through three weeks. They have allowed just three sacks to defensive linemen and with Griffen missing the game can focus primarily on shutting down Hunter. There are better options out there for Week 4.
Brandon Graham, Philadelphia Eagles (@ Tennessee)
Through the first three weeks of the season Graham has yet to register a sack and has just nine total tackles. The glass-half-full side of me could say that Graham is due to get on the board this week — he has been credited with nine quarterback hurries to date. The realist side of me says that Graham is in a rotation in which he, Chris Long, Derek Barnett, and Michael Bennett have all played 100 or more snaps. Graham has yet to top 50 snaps in a game and could still be rounding into shape after offseason surgery for a high ankle sprain. Throw in the fact that Philadelphia faces a Titans offense that only threw the ball 21 times in Week 3 and Graham can safely be sat.
Linebackers
Start
Fred Warner, San Francisco 49ers (@ LA Chargers)
Any concerns that the rookie Warner would lose fantasy value with the return of Reuben Foster can be laid to rest. In Week 3, Warner played every defensive snap in the middle for the 49ers and put up his third consecutive double-digit tackle game. Warner is currently a top-five fantasy performer and is solid in all facets of the game. Through three weeks, Warner has allowed just 50 percent of passes thrown into his coverage to be completed. The Chargers have allowed an average of 24 tackles per game to linebackers and Warner is in for another big game.
Josh Bynes, Arizona Cardinals (vs. Seattle)
The new Cardinals coaching regime have seemingly soured on Deone Bucannon. as he played just a single snap in their Week 3 loss to the Bears. This turn of events leaves Bynes as the only true inside linebacker for Arizona; he's been on the field for 95.5 percent of the snaps. Through three games, Bynes is averaging nine total tackles per game and has a very good Week 4 matchup. Last week against the Dallas Cowboys the Seahawks gave up 11 total tackles to both Sean Lee and Leighton Vander Esch.
Leighton Vander Esch, Dallas Cowboys (vs. Detroit)
Let's keep this short and sweet. With Lee likely to miss a couple of games, Vander Esch should see an increase in snaps. The rookie has been highly efficient in a limited role, racking up 21 total tackles while playing just 77 snaps and has yet to miss a tackle. Ride the rookie linebacker in an expanded role this week.
Sit
Brandon Marshall, Denver Broncos (vs. Kansas City)
It's been a rough start to the 2018 season for the veteran Marshall as he's managed to post just 12 total tackles and has yet to record a big play. Some of the lack of production could be linked to a knee issue Marshall is dealing with that limited him to just 33 snaps in Week 3. This week Denver faces a Kansas City Chiefs team that doesn't allow many fantasy points to linebackers. Through the first three games the Chiefs have given up just 47 total tackles, two passes defended and one forced fumble to linebackers.
Christian Kirksey, Cleveland Browns (@ Oakland)
Early reports this week out of Cleveland are that Kirksey is hoping to return for the Week 4 matchup with Oakland after missing the past two games with shoulder and ankle injuries. I have always found it advisable to take a wait-and-see approach with players coming back from injury and especially so with linebackers with shoulder issues. Even before going down, Kirksey managed just five total tackles on 62 snaps in Week 1. Regardless of the matchup leave Kirksey on the bench until he gets a full game under his belt.
Defensive backs
Start
Landon Collins, New York Giants (vs. New Orleans)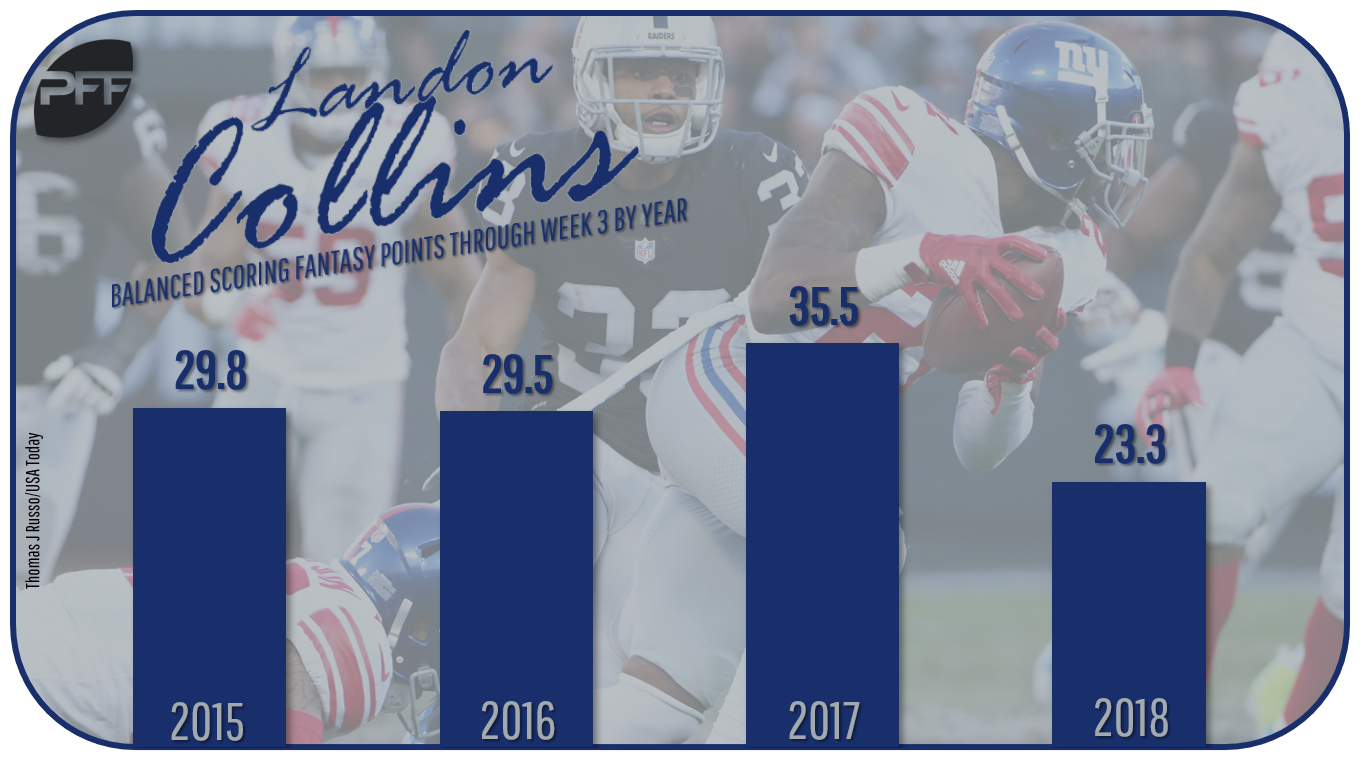 It seems a little odd to be addressing a safety who was a preseason consensus top-three selection in a start/sit column. After many queries via social media regarding Collins (who currently sits outside the top 65 in fantasy scoring) I thought it best to include him this week. Yes, Collins is off to a horrible start for fantasy purposes with just 16 total tackles. The matchup this week will go a long way to determining if owners should indeed start to panic regarding Collins. The Saints have allowed 102 (85 solo) total tackles to defensive backs as well as a sack along with three forced and four recovered fumbles.
Damontae Kazee, Atlanta Falcons (vs. Cincinnati)
It's only Week 4 and Kazee finds himself in a last-man-standing situation among the softies for the Falcons. Starting strong safety Keanu Neal (ACL) went down in Week 1 and his replacement Ricardo Allen tore his Achilles last week. Once Allen went out the undersized Kazee assumed a much more traditional strong safety role. Kazee lined up in the box or on the defensive line on 34 snaps leading to a double-digit tackle performance. Look for more of the same this week against Cincinnati.
Sit
Earl Thomas, Seattle Seahawks (@ Arizona)
Don't do it. Do not chase the top-three finish Thomas put up last week among defensive backs or his current top-10 fantasy production. Thomas has ridden three interceptions to these lofty totals and is going to come back to earth this week. Take away the interceptions and Thomas is a safety averaging just six total tackles per game. Consider the fact that Thomas is also sitting out practices and looking to be traded and this situation becomes even more volatile. Even starting against rookie quarterback Josh Rosen it's a good idea to sit Thomas.
Quandre Diggs, Detroit Lions (@Dallas)
Coming off a strong finish to the 2017 season and a fast start with an interception returned for a touchdown in Week 1, Diggs has been a hot name. Unfortunately, since Week 1 Diggs has only put up eight total tackles while playing 112 defensive snaps. Dallas has been a tough matchup for defensive backs allowing just 65 total tackles to the position. It's time to move on from Diggs as a trusted starting option.