In the NFL, competition is king. For fantasy footballers, though, competition at positions can lead to difficult-to-project scenarios, particularly when a team is entering training camp with a positional battle between two (or more) players in the same group. The fantasy football players who possess the knowledge to help determine the potential outcomes of those positional battles will always have a leg up on the other players in their leagues.
Below, we explore five positional camp battles that need answering and the potential outcomes that await.
All average draft position (ADP) info is sourced from BestBall10s drafts dating back to the beginning of July.
Subscribe to PFF's EDGE or ELITE subscriptions to get access to the following tools, charts, etc. 
– All Premium Article Content
– Fantasy Football Rankings & Projections
– Fantasy Football Draft Guide, Cheat Sheets & Advanced Stats
– Fantasy Football Mock Draft Tool (DraftMaster)
– Fantasy Football Strength of Schedule Matrix
– NFL Player Grades
– NFL Premium Stats
The battle between Swift and Johnson is interesting, but it's probably fair to expect the former to receive every opportunity to seize the starting job entering training camp. The Detroit Lions used a second-round draft pick to acquire Swift, and that investment likely foreshadows their usage plans for him, but let's compare the two anyway.
While none of Swift's 2019 statistics were jaw-dropping, his overall body of work made him the second running back drafted in his class. Swift ranked 21st in rushing yards, 29th in rushing yards after contact, 27th in receiving yards after contact, 20th in explosive pass plays, 25th in receiving yards per reception and 38th in yards after the catch per reception among all college running backs with 25-plus targets last year.
Johnson, on the other hand, ranked 39th in missed tackles forced per rushing attempt (min. 25 attempts) and ranked behind teammates J.D. McKissic, Bo Scarbrough and Ty Johnson in yards after contact per attempt. Johnson's 2018 campaign was slightly better, as he broke tackles at a better rate, created more yards per carry and ranked higher in yards after contact per attempt. Johnson's fantasy football output has been average throughout his short career, as he ranked 51st in points, 36th in points per snap and 50th in points per touch in 2019. He fared better in 2019, ranking 33rd in points, 18th in points per snap and 28th in points per touch. Arguably, Johnson's main issue is staying healthy — he's appeared in only 18 of a possible 32 games.
There may be a tough road ahead for whichever player wins the starting job. The Lions struggled in multiple key rushing metrics last year, ranking 18th in rushing yards before contact (511), 24th in explosive plays rushing (39) and 22nd in rushing yards before contact per attempt (2.6). In addition, the running backs weren't used a tremendous amount in the pass-game — the Lions ranked 21st in passing attempts to players in a running back alignment (90) in 2019.
The Lions favored inside-zone rushing plays more frequently than anything else (37%), as did the Georgia Bulldogs (57%). While it's tough to compare the college and the NFL game, Swift outproduced Johnson in yards after contact per attempt on inside-zone rushes, and Johnson bested Swift in missed tackles forced per attempt on inside-zone rushes.
The battle between Swift and Johnson will be fascinating to watch. Both players bring forth certain abilities, and one has proven the ability to produce in the NFL while the other has yet to take a snap. PFF's fantasy projections expect Swift to outproduce Johnson, handing the rookie a RB26 finish and the veteran a RB39 finish. Both players should receive a boost with their 11th-easiest schedule, according to PFF's strength of schedule (SoS) metric.
One of the more intriguing battles in the NFL this summer is which player can secure the Green Bay Packers' WR2 job. As of right now, the main competitors are Lazard and Valdes-Scantling, particularly with veteran Devin Funchess opting out of the 2020 season.
Entering camp, Lazard likely has the fast track to securing the job, mostly due to the reciprocated usage between himself and Valdes-Scantling dating back to the 2019 season. Throughout the first seven weeks, Valdes-Scantling actually scored the most points among all Green Bay wide receivers (75.5). Yes, he even outscored Davante Adams, though Adams missed plenty of playing time throughout those weeks. From Weeks 8-17, though, Valdes-Scantling scored only 8.6 points, which ranked last among the receivers on Green Bay's roster.
Lazard experienced the complete opposite. He had no points throughout the first seven weeks before amassing 79.1 points over the course of Weeks 8-17. His performance in the latter half of the season ranked him second among the team's receivers. Looking at the season as a whole, Lazard managed to outscore Valdes-Scantling (95.6 points to 62.8 points), but there wasn't a drastic difference. Here is their comparison during the 2019 campaign.
Allen Lazard and Marquez Valdes-Scantling Comparison | 2019
| | | |
| --- | --- | --- |
| Category | Allen Lazard | Marquez Valdes-Scantling |
| Targets | 51 | 54 |
| Yards | 477 | 452 |
| Yards after the catch | 141 | 155 |
| Touchdowns | 3 | 2 |
| Missed tackles forced | 1 | 2 |
| Explosive pass plays | 12 | 9 |
| Average depth of target | 14.2 | 16.8 |
| Yards per route run | 3.18 | 3.01 |
Their reciprocated production was rather strange, as evidenced by this chart that displays their weekly output.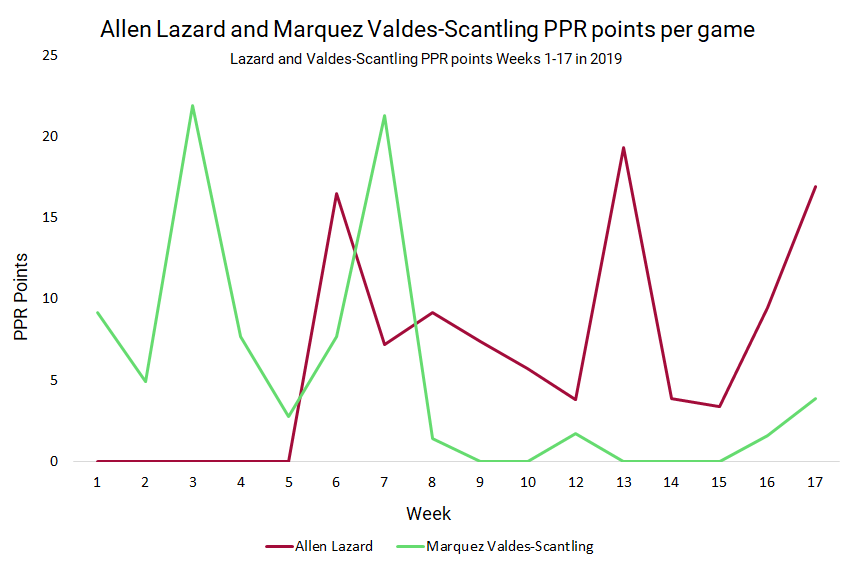 Geronimo Allison's departure frees up 54 targets moving forward, in addition to Jimmy Graham's 58 vacated targets. The vast amount of work available for the WR2 job in Green Bay could ultimately produce a strong WR3 option in fantasy football leagues in 2020. PFF's fantasy projections expect Lazard to produce a WR42 finish, while pegging Valdes-Scantling with a WR97 finish. The entire receiving corps receives a strong boost, as PFF's SoS metric ranks their schedule as the fifth-easiest in 2020.
The Harvard Rifle continues to defy the odds. On a Miami Dolphins team that had no business being competitive last year, Fitzpatrick managed a QB18 finish (252.5 points) and ranked 18th in points per dropback (0.44). Fitzpatrick managed to do this in essentially 14 games — he missed one contest entirely and took two snaps in Week 3. He also continued his penchant for downfield passing, ranking 20th in yards per attempt and seventh in average depth of target (aDOT) among all quarterbacks with 100-plus pass attempts. While Fitz was a fun and viable option in 2019, he certainly is not the future at the position for the Dolphins. That's where Tagovailoa factors in.
Tua was among the most productive college quarterbacks in 2019, ranking third in yards per attempt (11.3) and 10th in adjusted completion percentage (79.0%). The hip injury he suffered in 2019 may play a role in determining whether he can win the starting quarterback job as a rookie, but that remains to be seen.
The Dolphins don't have a stellar roster that can compete for a Super Bowl, but they did improve over the course of the offseason by way of massive salary cap space and multiple first-round draft selections. In addition, the team ranked fifth in deep pass attempts (20-plus yards downfield), 14th in explosive plays passing (15-plus yards downfield), first in pass play percentage (70.1%) and 11th in deep pass attempt percentage (13.5%) last year.
The team has proven its ability to manifest a strong quarterback option in fantasy football leagues, and that will only increase with PFF's SoS metric ranking their quarterback schedule as the 11th-easiest in 2020. PFF's fantasy projections expect a tight race between Fitzpatrick (QB36) and Tagovailoa (QB29), with the rookie receiving the more favorable projection.
The Los Angeles Rams' backfield is a potential fantasy goldmine, and that's why it's important to analyze this situation accurately. Former starter Todd Gurley was released during the offseason, freeing up his 223 rushing attempts and 45 targets. That's a large workload available for the next man up, and the battle will most likely boil down to two completely unproven players in Akers and Henderson. While the Rams' line proved to be ineffective in 2019, they've had no issues harboring solid finishes for their running backs. Since 2017, Gurley has had finishes of RB1 (2017), RB3 (2018) and RB14 (2019) in total points.
Akers was recently drafted with the Rams' first selection in the 2019 NFL Draft. He operated behind a bad offensive line and in a bad offense in general at Florida State yet still managed to remain productive, ranking ninth in rushing yards after contact, third in missed tackles forced, 10th in missed tackles forced per attempt and 21st in yards after contact per attempt among college running backs with 100-plus rushing attempts. Florida State ran inside-zone and outside-zone rushing plays a whopping 71.2% of the time in 2019, which compares favorably to the Rams' 50.9% rate of inside/outside-zone running plays deployed. As such, the rookie should have a smooth transition into the NFL.
Henderson — a 2018 third-round draft pick — didn't receive many opportunities in his rookie season, as he totaled only 43 touches (39 rushing attempts, four receptions). While his time was limited, his impact was felt. Henderson ranked first on the team in missed tackles forced per attempt and in yards after contact per attempt. Those figures also ranked eighth and seventh among all running backs in the NFL last season with 25-plus rushing attempts.
While the sample is incredibly small, Henderson proved he had some serious game. If we go back to his 2018 college season, Henderson ranked second in rushing yards, second in yards after contact, seventh in missed tackles forced and first in yards after contact per attempt among all college runners.
The Rams paid too significant of a price for Akers to keep him on the sideline for extended periods of time, but Henderson is no slouch, and the Rams did also invest two third-round picks (by way of trade up) to select him in 2018. While this backfield may split some time, expect Akers to receive the majority of the work, with Henderson potentially spelling him occasionally on run downs while also operating as the receiving back.
PFF's fantasy projections expect a similar split, as Akers is currently ranked as the RB30 and Henderson is ranked as the RB50. Lastly, both players are likely to be productive as a result of their positive schedule —– PFF's SoS metric ranks their slate as the ninth-easiest in 2020.
The battle between Gordon and Lindsay will be one of the trickier ones to decipher, but the expectation seems to be that both players will have a role in the offense and are likely to split time in a dreaded running back by committee approach.
Gordon has a history of fantasy football success — he's had finishes of RB22 (2019), RB8 (2018), RB5 (2017), RB7 (2016) and RB 43 (2015). The main issue is that Lindsay has also proven to be a quality fantasy football option, as his two NFL seasons have resulted in finishes of RB20 and RB13. While both guys have shown the ability to handle significant workloads and to produce effectively, one is likely to seize more work than the other in 2020, even if it proves to only be a small amount. The chart below displays the comparison between the two runners over the past two seasons.
Melvin Gordon and Phillip Lindsay Comparison (min. 100 attempts, 50 targets) | 2018-2019
| | | |
| --- | --- | --- |
| Category | Melvin Gordon (Rank) | Phillip Lindsay (Rank) |
| Rushing yards after contact | 895 (23rd) | 1,057 (18th) |
| Missed tackles forced | 69 (12th) | 65 (16th) |
| Missed tackles forced/ attempt | 0.2 (11th) | 0.16 (33rd) |
| Yards after contact/attempt | 2.7 (49th) | 2.5 (61st) |
| Receiving yards after the catch | 859 (9th) | 560 (25th) |
| Receiving yards per reception | 8.5 (15th) | 6.2 (42nd) |
| YAC per reception | 9.3 (6th) | 8.0 (25th) |
| Yards per route run | 1.75 (8th) | 1.10 (34th) |
Their statistics don't differ a vast amount as rushers, but Gordon has been the far superior receiver of the two players. While both guys are likely to receive a fair amount of work as runners, it's Gordon who should receive the majority of — if not all — of the receiving load, as he's routinely been one of the more productive three-down backs in the receiving department.
The Denver Broncos' offensive line ranked well in rushing yards before contact (11th) and rushing yards before contact per attempt (seventh) last year. The addition of Gordon begins to make sense when you factor in the lack of explosive rushing plays from the Broncos' backfield — they ranked 21st in explosive plays rushing and explosive run percentage and 27th in rushing yards after contact per attempt.
PFF's fantasy projections also expect a relatively similar timeshare between the two, currently ranking Gordon as the RB22 and Lindsay as the RB36. The schedule lands right in the middle of the pack, with PFF's SoS metric ranking their running back slate as the 17th-easiest in 2020.