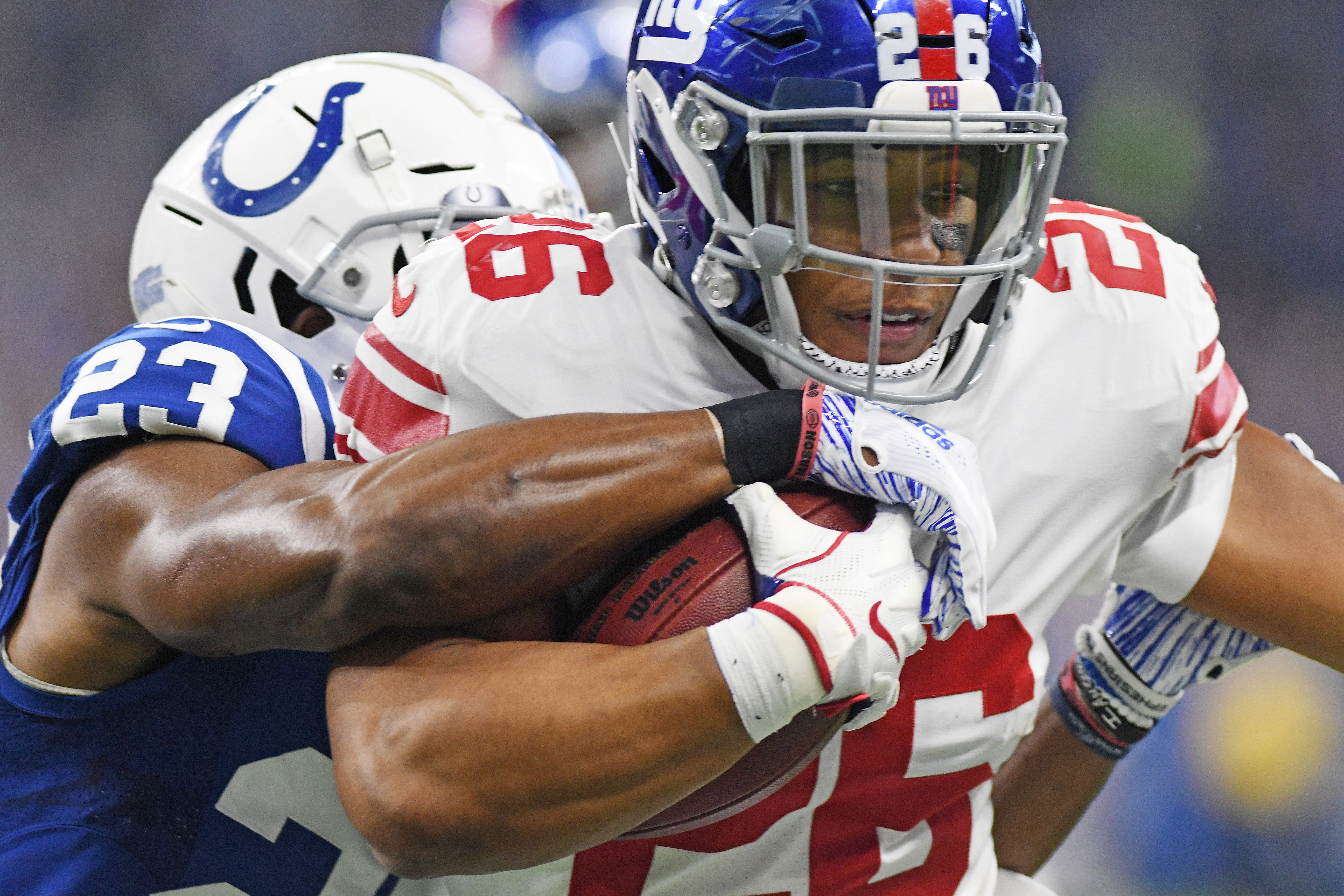 Dec 23, 2018; Indianapolis, IN, USA; New York Giants running back Saquon Barkley (26) is tackled by Indianapolis Colts Kenny Moore II (23) during the second half at Lucas Oil Stadium. Mandatory Credit: Thomas J. Russo-USA TODAY Sports
Dynasty fantasy football startup drafts may look like regular fantasy drafts on the surface, but don't let appearances fool you. Unlike in a redraft league, age is a major factor in dynasty leagues, and to a lesser extent in keep leagues. If you have a startup draft coming up, you want a set of dynasty fantasy football rankings that takes a long view and prioritizes youth while still factoring in current skill and opportunity.
Below you'll find our top 101 dynasty fantasy football rankings for startup leagues, which you can also use as keeper fantasy football rankings. If you want a complete list, check out our dynasty fantasy football rankings.
[Editor's Note: All of Pro Football Focus' EDGE & ELITE subscribers have access to our DraftMaster tool, which allows subscribers to run mock drafts and practice roster building BEFORE their season-long and Best Ball drafts. New subscribers can subscribe to EDGE for as low as $9.99 today!]
| | | | |
| --- | --- | --- | --- |
| Rk | Player | Pos | PosRk |
| 1 | Saquon Barkley | RB | 1 |
| 2 | DeAndre Hopkins | WR | 1 |
| 3 | Christian McCaffrey | RB | 2 |
| 4 | Odell Beckham Jr. | WR | 2 |
| 5 | Ezekiel Elliott | RB | 3 |
| 6 | Alvin Kamara | RB | 4 |
| 7 | Michael Thomas | WR | 3 |
| 8 | Davante Adams | WR | 4 |
| 9 | Todd Gurley II | RB | 5 |
| 10 | JuJu Smith-Schuster | WR | 5 |
| 11 | Melvin Gordon | RB | 6 |
| 12 | Joe Mixon | RB | 7 |
| 13 | Mike Evans | WR | 6 |
| 14 | Julio Jones | WR | 7 |
| 15 | Nick Chubb | RB | 8 |
| 16 | Amari Cooper | WR | 8 |
| 17 | David Johnson | RB | 9 |
| 18 | Dalvin Cook | RB | 10 |
| 19 | Antonio Brown | WR | 9 |
| 20 | Keenan Allen | WR | 10 |
| 21 | James Conner | RB | 11 |
| 22 | Stefon Diggs | WR | 11 |
| 23 | Le'Veon Bell | RB | 12 |
| 24 | Travis Kelce | TE | 1 |
| 25 | Adam Thielen | WR | 12 |
| 26 | Brandin Cooks | WR | 13 |
| 27 | George Kittle | TE | 2 |
| 28 | A.J. Green | WR | 14 |
| 29 | Patrick Mahomes | QB | 1 |
| 30 | Kenny Golladay | WR | 15 |
| 31 | T.Y. Hilton | WR | 16 |
| 32 | Derrius Guice | RB | 13 |
| 33 | Zach Ertz | TE | 3 |
| 34 | Josh Jacobs | RB | 14 |
| 35 | Kerryon Johnson | RB | 15 |
| 36 | Sony Michel | RB | 16 |
| 37 | DJ Moore | WR | 17 |
| 38 | Aaron Jones | RB | 17 |
| 39 | Robert Woods | WR | 18 |
| 40 | Cooper Kupp | WR | 19 |
| 41 | Corey Davis | WR | 20 |
| 42 | Andrew Luck | QB | 2 |
| 43 | Leonard Fournette | RB | 18 |
| 44 | Chris Godwin | WR | 21 |
| 45 | Deshaun Watson | QB | 3 |
| 46 | Marlon Mack | RB | 19 |
| 47 | Calvin Ridley | WR | 22 |
| 48 | Jarvis Landry | WR | 23 |
| 49 | Allen Robinson | WR | 24 |
| 50 | Phillip Lindsay | RB | 20 |
| 51 | David Montgomery | RB | 21 |
| 52 | Derrick Henry | RB | 22 |
| 53 | Baker Mayfield | QB | 4 |
| 54 | O.J. Howard | TE | 4 |
| 55 | Miles Sanders | RB | 23 |
| 56 | Tyler Boyd | WR | 25 |
| 57 | N'Keal Harry | WR | 26 |
| 58 | Courtland Sutton | WR | 27 |
| 59 | Aaron Rodgers | QB | 5 |
| 60 | Devonta Freeman | RB | 24 |
| 61 | Sammy Watkins | WR | 28 |
| 62 | Hunter Henry | TE | 5 |
| 63 | Mike Williams | WR | 29 |
| 64 | Tarik Cohen | RB | 25 |
| 65 | Russell Wilson | QB | 6 |
| 66 | Kareem Hunt | RB | 26 |
| 67 | Damien Williams | RB | 27 |
| 68 | Evan Engram | TE | 6 |
| 69 | D.K. Metcalf | WR | 30 |
| 70 | Alshon Jeffery | WR | 31 |
| 71 | Mark Ingram II | RB | 28 |
| 72 | Rashaad Penny | RB | 29 |
| 73 | Will Fuller V | WR | 32 |
| 74 | Christian Kirk | WR | 33 |
| 75 | Tyreek Hill | WR | 34 |
| 76 | Carson Wentz | QB | 7 |
| 77 | David Njoku | TE | 7 |
| 78 | Eric Ebron | TE | 8 |
| 79 | Tyler Lockett | WR | 35 |
| 80 | Tevin Coleman | RB | 30 |
| 81 | Jared Goff | QB | 8 |
| 82 | Dante Pettis | WR | 36 |
| 83 | Anthony Miller | WR | 37 |
| 84 | Kenyan Drake | RB | 31 |
| 85 | Sterling Shepard | WR | 38 |
| 86 | James Washington | WR | 39 |
| 87 | Chris Carson | RB | 32 |
| 88 | James White | RB | 33 |
| 89 | Cam Newton | QB | 9 |
| 90 | Royce Freeman | RB | 34 |
| 91 | Michael Gallup | WR | 40 |
| 92 | Marvin Jones Jr. | WR | 41 |
| 93 | Keke Coutee | WR | 42 |
| 94 | Jerick McKinnon | RB | 35 |
| 95 | Lamar Miller | RB | 36 |
| 96 | Jordan Howard | RB | 37 |
| 97 | Matt Ryan | QB | 10 |
| 98 | Marquise Brown | WR | 43 |
| 99 | Jameis Winston | QB | 11 |
| 100 | Kyler Murray | QB | 12 |
| 101 | Mecole Hardman | WR | 44 |