Another fun week of college football, where our ratings on teams like Texas, Florida and Penn State were vindicated, while our bullishness on Wisconsin, USF and Washington… were not. Like all ELO systems (including our version for the NFL), PFF ELO is an iterative system that updates each team's rating after each game based on two things: how well they played against their opponent and how well they were expected to play against their opponent. The PFF ELO rating system measures the former using our unique offensive, defensive and special teams grades, while the latter is determined by the PFF ELO ratings leading up to the game and where the game is played.
For example, a heavy favorite playing at home is expected to outplay the visitor, so a victory would result in only a small rise in their PFF ELO rating and a similarly-small decrease in the defeated team's, but if an upset were to happen, the visiting team would see their PFF ELO rating rise substantially, and the home team's see a similarly-sized drop.
Sometimes in football, the best team does not win, and PFF ELO accounts for these oddities by using our grades. Hence there will be teams rated higher or lower in this system than their win-loss record would suggest. Since PFF began charting college football in 2014, the difference in PFF ELO values alone has been able to explain over three-fourths of the variance in the closing Vegas line. Check back to profootballfocus.com for weekly college spread picks using this model and check out PFF Greenline for our NFL version of the product.
The PFF ELO College Power Rankings are brought to you by Eckrich, the Official Smoked Sausage of the College Football Playoff.
1.

The country's best team by a country mile was off last week, and remains the most efficient team in the SEC in terms of EPA and success rate on early-down passes, and are second to Mississippi State in terms of those same metrics in the running game. Tua Tagovailoa has almost a perfect rating when clean, but also boasts a 127.5 passer rating on his 36 pressured dropbacks. Their defense has gotten a little negative attention of late, but they have not allowed more than a 40% success rate in the early-down passing or running game so far this year. LSU is going to be a big test – a win against the Tigers will keep them a safe distance from the rest of the country.
2.
Clemson dominated Florida State Saturday, continuing their balance both offensively and defensively. They have been successful on more than 50% of both their early-down passing plays and running plays on the offensive side of the ball, while limiting opponents to just -0.18 EPA per early-down passing play, and allowing just 21.79% of early-down running plays to generate success (best in the ACC).  
3.
Notre Dame appears to be hitting on all cylinders by rolling through Navy, dominating both offensively and on defense. Ian Book has the 12th-best passer rating from a clean pocket in the FBS. The Fighting Irish pass defense has been stingy in pass coverage and on early-down pass attempts, they have allowed a successful pass on only 36% of attempts.
4.

It hasn't gotten the attention that Alabama's gotten, but as far as SEC teams go, only the Crimson Tide has generated more EPA per early-down pass (0.39) than Georgia, generating success on over 57% of said plays when they throw. Their defense is a bit more middle-of-the-road in this regard, but in terms of coverage grades in the nation, only Washington has been better this season. We give them about a 73% chance to go on the road and beat Kentucky next week, after which a road to the College Football Playoff might be paved for them. Stay tuned.
5.
The Sooners defense now has back-to-back strong performances coming out of their bye under new defensive coordinator Ruffin McNeill. They have completely eliminated the big plays they were susceptible to earlier in the season. Perhaps a reason for their newfound success, before their bye week, they were blitzing over 25% of passing downs but in their past two games, they have blitzed a mere 11% of pass attempts. McNeill is much less aggressive but it appears to be the blueprint for defensive success with this unit.
6.

Penn State relied on their defense to come up with big plays at the end to hold onto victory over Iowa. Facing 50 pass attempts, the Nittany Lions offense allowed a 36% completion percentage and a passer rating of 32.0. Their EPA allowed per dropback was an impressive -0.42. Penn State will need to continue to impress defensively as they have a looming showdown with Michigan in Ann Arbor which should provide a lot of clarity about who is going to end up sitting atop the Big Ten East division.
7.

Few outside of LSU would have told you that this week's matchup at home between the Tigers and Alabama would be the marquee matchup of the season to that point. We have them as 33.81% chance to upset the best team in the country. If they are to do so, they'll need improved play from quarterback Joe Burrow who, on early downs, they are in the middle of the pack in the conference in terms of passing efficiency. Burrow has seemed to meet the task in all but one game this year, but Alabama will be the biggest hill for him (them) to climb.
8.

Michigan hosts Penn State this week, a game where we've got Penn State as slight favorites, despite Michigan having surged over the last month and a half and Penn State having to grind out wins the last few weeks. Shea Patterson has improved but he'll need to take the next step in his matchup with Trace McSorley. While 32.4% of his dropbacks have resulted in pressure, only 18.7% of his passing yards have been generated there. If some of this regresses to the mean a bit, we should see some improvement from the Wolverines offensively, and a compelling Big Ten race moving forward.  
9.

UCF was off this week; although due to data updates throughout the last two weeks, they do elevate themselves over Ohio State. They started slow and still won without their leader McKenzie Milton last week against East Carolina as reserve QB Darriel Mack Jr. failed to complete a pass more than 10 yards in the air.  His 130 yards on 6.5 yards per carry led the team, leaving open the possibility for a change up when Milton and his 112.4/91.8 clean/pressure quarterback rating split returns to his starting role for the stretch run.  
10.
An off week, the lag of previous week's data and reputation have the Buckeyes in the 10th spot coming into Week 10. With Penn State outplaying Ohio State in Week 5 (even in a loss) and Michigan's emergence, it's going to be interesting to see how high the ceiling is for the Buckeyes in 2018. We have them 82.89, 75.68, 85.64 and 40.38% chances to defeat Nebraska, Michigan State, Maryland and Michigan, respectively, using our PFF ELO system through Week 9. They'll need to fulfill the promise of those first three numbers, and be on the other side of the last one to get back into the thick of things in the Big Ten and nationally. We're a bit skeptical.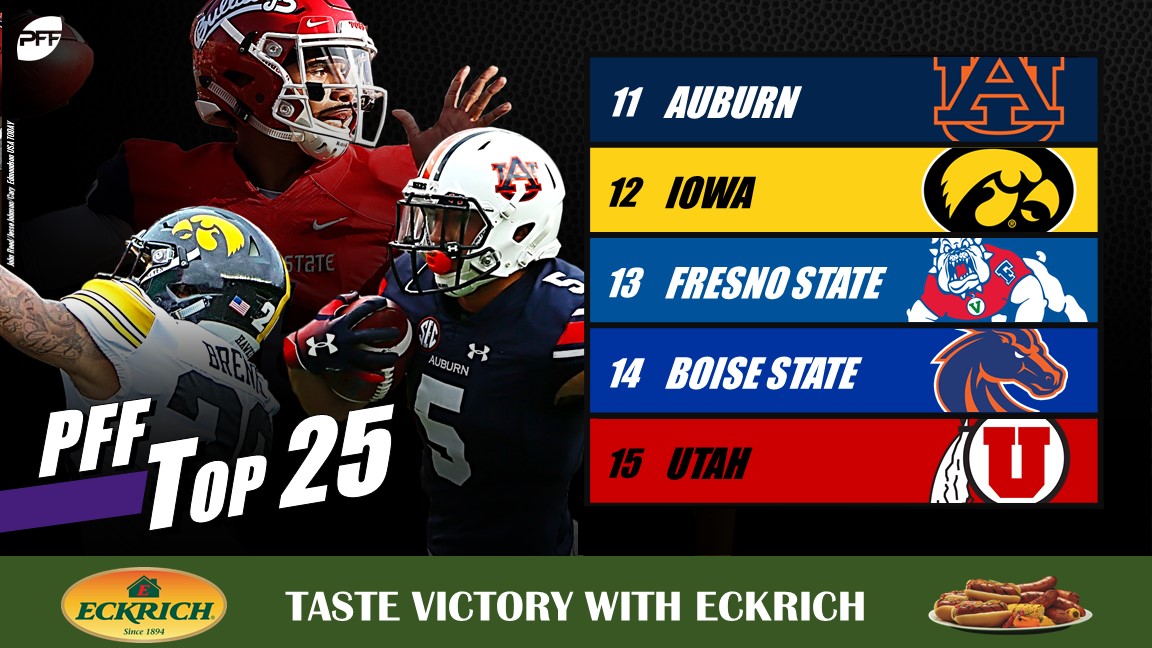 11. Auburn (+3)
12. Iowa (-1)
13. Fresno State (+2)
14. Boise State (+8)
15. Utah (+4)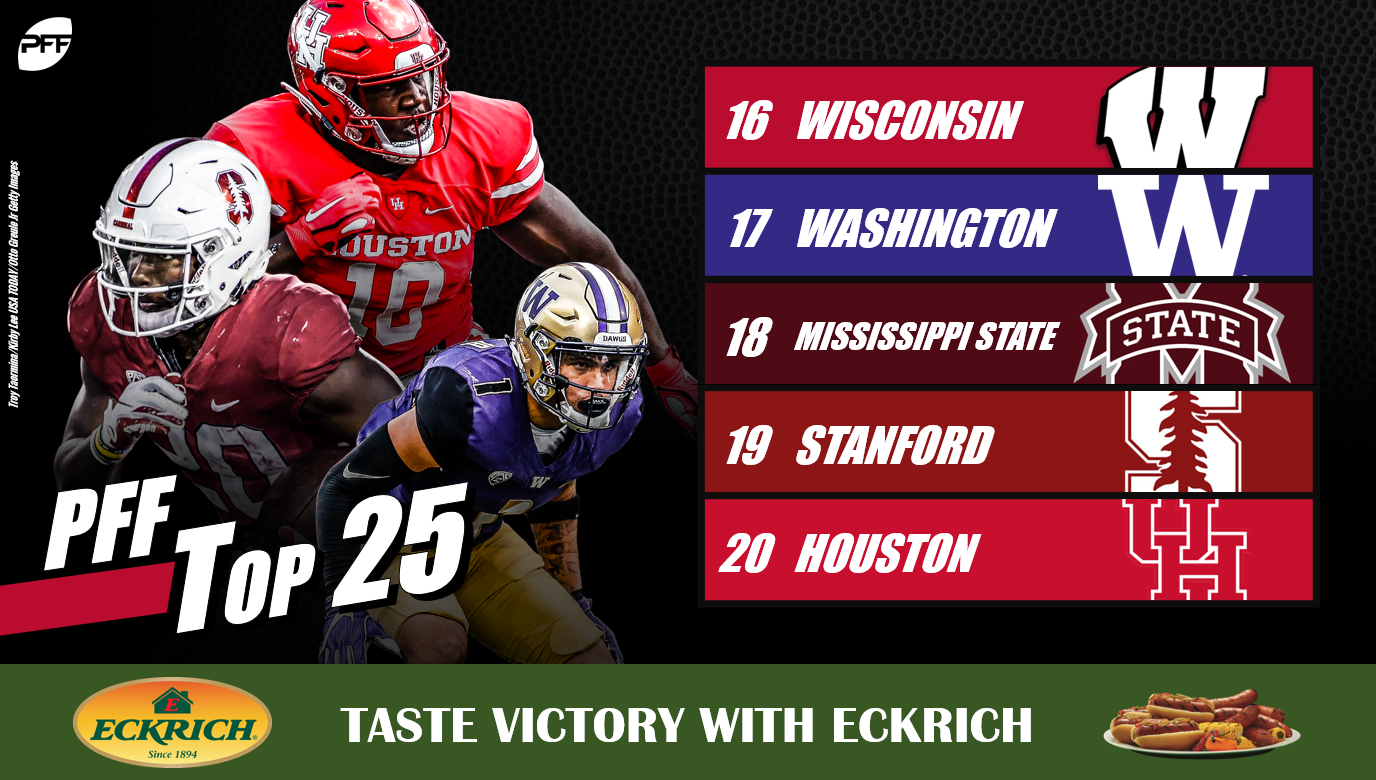 16. Wisconsin (-7)
17. Washington (-4)
18. Mississippi State (+11)
19. Stanford (+8)
20. Houston (+11)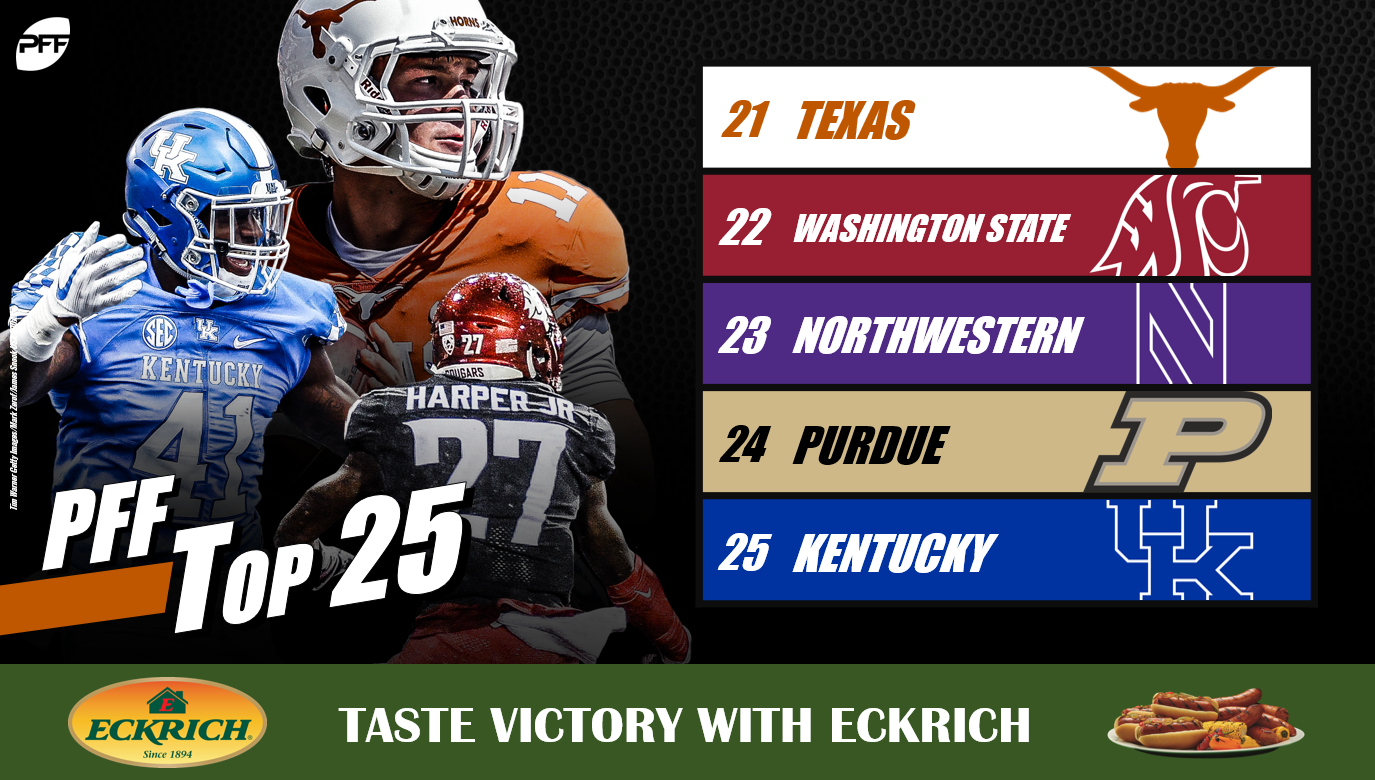 21. Texas (-6)
22. Washington State (-1)
23. Northwestern (+11)
24. Purdue (-6)
25. Kentucky (no change)