It feels like we're just getting started, but we are already one-third of the way through the college football regular season.  Thus, it's time we look at some big-picture, team-based statistics. This week we examine the nation's best defenses, sorted by fewest expected points added per play.

1. Wisconsin
– 0.522 EPA/play
Halfway through the third quarter this past weekend, Wisconsin was on its way to keeping their scoreless streak alive, but Michigan was finally able to get in the end zone long after the game had already been decided. After three games, Wisconsin is showing they are a possible playoff contender and leading the nation in fewest points per game allowed (4.7) and fewest yards allowed per play (2.6). They are our fifth-highest-graded team in run defense and 28th in coverage grade. Led by edge defender Zach Braun (90.5 grade with 12 total quarterback pressures and 12 stops), the Badgers have the fewest missed tackles in the nation (7) and also lead the nation in the average depth of tackle (1.79 yards). They've also been hard to throw against, as they have allowed the third-lowest completion percentage (45.9%) in the passing game.
2. Missouri
– 0.389 EPA/play
Outside of their first-game struggles against Wyoming, the Tigers have looked stout in the early going. They are 18th in run-defense grade and fifth in coverage grade, allowing a completion percentage of only 45.6%, the second-lowest in the nation. They have also been disruptive in the run game and currently sit second in the nation with 36 tackles for loss or no gain. Linebacker Nick Bolton is not just a top player for the Tigers; he's been one of the best in the country through four weeks. Bolton is second in both overall grade (90.0) and coverage grade (90.3), as he already has two pass breakups and two interceptions. In addition, interior defender Jordan Elliott is also the second-highest-graded player at his position in the country (91.1 overall grade, 90.4 pass-rush grade), as he has 10 total pressures and five stops across 149 snaps.
3. Kansas State
-0.367 EPA/play
After getting a big road win in Starkville this past weekend, the Wildcats head on the road again this week to Oklahoma State to get their Big-12 slate started. While their overall grades have not been high, they are doing two things very well that are contributing to their defensive success — covering and tackling. The Wildcats have allowed the third-lowest passer rating (48.7) and fourth-lowest completion percentage (47.1%) in addition to six pass breakups and three interceptions. They have also only missed 24 tackles in four games.
4. Ohio State
-0.353 EPA/play
Currently our highest-graded team, the Buckeyes are once again loaded on the defensive side of the ball and primed to push for a playoff spot. They are tops in coverage and pass-rush grade and second in run-defense grade. Their secondary is loaded with talent (three players with an 81.0 grade or higher), and they also have the highest-graded edge rusher and future top-three pick, Chase Young (94.4 overall grade). On the season, Young now has 16 total pressures, including seven sacks, on only 81 pass-rush attempts. Also, they lead all of college football in stops (123) and are eighth in team pass-rush win percentage. 
5. Clemson
-0.347 EPA/play
The Tigers are in full reload mode now, and they're still one of the top defensive teams in the nation despite losing their entire starting defensive line to the NFL draft. Overall our 23rd-highest-graded team in coverage and 22nd in run defense, the Tigers are in top-11 in numerous categories, including average depth of tackle (fifth, 2.85 yards), batted passes (third), passer rating allowed (7th), pass-rush productivity (10th), tackles for loss or no gain (11th, 30) and stops (11th, 118). Linebacker Isaiah Simmons continues to lead the defense and make an impact all over the field, with 17 stops and eight total pressures without missing a tackle.
6. Oregon
-0.320 EPA/play
Typically known more for its offense, the Ducks are being led this season by a very stout defense. They are off this weekend before finishing with eight consecutive Pac-12 games. Where are they especially excelling? In coverage, where they are second-highest-graded coverage unit and highlighted this week by our Ben Linsey as having a top-five secondary. They have allowed the fourth-lowest passer rating and are also fifth in forced incompletion percentage (15.9%). Cornerback Deommodore Lenoir is currently their highest-graded defender (84.9 grade) and has only allowed five receptions on 13 targets for 34 yards into his coverage, including two pass breakups.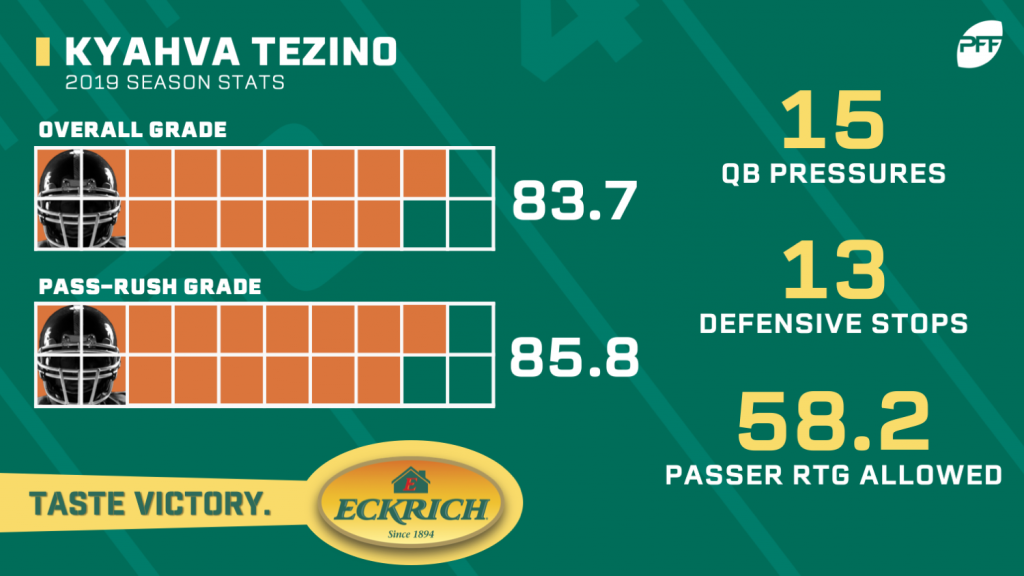 7. San Diego State
-0.308 EPA/play
Another team led by their secondary, the Aztec defense has been carrying the team early while the offense works to find its way. Our overall 19th-highest-graded coverage unit and second in Ben Linsey's secondary rankings, all five secondary players with significant snaps have a coverage grade of at least 72.6. Overall, the Aztecs also allow the seventh-fewest yards per play (3.7). Their highest-graded defender is linebacker Kyahva Tezino (83.7 grade). Tezino does a little bit of everything for the defense as he leads the team in stops (13) and is second in total QB pressures (15).
8. Maryland
-0.303 EPA/play
The Terrapins exploded offensively the first two weeks of the season, but their defense has also been good early. Overall, they are 11th in run-defense grade and have gotten good production from their front seven. As a team, they are third in pass-rush win percentage and 13th in pass-rush productivity. In addition, they are tied for the fifth-fewest missed tackles (21). Linebacker Chance Campbell is their highest-graded defender (88.2 grade) after seeing his highest snap count in the loss to Temple. In that game, Campbell had three stops, a pressure and an interception on 41 snaps.
9. Georgia
-0.297 EPA/play
After their big win over our previously number-five team, Notre Dame, the Bulldogs have a bye this week before going full steam ahead into their SEC schedule. Tied for fourth nationally at allowing only 10 points per game, the Bulldogs, like many above, are led by their ability to cover. As a team, Georgia is third in coverage grade and 14th in run-defense grade. Individually, senior J.R. Reed is showing out again in 2019 and is currently the third-highest-graded safety in the nation, especially after his elite performance against Notre Dame where he had two pass breakups and a highlight-reel interception late in the game.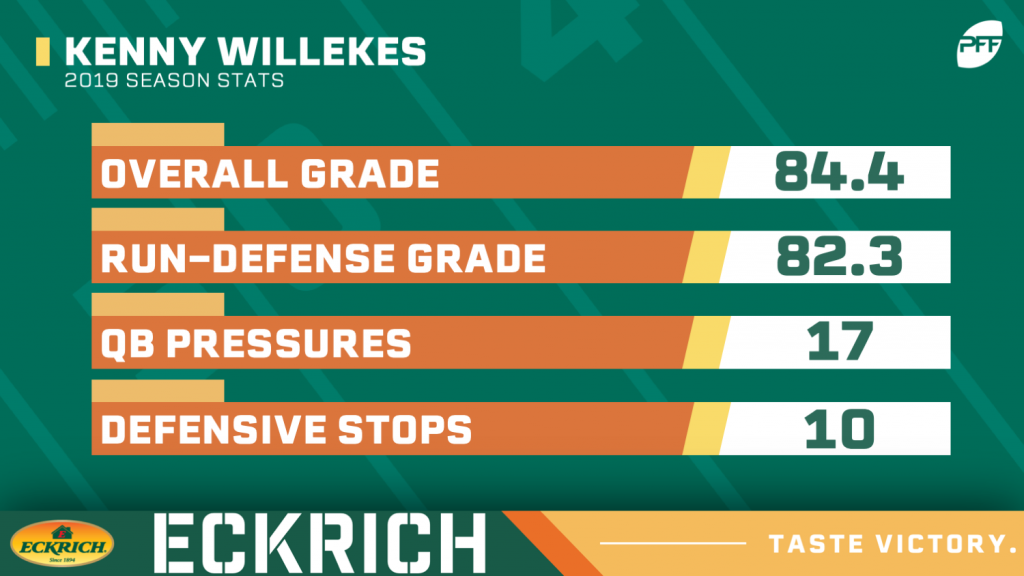 10. Michigan State
-0.279 EPA/play
The Spartans have always been known for the defensive prowess under Mark Dantonio, and 2019 appears to be no different. Led by edge defenders Kenny Willekes (84.4 grade) and Jacub Panasiuk (76.2 grade), the Spartans are 20th as a team in total pressures (83) and 15th in tackles for loss or no gain (29) as well as allowing the sixth-fewest yards per play. Willekes and Panasiuk themselves have combined for 28 total QB pressures, including six sacks.