Five weeks into the 2021 college football season, it's time to take seriously what the College Football Playoff is going to look like.
This season has been unlike any other in the CFP era, with conferences like the ACC and Pac 12 not putting forth any playoff-caliber times as of now and three Big Ten teams (Michigan, Penn State and Iowa) showing better records than Ohio State. The SEC is on pace to have two participants for the second time, shadowing the 2017 tournament that contained both the Alabama Crimson Tide and Georgia Bulldogs.
---
Click here for more PFF tools:
Rankings & Projections | WR/CB Matchup Chart | NFL & NCAA Betting Dashboards | NFL Player Props tool | NFL & NCAA Power Rankings
---
However, what I want to talk about today is the process of modeling the CFP. PFF's NCAA Power Rankings tool shows the results of 10,000 simulations of the remainder of the 2021 season.   

While the rules are pretty straightforward for who gets to play in each conference title game and where each game is played, the process that elicits the four-team playoff is pretty opaque (cancelled games notwithstanding). This adds a lot of uncertainty in our projections. All we have to go on is the history of the selection process, along with any clues that come from information external to the process.
The History of the Selection Process
The CFP is in its eighth year, so we have seven years of information to go off of. How many participants had one loss? How many won their conference title game? How many teams from each conference made it? That information is below:
Participants
2014: Alabama, Oregon, Florida State, Ohio State
2015: Clemson, Alabama, Michigan State, Oklahoma
2016: Alabama, Clemson, Ohio State, Washington
2017: Clemson, Oklahoma, Georgia, Alabama
2018: Alabama, Clemson, Notre Dame, Oklahoma
2019: LSU, Ohio State, Clemson, Oklahoma
2020: Alabama, Clemson, Ohio State, Notre Dame
Undefeated Teams
2014 Florida State
2015 Clemson
2016 Alabama
2018 Alabama
2018 Clemson
2018 Notre Dame
2019 LSU
2019 Ohio State
2020 Clemson
2020 Alabama
2020 Ohio State
One-Loss Teams that Won Their Conference
2014 Alabama
2014 Oregon
2014 Ohio State
2015 Alabama
2015 Michigan State
2015 Oklahoma
2016 Clemson
2016 Washington
2017 Clemson
2017 Oklahoma
2017 Georgia
2018 Oklahoma
2019 Oklahoma
2020 Clemson
One-Loss Teams that Lost in Conference Title Game
2017 Alabama
2020 Notre Dame
One-Loss Teams that Did Not Play in a Conference Title Game
2016 Ohio State
Conference Appearances
SEC: 8 (1.14 per year)
ACC: 8 (1.14 per year, counting 2020 Notre Dame)
Big Ten: 5 (0.71 per year)
Big 12: 4 (0.5 per year)
Pac 12: 2 (0.25 per year)
Independent: 1 (0.14 per year, not counting 2020 Notre Dame)
For the most part, the CFP is made up of conference champions with one or fewer losses in a Power Five conference. Exceptions have been made in the case of Notre Dame, since they are usually an independent, and Alabama in 2017, which lost the conference title game after going into the game undefeated. Ohio State in 2016 didn't make its conference championship game but got in on the strength of its record and likely the mystique of the school.    
Notice, the notion that the SEC has always had multiple teams, or that multiple teams are a lock in 2021, is faulty in that it's only ever happened one time, which is the same number of times it's happened to the ACC — albeit with the caveat that the second team was Notre Dame performing in the ACC during the makeshift-pandemic season that was 2020.  
Using this, our algorithm, which serves as sort of a virtual voter, makes eligible for the playoff all Power Five teams (and Notre Dame) that have one or fewer losses during the regular season, a PFF Elo score of 1750 or better (translating to being 22 or more points better than an average team on a neutral field — a distinction all CFP participants to this point have had in a full season) and either:
Win all of their regular season games but lose the conference title game

Win their conference title game 

Miss their conference title game with one loss, as long as that conference is the SEC or Big Ten
Eligible teams are then seeded by their Elo score and those of their opponents and given a probability near 1 of earning a college football playoff berth. If there are fewer than six teams in such a pool (which will likely be the case in 2021), the next teams in PFF Elo are added to make six, with smaller and diminishing probabilities of making the CFP based on their power rating.  
This has been what we've used in the past and what we've used for the first five weeks of the college football season. However, the anomalous 2021 season has left us no choice but to amend this procedure to include a team that just knocked off two Power Five teams in a row, including the Notre Dame Fighting Irish — the Cincinnati Bearcats.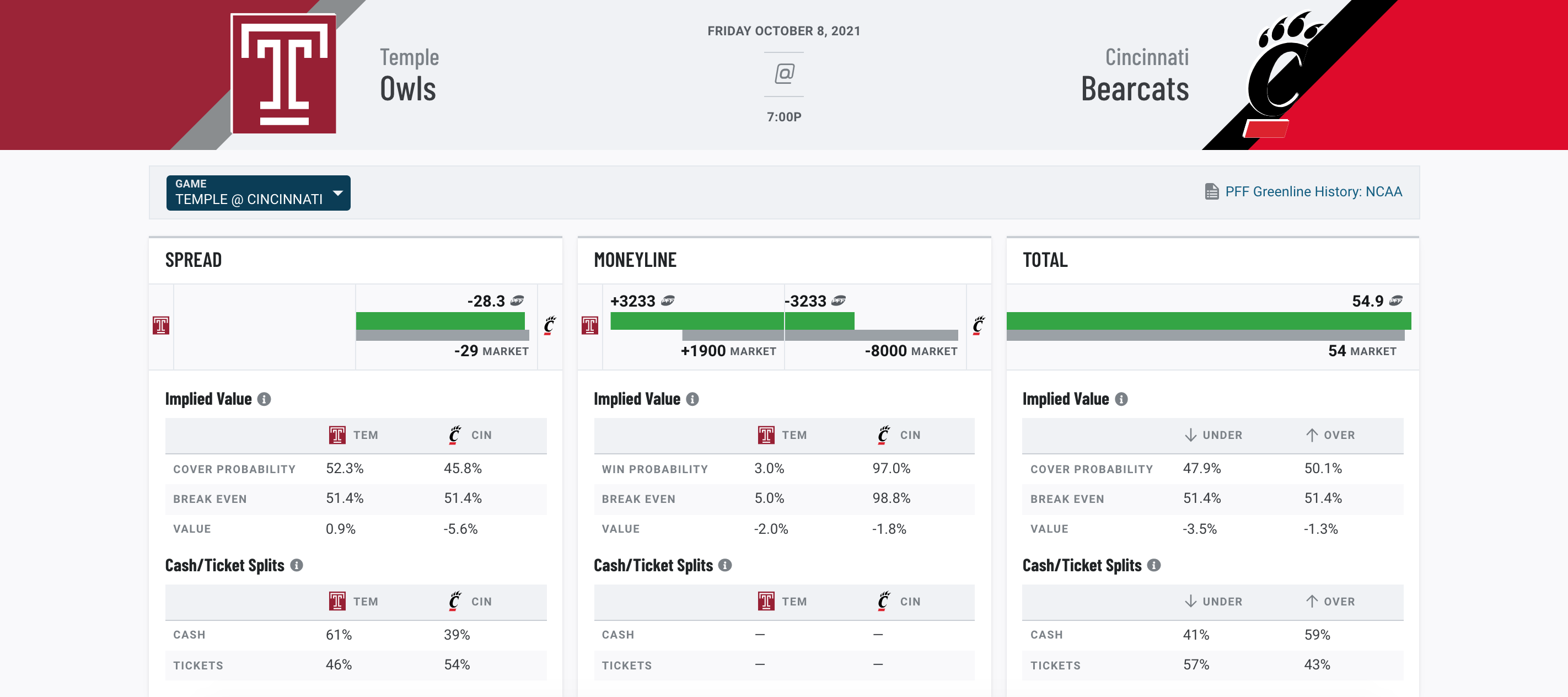 What to Do About Cincy?
Prior to this adjustment, we gave Cincinnati roughly a 3-4% chance to make the CFP playoff and roughly a 1% chance to win it all. In the simulations, they were one of the six teams that got a chance when there were not enough teams to fit that criteria, as they currently have one of the highest Elo values in the country.  
The problem is not how it is likely going to happen. In the betting markets, the Bearcats are currently +210 to make the CFP, which, after stripping the vig, implies a 30% chance that they make the playoffs (courtesy of our friends at DraftKings Sportsbook).

As far as winning the CFP, the odds are here:

Odds of 25/1 imply a break-even of a little less than 4% to make it bettable. 
Thus, those are reasonable numbers when it comes to Cincinnati making the playoffs. Our first attempt to make our numbers more reasonable for Cincinnati was to treat them like another Notre Dame, meaning that while they aren't a Power Five team, if they satisfy the requirements of one, then they are in the CFP. These were too lenient, as such restrictions had them making the playoffs about 38% of the time. Hence, we had to simply increase the Notre Dame threshold for Cincinnati — effectively making them a playoff participant only when they win 12 games and their conference title game.  
This made the numbers that you see above: 32% to get in, 3% to win it.  Neither of these are a value on the DraftKings betting markets, but they are in the ballpark.  
What Would It Take for Cincy to Make the CFP? 
At this particular moment, the path is very narrow but easy to understand: They need to win all of their games, and if they win all of their games, chances are very good that enough bad things will happen above them that they will get in. 
On the NBC broadcast of their game against Notre Dame, we gave out those odds pretty explicitly. Cincinnati's win against Notre Dame increased their power ratings some, which adds a bit to these probabilities today. But if one just multiplies the stated numbers together, she or he arrives near both our market number and the simulated figure (29%). The compounded increase in their power ratings due to winning each of their subsequent games, in addition to playing the AAC title game at home should be they 12-0, gets this number to the market and simulated figures stated.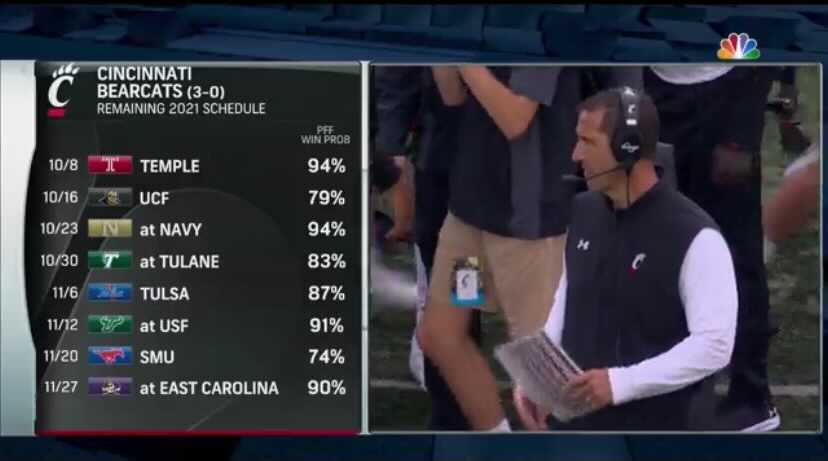 Will This Be the Last Time the Model is Updated?
Hopefully, but given that the target is both a) moving and b) somewhat arbitrary in the first place, there might be a day where we have to make changes to ensure the model is mimicking what in all likelihood will happen come December.
Some Bets for the Road
Using our simulation tool, you can find some value in the markets. Here are some that we like, with a few reasons why:
Alabama to win the SEC (+108 at Circa Sportsbook and -110 at FanDuel, since Circa isn't available in most states)
The breakeven at DraftKings (-135) is actually right where our number is at 57%, but if you shop around you can find better prices, as we've shown here. While Georgia has been amazing, and defense matters a lot in college football, the uncertainty at the QB position for the Bulldogs makes this bet on Alabama, which finally had its signature win Saturday against Ole Miss, a smash. Alabama is also +EV to win the National Title at FanDuel (+175).  
Coastal Carolina (+165 at DraftKings) to win the SUN BELT Title
We make this more like even money for #ourChants, who have covered all but one game so far this year and are projected to win 11.3 games by our simulation, second only to Alabama. They have been underrated all offseason, as I was able to pick up this same bet at +200 in July. Still, +165 is a solid value at this point in time.