What a 2021 college football season it has been — a total of 52 ranked teams have lost, an average of 6.5 per week. We are now beyond the halfway point of the season, and the final month or so will be important as teams push for bowl eligibility or look to improve resumes for the playoff committee.
It's a good time to revisit our win totals from the preseason to determine if they are still alive, dead or on life support. At the end of the regular season, we will again look back on these win totals for the final results.
Click here for more PFF tools:
Rankings & Projections | WR/CB Matchup Chart | NFL & NCAA Betting Dashboards | NFL Player Props tool | NFL & NCAA Power Rankings
---
Record: 5-2
Remaining Schedule: Louisville, @ Florida State, @ Wake Forest, Syracuse, North Carolina
Status: Alive
A 5-1 start, including a win over Clemson, established NC State as a top-25 team. However, the Wolfpack just suffered their second loss of the year this weekend against the Miami Hurricanes. They have a tough final stretch of opponents, although they only need to win two of the final five for the win total to get over. Quarterback Devin Leary's ability to stay healthy has provided consistency at a position that was inconsistent a year ago, allowing the NC State offense to open up its playbook with 19 big-time throws. Leary has done an excellent job in not turning the ball over with a turnover-worthy play rate of just 1.4%.
NC State is just behind Wake Forest as the ACC's second-highest-graded team for overall performance with a 91.6 PFF grade. Their 90.7 PFF defensive grade leads the ACC. In the conference, the Wolfpack have allowed the fewest rushing yards and just one rushing touchdown on the year. The ability to generate pressure on the quarterback — 98 hurries generated leads the ACC — has resulted in eight interceptions. The defense is responsible for an EPA per play against of -0.194 and is part of the reason why they have allowed 24 points or less in five games.
Devin Leary
| | | |
| --- | --- | --- |
| | PFF Passing Grade | Big time throws |
| 2021 | 83.7 | 19 |
| 2020 | 79.2 | 14 |
| 2019 | 57.2 | 9 |
Record: 3-4
Remaining Schedule: @ Clemson, NC State, Miami (FL), @ Boston College, @ Florida
Status: Alive
Year two of the Mike Norvell experiment started off with a thrilling game against Notre Dame with the notable return of quarterback McKenzie Milton. The Seminoles followed that game up with a loss to FCS Jacksonville State. Despite losing their first four games, the Seminoles are on a three-game winning streak. In order to hit the over on the win total and qualify for bowl eligibility, the Seminoles will need to finish 3-2 or better in their remaining five games to bust the win total; it is possible, but doubtful.
Florida State ranks near the bottom of the ACC in passing offense. Since they are ineffective in passing the ball, the focus for Mike Norvell's team has been to establish the run. The ACC's second-leading rushing team leads the conference with a 25.6% explosive run percentage. On defense, Georgia transfer Jermaine Johnson has been a star, leading the Seminoles with eight sacks, 13 hurries and 23 stops.
Record: 4-3
Remaining Schedule: @ Notre Dame, Wake Forest, @ Pittsburgh, Wofford, @ NC State
Status: Winner
Cash this ticket as the Tar Heels easily went under 9.5 wins. The Tar Heels have lost three games already despite being favorites in all three. Mack Brown even had a quote regarding the expectations on his team this season.
It turns out that losing two 1,000-yard NFL running backs and two top wide receivers will make everybody in the Tar Heel offense regress. Sam Howell went from a top-10 PFF-grade (91.5) a year ago to just a 72.6 this season. After having 33 big-time throws in 2020, Howell only has 11 this year. He has had to do more with his legs in the run game but has already been sacked 28 times; last year, he was sacked a total of 33 times. 
Sam Howell PFF Grades
| | | | |
| --- | --- | --- | --- |
| Season | Pass Grade | Rushing Grade | Big-Time Throws |
| 2021 | 72.6 | 89.1 | 11 |
| 2020 | 91.5 | 71.8 | 33 |
| 2019 | 83.3 | 53.0 | 30 |
Record: 3-4
Remaining Schedule: Virginia Tech, @ Miami (FL), Boston College, @ Notre Dame, Georgia
Status: Alive
Games against Notre Dame and Georgia to end the season are brutal for a Yellow Jackets team that would like bowl eligibility. They will be underdogs in those two games — for this win total to go over, it would likely mean a clean sweep of Virginia Tech, Miami and Boston College. Taking a nice, round number at 5 did provide possible push insurance if Georgia Tech is able to win two of their next five.
The woes of the secondary are a recurring problem for Georgia Tech's defense. The defense is in the bottom tier of the ACC in terms of passing yards allowed. They lead the ACC in passing touchdowns allowed (15) and fewest interceptions caught (3). A 51.9 PFF grade in coverage and 0.238 EPA per play in coverage are the worst metrics in the conference and tells a story — pass against Georgia Tech and teams will find success.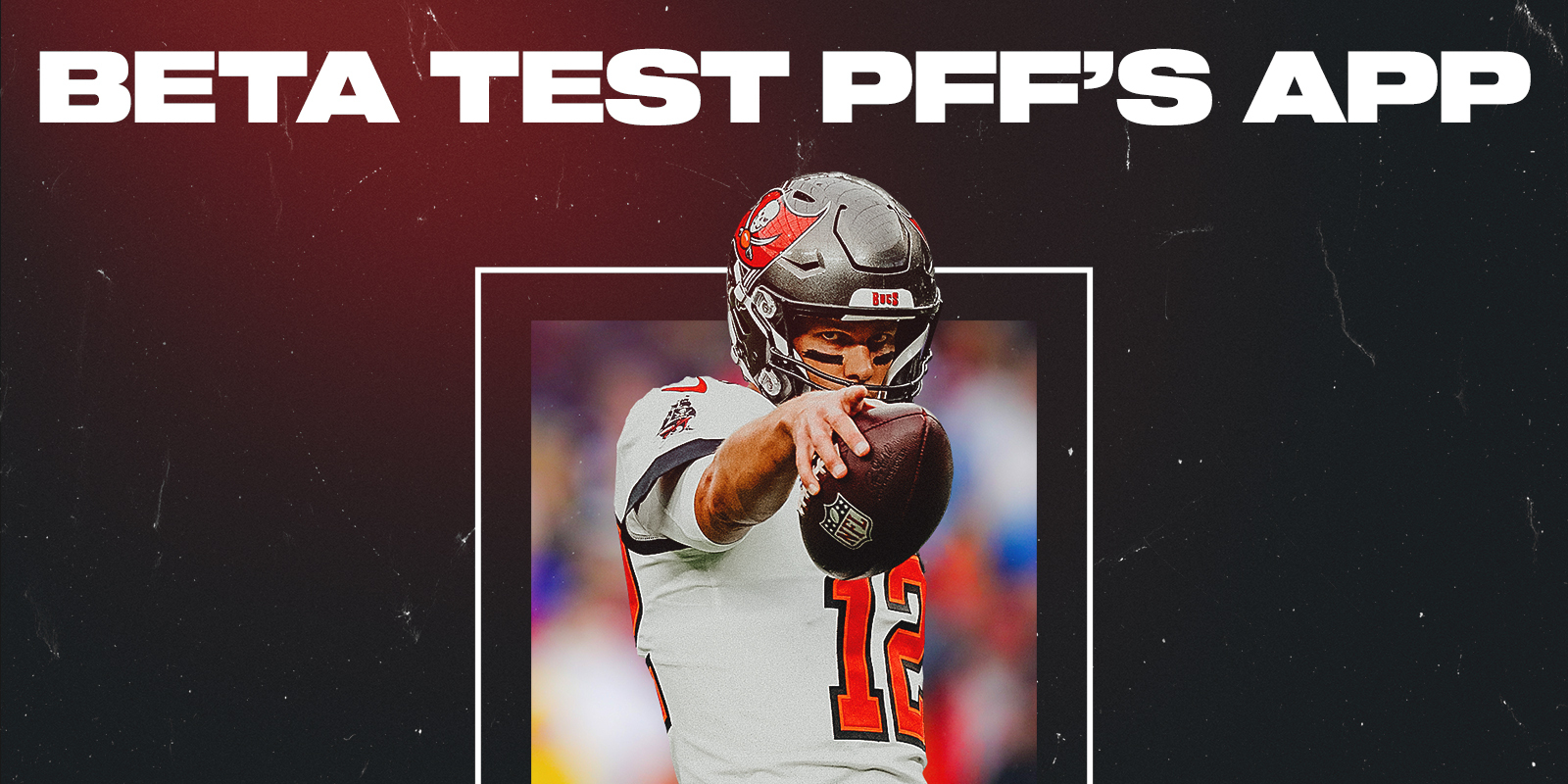 Record: 5-2
Remaining Schedule: @ West Virginia, Texas, @ Texas Tech, @ Oklahoma, TCU
Status: Alive
Two September losses to Iowa and Baylor slightly derailed Iowa State's expectations for the season. However, three consecutive wins, including one this past weekend against top-10 Oklahoma State, has Iowa State back in the thick of a possible Big 12 Championship appearance. The only way this bet loses is if Iowa State wins out, and with games remaining against Texas and Oklahoma, there is the possibility of a slip-up somewhere.
Although quarterback Brock Purdy has just six big-time throws on the season, the Cyclones lead the Big 12 with 47 explosive passing plays. Running back Breece Hall leads all Big 12 rushers in rushing touchdowns (11) and yards before contact (384). Xavier Hutchinson has stepped up to be Purdy's main target. Hutchinson leads the Big 12 in targets and is second in years after the catch and third in receiving yards. The defense continues to play at an excellent level with an EPA per play against of -0.187, second in the Big 12, and has limited opposing teams to 29 explosive passing plays, the fewest in the conference.
TCU over 7.5 wins
Record: 3-4
Remaining Schedule: @ Kansas State, Baylor, @ Oklahoma State, Kansas, @ Iowa State
Status: Life Support
It has not been a great season for TCU and this win total is on pace to hit the under with one more loss. The defense has been laughably bad with nine sacks generated and 90 missed tackles. For a defensive-minded coach like Gary Patterson, TCU's EPA per play against of 0.158 and 47.7% +EPA% against are only better than Kansas. In fact, last year's 80.7 PFF defense grade was TCU's worst since PFF started grading — this year's 54.0 PFF grade on defense blows that out of the water.
Related content for you: NFL Week 8 Odds and Best Bets via Eric Eager and George Chahrouri
TCU is the house on Halloween that gives out all of your favorite treats — the Horned Frogs have a Big 12-worst 44.2 run defense grade with 64 missed tackles, an average depth of tackle of 5.79 yards and an EPA per play allowed of 0.134 in the run game. Nothing has gone right for TCU since 2017.
Record: 4-3
Remaining Schedule: TCU, @ Kansas, West Virginia, Baylor @ Texas
Status: Alive
The Wildcats managed to lose eight consecutive Big 12 conference games before a much-needed win against Texas Tech. The opportunities are there to get two wins for the win total to hit the over, only as long as Skylar Thompson can remain healthy. Thompson may not "wow" in the passing department with six-big time throws, but he is accurate and makes opposing defenses respect the passing game.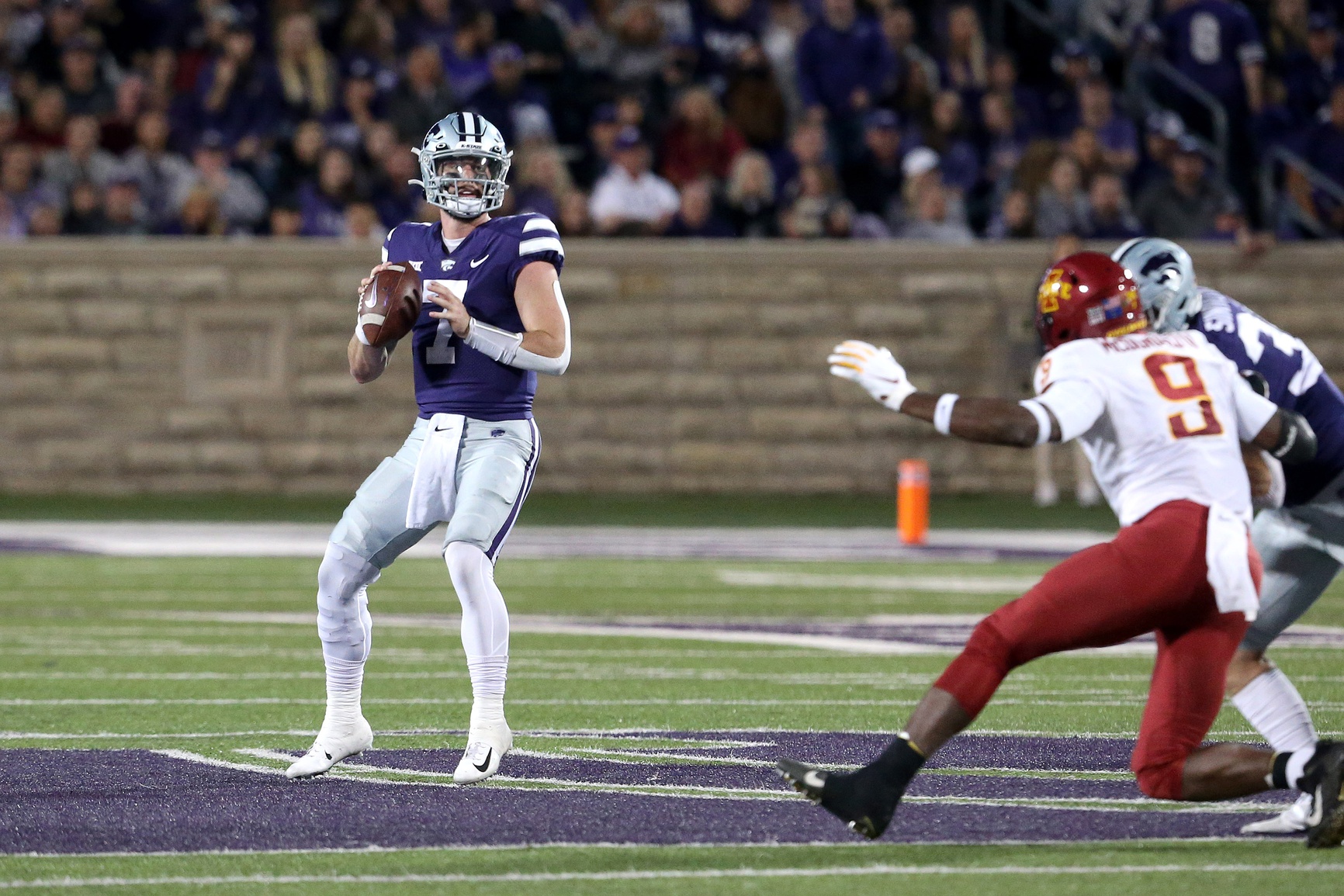 As a result, this opens up windows for running back Deuce Vaughn in both the pass and run game. Vaughn has breakaway ability with 23 explosive rushing plays and leads all Big 12 running backs in receptions and receiving yards, en route to rushing and receiving grades of 85.4 and 76.1, respectively. Kansas State's best chances at securing two more wins will be in their next three matchups.
Record: 5-3
Remaining Schedule: @ Oklahoma, Iowa State, Oklahoma State, @ Baylor
Texas Tech has already met the five-win threshold and will need to lose out in order to push under five wins. Their last four games are interesting in that they will be underdogs the rest of the way to the Sooners, Cyclones, Cowboys and Bears, who are a combined 14-3 in Big 12 play. This past Monday, Texas Tech made the decision to fire head coach Matt Wells.
A broken collarbone for Tyler Shough sidelined him for a few weeks. Despite losing their starting quarterback, Henry Colombi's familiarity with David Wells' system has allowed Texas Tech to rank second in the Big 12 in passing yards. Colombi has graded better than Shough in the passing department, partly due to his willingness to air it deep, with nine big-time throws. Colombi's average depth of target is about 2 yards more than Shough. With four games left and potential bowl eligibility on the cusp, the Red Raiders will have to do it without the head coach that led them to this point.
Texas Tech | 83.8 PFF Overall Grade 2021
| | |
| --- | --- |
| Opponent | PFF Grade |
| Oklahoma | 92.5 |
| Iowa State | 90.6 |
| Oklahoma State | 90.6 |
| Baylor | 92.6 |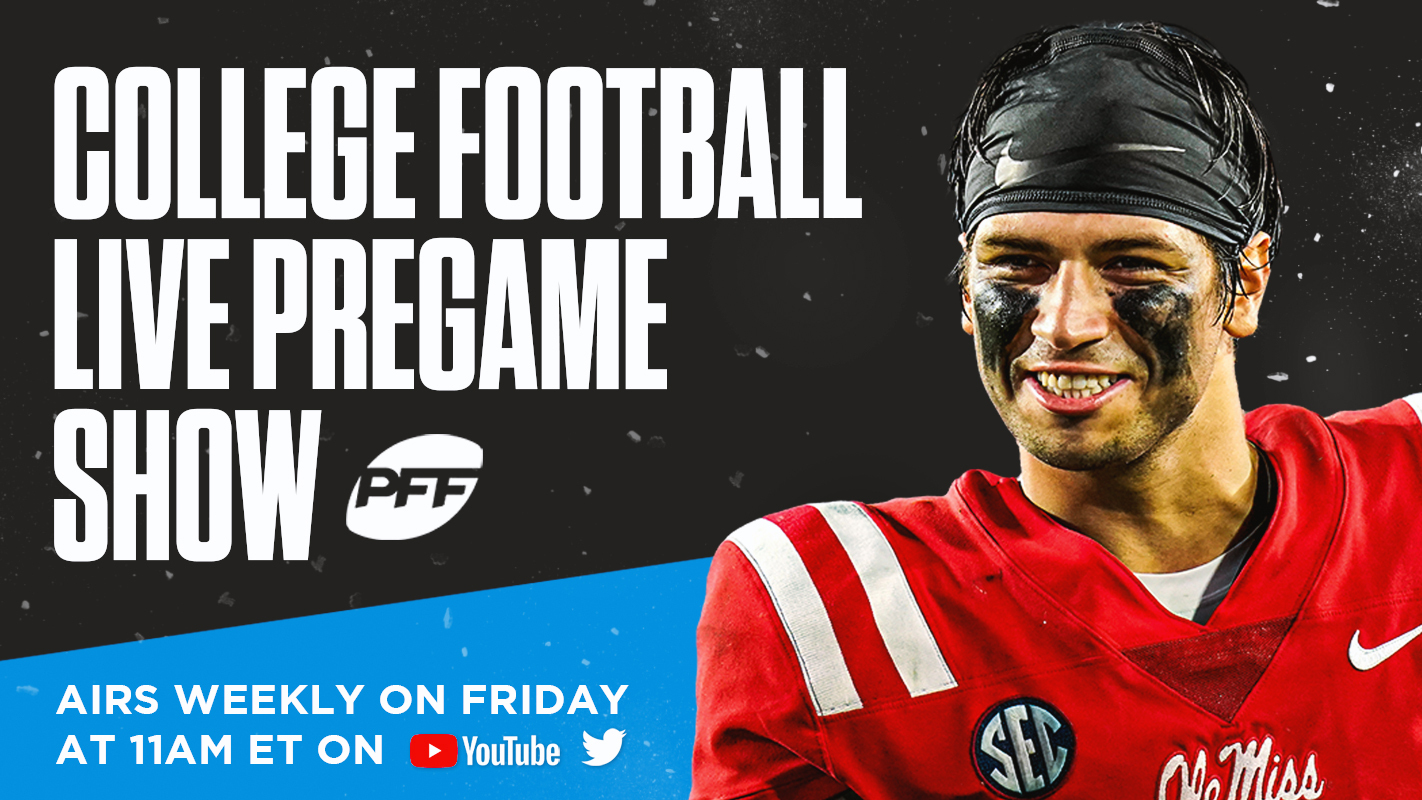 Record: 5-2
Remaining Schedule: @ Ohio State, @ Maryland, Michigan, Rutgers, @ Michigan State
Status: Alive
Penn State was involved in the longest FBS college football game of all time on Saturday in a nine-overtime defeat to Illinois. A once-promising 5-0 start has now been followed up with two losses and any playoff hopes dashed. Three top-10 teams close out the remainder of the Penn State schedule, and the Nittany Lions have a reason to be worried: After 2020's 0-5 start and 4-0 finish, 2021 could bring a 5-0 start and a not-so-great finish. The under-8.5 win total is still alive with only two more losses needed to hit that mark.
There are a lot of solid and elite defensive teams in the conference, and Penn State is one of them, with guys like Arnold Ebiketie, Joey Porter Jr. and Jaquan Brisker. Defense is not the issue with an 83.3 PFF grade and 92.0 coverage grade. Rather, the offense — mainly the run game — has been the issue. Sean Clifford is not 100% healthy following an injury from the Iowa game, but his inconsistencies have been noticeable. In his last three starts against Indiana, Iowa and Illinois, Clifford has one big-time throw, five turnover-worthy plays and has been sacked seven times.
Penn State has a defined ceiling with Clifford at quarterback. The scary thought is that an injured Clifford is still better than the other QBs in the room; backup Ta'Quan Roberson was thrown to the wolves against Iowa and finished with a 33.3% completion percentage, three turnover-worthy plays and a 40.8 PFF pass grade. The Nittany Lions are near the bottom in the Big Ten for rushing yards and explosive plays rushing and are dead last in rushing yards after contact. They are missing a running back in the mold of Saquon Barkley, Miles Sanders or even Journey Brown.
Penn State Running Backs
| | |
| --- | --- |
| Player | PFF Run Grade |
| Saquon Barkley (2017) | 84.3 |
| Miles Sanders (2018) | 83.1 |
| Journey Brown (2019) | 82.2 |
| John Lovett (2021) | 71.2 |
| Keyvone Lee (2021) | 69.6 |
| Devyn Ford (2021) | 69.3 |
| Noah Cain (2021) | 68.9 |
Record: 4-3
Remaining Schedule: Indiana, Penn State, @ Michigan State, Michigan, @ Rutgers
Status: Alive
A 4-0 Maryland at the end of September is now a 4-3 Maryland approaching the end of October. The under is in danger with a few winnable games on the schedule. The question is if Maryland is able to turn it around and be successful in the passing game like they were in September.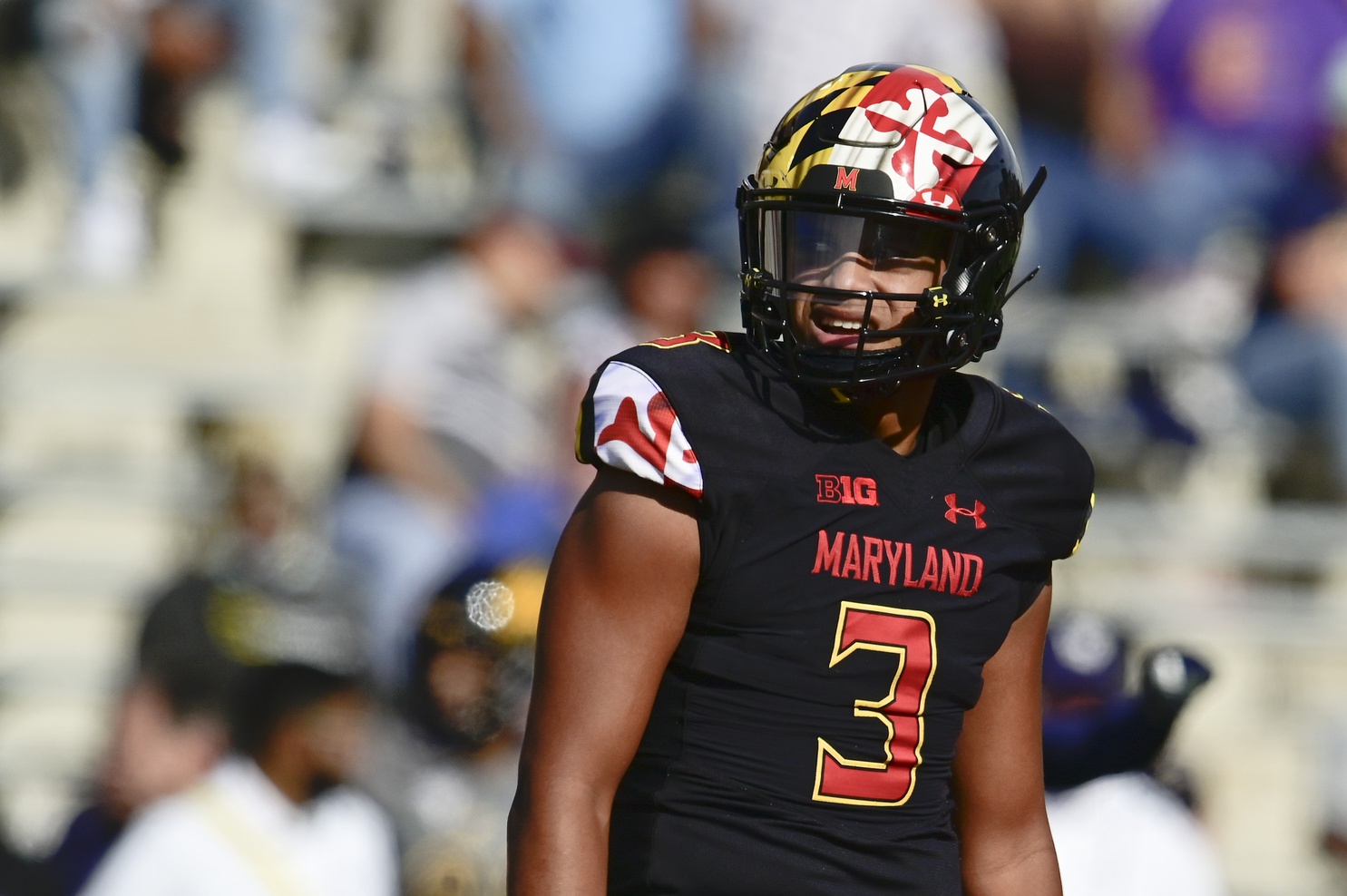 Taulia Tagovailoa was one of the hottest quarterbacks in all of college football in the first four weeks of the season. In September, Tagovailoa was responsible for 11 big-time throws and zero turnover-worthy plays. In those four games, Tagovailoa had passing grades of at least 84.0, including two games of higher than 90.0. However, since the the calendar flipped to October, his PFF passing grades have been 51.7, 57.9 and 72.7, with five big-time throws and seven turnover-worthy plays. Losing two of his top receivers for the year in Dontay Demus Jr. and Jeshaun Jones has not helped.
Record: 4-3
Remaining Schedule: Iowa, @ Rutgers, Northwestern, Nebraska, Minnesota
Status: Dead
The preseason Big Ten West favorites have fallen short of expectations. The Badgers no longer have a chance at getting to over 9.5 wins after beginning the season 1-3 with losses to Penn State, Notre Dame and Michigan. The always-elite Badger defense has done its part with a 91.1 PFF grade. No team has had success running the ball against them with only 526 rushing yards allowed and an absurd explosive run percentage allowed of 3.5%. 
Quarterback Graham Mertz has not taken the next step that many thought he would. Since putting up a 93.9 passing grade in his first-ever start, Mertz has played a total of 13 games, registering only one game with a passing grade better than 76.0. The offense has struggled to put up points because Mertz is a liability throwing the ball. Entering Week 9, Mertz will have the same number of passing touchdowns as rushing touchdowns: two. Seven interceptions, 13 turnover-worthy plays and a 7.5% turnover worthy play percentage are scary numbers. His 53.2 PFF pass grade puts him 18th in the Big Ten among quarterbacks with at least 20 dropbacks.
Record: 3-5
Remaining Schedule: Purdue, Ohio State, @ Wisconsin, Iowa
Status: Alive
Different year, same result for Nebraska and Scott Frost — a losing record and an unlikely bowl appearance. Although they have been competitive in all of their games, all five of their losses have been by one possession; that has been the narrative the entire Scott Frost tenure. Nebraska must win out to get to seven wins and bust this ticket, but their priority is to make a bowl game.
Nebraska losing by one possession in so many games means they are at least doing the proper things to remain competitive. Unfortunately, that also means doing the wrong things to lose the games. Nebraska has been effective on offense, as an EPA per play of 0.159 is second in the Big Ten behind Ohio State, and they average 6.7 yards per play. Adrian Martinez has been a pedestrian quarterback with 12 big-time throws and nine turnover-worthy plays, although an avrage quarterback in the Big Ten is still in the upper tier of quarterback play. The Cornhuskers have the seventh-worst pass-blocking grade in all of FBS with a grotesque 28.1 grade. That will happen with an offensive line that allows a pressure percentage of 42.5%, fourth-worst in college football, and a pass blocking efficiency of 76.3, sixth-worst.

Record: 4-4
Remaining Schedule: @ Arizona State, @ Oregon, Arizona, @ Washington
Status: Alive
Washington State has done a solid job of maintaining a .500 record but they do have to navigate the worst Pac-12 schedule remaining with three road games. They will have to do so without their head coach Nick Rolovich, who was terminated for being unvaccinated. The Cougars have lost seven straight in the Apple Cup.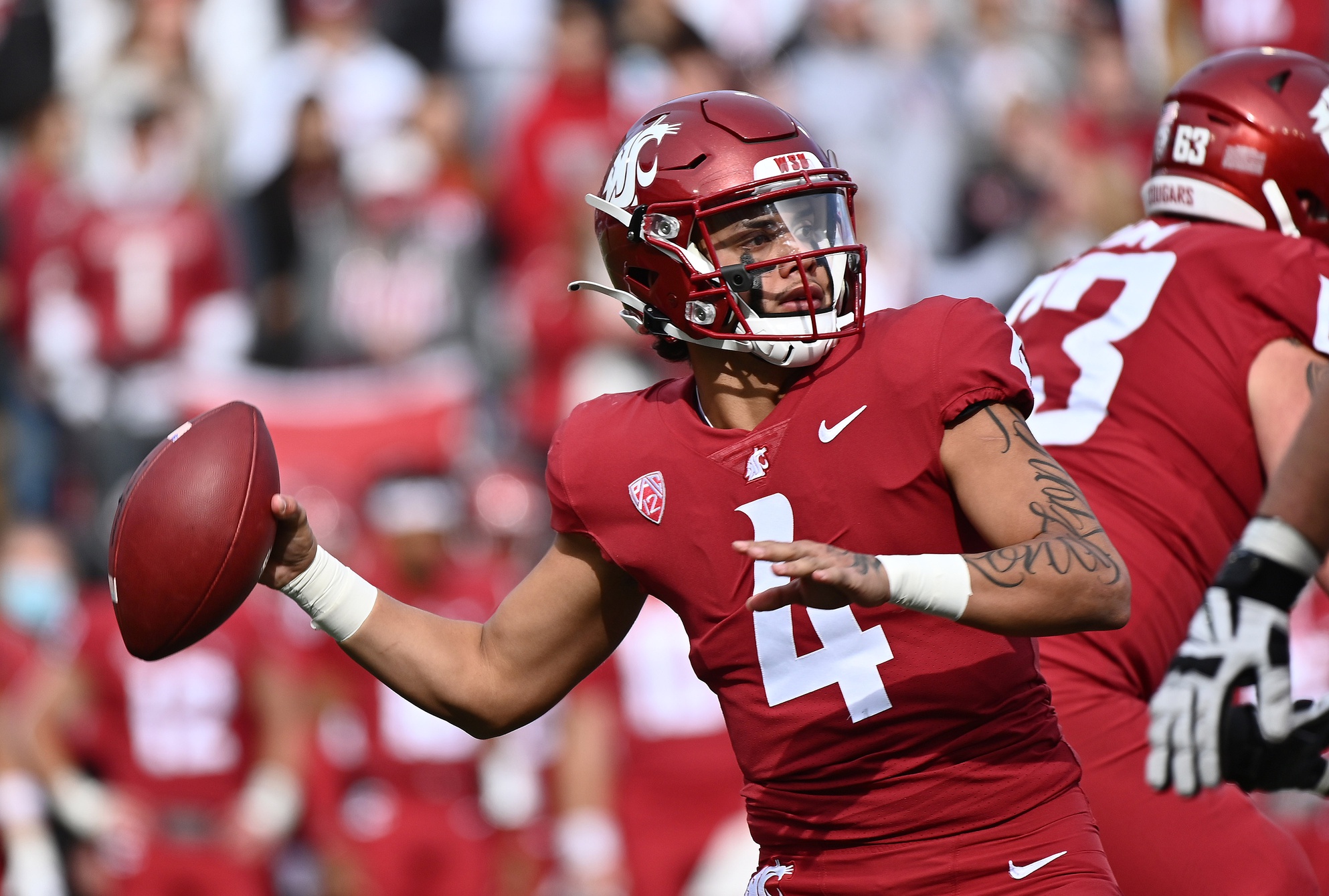 The Cougs are second in the Pac-12 in passing yards and lead the conference of champions in explosive passing plays. Jayden de Laura leads all Pac-12 quarterbacks in passing touchdowns and has done a great job by getting sacked only six times. His big-time throw percentage has increased while his turnover-worthy play percentage has decreased, as he has a nearly identical passing grade as he did in 2020.
Record: 5-2
Remaining Schedule: @ California, @ Colorado, Stanford, Arizona State, @ Oregon
Status: Alive
The Oregon State Beavers and Oregon Ducks currently sit atop the Pac-12 North, making their rivalry game at the end of the season one to mark on the calendar. Jonathan Smith has this Beavers squad as one of the most improved and he should be a candidate for Coach of the Year if they continue to sustain this level of performance. They have already met their expectations of 5 wins, but this could be an even more special season if they make it to the Pac-12 Championship Game.
Chance Nolan leads all Pac-12 quarterbacks with an 83.4 passing grade. The offensive line has given him the protection he needs with an average time to throw of 3.11 seconds. Also, they have allowed the fewest sacks in the Pac-12 with eight. Nolan's role as a game manager suits the Beavers offense well because of their emphasis on running the ball. They are second in the conference in rushing attempts, rushing yards and rushing touchdowns while leading the Pac-12 with 59 explosive rushing plays.
On defense, they have allowed the fewest rushing yards. The Beavers are well-coached and well-developed and are now seeing the rewards in Year 4 of the Jonathan Smith era. It cannot be stated enough that he has done a tremendous job in Corvallis. 

Record: 5-2
Remaining Schedule: Washington State, USC, @ Washington, @ Oregon State, Arizona
Status: Alive
This win total will go down to the wire as the Sun Devils will need to stumble and lose two more games. Jayden Daniels is not asked to do much in terms of throwing the ball deep — he has career-lows in big-time throw percentage and average depth of target. However, his adjusted completion percentage is a career-high. The offense is most comfortable and most effective with running the ball and consuming the clock. They are near the top of the Pac-12 in metrics including rushing attempts, rushing yards and explosive rushing plays. 
In both of their losses, against BYU and Utah, the offense struggled to move the ball for stretches because they could not find that much-needed explosive rushing play. With the slow-tempo offense they run against some decent defenses, there is bound to be at least one loss somewhere remaining on the schedule. The question is whether they can find a second loss to take the win total under. On defense, the Sun Devils have 10 interceptions and 25 sacks generated; at the same time, they are at the top of the conference in terms of fewest receiving yards after the catch and after contact allowed.
UCLA under 7 wins
Record: 5-3
Remaining Schedule: @ Utah, Colorado, @ USC, California
Status: Alive
The Bruins are having their best season yet under Chip Kelly and are one win away from making a bowl game. As for the under 7 win total, a 3-1 finish or better is not good news. Road games against Utah and USC may determine whether this bet ends up a loser or pushing.
UCLA is a run-first team, which makes sense with the trio of QB Dorian Thompson-Robinson and running backs Zach Charbonnet and Brittain Brown. Charbonnet leads all Pac-12 rushers with an 89.1 rush grade. Both Charbonnet and Brown are in the top four within the conference in rushing yards after contact and all three of DTR, Charbonnet and Brown have at least 17 explosive rushing plays.
On defense, they limit the run game and only allow 2.5 rushing yards after contact per attempt. The weakness has been their ability to cover opposing wide receivers, allowing the most passing yards and explosive passing plays. Because of this, the battle for the Victory Bell is going to be intriguing, seeing how UCLA matches up with USC's Drake London.
Record: 4-4
Remaining Schedule: @ Kentucky, Georgia, South Alabama, Vanderbilt
Status: Alive
The upcoming matchup with Kentucky will likely decide whether this bet pushes or loses. Joe Milton started the year at quarterback but was benched for Hendon Hooker. That also happened to be the moment in time where this win total began to be in concerning territory. Milton has one big-time throw on 56 dropbacks (1.8%), while Hooker has 12 big-time throws on 219 dropbacks (6.9%). Hooker enables the offense to be more dynamic in the passing attack, and his legs are also a threat. 
The Vols are third in the SEC in rushing yards and explosive rushing plays and second in rushing touchdowns. Hooker is second in the conference in scrambles, and his ability to extend plays has led to 391 rushing yards after contact. Running back Tiyon Evans is fifth in rushing yards before contact, and he and his backfield counterpart Jabari Small have combined for 25 explosive rushing plays.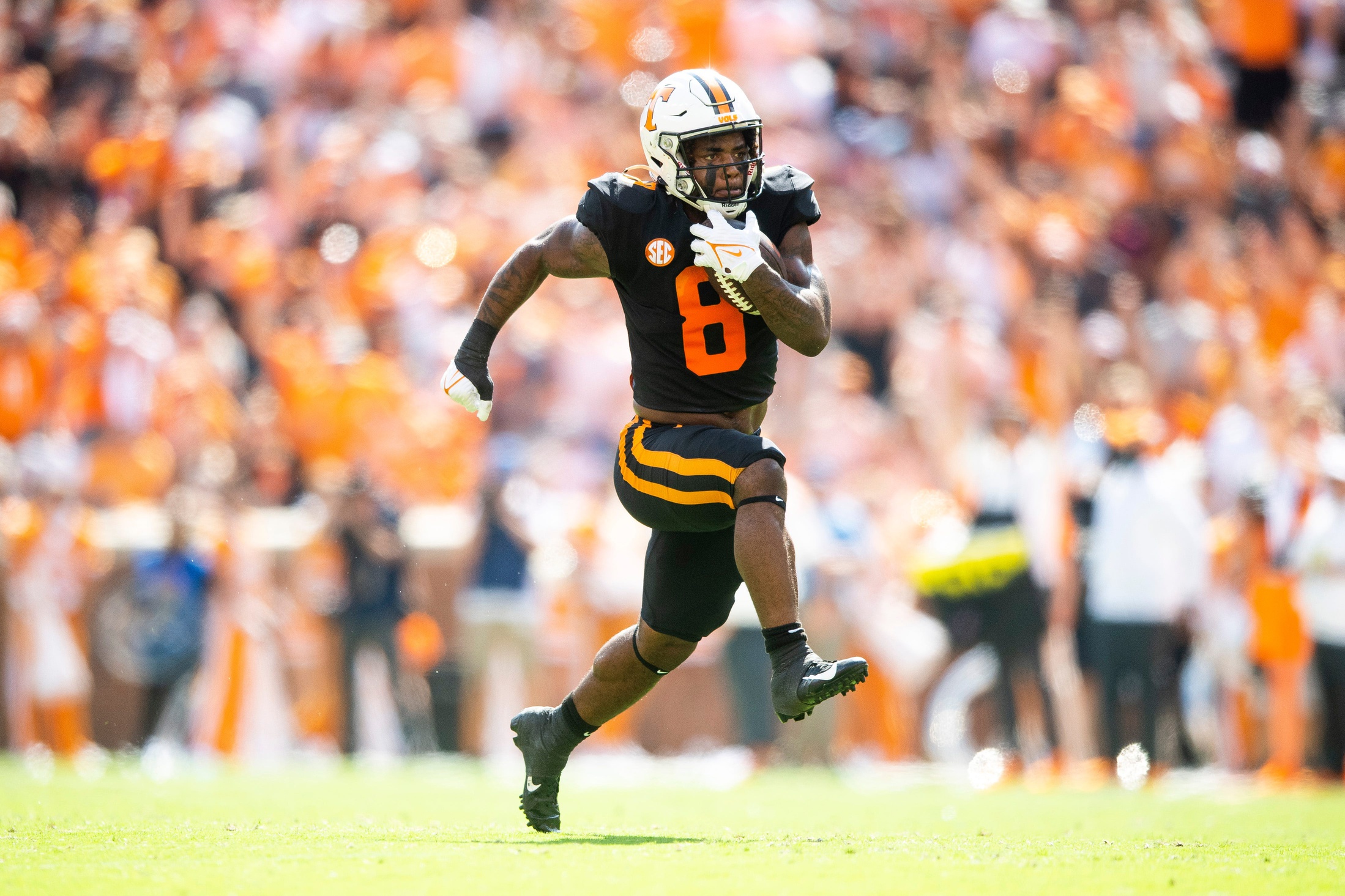 On defense, they are one of two SEC teams to allow more than 2,000 passing yards. Despite leading the conference in total pressures generated, passers continue to have sustained success against the secondary with 42 explosive passing plays and 97 first downs via passing.
Record: 4-4
Remaining Schedule: Florida, @ Missouri, Auburn, Clemson
Status: Alive
The Gamecocks have met their preseason win total expectation and getting a push on this bet is a win after seeing the Gamecocks past few performances. Against Texas A&M on Saturday, the Gamecocks had two first downs and 15 total yards through three quarters. It is Shane Beamer's first year as a head coach, and four wins is a solid foundation. However, there's a lot of work to do to rebuild this program to get them competitive against superior SEC competition.
What was perceived as a deep position with multiple options, the running game has faltered, ranked 12th in the SEC. While they are middle-of-the-pack in terms of passing yards, they have rotated three different guys. Their starting quarterback, Luke Doty, is out for the rest of the season with a foot injury he has dealt with since before the season. Even when he was available, Doty underwhelmed with a 64.8 pass grade, four big-time throws and four turnover-worthy plays. South Carolina has yet to score more than 23 points in a game against an FBS opponent.
South Carolina Quarterbacks | 2021
| | | |
| --- | --- | --- |
| | PFF Passing Grade | Status |
| Zeb Noland | 78.0 | Surgery on torn meniscus; anticipated to play next game vs. Florida |
| Luke Doty | 64.8 | Out for season — foot injury |
| Jason Brown | 56.6 | Transfer from St. Francis (PA), relieved Noland in fourth quarter against Texas A&M |
Auburn under 7 wins
Record: 5-2
Remaining Schedule: Ole Miss, @ Texas A&M, Mississippi State, @ South Carolina, Alabama
Status: Alive
Bryan Harsin may be having the most successful season among first-year head coaches in the SEC. Both losses have come at the expense of ranked teams, and the Tigers have three more ranked opponents in their remaining five games. This win total may not be decided until the final week of the season against Alabama.
Bo Nix has been benched at times this season in favor of backup T.J. Finley, but the Tigers continue to trust Nix at the quarterback position when they need it the most. The duo of Tank Bigsby and Jarquez Hunter compliment each other well in the running game. Hunter's 8.5 yards per carry and 4.5 yards before contact are near the top of the SEC leaderboard.
Their defense grades out at 90.4, second in the country. Three players on the defense are responsible for five sacks, while linebacker Zakoby McClain is third in the SEC with 30 defensive stops. Roger McCreary is the second-highest-graded Power Five CB with an 88.3 coverage grade, thanks in part to two interceptions and five pass breakups.
Record: 5-3
Remaining Schedule: Mississippi State, @ LSU, @ Alabama, Missouri
Status: Life Support
This win total could probably be chalked up as a loss. Arkansas came out to a steaming hot 4-0 start with wins over Texas and Texas A&M, ranking as high as No. 8 in the AP Poll. Head coach Sam Pittman has an offensive line background, and the Razorbacks have done a solid job in pass protection and run blocking.
The SEC's leading-team in rushing yards has done it via a committee that runs the ball over 59% of the time. They also lead the SEC with 73 explosive rushing plays. Although the Razorbacks are one of three SEC teams to not have more than 200 pass attempts, they find ways to get the ball to wide receiver Treylon Burks, who is the SEC's leading receiver. The first-round NFL talent has 17 explosive pass plays and 365 yards after the catch.