No year in college football will be more memorable than the one we are experiencing now, as the impact of COVID-19 has forced most colleges to cancel the 2020 fall football season with the hope of trying to play in the spring.
We aren't here to give you our opinion on whether they should or should not have played in the fall, nor are we going to do that with their attempt to play in the spring. Instead, we want to shine a light on the players who deserve credit for the performances they have put forth over their college careers.
Here, we present PFF's Preseason All-American Team to highlight those who might have played their last snap in a college uniform due to something out of their control.
QUARTERBACK
Lawrence isn't just the best player on Clemson — he's the best player in the country and might end up as the best we have ever seen in the PFF College era. With his arm talent and great mobility, Lawrence earned an elite 90.0-plus PFF grade as both a true freshman and sophomore. Lawrence has produced 2.9 win shares (WAA) over those two seasons combined, which leads all returning players — regardless of position — by a considerable margin (second is at 2.4).
RUNNING BACK
Etienne's greatness is taken for granted. In 2018 and 2019, he posted two of the three best rushing grades we have ever given out. In the span combined, the Clemson Tiger ranks first in rushing grade, broken tackles per attempt (0.35), yards after contact per attempt (4.7) and rate of carries resulting in a first down or touchdown (36.5%). On top of that, he's been the most valuable non-quarterback in the country in that span. It isn't a hot take to say Etienne should be in the conversation for best running back in the history of college football.
RUNNING BACK
Harris doesn't have elite speed, but that's not going to stop him from racking up explosive gains. Over the last two seasons, Harris has picked up a gain of 10-plus yards on 22.7% of his carries, the third-highest rate in the FBS and far and away the best rate in the SEC. It doesn't matter whether it's college or pro when it comes to running backs, we want to see them be a threat in the passing attack, and Harris certainly qualifies. He caught 27 of his 28 catchable targets for 304 yards and seven touchdowns (five of which came in the red zone) while breaking 11 tackles after the catch last season.
WIDE RECEIVER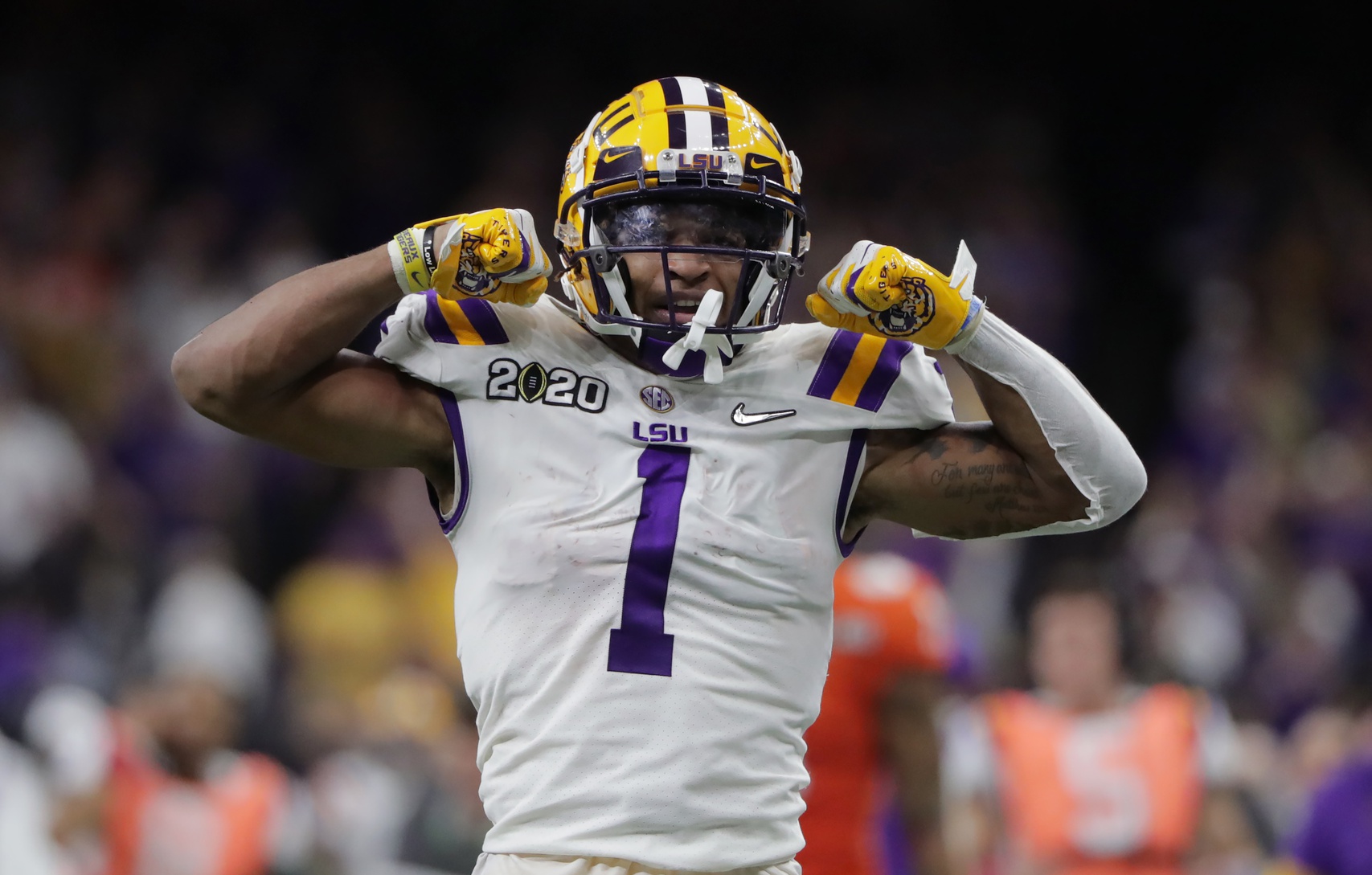 FIRST TEAM: JA'MARR CHASE, LSU
Chase is one of the most physically imposing wide receivers you'll see and has a combination of elite body control, sure hands and reliable contested-catch ability that can't be touched. Chase earned an FBS-high 91.2 receiving grade and had six more catchable targets without a drop than any other Power 5 wide receiver when working against tight coverage last year (22).
WIDE RECEIVER
Smith can do almost everything at the wide receiver position at a high level, but his release package is the big reason why he's a top 10 player in college football. Smith produced 4.30 yards per route run against press coverage in 2019, over half a yard more than any other returning Power 5 receiver. This great skill set helped him hang 211 yards on Derek Stingley Jr. in the infamous Alabama vs. LSU matchup this past year.
WIDE RECEIVER
Bateman is one of the most complete wide receivers in the country. He's not an elite athlete, but he still generates separation at a high rate with his route-running ability. This past year, he generated a step or more of separation on 57.8% of his targets against single coverage (13th among Power 5 wide receivers). Bateman is also strong at the catch point, as he caught 10 of 16 contested targets 10-plus yards downfield in 2019. He can also create after the catch, as he broke 17 tackles on 60 catches.
TIGHT END
The highest-graded Power 5 tight end last year was none other than Kolar. The 6-foot-6, 257-pound Iowa State product maintained his No. 1 grade-rank status among Power 5 tight ends when it came to contested targets, too. Kolar's ball skills are elite for the position and are part of the reason why he's so dominant on the vertical route tree. He caught 12 vertical targets last year, tying for the most at the position in college football.
OFFENSIVE TACKLE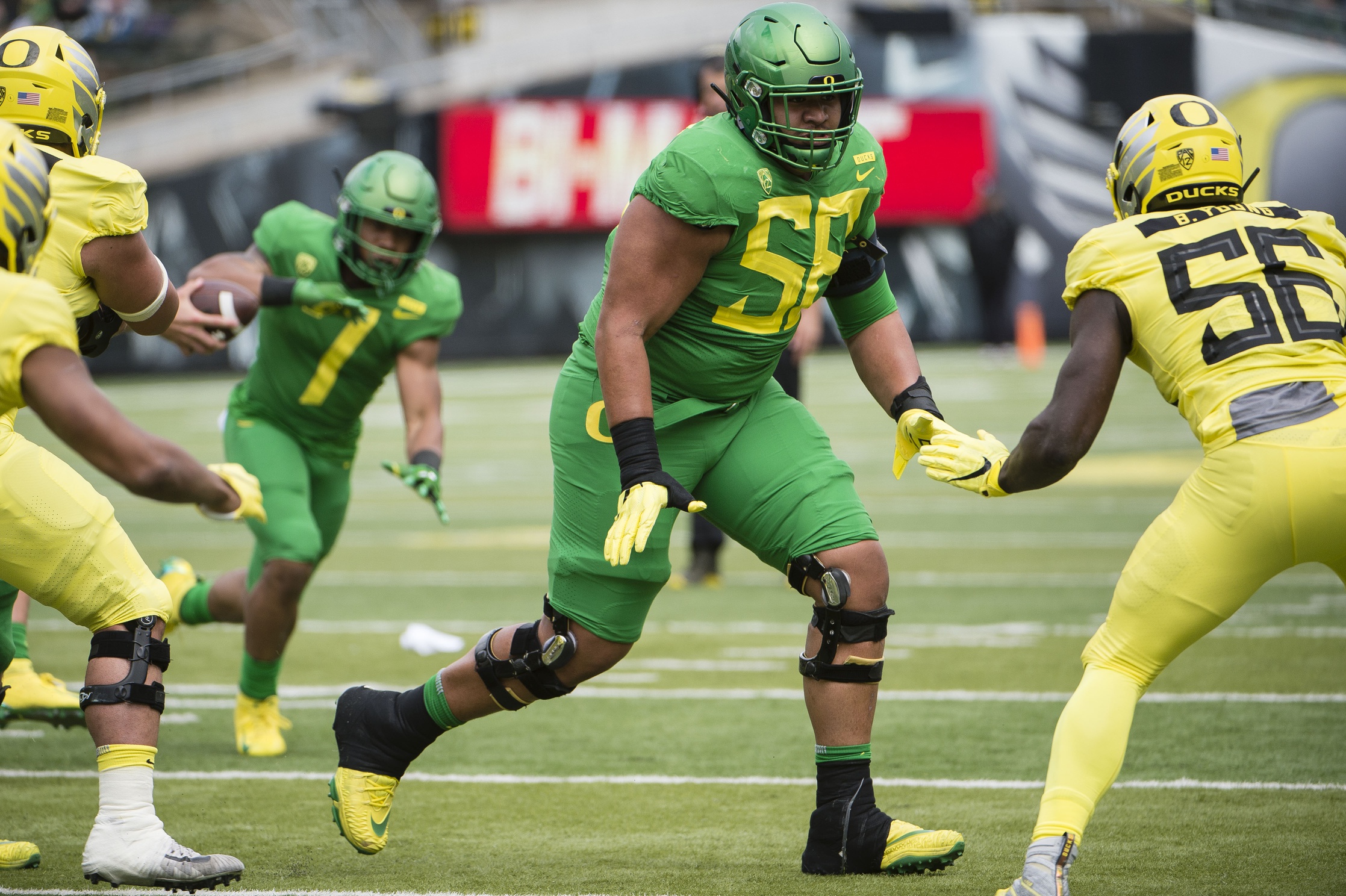 Sewell is to the offensive tackle position what Trevor Lawrence is to the quarterback position. Players get tagged with the "generational" status far too often, but it without question applies to Sewell. He's the best tackle we have seen since PFF College's inception in 2014, and it isn't particularly close. Sewell earned grades above 91.0 as both a pass-blocker and a run-blocker in 2019, paving the way to a 95.8 PFF overall grade on the year. For perspective, that's a full grading point higher than the next best season by a Power 5 tackle (Michigan State's Jack Conklin in 2015, 94.6).
OFFENSIVE GUARD
Davis is the best interior offensive lineman in college football, and it isn't particularly close. In his first full year starting as a redshirt sophomore in 2019, Davis impressed in both facets of play as he earned an 83.0 run-blocking grade (fourth in the FBS) and didn't allow a single sack or hit on 459 pass-block snaps. He's the most complete player at the position.
CENTER
Humphrey's 2019 wasn't nearly as strong as his first year starting at center in 2018, but he's still been the second-most valuable player at the position in the Power 5 over the last two seasons. He has played 896 pass-block snaps over that span, and he has yet to allow a single sack. For perspective, only eight FBS centers have played at least 650 pass-block snaps and not allowed a sack in that span.
OFFENSIVE GUARD
Laufenberg is one of the best run-blockers in the entire country. He rarely makes mistakes, too, as he had the second-lowest rate of negatively graded run blocks in 2019. He ended the season with the eighth-best PFF WAA figure ever earned by a guard at the college level — watching him on those Air Force trap runs is just a beautiful sight to see.
OFFENSIVE TACKLE
There were only two tackles set to return to college football who produced grades above 85.0 in both pass protection and as a run-blocker in 2019: Oregon's Penei Sewell and Northwestern's Rashawn Slater. Only Tristan Wirfs produced a higher PFF grade than Slater's 89.9 among Big Ten tackles in 2019, and third was down at 76.9. Slater is one of the most undervalued players in all of college football.
[Editors Note: PFF's customizable NFL Mock Draft Simulator gives you the opportunity to be the GM of any team and is now updated with a select group of 2021 prospects]
INTERIOR DEFENDER
Wilson has been one of the most productive interior defensive linemen in college football. He is coming off back-to-back years in which earned a PFF grade above 90.0. He's not an impressive athlete, but it doesn't matter with his sheer power and technique. The 6-foot-5, 311-pound Wilson is a versatile piece who can win anywhere on the line — from heads-up nose to 5-technique. He's played over 170 snaps at each of nose tackle, 3-technique and 4/5-technique in the past two years, and he earned a PFF grade at or above 88.9 at every alignment.
INTERIOR DEFENDER
Onwuzurike is — and has been — one of the most dominant interior defenders in college football. He's the ninth-most valuable player at the position since 2018 and has used his quick first step to help produce the highest pressure rate among Power 5 players at his position.
EDGE DEFENDER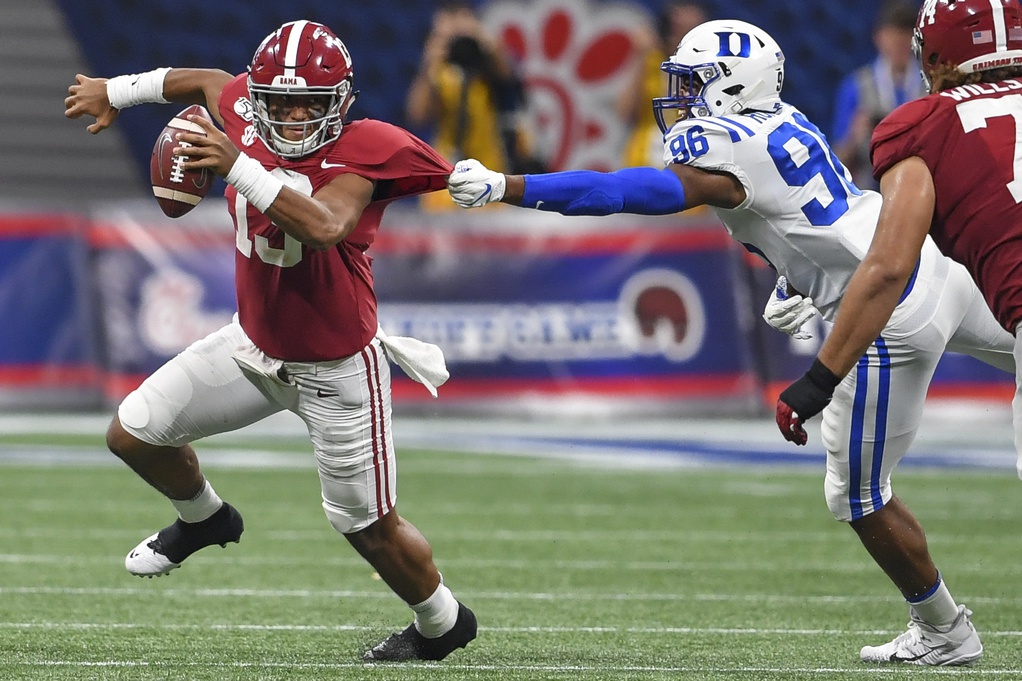 We have been pounding the table over the past year about Rumph's talents, and he is finally starting to get the attention he deserves. There isn't a player in college football with a better pass-rush toolbox than Rumph. That helped him produce a 92.9 pass-rush grade in 2019, as well as an FBS-high 30.8% pass-rush win rate. And he accomplished those feats at 225 pounds, which makes it even more impressive.
Edge Defender
Roche was a dominant force for Temple this past season, producing a 93.3 pass-rush grade that ranked second to only Chase Young. He had five games last year in which he recorded more than seven pressures, something only one other FBS edge rusher accomplished (only one had four games, too).
LINEBACKER
Parsons was the most valuable off-ball linebacker of the 2019 season, and our own Mike Renner has even called him the best prospect at the position since Luke Kuechly. He does everything at the position at an elite level. Parsons' run-defense, in particular, was incredible in his sophomore campaign, as he had a 94.8 grade in that facet.
LINEBACKER
Bolton had a big-time breakout campaign in 2019. After logging 101 snaps as a true freshman in 2018 and struggling (57.5 PFF grade), he came back in 2019 as a starter and earned a 91.1 PFF grade that ranked third in the FBS. Bolton combined for 10 plays made on the ball in coverage, second to only Isaiah Simmons for most by a Power Five off-ball linebacker. That type of production is rare to see from an SEC linebacker.
CORNERBACK
It's well-known at this point how great Stingley was in his 2019 true freshman campaign. He had not only the most valuable cornerback season last year but also the most valuable non-quarterback season we have seen in the PFF College era. Stingley recorded a whopping 21 combined pass breakups and interceptions, seven more than any other Power Five corner. He's a ridiculous athlete — so much so that head coach Ed Orgeron has publicly mentioned he contemplated giving Stingley snaps on the offense. He's just getting started and has an incredibly bright future ahead.
CORNERBACK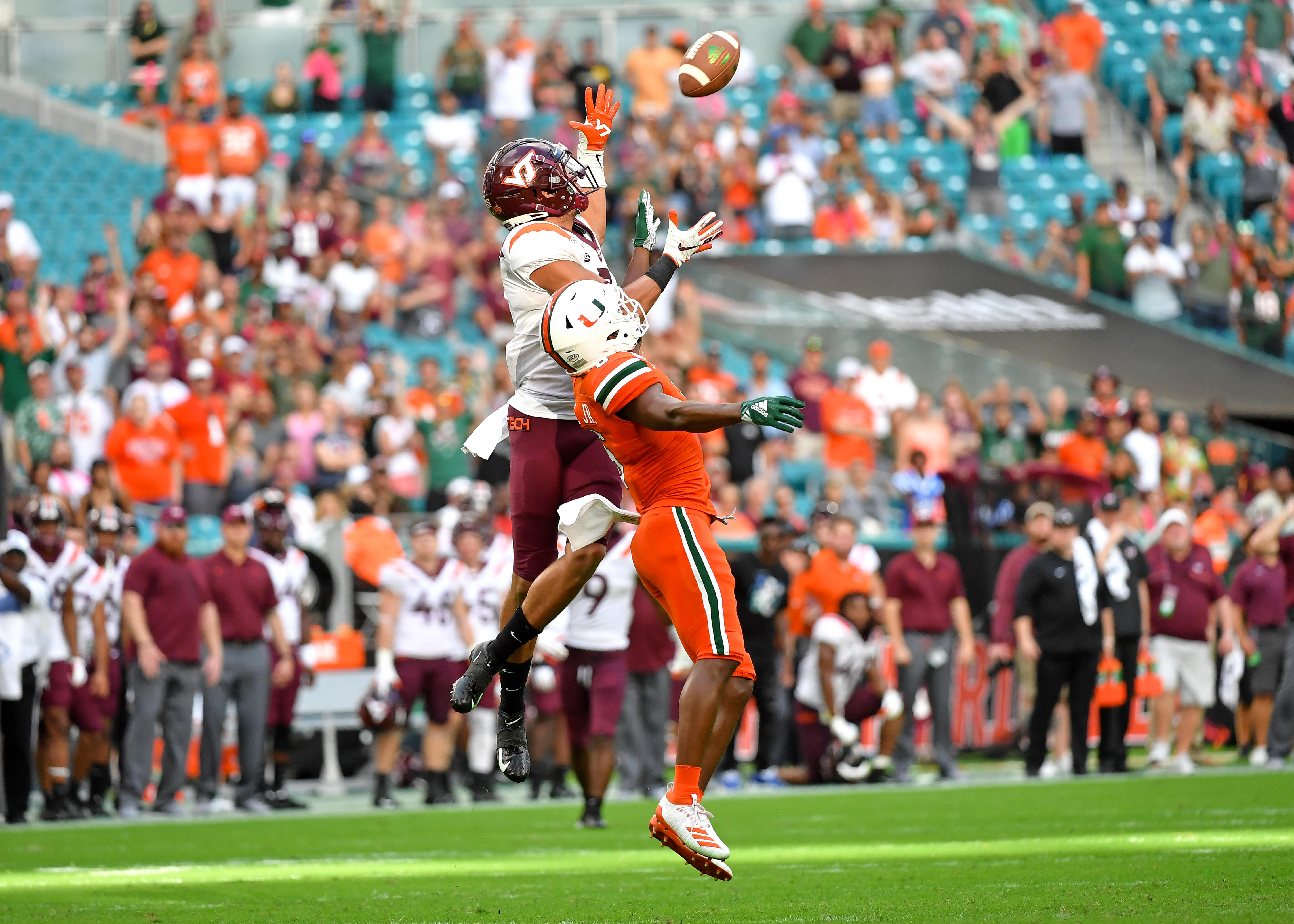 Farley is as stingy a cornerback as you will ever see. He allowed one or no catches in seven of his 11 games in 2019 and combined for 13 pass breakups and interceptions, four more than his first downs allowed total. Farley has the size and the speed you covet at the position, and all that played a part in him producing a 90.5 coverage grade in 2019.
SAFETY
Moehrig's playmaking and versatility in coverage are huge assets for the Horned Frogs. This past season, Moehrig posted an impressive 91.9 coverage grade, making multiple plays on the ball in half of his games played. He has the size, length (6-foot-2, 208 pounds) and strength for the safety position. He isn't going to get outmuscled often at the catch point, either. In 2019, Moehrig forced 13 targets into tight coverage and allowed zero catches while making three interceptions and forcing eight incompletions.
SAFETY
For what Washington lacks in size, he makes up for with supreme instincts and athleticism. In coverage this past year, he allowed just one first down while intercepting five passes and forcing four incompletions. Keep in mind, it was his first full collegiate season on the field. The Horned Frogs have easily the best safety duo we have ever seen in the PFF College era in Moehrig and Washington.
FLEX DEFENSE
Holland is a playmaker in its purest form. He has 20 pass breakups and interceptions over the past two years, which ranks second among FBS safeties. In that same span, no defensive back has earned a higher slot coverage grade than Holland. Oregon's secondary is historically talented, and a big reason for that is the talent Holland brings to the table.
KICKER
Trickett was one of just three FBS kickers in 2019 to attempt at least five kicks at each of 20-29 yards, 30-39 yards and 40-49 yards and convert at a rate above 85% at all of them. From 40-49 yards out, specifically, Trickett made 10 of 11 attempts, which helped pave the way to college football's second-best field goal grade (91.4).
PUNTER
The 28-year-old Griffiths was an eight-year veteran in the Australian Football League before coming over to punt for the Trojans. In his first season doing so, he posted the second-best punt grade in college football, at 92.1, and a 4.41-second average hangtime.
KICK RETURNER
Wright returned only 10 kickoffs in his true freshman campaign last year, but that didn't stop him from producing the highest kick return grade in the country. He took two of his returns to the house, which contributed to his 381 return yards on the year.
PUNT RETURNER
Waddle had one of the best seasons we have ever recorded from a Power Five returner. He produced a 91.3 punt return grade, which led every Power Five returner (Brandon Aiyuk was second at 90.4). Waddle returned one of his five kickoffs for a score and had another as a punt returner, averaging 24.7 yards per punt return (20 total) — 8.6 yards higher than anyone else. He's a threat to house it anytime he gets a returnable opportunity.