After some recent struggles, we finally had a winning week where we went 2-0, with a game that did not get closing-line value (LAR +6.5) and one where we did and even went through a key number (NO -2.5). The Cowboys UNDER 9 win also cashed for us, giving us a 26-19 record on the season. We are 119-100-11 (54.3%) since we started this column in 2017.
Week 17 is always a challenge due to differences in motivation for each team, but just because one or both teams have nothing (or very little) to play for, it does not mean that there isn't any value on the board.   
[Editor's note: For more content like this, be sure to subscribe to the PFF Forecast by clicking here.]
Point (George Chahrouri): Investing in Freddie Kitchens is probably the last thing I thought I would be advocating on Christmas night. This game is such a disaster that it should probably just be considered another bowl game —  perhaps the Skyline Chili Bowl presented by Blockbuster?
The Bengals have the No. 1 pick locked up, and for some reason, that is supposed to mean the Bengals are going to win a game all of a sudden, but that's just not how it works. The Bengals are the worst team in the NFL by a large margin, and that is precisely why the Browns are going to be motivated. Imagine the Browns capping this season off by losing to the worst team in the NFL. Baker Mayfield, Odell Beckham Jr. and Jarvis Landry will be motivated by the potential for humiliation just enough to get on the same page for a couple of passing plays (this would be a season-high).
The Bengals rank 32nd in our PFFELO power ranking while the Browns are 22nd — this equates to about a seven-point difference between the two. While you would generally give between two and three points to the home team, I would be stunned if a single Bengals fan makes it into the stadium. Every week there is a Bengals home game I look in awe from my apartment as no one walks towards the stadium that sits just a couple of blocks from my building. There will be more "Mayfield" and "Burrow" jerseys than any bearing the name "Dalton." Dalton and Mayfield both have an atrocious 84.1 passer rating from a clean pocket, but Mayfield has a better PFF grade (72.9 vs. 65.8).
The three best skill position players in this game all play for the Browns. This includes Nick Chubb, who has the best rushing grade of any running back and is poised to be the only rusher to topple 1,500 yards this season (it really is a shock that such running success hasn't led to winning…not). Chubb has forced 64 missed tackles on run plays (second-most) while the Bengals have missed 81 tackles in the run game (also second-most). The running game won't get you to the Super Bowl in 2020, but it should help the Browns cover in the Skyline Chili Bowl.
The real kicker here is that this is the Browns, and we know that things just will not work out for them no matter what. So how does a battering of the Bengals turn up rotten for Cleveland? I can't imagine any scenario where Frederick Kitchens is still lighting talent on fire next year, but if he were to stay, then the Browns would have to look really darn good in this game.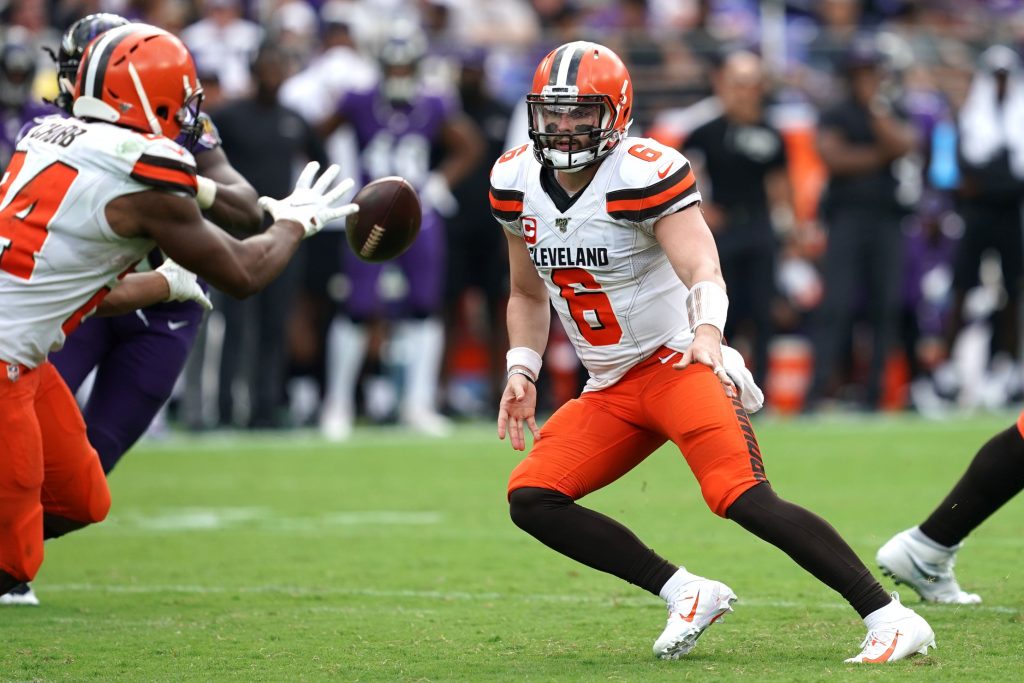 © Mitch Stringer-USA TODAY Sports
Counterpoint (Eric Eager):  George having to write up the reasons why we like a Freddie Kitchens-coached team with nothing to play for is the equivalent of a lump of coal in his proverbial Christmas stocking. A few reasons why this makes me nervous is that the Browns' injury report is longer than my children's Christmas wishlists combined. Baker Mayfield has been a lot better than his raw passing statistics this season (60.2 completion percentage, 19/18 TD/INT), and it appears that two of the Bengals' top corners in William Jackson III and Darqueze Dennard are injured. Still, one has to wonder how motivated Jarvis Landry and OBJ are going to be if they are nursing injuries in a meaningless game. In the last meeting against the Bengals, the Browns' second-year signal-caller completed less than 50% of his passes and turned the ball over twice with their offense looking every bit as out of sync as it has for the majority of the year.
The second reason why this scares me is the Browns' inability to get pressure with Myles Garrett out indefinitely and Olivier Vernon and Sheldon Richardson both nursing injuries. That said, the Bengals' offensive line isn't very good, and Dalton has been one of the worst quarterbacks this season when not facing pressure. This is the classic "hold your nose," and hold it, I will.
Subscribe to PFF Edge to continue reading
Already have a subscription? Sign In