• Bet on Philadelphia Eagles' passing attack to explode: The San Francisco 49ers defense has struggled against deep passing concepts this season, which should enable Jalen Hurts, A.J. Brown and Devonta Smith to exceed their yardage props.
• Bet on the Kansas City Chiefs operating a quick-attack offense: This game plan should enable JuJu Smith-Schuster and Travis Kelce to have exceedingly productive performances against the Cincinnati Bengals' stingy defense.
• Get ready for the NFL playoffs: Sign up today to get $150 in bonus bets — win or lose — when you place your first $5 bet.
Estimated Reading Time: 3 mins
---

Story: Eagles turn to the pass and exploit the 49ers' corners
Throughout this season, the Eagles have varied their run-pass ratios by week, adjusting based on their opponents' strength.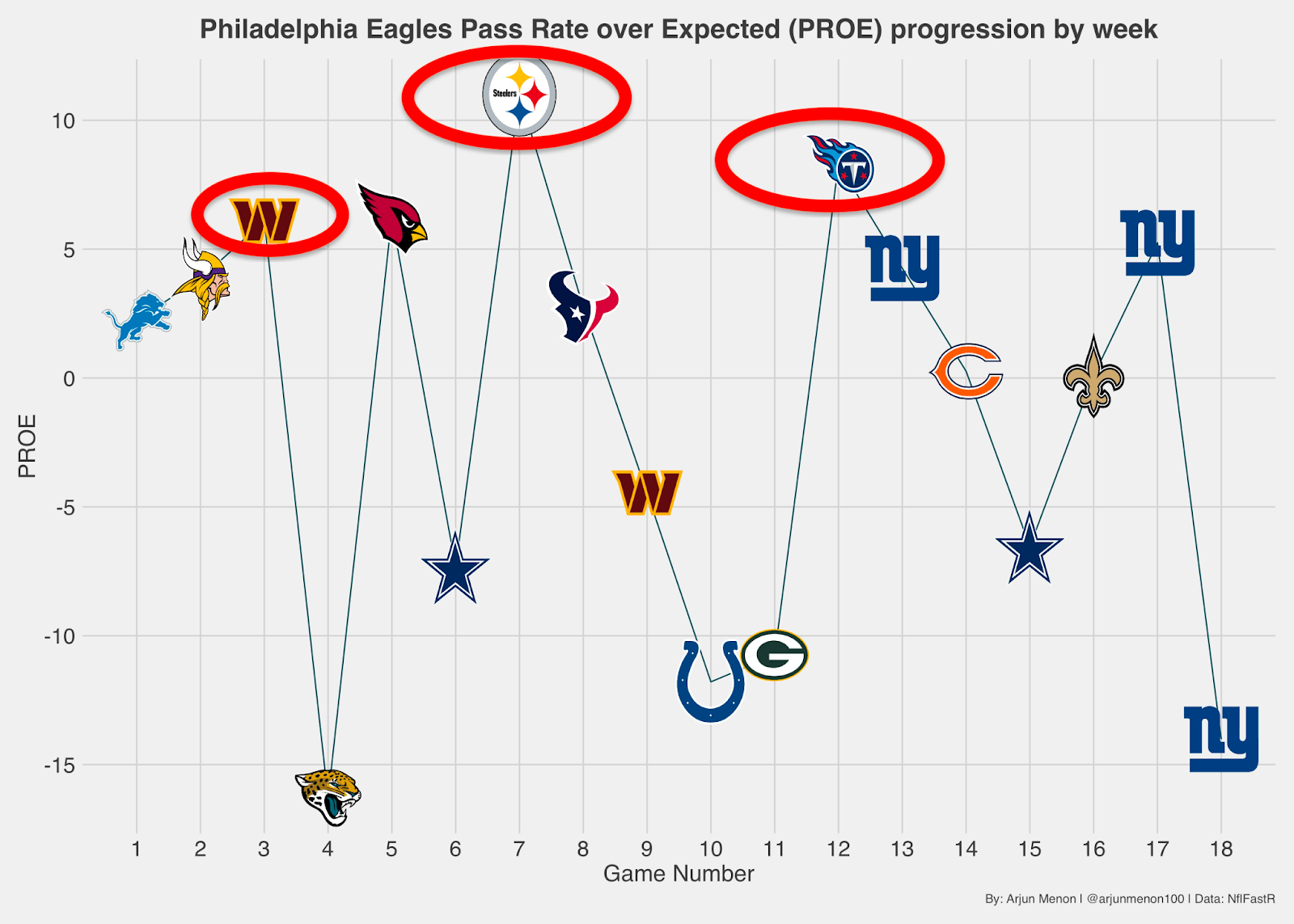 The circled teams above are all games in which the Eagles leaned into the pass because they played a top run defense. This is the case again in this spot against a 49ers defense that ranks second in EPA allowed and second in success rate allowed against the run. The Eagles should turn to the air here.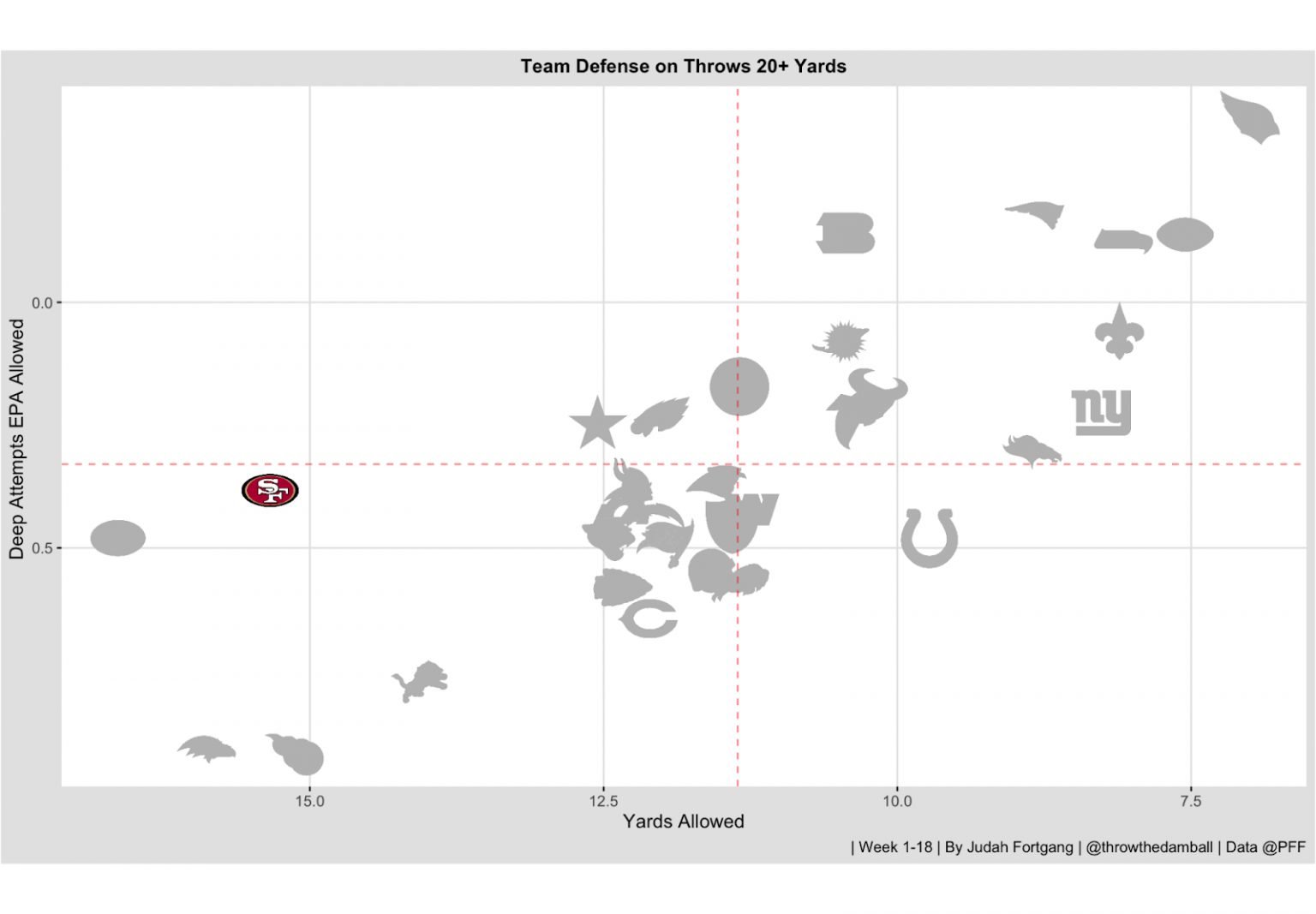 And as we spoke about last week, the 49ers defense's Achilles heel is defending the deep passing game, where Jalen Hurts has the third most yards per deep attempt in addition to the fact that A.J. Brown and Devonta Smith are both top 5 in PFF deep receiving grade. 

But aside from just the deep plays, their linebackers are so good in coverage that they funnel opposing targets and production to WRs, allowing the eighth-most receions and sixth-most yards to opposing WRs. 

Look for Philadelphia's passing game to flow, not through backs and TEs, but through Brown and Smith. who should succeed in the areas in which SF is weakest. 
Hurts: 300-plus yards
Dallas Goedert: u45.5 yards receiving
Smith: 90-plus yards receiving
Brown: 90-plus yards receiving 
Hurts: 300-plus yards
Goedert: u45.5 yards receiving
Smith: 100-plus yards receiving
Brown: 125-plus yards receiving 
Miles Sanders: u50.5 rushing yards
Eagles: -6.5 
---
The Story: With Patrick Mahomes' injury, KC operates a quick game-offense
If Mahomes' mobility is limited, it could force the Chiefs to utilize a quick offense, getting off passes quickly while keeping Mahomes in the pocket.

And on quick concepts, JuJu Smith-Schuster has been th is offense's go-to target with his low-aDOT and 25% target share on quick throws. 

Nonetheless, just because he is receiving shorter and quicker throws, that should not be confused for a lack of success in generating yardage. Smith-Schuster has been terrific at generating yards after the catch and could very well create a big play on Sunday.

Of course, if Mahomes and the Chiefs are going to operate a quick offense, Travis Kelce is surely going to be peppered with targets. This leg doubles our odds and reflects a natural second-order effect if our initial thesis on the short and quick game attack proves correct. 
Smith-Schuster: 100-plus yards
Smith-Schuster: TD scorer
Kelce: o6.5 receptions