Before Week 10 of the NFL season kicks off, let's pause for a moment to examine the best individual game performances at the midway point of the year. Through nine weeks, we've seen some spectacular play both on the offensive and defensive side of the ball, with a few players reaching new heights in single games.
Here we break down the best single-game performances by individual players this season.
1. Falcons WR Julio Jones vs. Panthers, Week 4
Grade: 99.1
Key stat: 300 receiving yards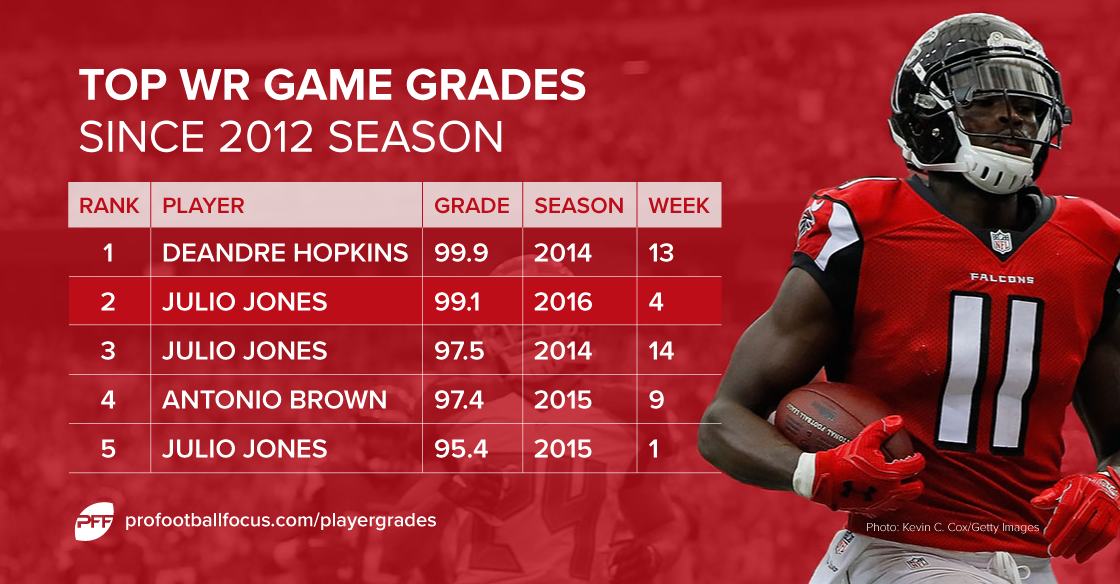 The single-most dominant statistical performance of the season was also the single-highest-graded game at Pro Football Focus so far in 2016. Julio Jones was left one-on-one by the Carolina Panthers in a game in which they had no defensive back even close to being up to the task. The net result was 12 receptions on 14 targets for 300 receiving yards and a touchdown. No play better highlighted the dominance than the 75-yard touchdown catch where Jones won initially, stiff-armed a defender, and then outran the rest of the defense to the end zone. It was a case of man amongst boys, and as close to a perfect performance as we have seen this season.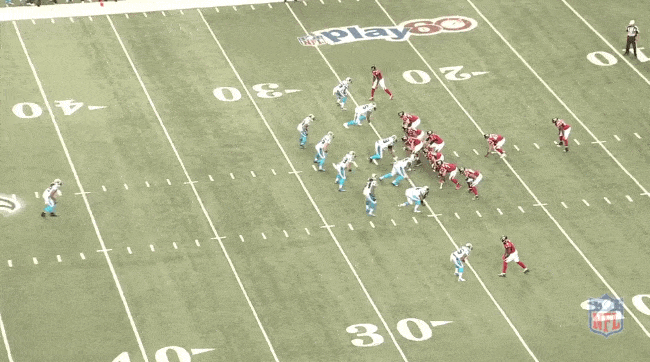 2. Raiders DE Khalil Mack vs. Broncos, Week 9
Grade: 97.2
Key stat: 10 total QB pressures
There is something of a trend on this list: monster performances happen when teams leave elite players one-on-one in a game. The Broncos made that mistake in Week 9, and really should have known better, having seen the five-sack performance from Khalil Mack the last time they tried it. This time he "only" recorded a pair of sacks, but had 10 total pressures and overall beat Broncos RT Donald Stephenson 13 times in just 42 pass-blocking attempts. That doesn't even count his strong performance against the run. This was a case of an elite edge defender back to his best, showing a team the folly of trying to block him with one, sub-standard right tackle.
3. Seahawks TE Jimmy Graham at New York Jets, Week 4
Grade: 97.0
Key stat: Gained 4.91 yards per route run
Jimmy Graham took awhile to get going with the Seahawks, not aided of course by a bad injury, but now he is reminding people what a dominant receiving weapon he can be. Against the Jets, Graham caught six passes for 113 yards, but it was the nature of some of the receptions that earned him such a high grade. With one hand being held by the defensive back, Graham hauled in a back shoulder throw one-handed to move the chains in the first quarter—and that was just one of multiple notable spectacular receptions in the game.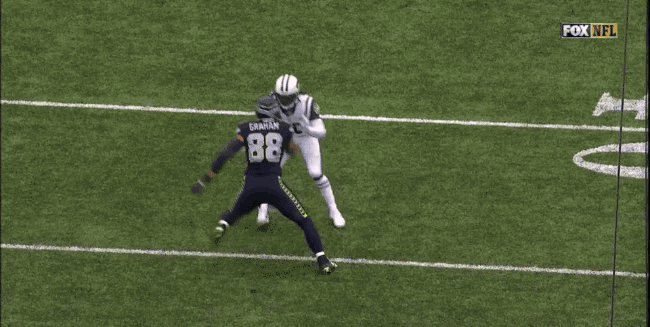 4. Raiders CB David Amerson at Titans, Week 3
Grade: 96.8
Key stat: Five pass breakups on 11 targets
This was the game in which David Amerson was tested the most often this season. The Titans threw his way 11 times overall, and he allowed just four catches (36.4 percent) for 38 yards (9.5 yards per reception). He also broke up five of the incompletions, which is the highest total of pass defenses any defender has managed in a single game this season. Overall for the game, Tennessee QB Marcus Mariota recorded a passer rating of 46.8 when throwing Amerson's way, and that represented almost a third of his attempts overall.
5. Patriots CB Malcolm Butler vs. Bengals, Week 6
Grade: 95.9
Key stat: Four pass breakups from seven targets
When Malcolm Butler is on his game, there are few better cornerbacks in the league—and he was most certainly on his game against the Bengals in Week 6. The Patriots elected not to track WR A.J. Green, so much of his work was done against Brandon LaFell, but Butler broke up four passes from just seven targets, and held Green to just 4 yards on two receptions when the two did go head-to-head.
6. Panthers TE Greg Olsen vs. Buccaneers, Week 5
Grade: 95.9
Key stat: 181 receiving yards
Is this the year of the receiving tight end? Against the Bucs in Week 5, Greg Olsen put up a monstrous 181 receiving yards on nine receptions from 13 targets. He racked up 119 of those yards beating up on LBs Kwon Alexander and Lavonte David, and averaged over 20 yards per reception, with 64 total yards coming after the catch. The 181 receiving yards is comfortably the highest single-game total from a TE this season, and only Rob Gronkowski can come within 60 yards of it over the year.
7. Colts QB Andrew Luck vs. Lions, Week 1
Grade: 95.1
Key stat: Passer rating of 131.7 when kept clean
There are better statistical performances over the season than Andrew Luck's opening weekend effort against the Detroit Lions—though his numbers were excellent—but it was the quality of the throws he made and the circumstances of the plays that really shot his grade through the roof. This was the top game of the best season of Luck's pro career to date, and he showed what he can do with a full complement of receivers and offensive linemen for a change.
8. Texans CB A.J. Bouye at Broncos, Week 7
Grade: 95.0
Key stat: Received just one negative grade all game
A.J. Bouye has been one of the standout performers of the season for the Houston Texans, and still leads the PFF cornerback rankings overall entering Week 10 thanks to consistently-excellent games all year. Against the Broncos, he was at his absolute best, allowing six receptions but giving up just 38 yards total on them. He held Demaryius Thomas to just three catches for 19 yards, and broke up another deep pass thrown his way that was nullified by a penalty. When he ran into Emmanuel Sanders in the game, he broke up both of the passes sent his way.
9. Seahawks QB Russell Wilson vs. Bills, Week 9
Grade: 94.9
Key stat: Completed 76.9 percent of his passes with two throwaways among the six incompletions
On Monday night of Week 9, Russell Wilson was spectacular against the Buffalo Bills. As has become typical, Wilson was under pressure plenty (41.9 percent of his dropbacks), but completed 76.5 percent of his passes and had a 155.1 passer rating when under pressure. Wilson has become a master of playing the quarterback position at a high level, despite little to no pass protection helping him out, and this game was the best he has done that all season.
Russell Wilson proving you can still go deep with no OL protection. 26-yards down field, ball's out in 2.1 seconds: Anticipation + accuracy pic.twitter.com/ScypyiSTmz

— Sam Monson (@PFF_Sam) November 8, 2016
10. Seahawks TE Jimmy Graham vs. Bills, Week 9
Grade: 94.8
Key stat: Caught 100 percent of the passes thrown his way, including a TD through pass interference
As good as Wilson was in Week 9, he was matched by the spectacular catches from Jimmy Graham, who is the only player to get two performances on this list over the year. Graham caught everything thrown his way, despite needing to haul in both touchdowns one-handed, because the other was being pulled away by a coverage defender—only one of which was actually flagged for interference. Graham has become a huge part of this offense, and led the team again in targets, receptions, receiving yards, and touchdowns in this game, beating five different Buffalo defenders for catches, most of whom have graded very well this season against the pass.