In a battle of journeymen quarterbacks, Tampa Bay Buccaneers quarterback Ryan Fitzpatrick found just a bit more success against his former team, than New York Jets quarterback Josh McCown did against his, as the Bucs and Fitzpatrick outlasted the Jets, 15-10 in Tampa on Sunday.
Fitzpatrick and McCown each exchanged interceptions and field goal scoring drives in the first half before the Fitzpatrick-led Bucs offense connected on 12 straight points in the second half, including the eventual game-winning touchdown toss to Charles Sims with 6:10 remaining in the final quarter. The former Harvard QB finished the game completing 17-of-34 passes for 187 yards, a touchdown and an interception.
Without the services of All-Pro wide receiver Mike Evans, and with star QB Jameis Winston out for at least two weeks, Fitzpatrick connected with veteran DeSean Jackson on six passes for 82 yards and with rookie wide receiver Chris Godwin for five catches and 68 yards for the majority of the Bucs offense on the day.
On the other side of the field, the Bucs defense bottled up the Jets rushing attack and forced McCown to throw 39 times, completing 22 passes for 262 yards and a late touchdown to Robby Anderson. Former Bucs TE Austin Seferian-Jenkins hauled in a team-high six receptions for 67 yards in his return to Tampa Bay and with that, we give you our PFF exclusive takeaways from the contest for each team.

Top 5 Grades:
RT Brandon Shell, 84.4 overall grade
TE Austin Seferian-Jenkins, 84.4 overall grade
DI Steve McLendon, 80.0 overall grade
Edge Freddie Bishop, 79.0 overall grade
QB Josh McCown, 78.8 overall grade
Performances of Note:
QB Josh McCown, 78.8 overall grade
If it weren't for three #BigTimeThrows on the final two drives of the game, McCown's grade would be much different, but the 37-year-old veteran delivered in the clutch. Under heavy pressure for most of the game, McCown took six sacks on 17 pressured dropbacks and completed 7 of his 11 attempts for 72 yards. McCown graded well when kept clean and excelled throwing deep despite the one interception completing 3 of 6 for 86 yards with a touchdown. McCown has been excellent when kept clean this season but his play under pressure has been make or break for the Jets this season as it showed against the Bucs.
While McCown was under duress on 37.8 percent of his dropbacks, it was not because of the play of Shell. Struggling all season long, allowing four sacks, one hit, and eight hurries on 197 pass-blocking snaps for a pass-blocking efficiency of 94.3, Shell looked like his rookie form where he didn't allow a single pressure on 114 pass-blocking snaps in 2016. Shell struggled some in the run game as did the rest of the OL but his play in pass protection was a bright spot for an offensive line that struggled to block Tampa's front four.
McLendon played strong up front, consistently clogging the line of scrimmage on inside runs on his way to a run defense grade of 82.0. For the game he totaled three run stops, and also notched a quarterback hurry on a pass rush.
Davis' day was mixed, as he posted a run-defense grade of 84.5 to go with two pressures and a pass batted at the line of scrimmage, but had struggles throughout the game in coverage. While he did break up one pass, he gave up receptions the other three times he was targeted, including the deciding touchdown in the fourth quarter.

Top 5 Grades:
LB Lavonte David, 91.5 overall grade
DI Gerald McCoy, 87.5 overall grade
Edge Robert Ayers, 87.1 overall grade
WR Chris Godwin, 86.5 overall grade
WR DeSean Jackson, 83.5 overall grade
Performances of Note
With Mike Evans serving a one-game suspension, Godwin stepped into a starting role and filled in nicely. He caught five of 10 balls thrown into his coverage (with no drops) for 82 yards (20 earned after the catch), and also put up an impressive 84.3 run-blocking grade.
Fitzpatrick struggled to move the ball down the field, as he failed to connect on all five throws of 20-plus yards, and one of them was intercepted. He actually fared better under pressure, posting his only touchdown and a 91.1 passer rating on 10 pressured snaps, while his rating was just 55.3 when the rush failed to affect him.
The Buccaneers defense feasted all game long and David was at the forefront of the action as he finished with six defensive stops while getting in on the pass rushing action with a hurry. Excellent against the run with a run defense grade of 93.2, David was great in coverage as he allowed just two catches on four targets for 17 yards.
Edge Robert Ayers, 87.1 overall grade
This section could really highlight the play of both Ayers and Gerald McCoy as they combined to abuse the Jets offensive line to the tune of two sacks, four hits, and three hurries as well as seven total defensive stops. Ayers racked up most of the stats with a sack, three hits, and two hurries while not missing a tackle in the game. The duo was virtually unblockable and a big reason for the Jets inability to get the running game going and never letting QB Josh McCown get comfortable.
PFF Game Ball: LB Lavonte David, 91.5 overall grade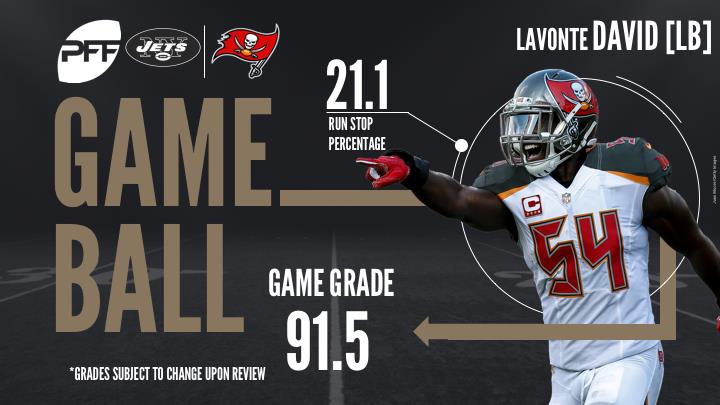 *Grades are subject to change upon review