It seemed like such a small thing at the time, but the injury to Drew Brees on Sunday threatens to derail the New Orleans Saints' 2019 season.
Brees, who has produced PFF grades above 80.0 every season since we began grading back in 2006, was already looking impressive coming off a 94.0 PFF grade in 2018, the highest of his career. On 66 dropbacks this season he had produced a grade of 91.0 and very much looked capable of leading the Saints deep into the playoffs once again, but this injury makes life much more difficult for them moving forward. 

A six-week timeframe takes the Saints right up to the bye week, meaning he would miss games against the Seahawks, Cowboys, Buccaneers, Jaguars, Bears and Cardinals. The good news for the Saints is that if they can avoid falling apart without Brees, they have five divisional games over the final eight games of the season. If they can win three games without Brees, they'll get him back at .500 and a schedule that sets up a charge at the division title.
Still, he is a huge loss, and it's hard to see it having anything other than a huge impact on the Saints' offense going forward. He has been ridiculously efficient in that Saints' offense and has ranked first or second in adjusted completion percentage in each of the past three seasons. We know that passer rating when kept free from pressure is one of the most stable metrics when it comes to quarterback play, and Brees highlights that by ranking in the top-10 in NFL passer rating when kept clean in each of the past eight seasons. 
He is a quarterback that isn't going to hurt you by making a lot of mistakes, and he is more than capable of making the big-time throws. One such throw came against the Atlanta Falcons last year. On 1st-and-10 with 6:05 left in the third quarter Brees dropped back to pass, looked off the safety and came back to deliver a throw to the slot receiver for the touchdown. Those are the sort of things that separate Brees from a lot of other quarterbacks in the NFL and will likely be the biggest thing they will miss while he is out.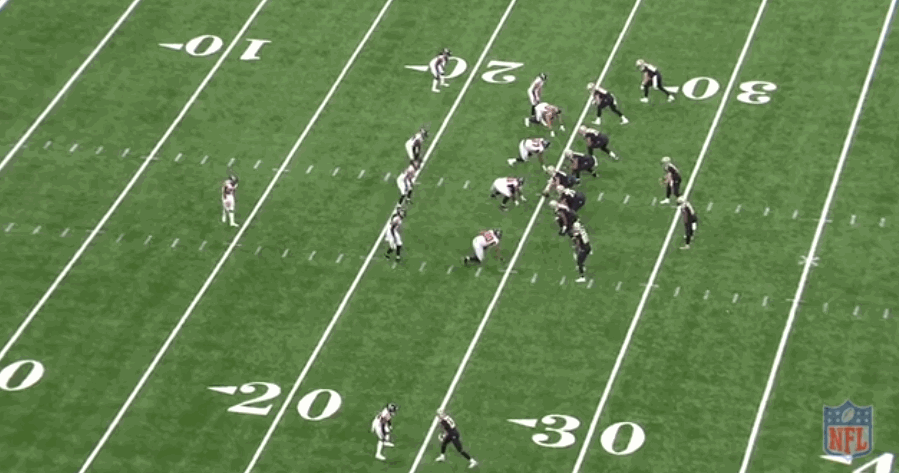 Teddy Bridgewater is the man to replace him, and the reality is that there's a fair amount of unknown here. He looked solid for the Minnesota Vikings in 2014 and 2015 after being drafted with the 32nd overall selection of the 2014 NFL Draft, but a devastating knee injury cost him all of 2016 and the majority of 2017. The 2018 season saw him sign with the Jets and impress in the preseason, but he wound up being traded to the Saints with the Jets already having Sam Darnold and Josh McCown on the roster — a move they might have been regretting when they had to field Luke Falk on Monday Night Football this week.
Bridgewater produced a grade of 68.8 this preseason, and he gave us plenty of good and bad throws on his way to that grade. One of his best throws of the summer came against the Vikings in their preseason opener. On 1st-and-10 with 1:46 left in the half, Bridgewater fired a nicely thrown back-shoulder pass down the right sideline to Cyril Grayson Jr., putting the ball exactly where it needed to go.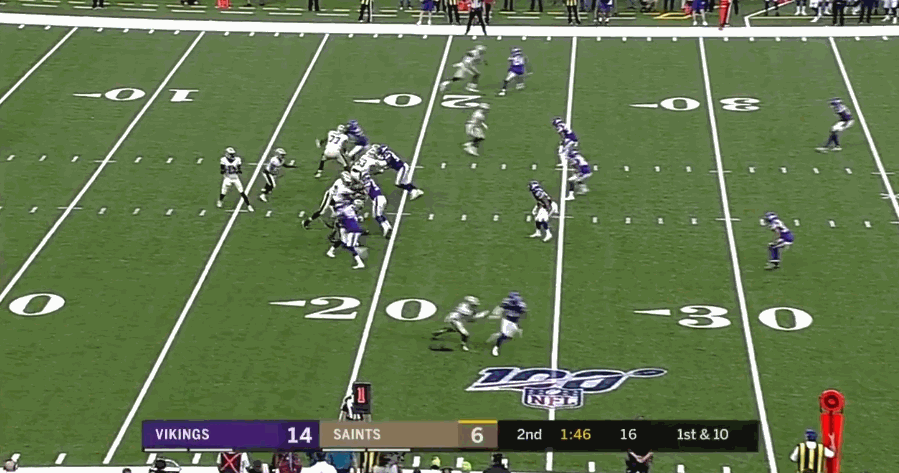 He struggled against the Rams this week though, but he was coming off the bench cold. His raw stats have him at 17-for-30 for 165 yards with no touchdowns or interceptions, but that doesn't take into account a fumble and a throw that should have been intercepted. Dropping back to pass on 1st-and-10 with 6:02 left in the game, Bridgewater looked for the throw down the middle but missed linebacker Cory Littleton. The Rams linebacker really should have made the play on the ball and left Bridgewater with an interception on his stat sheet. 
While he finished the game with a PFF grade of 39.1, it's reasonable to expect him to be better than that going forward.
What we've seen from him in the past two preseasons as well as his work in his first two seasons in Minnesota, is a quarterback who is more than capable of being a six week stop-gap while Brees heels up, but it's important that he can avoid mistakes like the one above and try to keep the Saints offense moving efficiently.
The other thing Bridgewater and the Saints have going for them is the talent around them. With a good offensive line — four starters are currently grading at 74.0 or higher — he should have ample time to get the ball in the hands of his playmakers, and that's exactly what he needs to do. Michael Thomas has a drop in each of the first two games of this season but has dropped four or fewer passes in each of his first three seasons in the league, despite seeing 96, 108 and 129 catchable passes thrown his way in that span. With 52 missed tackles forced since entering the league, he's proven himself capable of turning a short slant into a long gain, and Bridgewater will be more than aware that Thomas is the type of number one receiver he can trust.
Along with Thomas, the Saints have Alvin Kamara, who is arguably the best receiving back in the NFL right now. Kamara has produced PFF receiving grades of 91.2 and 87.6, respectively, in each of his first two seasons in the NFL and has forced 47 missed tackles on 170 career receptions. 
Losing Drew Brees for a significant amount of time is undoubtedly a huge loss for the Saints, and it could be the thing that derails their attempt at avenging what they feel was a gross injustice at the end of last season. However, if Bridgewater can perform at the level he did when he was a full-time starter, they can survive with the season intact through the bye week for when Brees returns. This is a roster with talent on both sides of the ball, and going .500 with Brees out injured will allow them to contend for a title in the second half of the season.