KANSAS CITY, MO - OCTOBER 15: Wide receiver Antonio Brown #84 of the Pittsburgh Steelers celebrates in the end zone after a fourth quarter touchdown against the Kansas City Chiefs at Arrowhead Stadium on October 15, 2017 in Kansas City, Missouri. ( Photo by Peter Aiken/Getty Images )
After the game opened with a safety, scoring 2 points for the Steelers, the Chiefs scored a field goal to pull ahead. Their lead would be brief however, as HB Le'Veon Bell would score a touchdown and Pittsburgh would back that score up with a field goal of their own to take a 9 point lead into halftime.
The Chiefs offense would get more on track in the second half, with QB Alex Smith tossing a long touchdown pass to  WR De'Anthony Thomas and later scoring a field goal. However, the Steeler lead, bolstered by a WR Antonio Brown touchdown catch, would hold, and the Steelers would win 19-13. With that, we give you our PFF exclusive takeaways from the contest for each team.

Top 5 Grades:
1. WR Antonio Brown, 93.1 overall grade
2. RB Le'Veon Bell, 90.8 overall grade
3. T Alejandro Villanueva, 85.4 overall grade
4. DI Cameron Heyward, 85.9 overall grade
5. G David DeCastro, 84.8 overall grade
Performances of Note:
Late in the game was when Brown took over, including making a circus catch late on when CB Phillip Gaines let a pass thrown straight to him ricochet off his face right to Brown, who did the rest and took it the distance for a score. He did cause an interception though by stopping his route on a slant pass earlier in the game, hanging his QB out to dry.
This was Bell at his best. He was able to run with his trademark patient style and cause the Chiefs defenders to open up some spaces for him, but rarely was he doing anything but gaining significant yardage, racking up 128 yards after contact and breaking seven tackles in the game.
Heyward's strong season continues as he was disruptive in the run game while notching five pressure (two QB hits, three hurries) on his 31 rushes. Four of his five pressures came against left guard Bryan Witzmann, three of which came on bull rushes as Heyward was a key part in compressing the pocket against Chiefs quarterback Alex Smith. In the run game, Heyward finished with two stops while rarely finding himself out of position.
Tuitt and Heyward have teamed up to form an excellent pair of interior defensive linemen, and they continue to anchor Pittsburgh's defense. Tuitt finished with a season-high four pressures (two QB hits, two hurries) to go with a batted pass. He had another pressure negated as he forced a holding penalty by splitting a double team early in the first quarter. No matter where he lined up, Tuitt found his way to the quarterback, picking up pressures against four of Kansas City's five starting offensive linemen.

Top 5 Grades:
1. CB Marcus Peters, 81.1 overall grade
2. T Mitchell Schwartz, 80.3 overall grade
3. WR De'Anthony Thomas, 76.6 overall grade
4. DI Chris Jones, 76.5 overall grade
5. DI Allen Bailey, 74.8 overall grade
Performances of Note:
QB Alex Smith, 52.8 overall grade
The Chiefs' offense took a while to find a rhythm, and while Smith had his moments early in the fourth quarter, he left far too many plays on the field down the stretch. Whether missing WR Demarcus Robinson in the end zone on a busted coverage or failing to give his receivers a chance to make plays on must-make downs, Smith simply played below the lofty standards he's set early in 2017. On passes thrown at least 10 yards in the air, Smith completed 5-for-12 for 135 yards, one touchdown, and one dropped interception.
RB Kareem Hunt, 50.2 overall grade
It was a rough game for the league's top rookie, and it goes beyond being limited to only 20 yards on nine carries. He gave up two sacks in pass protection, getting easily bull-rushed by LB Vince Williams on both plays while also getting called for a false start. Hunt still made an impact in the pass game with 89 yards on five catches, but overall, it was his worst game as a pro.
Though Antonio Brown did huge damage, very little of it came against  Peters, who gave up just two catches for 17 yards to Brown, and four passes for 29 yards in total, while notching an interception and a pass breakup on six targets.
Edge Justin Houston, 41.1 overall grade
Houston is one of the league's best edge-rushers and all-around outside linebackers, so when he comes out of a game with zero total pressures, the Chiefs defense is going to have some problems. Houston also gave up two catches for 23 yards in coverage, and was otherwise a non-factor in the game.
PFF Game Ball: WR Antonio Brown, 93.1 overall grade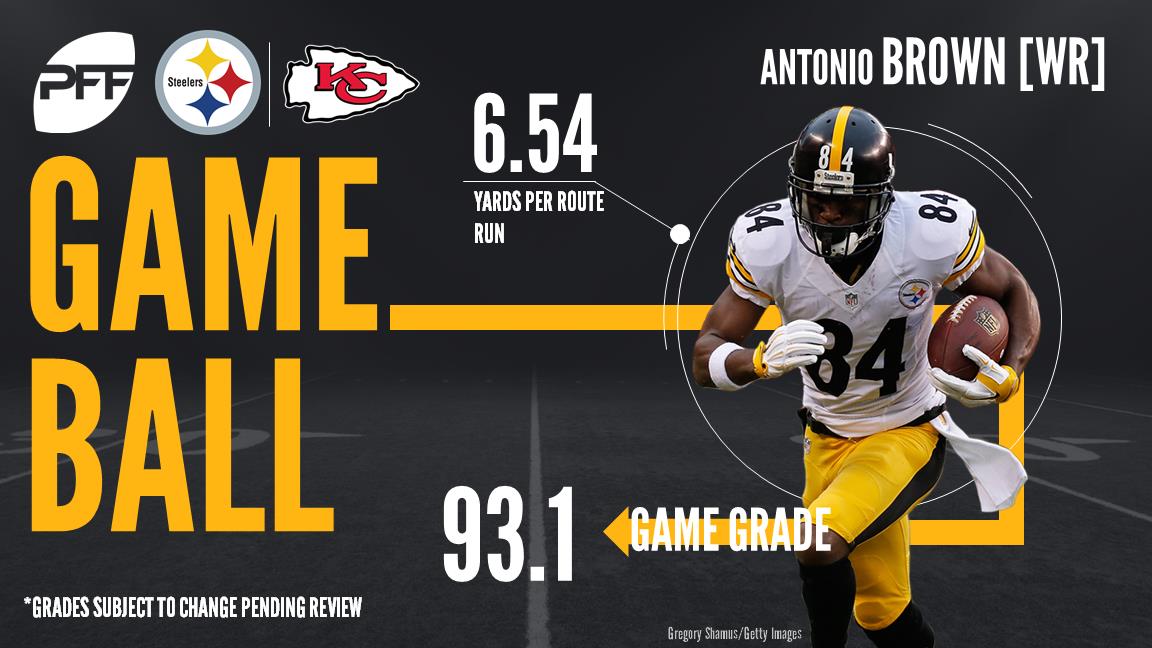 *Grades are subject to change upon review