The Cincinnati Bengals defeated the Oakland Raiders, 30-16, in Week 15 of the 2018 NFL season.
PFF's ReFocused series this season features immediate takeaways and a key to the victory from two Senior Analysts who graded the performance, watching every player on every play of the game. For more data and analysis from the game, utilize our Premium Stats 2.0 dashboard to expand your knowledge on the key players, signature stats and much more.

FINAL SCORE
Cincinnati Bengals 30, Oakland Raiders 16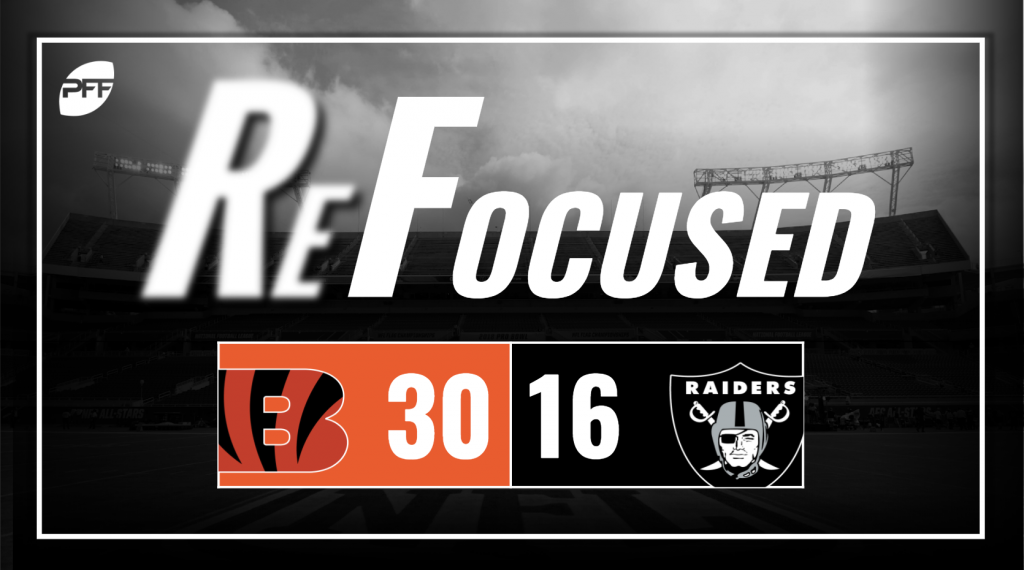 While interior defensive lineman Geno Atkins had a quiet first half, he more than made up for it with his play in the second half. Atkins finished the game with three sacks, including two on back-to-back plays in the last minutes of the game that basically sealed it for the Bengals.
Bengals edge defender Sam Hubbard had an excellent outing, as he brought pressure from the edge. Hubbard got the better of rookie Kolton Miller, as he recorded two sacks on the day including, one that ended up in a fumble recovered by Cincinnati.
Bengals quarterback Jeff Driskel had a really rough afternoon against the Raiders. Driskel struggled to get into rhythm and was off-target on most of his throws. Overall, he completed just 14 of his 33 pass attempts and recorded only 130 passing yards in Cincinnati's win.
With their quarterback struggling, the Bengals won this game mainly due to their running game, which was powered by running back Joe Mixon. The Cincinnati running back had a great game, as he consistently picked up yards on top of what the offensive line provided to him. He rushed for 129 yards and two touchdowns.

The Raiders' offensive line missed numerous starters, including both guards due to injury, and it showed against the Bengals. Quarterback Derek Carr was under pressure all afternoon, as heat was coming both from the edge and inside. Miller had an especially rough afternoon, as he struggled both in pass protection and run blocking.
Veteran wide receiver Jordy Nelson had a vintage day for the Raiders against Cincinnati. Nelson was all over the field, including making plays from the slot, as he caught six of his eight targets for 88 yards.
Safety Erik Harris was one of the few bright spots on the Raiders' defense in their loss to Cincinnati. Harris made plays both on defense and on special teams with his highlight play coming on an interception as a deep safety.
Johnathan Hankins showed today once again why he has been considered one of the best interior defensive linemen against the run for years. While Hankins recorded just three tackles on the day, he was tough to move for the Bengals' offensive line, as he kept making plays against the run. In addition, he also got close to Driskel on a couple plays, including one quarterback hit.
Keys to the Game
Cincinnati
The Bengals overcame Driskel's struggles due to the success of the run game and Mixon's big day.
Oakland
The Raiders' offensive line struggled to keep quarterback Carr clean, which was key in the Oakland offense never really getting into rhythm.