The New England Patriots locked up home-field advantage through the playoffs with a 26-6 victory over the New York Jets at Gillette Stadium.
QB Tom Brady was 18-of-37 for 190 yards, throwing two touchdowns and committing no turnovers. WR Brandin Cooks led the team in receiving yards with 79 and caught a touchdown pass. RB Dion Lewis led the team in carries and receptions, rushing for a touchdown and adding a second score through the air.
QB Bryce Petty was 19-of-36 for 232 yards, fumbling once but his own team recovered the ball. RB Bilal Powell rushed 13 times for 46 yards and had one reception for 10 yards. TE Neal Sterling led the team with 74 receiving yards. With that, we give you our PFF-exclusive takeaways from the contest for each team.

Top 5 Grades:
DI Malcom Brown, 86.8 overall grade
CB Malcolm Butler, 84.5 overall grade
Edge Trey Flowers, 84.2 overall grade
CB Stephon Gilmore, 83.8 overall grade
QB Tom Brady, 83.8 overall grade
Performances of note:
The stat line wasn't anything special, but Brady suffered from four drops on the day and missed another touchdown when Brandin Cooks throttled down on a post route too early. Brady caps off his season as easily PFF's highest-graded quarterback.
In 30 pass routes Sunday, Gronk wasn't targeted a single time. He averaged 7.7 targets per game in his 13 other games this season, but for the first time in his professional career he was held without a catch in a game he played at least 15 snaps.
It didn't take long for Harrison to get back in the swing of things. On 13 pass-rushes, he notched two sacks and a hurry. He also had multiple other successful bull rushes. Harrison definitely still has something left in the tank.
Brown was single-handedly ruining the Jets run game all day long. He only collected two run stops, but blew up a handful of other runs that he didn't get the finish on.

Top 5 Grades:
S Jamal Adams, 89.1 overall grade
LB Demario Davis, 86.5 overall grade
CB Morris Claiborne, 82.3 overall grade
TE Neal Sterling, 81.3 overall grade
T Kelvin Beachum, 76.6 overall grade
Performances of note:
Petty did about what we've come to expect from the young quarterback. He simply doesn't have the requisite accuracy to play the quarterback position at a high level,  missing multiple wide open flat routes on the day. His adjusted completion percentage of 59.2 is last among all quarterbacks with 100 passing attempts.
A handful of the Jets offensive linemen were abused in this one, but Carpenter was the worst offender. He surrendered multiple tackles in the run game with few positives to make up for it.
One of the few silver linings to this season was Adams' play as a rookie. He collected six stops in this one and made his impact felt both against the run and pass.
Burris was picked on by Brady mercilessly on the first drive of the game. On the day, he was targeted seven times, yielding five catches for 81 yards and missed a tackle for good measure.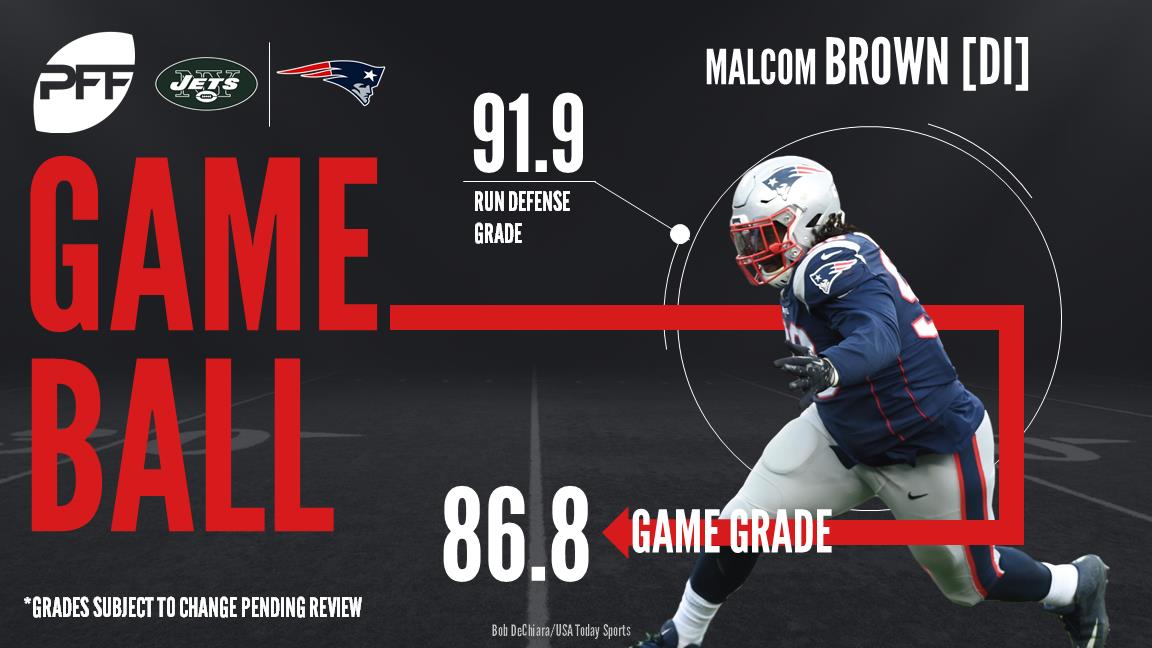 *Grades subject to change