In a wild finish in Jacksonville, the Jaguars were able to score last and win the game against the Los Angeles Chargers in overtime, 20-17 to remain tied for first place in the AFC South with the Tennessee Titans.
The Chargers seemingly had the game in hand but on their attempts to run down clock in the waning moments of the fourth quarter, rookie running back Austin Ekeler fumbled the ball on one possession and they were unable to muster a first down on their second possession with under two minutes in the fourth quarter.
On their two possessions in the final stages of the matchup, and despite an interception on his first game-tying drive attempt, Jaguars QB Blake Bortles successfully led Jacksonville to a game-tying field goal on his second drive under the two-minute warning to push the game to overtime.
In overtime, the Jaguars defense recorded their second takeaway of the contest, intercepting Chargers QB Philip Rivers on Los Angeles' first possession of the extra frame inside Chargers territory, and Jacksonville escaped with the victory after a 30-yard Josh Lambo field goal.
With that, we give you our PFF exclusive takeaways from the contest for each team.

Top 5 Grades:
Edge Calais Campbell, 91.3 overall grade
DI Marcell Dareus, 83.3 overall grade
S Barry Church, 82.7 overall grade
CB Jalen Ramsey, 82.1 overall grade
DI Malik Jackson, 81.9 overall grade
Performances of Note:
For three quarters it was going pretty well for Bortles. The team wasn't moving the ball with great consistency but he was playing good, safe football that would have looked better but for some drops. Then after a nice drive to bring the scores level, things went off the rails and Bortles, faced with needing to lead a fourth quarter comeback, let the pressure get to him. It didn't help that Joey Bosa and Melvin Ingram were collapsing the pocket, but Bortles threw two picks and was very lucky not to have a pick six. To his credit he calmed down in overtime, but it was fitting that this game was won not by a play from a quarterback, but an interception from a defense. Bortles was particularly poor when pressured, earning a 19.8 passer rating after picking up just 41 yards on 16 attempts.
This wasn't a vintage offensive display, with Hurns the top-graded Jaguars player on offense yet he only earned the 10th highest grade on the entire team. But it's easy to see why Bortles looks to him so often and it's no surprise the offense missed a tick when he came off the field. Hurns had a team best 1.56 yards per route run.
Campbell is new poster child for why you are active in free agency. Any questions about whether he could replicate the form he showed in Arizona in Jacksonville have been answered, with this being the latest in a line of dominant performances. Four hurries don't do justice to the effort of Campbell, who was a threat throughout, winning his one on one battles decisively and disrupting pretty much any run that went his way. Campbell is having the type of year that should garner All Pro chatter.
Always a fun watch, Smith is having a career year but this is not a game that he'll use to highlight his credentials as one of the best emerging linebackers in the game. His big issue came in tackling, where his four missed tackles leave him at 13 on the year, a number that needs to be corrected. Still despite these negative plays there was enough good to still walk away impressed with what he is able to do. A healthy three defensive stops (tied for the most on the team) didn't hurt either.

Top 5 Grades:
LB Jatavis Brown, 87.8 overall grade
Edge Melvin Ingram, 87.1 overall grade
RB Austin Ekeler, 85.1 overall grade
S Tre Boston, 84.9 overall grade
DI Darius Philon, 84.1 overall grade
Performances of Note:
Against a Jaguars defense that pressured him on 15 of his 37 dropbacks, Rivers was efficient until it came to challenging them deep. That's where things unraveled for the Chargers offense, though it can't all be blamed on their quarterback. Late in the second quarter he saw a picture perfect deep bomb dropped and while that would have made his zero-of-six on passes over 20 yards look better, it wouldn't have saved it from scrutiny. Rivers' 26.5 percent adjusted completion on deep balls on the year is the lowest of all quarterbacks with at least 30 attempts deep.
How do you rob yourself of the PFF Game Ball? Fumble when you're team is trying to run out the clock. It was a horrible end to Ekelers day after the team showed their faith in him by riding his hot hand. He was getting yards that Melvin Gordon wasn't seeing and it's a testament to his impact that he still graded out so well even with the fumble. His biggest impact came as a receiver, where he managed to break six tackles on his way to five receptions and two touchdowns. It was a major effort for a guy who had 66 career snaps before today.
There's no doubting Joey Bosa is a phenomenal player, but in the midst of focusing on his excellent it's sometimes easy to overlook Ingram. Starting the game off hot, Ingram was able to work over both tackles and end the day with a hit and seven hurries while adding two stops in the run game. Having arguably the best year of his career, Ingram is now up to 52 combined sacks, hits and hurries on the year. His current best tally of 72 (2016) looks sure to fall.
The Jaguars challenged the Chargers underneath coverage and that meant eight targets went the way of Brown. Was he up to the challenge? You bet he was. Those eight targets went for just 27 yards on five receptions while the former Akron Zip was able to break up one of those passes himself. Brown has seen his playing time reduced in recent weeks but logged 52 snaps today, his highest tally since Week 4.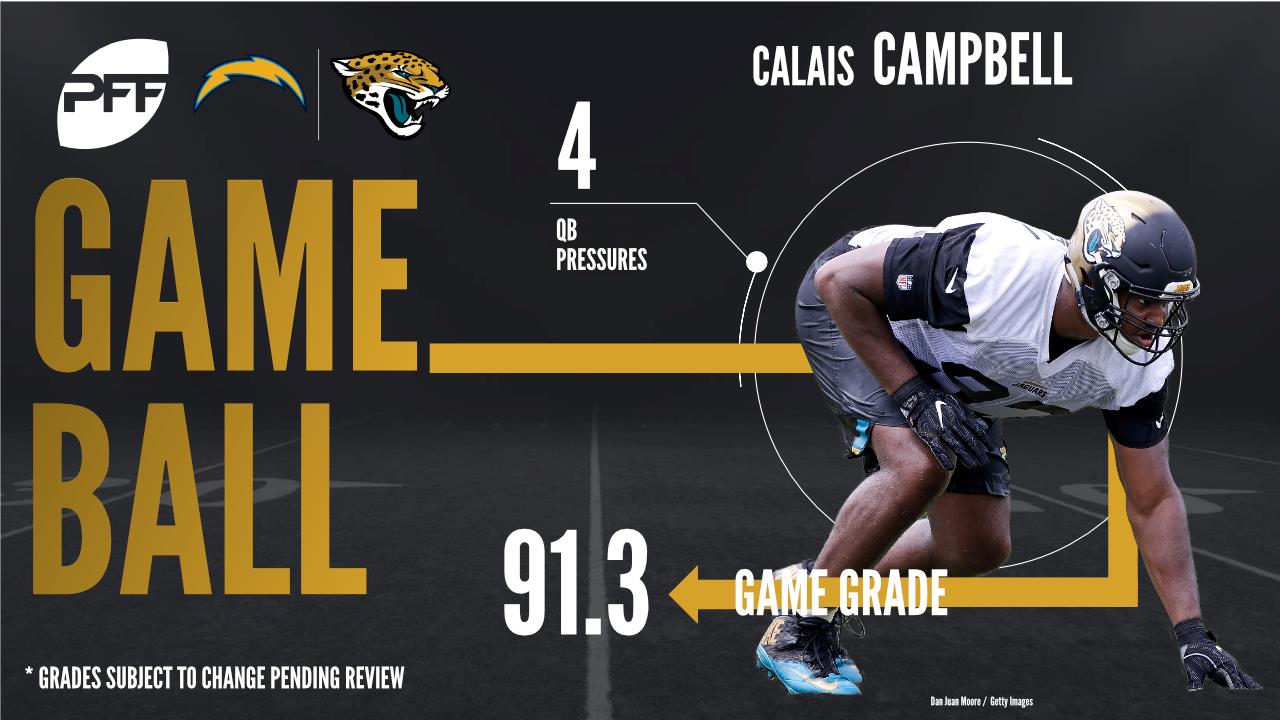 *Grades are subject to change upon review