On the first "official" day of free agency, the Oakland Raiders added to their new look wide receiving corps by signing wideout Tyrell Williams. Williams, who spent his first four seasons as a member of the division-rival Los Angeles Chargers, joins Antonio Brown as the team's new offensive weapons. After shipping off former fourth-overall pick Amari Cooper in middle of the 2018 season, Jon Gruden and company have officially replenished their pass catchers in the hope of sparking an offense that ranked 26th in team grading last season. While the aforementioned Brown acquisition is getting most of the attention, Williams was one of the top wide receivers available in free agency and provides the Raiders with another solid pass-catching threat down the field.
Williams has never been regarded as a "number one" receiver, but he's been one of Philip Rivers' top targets over the last three seasons. Not counting his rookie year where he was only targeted six times, Williams' overall grades since 2016(75.6, 62.0, and 65.9) aren't particularly strong but he has shown the ability to gain big chunks of yards down the field. Williams has averaged 15.0+ yards per reception since 2016 and ranked no worse than 15th among qualifying receivers in that category each of the last three seasons. His ability to come down with the deep ball is apparent as Williams has finished in the top 20 of deep receiving yardage over that same time span. This should make an immediate impact for the Raiders, as his 348 receiving yards from deep targets last season would've led the team by a wide margin. Williams' downfield success should also benefit his new quarterback, Derek Carr. Despite finishing with the fifth-highest accuracy percentage on deep targets in 2018, Carr was only able to yield the 17th most deep passing yards of all quarterbacks.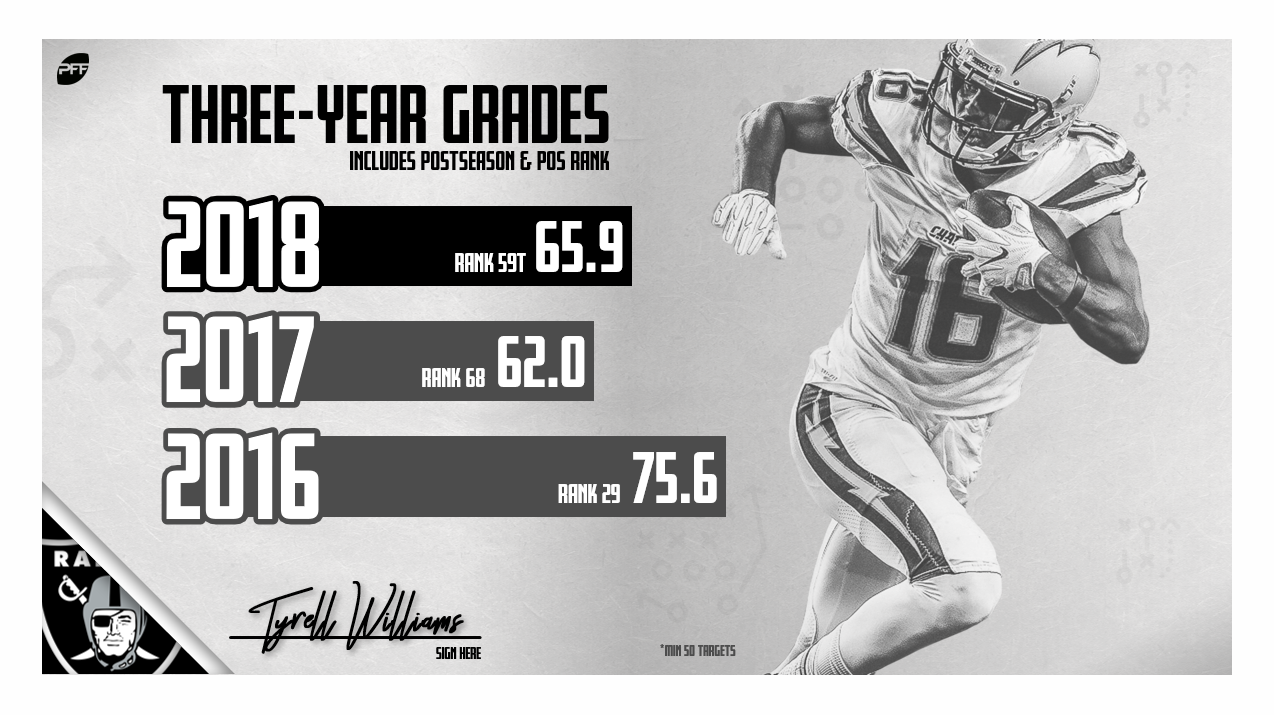 Williams' highest-graded season came in 2016 where posted an overall grade of 75.6. Statistically, this was his most productive year as he had 69 receptions for 1,059 yards and seven touchdowns. However, despite the yardage and touchdown numbers, Williams was boom or bust on passes thrown his way as a league-high nine targets directed towards him were intercepted. Williams also finished with the fourth most dropped passes in the league which resulted in a career-low 80.9 passer rating when targeted. Since then, Williams has been a steady option while not seeing a whole lot of volume. Despite only 68 targets, 2017 was his most efficient year, where he averaged 16.9 yards per reception and finished with a 106.7 passer rating when targeted. In 2018, Williams saw a similar amount of targets(74) but also regressed in yards per reception(15.8) and passer rating when targeted(93.1). 
The Raiders have been nothing short of aggressive in adding to their offensive arsenal this offseason and as a result, expectations should go through the roof for unit that struggled just a season ago. Williams will provide Carr with another downfield option and should see plenty of targets given the amount of attention his fellow wideout will garner.