Beyond providing data for all 32 NFL teams, PFF also supports network broadcasters with game-preview packets that are used to enhance the in-game experience for fans and viewers. This Bengals-Falcons preview features the same information our broadcast partners use for team research and in-game production.


Matt Ryan: Accurate downfield
Matt Ryan has been exceptional when throwing downfield this season, giving this Falcons an explosive element that makes this offense menacing. The Falcons quarterback has accumulated two touchdowns and 332 deep passing yards from his passes of 20 or more yards downfield this season, which is second-most among quarterbacks.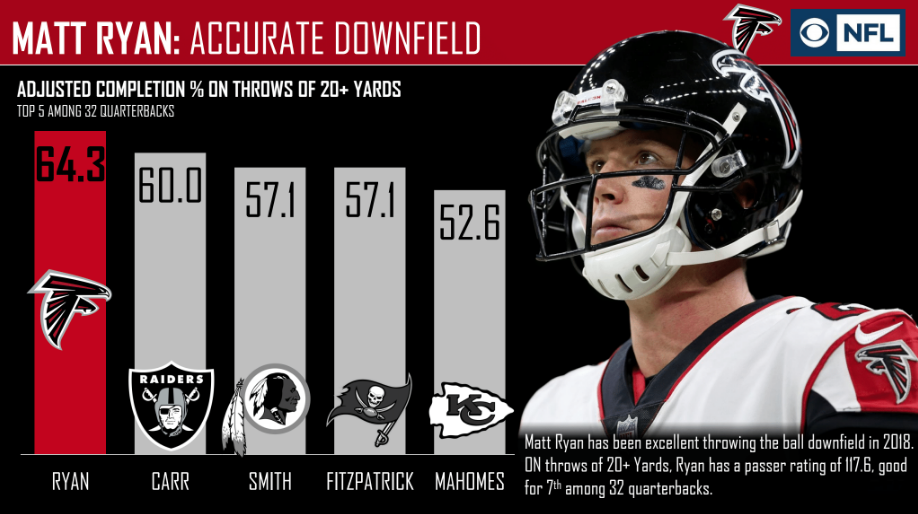 Jones Going Deep
Julio Jones has been the Yin to Matt Ryan's Yang when it comes to the deep passing game. Jones has already recorded 179 deep yards, which ranks second among receivers. A surprising 29% of his targets have gone 20 yards or more, and he's demonstrated incredible ability to make his opportunities count, catching 55.6% of his deep targets which ranks sixth among his positional peers.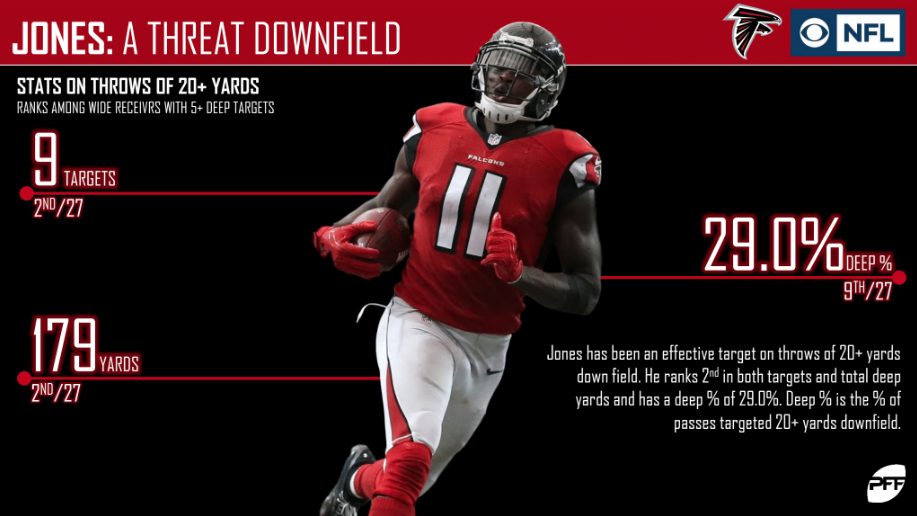 Falcons forcing incompletions
The Falcons defense has shown their teeth so far this season, letting opposing defenses know that completing passes won't be easy. The Falcons defensive unit has forced 17 incompletions through three weeks, the second-most among defenses.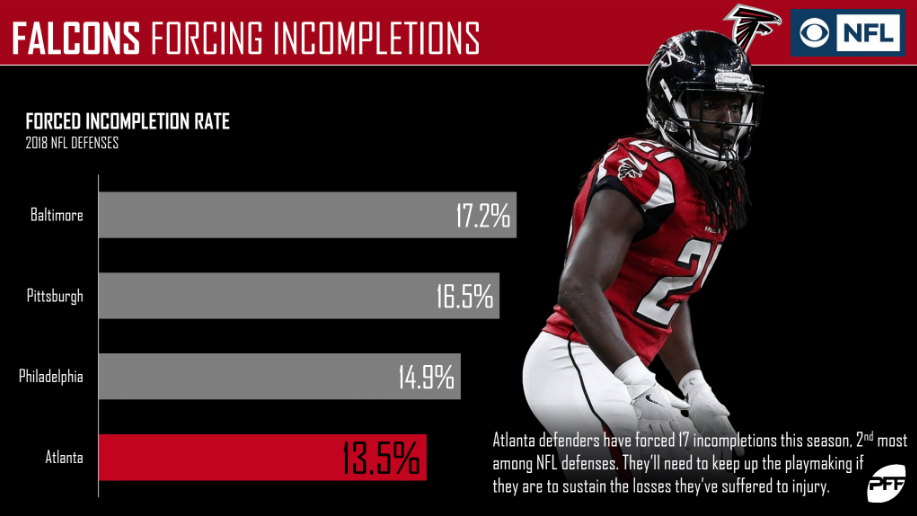 Jarrett wreaking havoc
Grady Jarrett established himself as one of the premier interior defenders last season and has done little to slow down this year. Through three games, Jarrett has racked up an impressive 23 impact plays, which is the third-most among interior defensive linemen.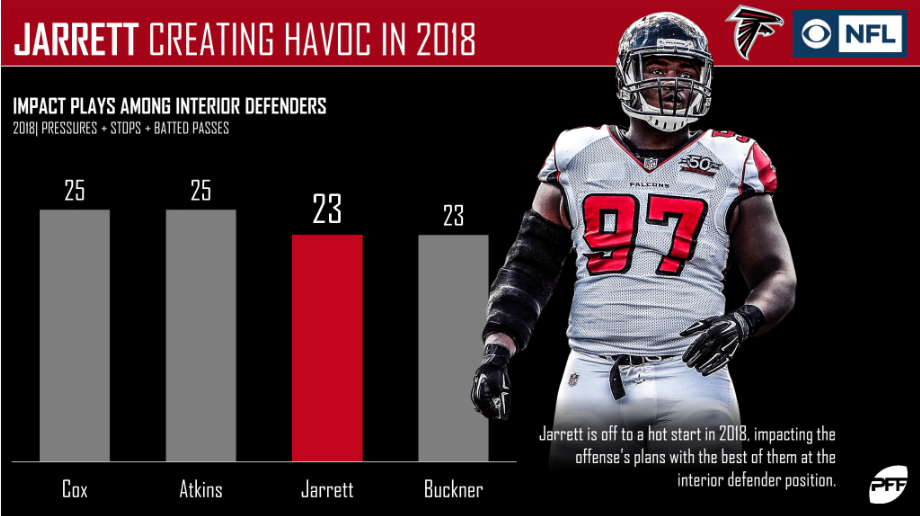 Dalton dialing up play action
Andy Dalton seems more comfortable and efficient when using play action. On play action passes, Dalton currently ranks in the top-10 in completion percentage and is tied for fifth in yards per attempt when utilizing play action.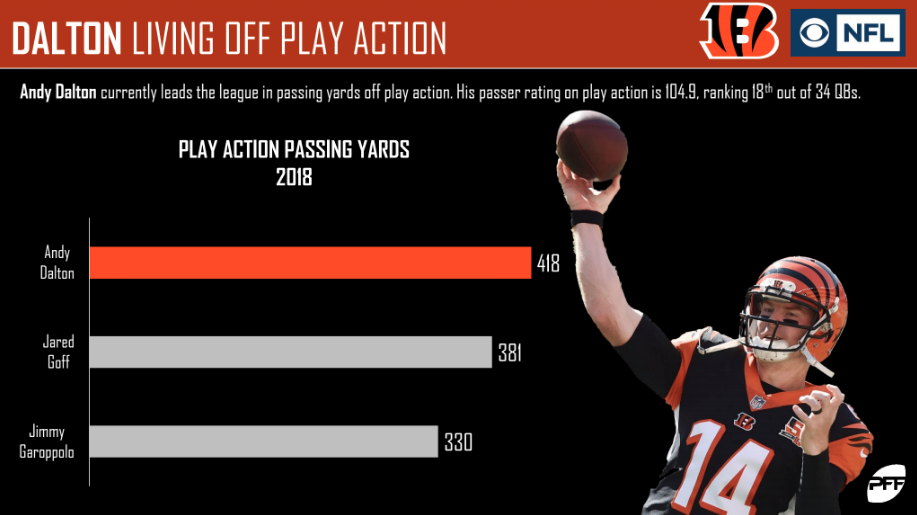 Green + Slot = Jackpot
Putting A.J. Green in a position to succeed has been an emphasis this season, which is demonstrated through his increased slot usage. In 2017, Green took 13.9% of his snaps from the slot compared to 24.5% this season. The results have been exceptional, as Green's 127 yards from the slot rank 10th and his four touchdowns is the highest mark among receivers.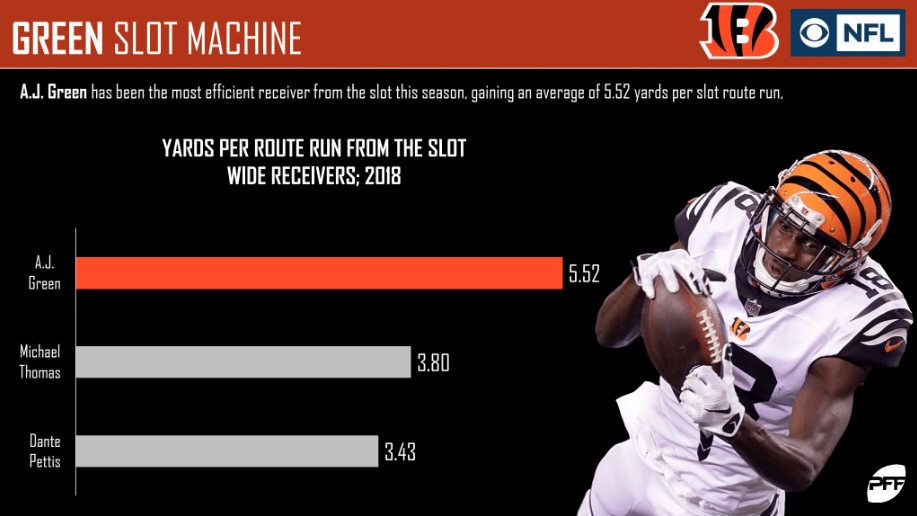 Atkins Interior Force
Geno Atkins continues to be a dominant force for the Bengals' defensive line. His pass-rushing productivity for this season is 10.4, which is the second-highest mark for interior defenders to go along with his 19 pressures, which ranks first.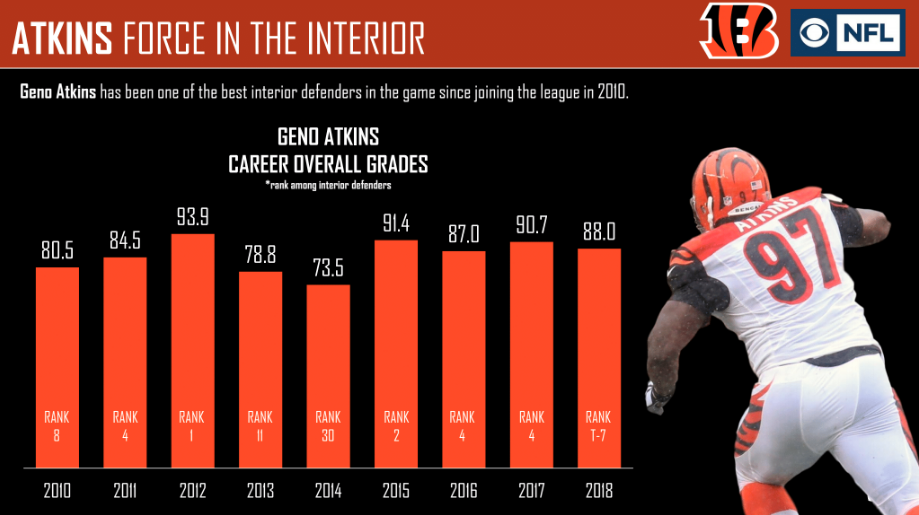 Bates: Promising young talent
When the Bengals released George Iloka, it signaled their confidence in rookie Jessie Bates. Bates has delivered so far this season, ranking eighth among all safeties in overall grade and being one of only 20 defenders to record 15 tackles without missing one. He has been solid in coverage as well, allowing three receptions on three targets for just two yards and one interception.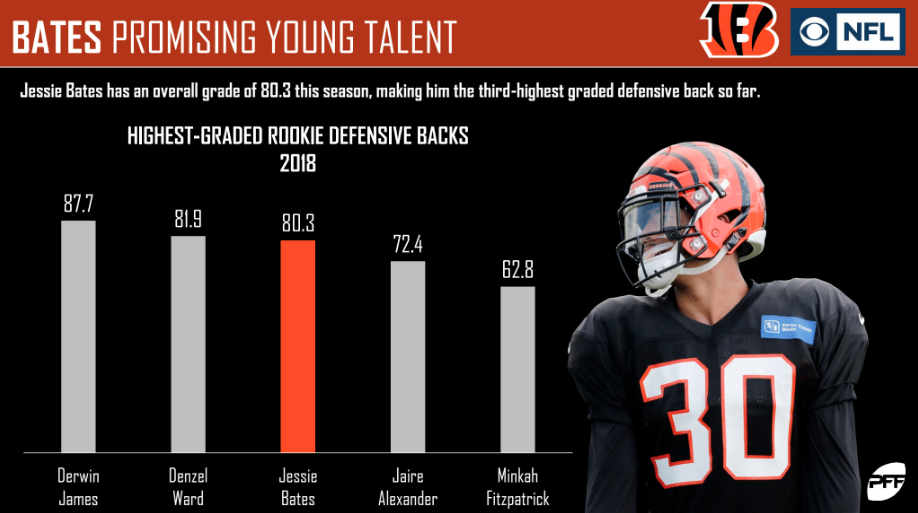 Key matchup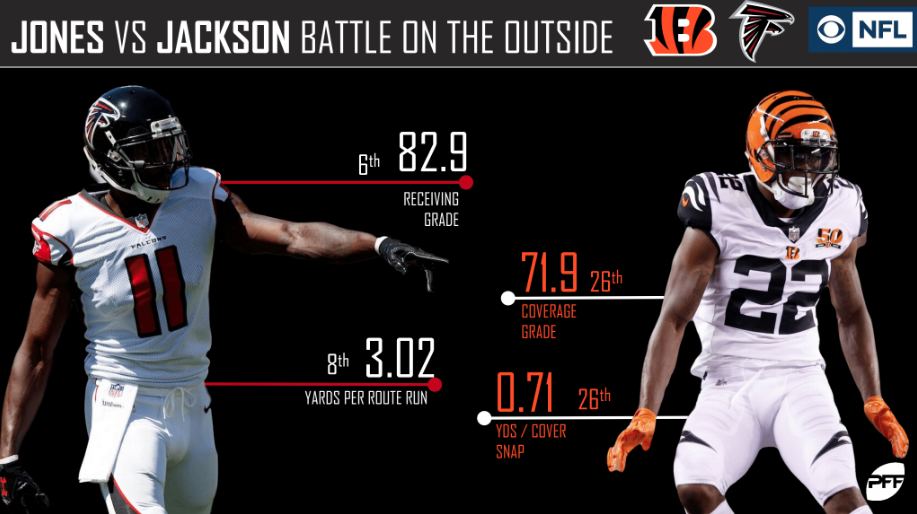 PFF Greenline has projections for the spread, moneyline and over/under of the Cincinnati Bengals' matchup with the Atlanta Falcons. Get its picks here.