Every week at PFF we will give you a grade and statistical update on all NFL quarterbacks. Each image contains a number of traditional and advanced stats, including, of course, overall PFF grade which can be found as part of a PFF Edge subscription. Early in the season, sample sizes are small and numbers can vary greatly, so for that reason, the quarterbacks are organized by division for the first few weeks. Full quarterback rankings through Week 4 can be found as part of PFF Edge.
AFC East
Buffalo Bills – QB Tyrod Taylor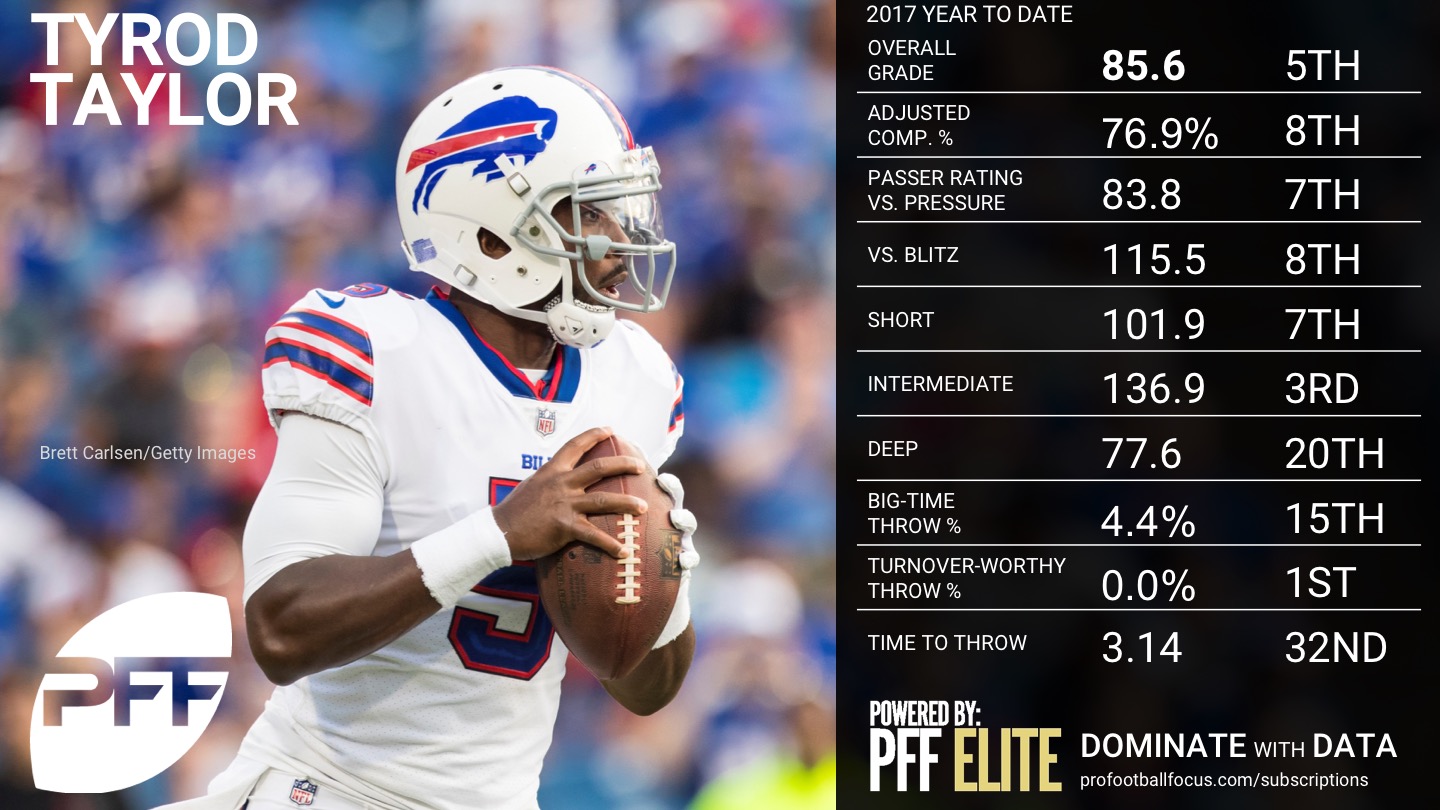 The Bills and Taylor continue to play smart football offensively, committing to run the ball and play to Taylor's strengths. Taylor only attempted 20 passes last week, but made good decisions finding completions throughout the game both in quick game and off of play action. Forty percent of Taylor's dropbacks were off of play action against the Falcons finding completions at 14.0 yards per attempt. One of them, finding his second option Jordan Matthews in the end zone on a perfectly placed touch throw over Desmond Trufant trying to undercut the route. The Bills play action game from the pocket and on designed boots has been highly efficient all season, with Taylor holding the second best completion percentage (78.6%) and the second best passer rating (149.9) on such plays. Taylor is the only quarterback in the NFL without a turnover-worthy throw through four games.
Miami Dolphins – QB Jay Cutler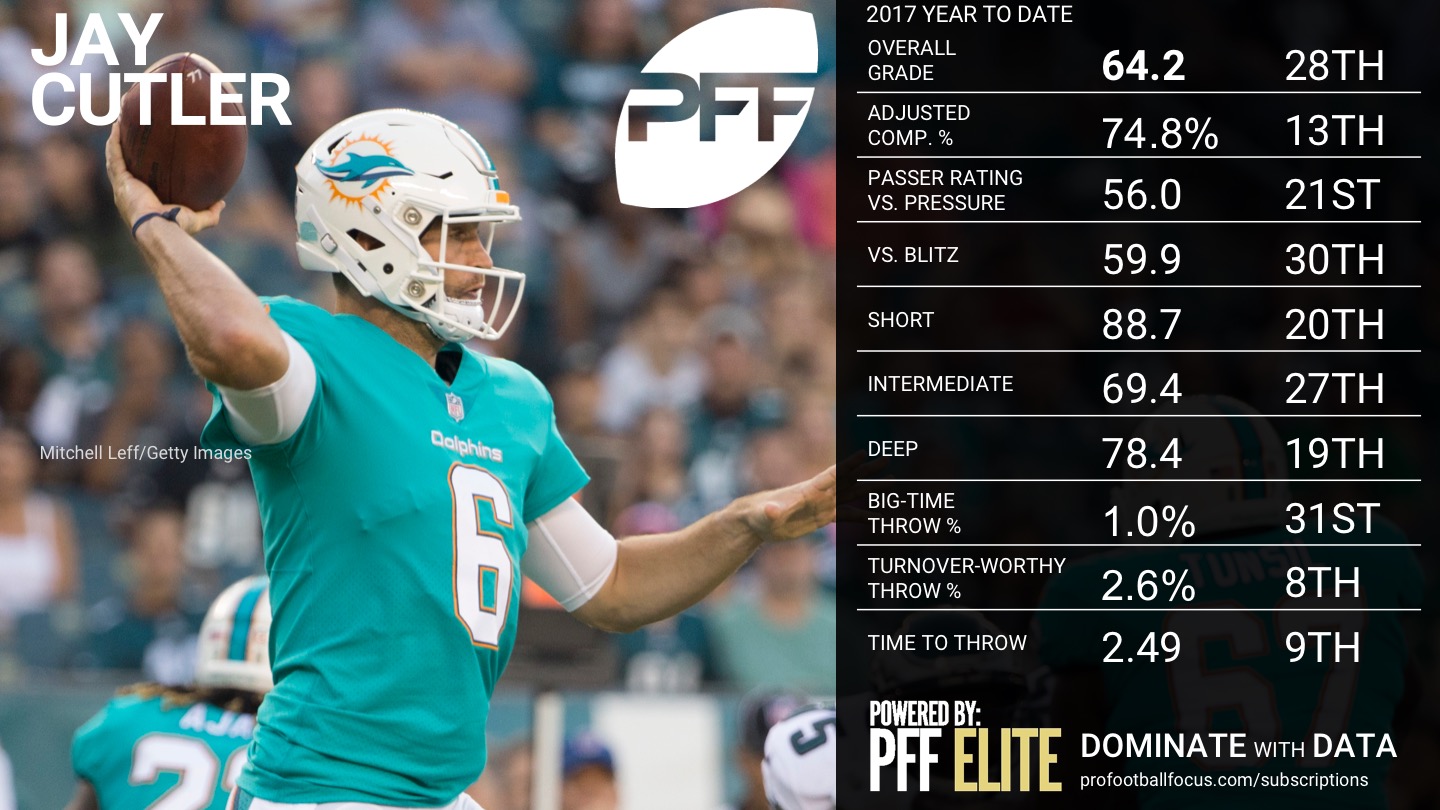 New York Jets – QB Josh McCown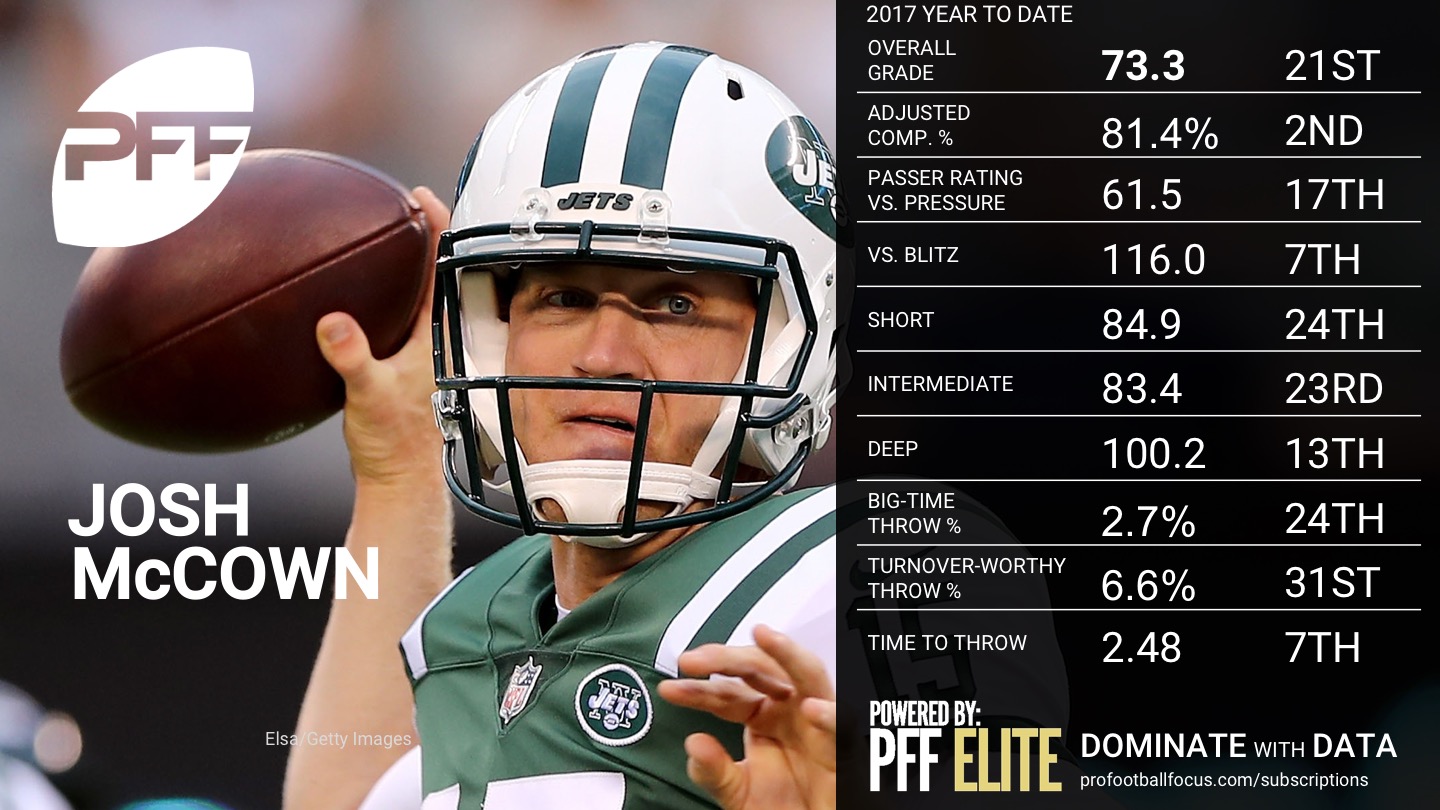 New England Patriots – QB Tom Brady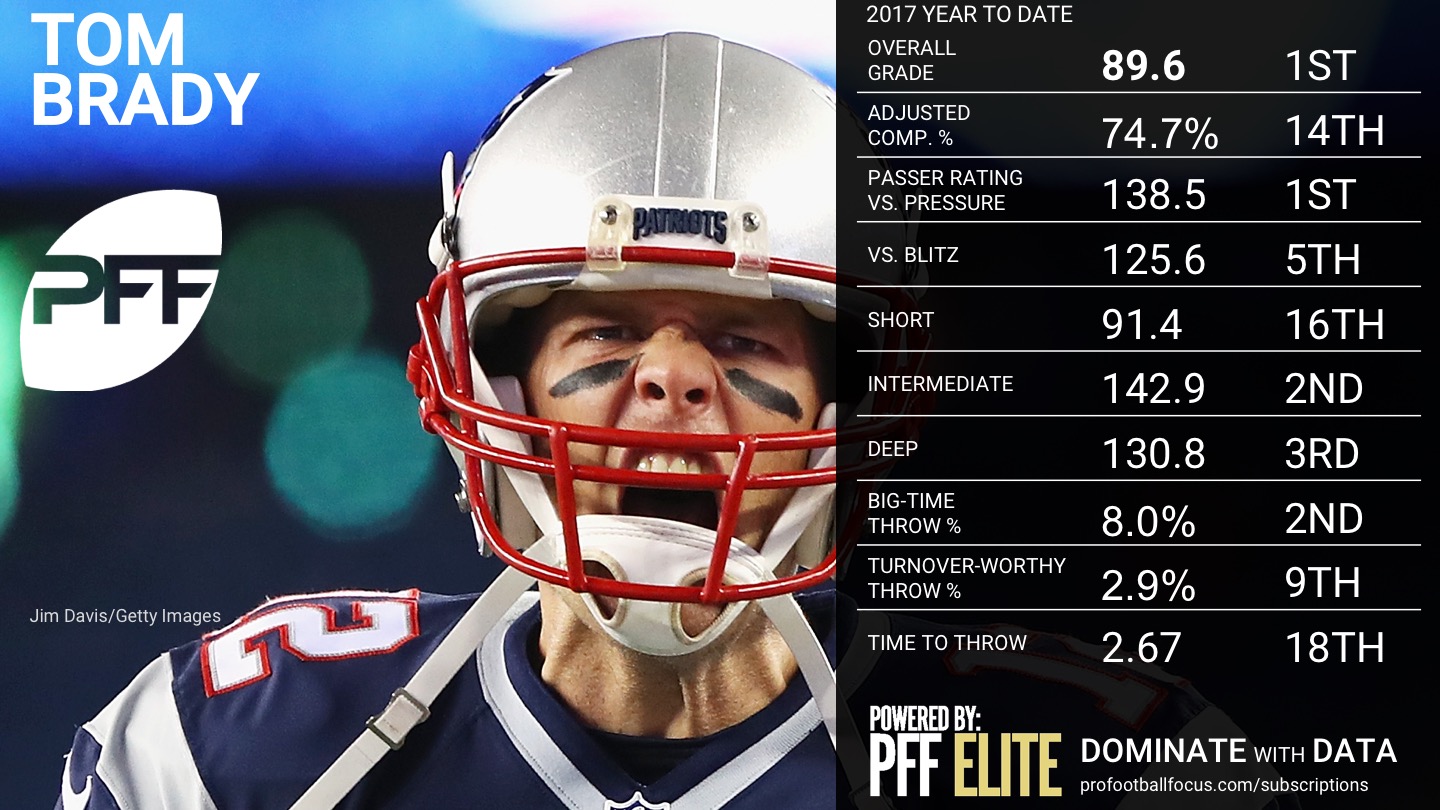 AFC North
Cincinnati Bengals – QB Andy Dalton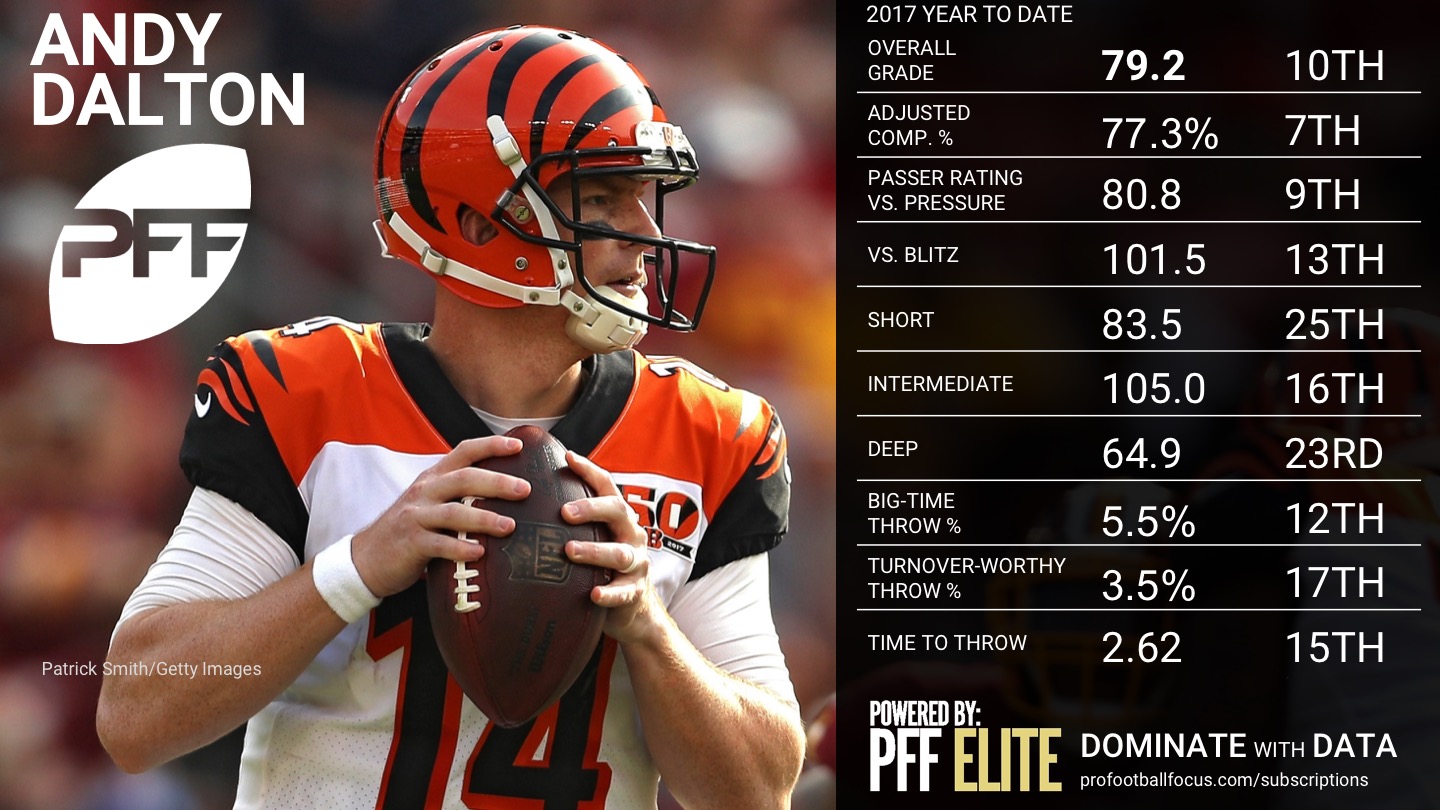 Cleveland Browns – QB DeShone Kizer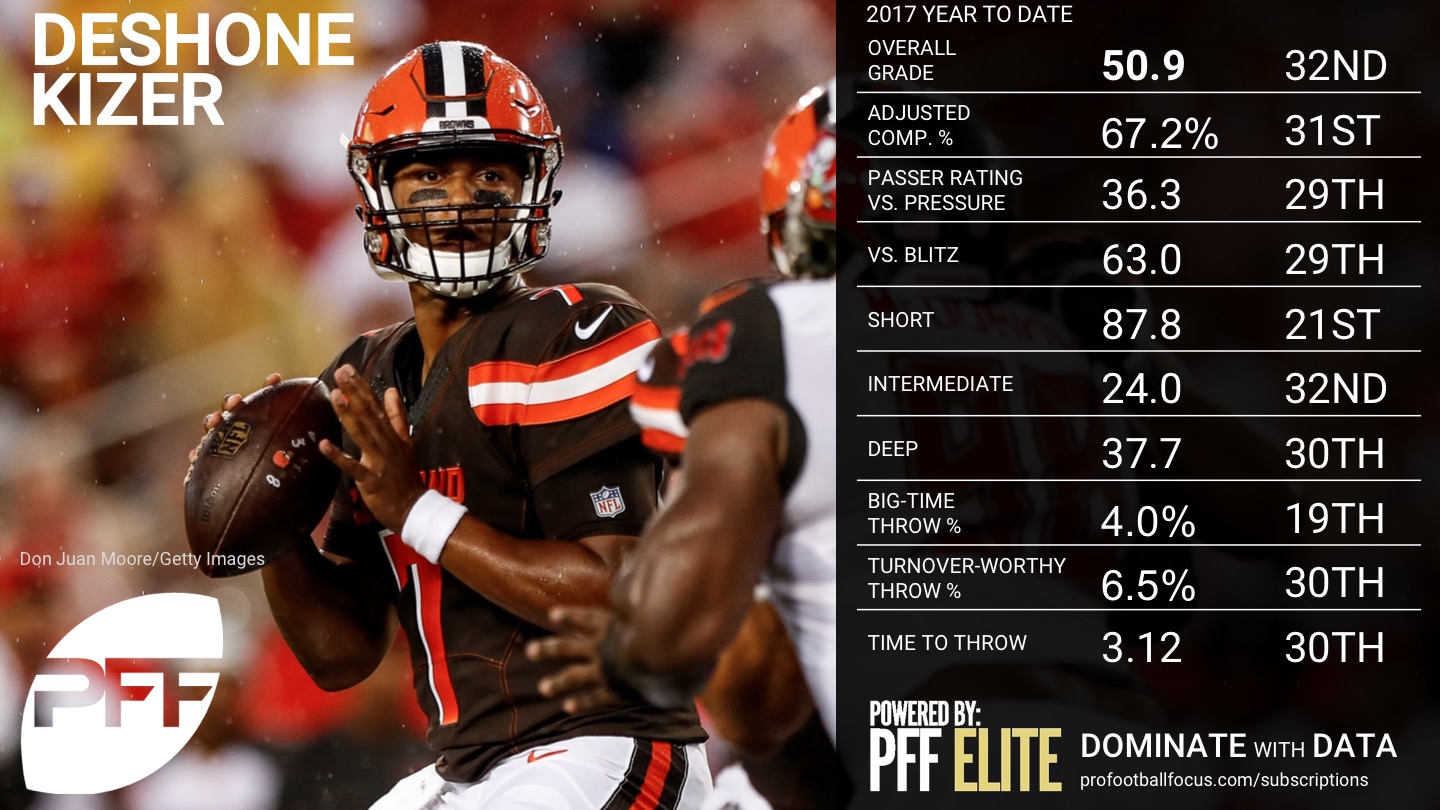 Baltimore Ravens – QB Joe Flacco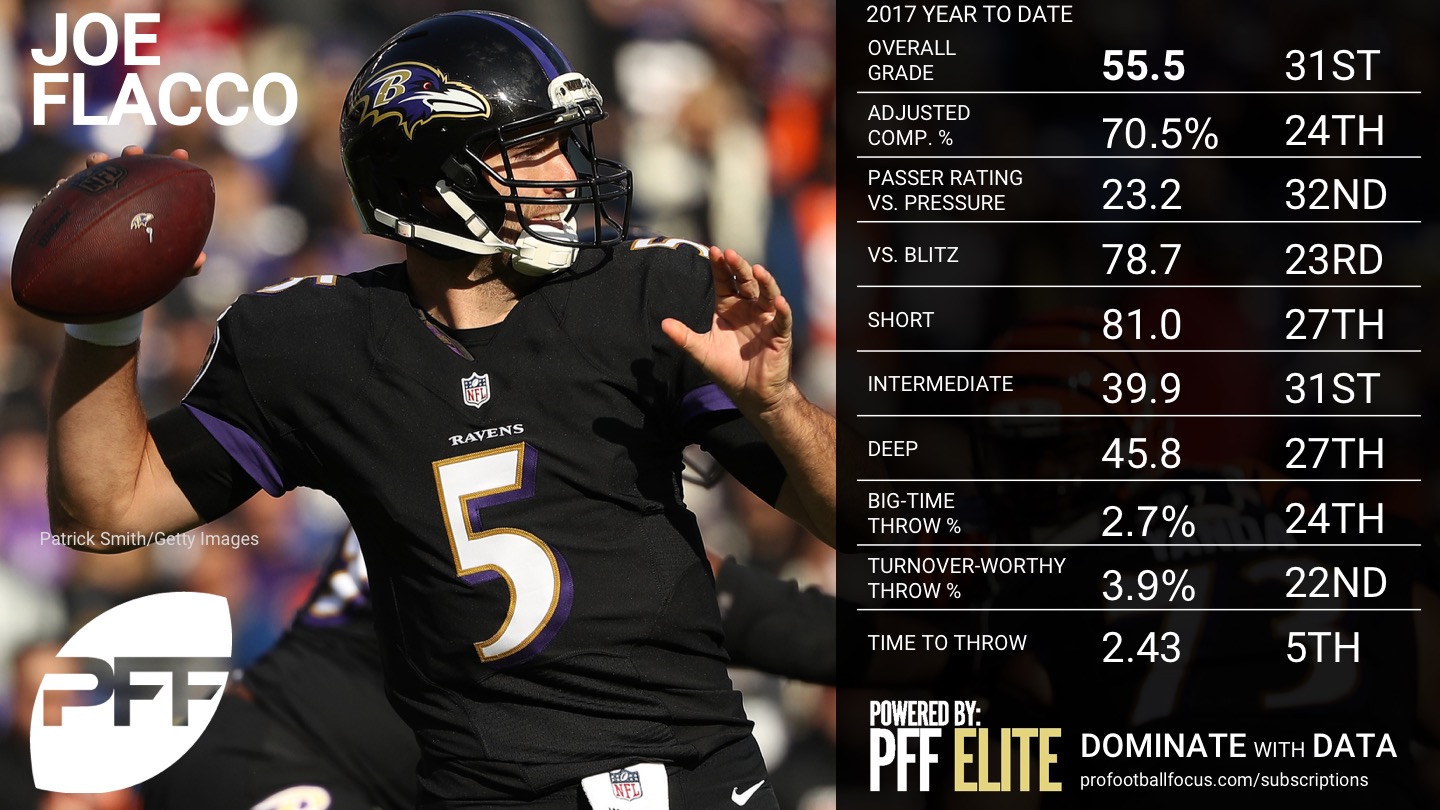 Pittsburgh Steelers – QB Ben Roethlisberger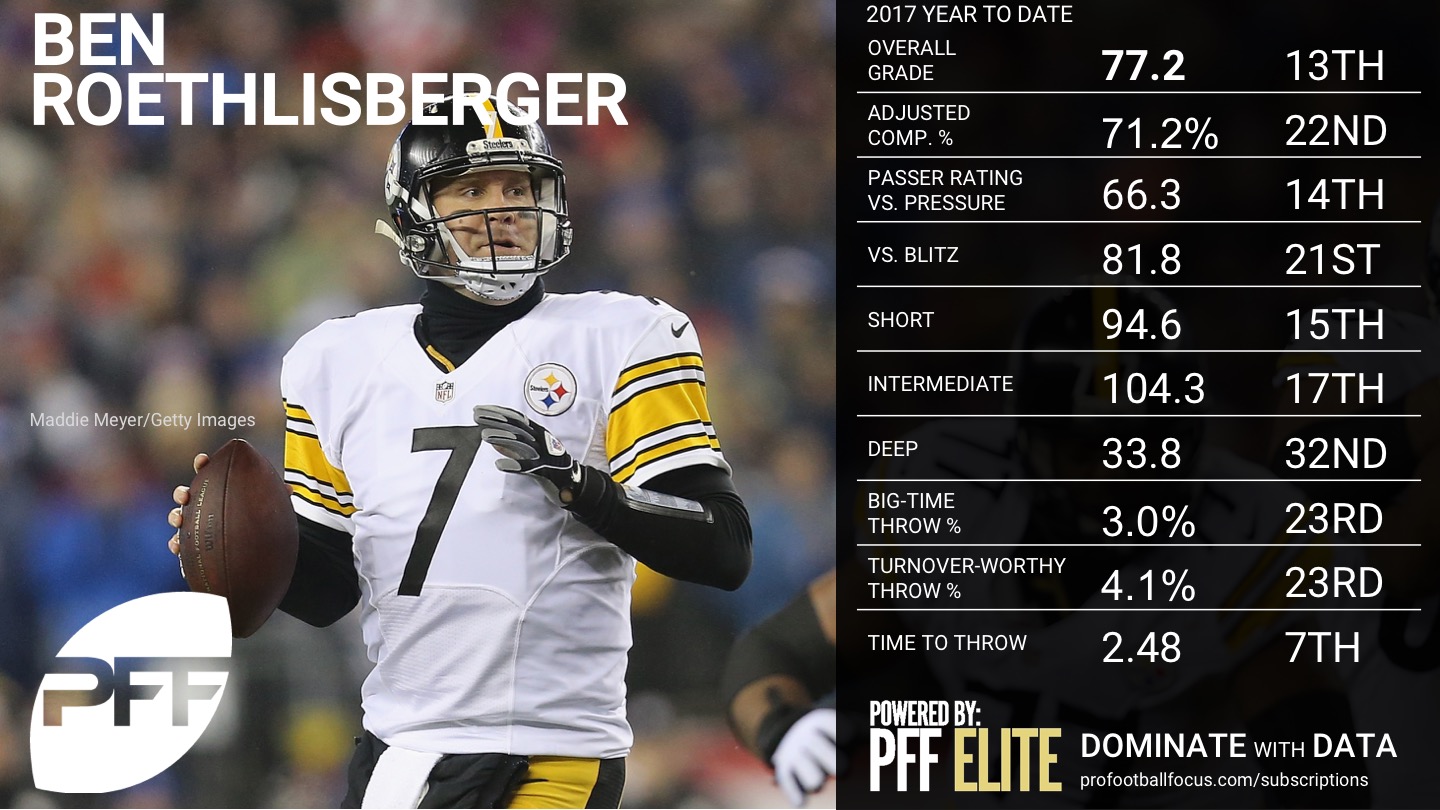 AFC South
Indianapolis Colts – QB Jacoby Brissett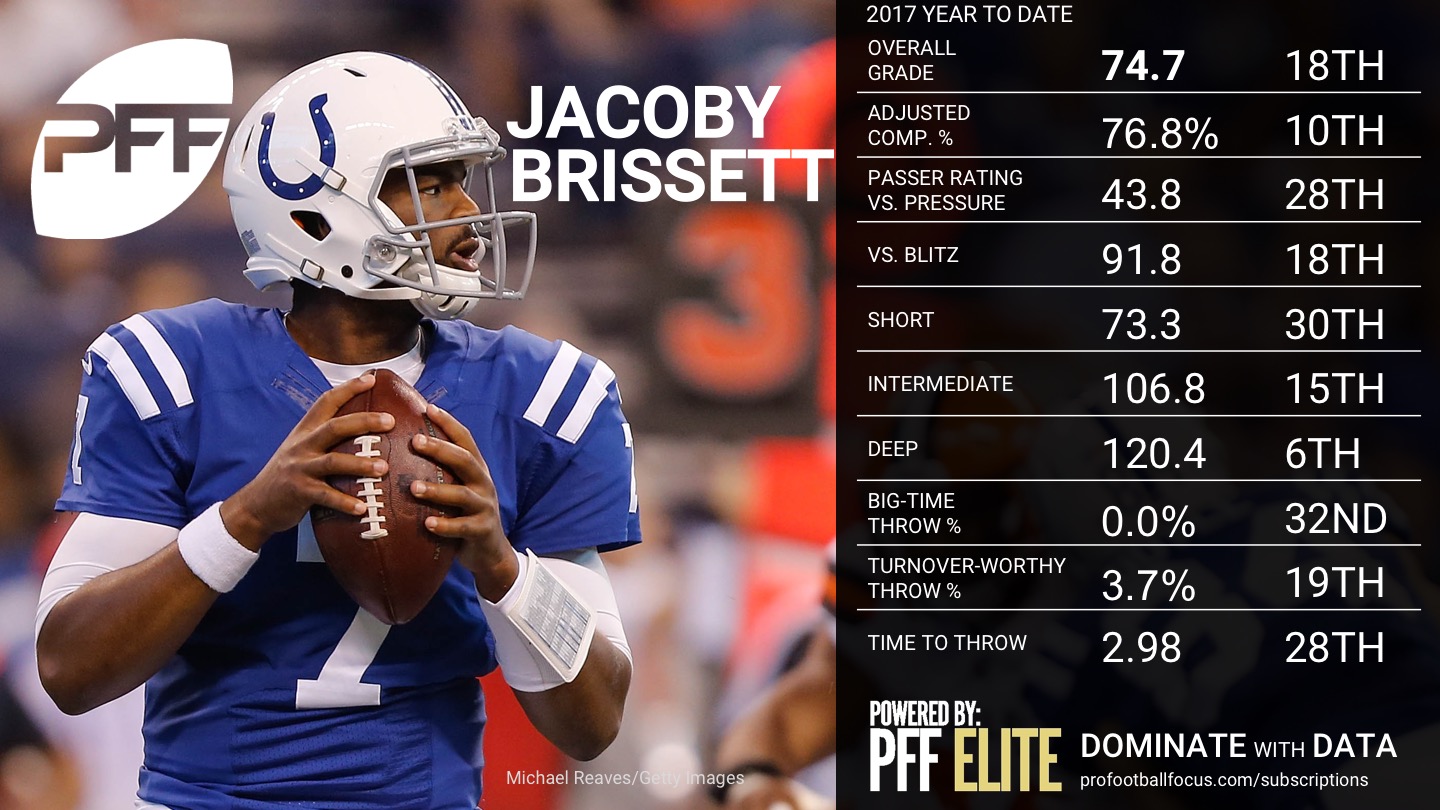 Jacksonville Jaguars – QB Blake Bortles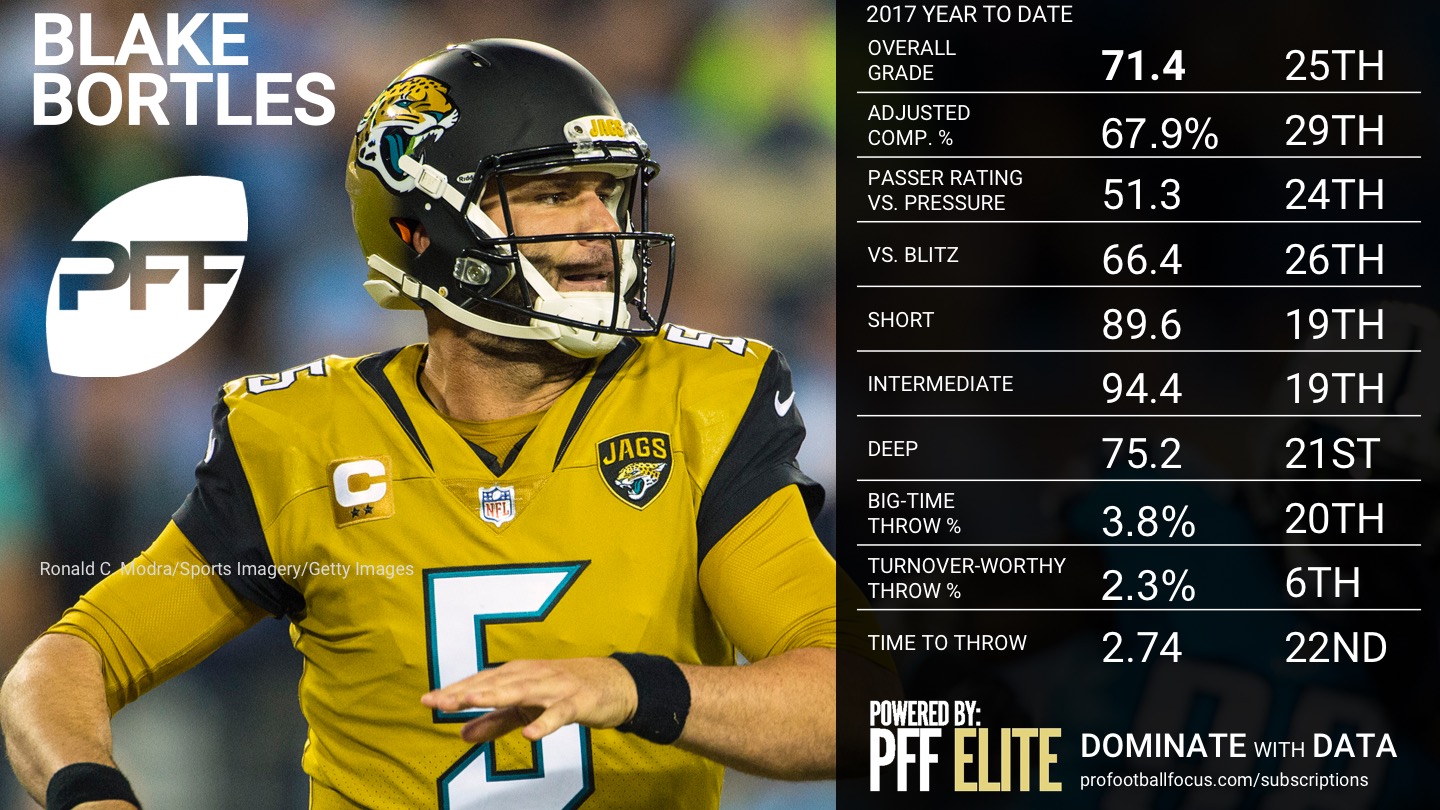 Houston Texans – QB Deshaun Watson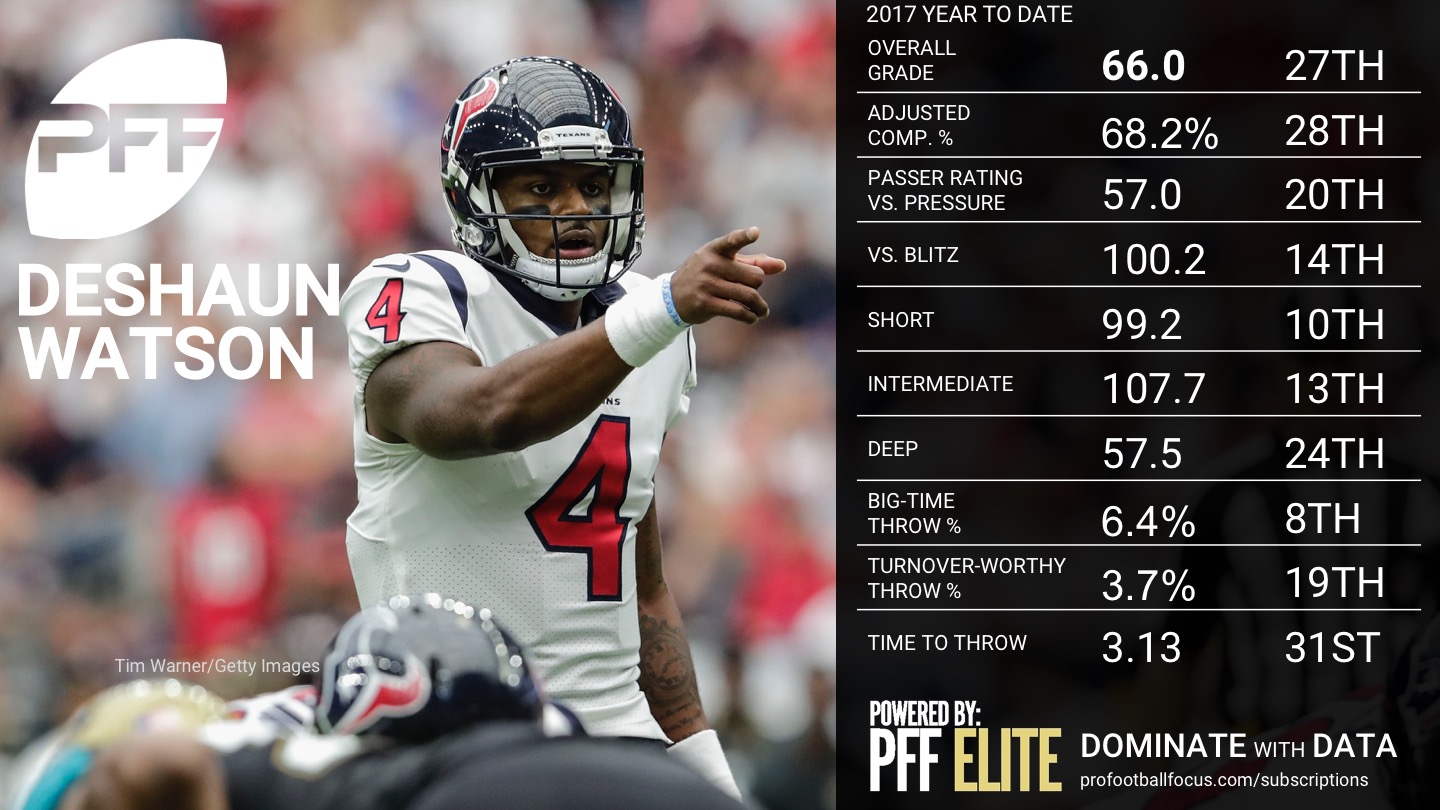 Watson played by far his best game of his young career, looking comfortable with what he was seeing and throwing the ball accurately throughout the game in a route vs the Titans. He got off to a quick start with his first throw, sliding away from pressure and ripping a seam to Bruce Ellington for a big gain. The Texans' success running the football allowed for a lot of single high defense where Watson made a number of accurate timing throws outside the numbers. Watson's best play came in the red zone in the third quarter, where he faced an all out cover-0 blitz and hit Will Fuller on a back shoulder throw for a TD. Watson gets a big test this week on SNF vs the Chiefs.
Tennessee Titans – QB Marcus Mariota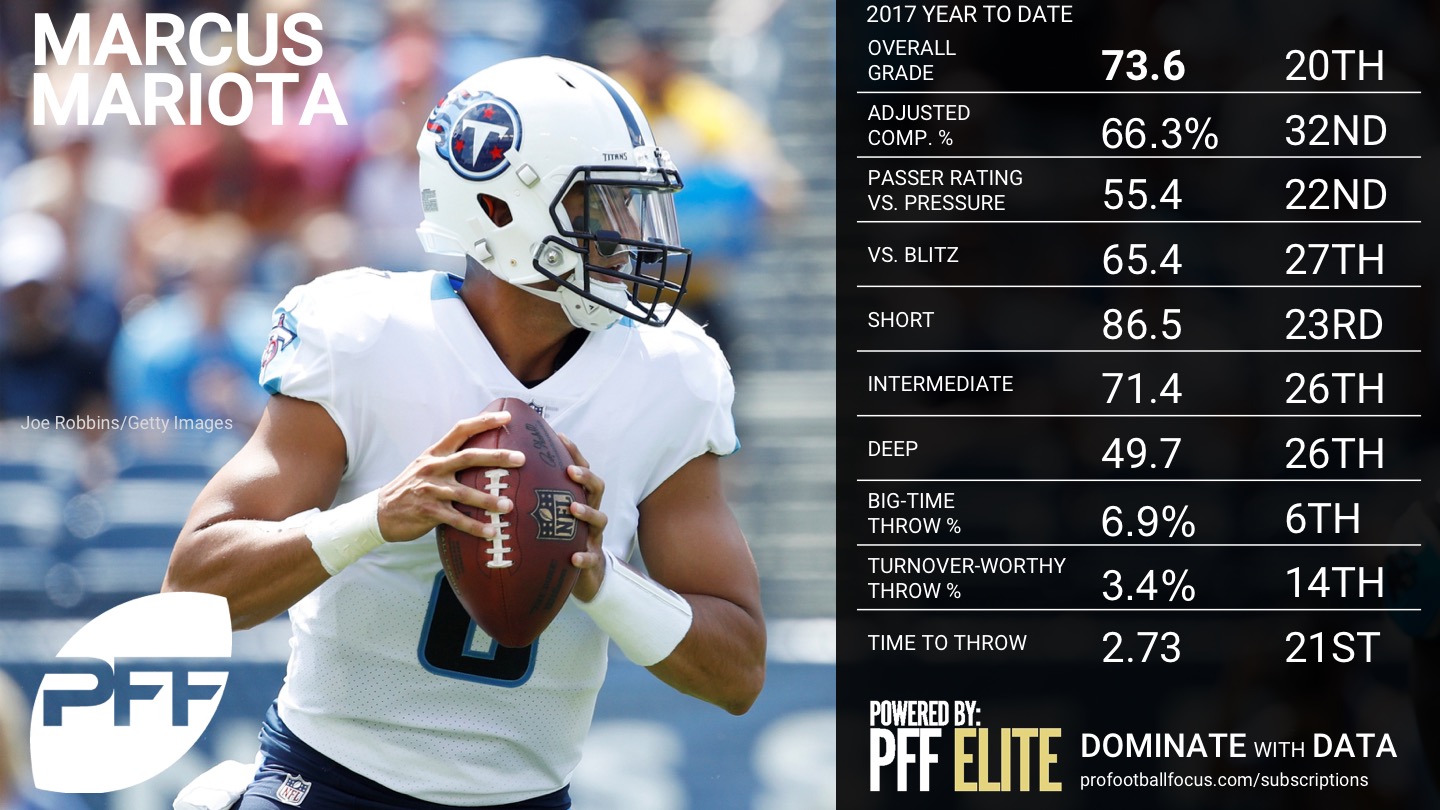 AFC West
Denver Broncos – QB Trevor Siemian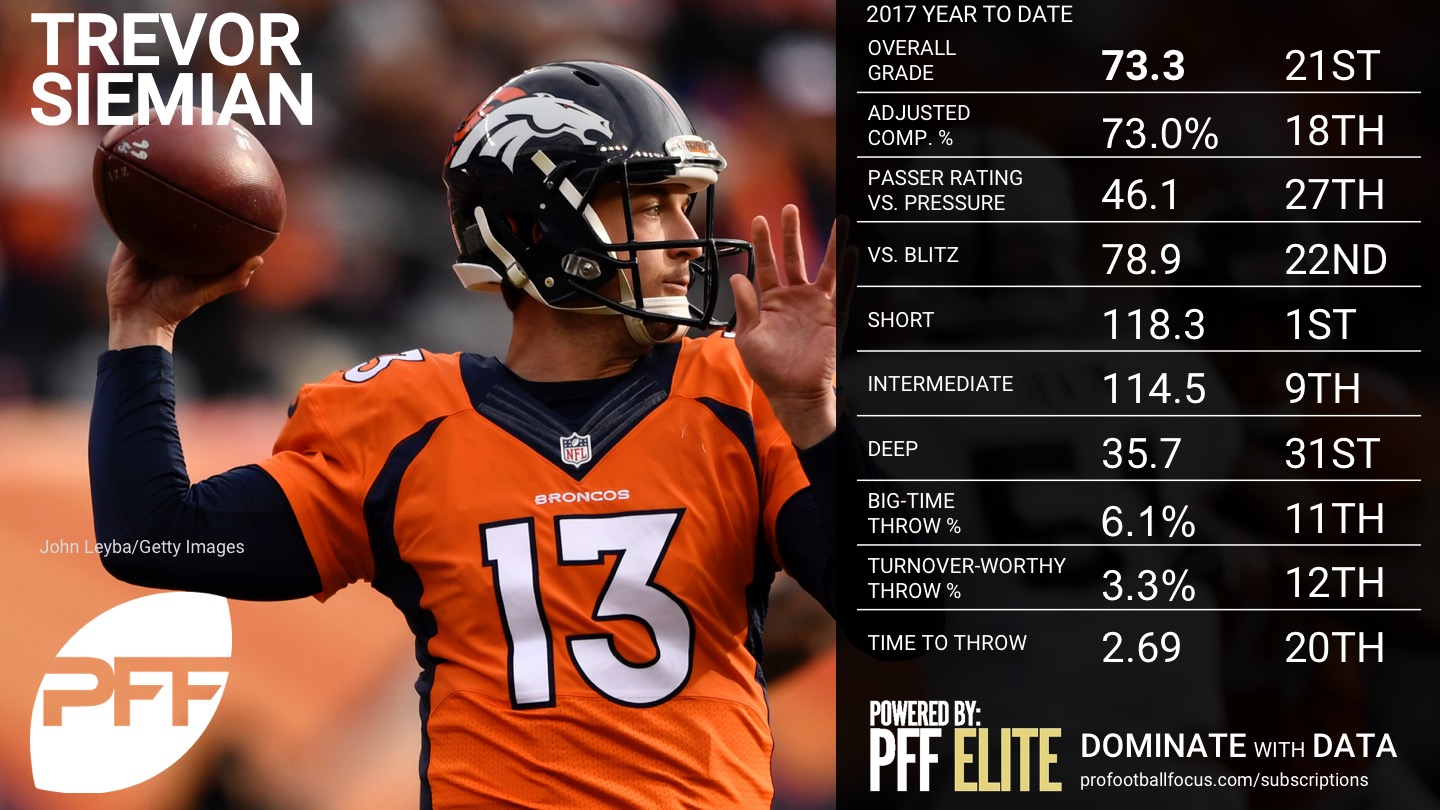 Los Angeles Chargers – QB Philip Rivers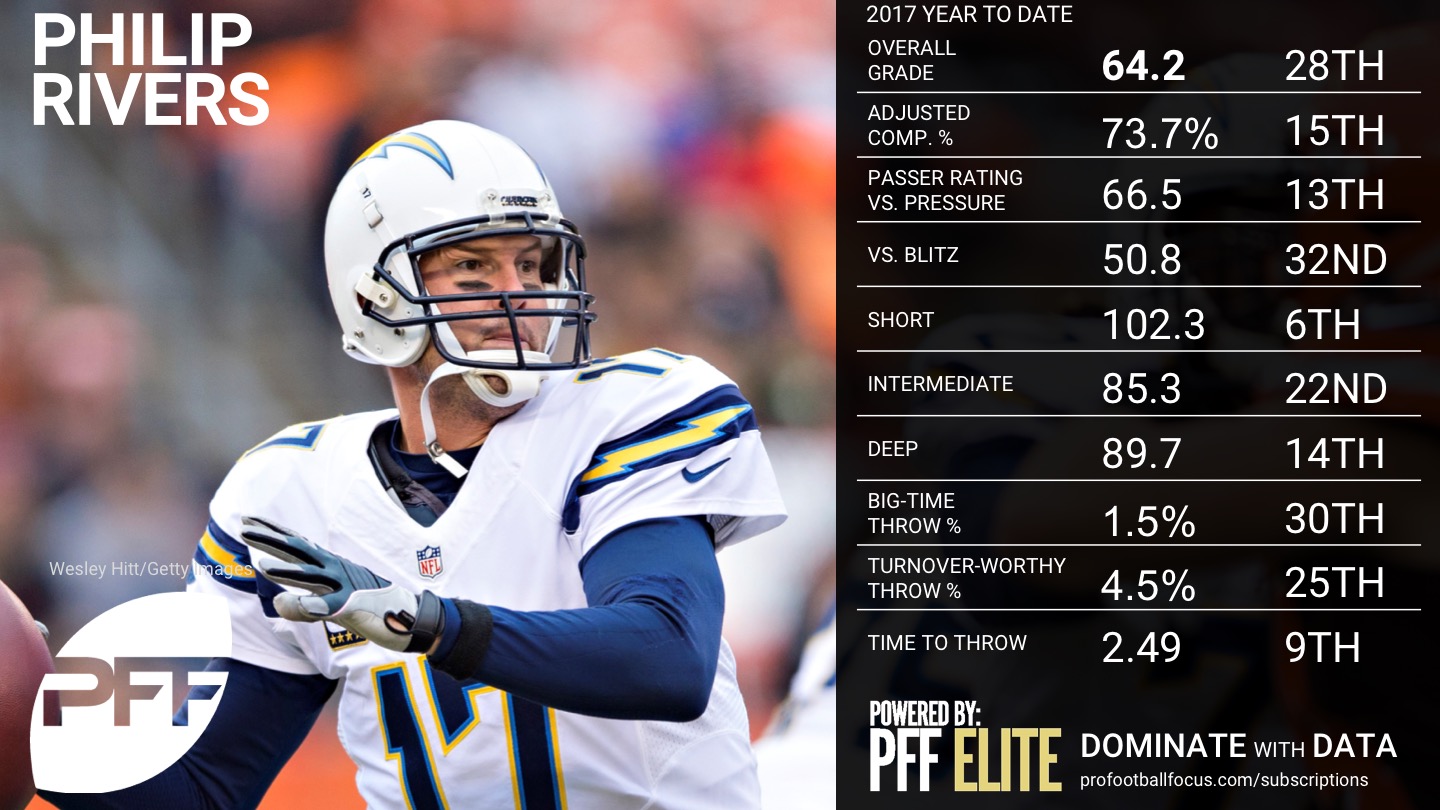 Kansas City Chiefs – QB Alex Smith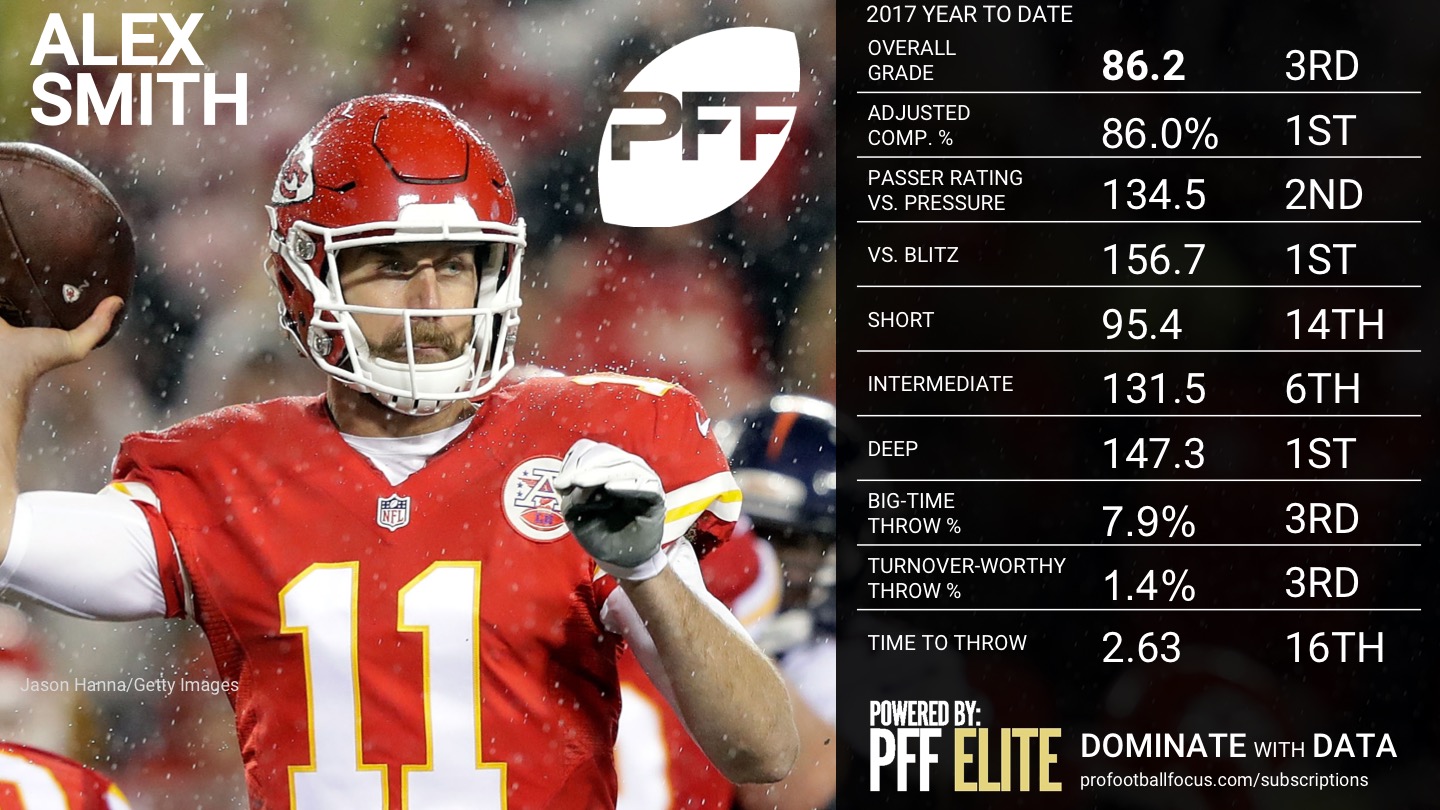 An Alex Smith that can make plays down the field is a dangerous player for opposing defenses and the blend of a creative offense and breakout performance from RB Kareem Hunt has the Chiefs' offense rolling. Smith has now connected on 9-of-14 deep (20-plus yard) passes for 376 yards (second in the NFL). Perhaps most impressive is his work under pressure where Smith has an adjusted completion percentage of 95.0 percent that leads the NFL. On top of the more aggressive play, Smith has still taken good care of the ball as he has only two turnover-worthy plays on the season (zero actual interceptions).
Oakland Raiders – QB Derek Carr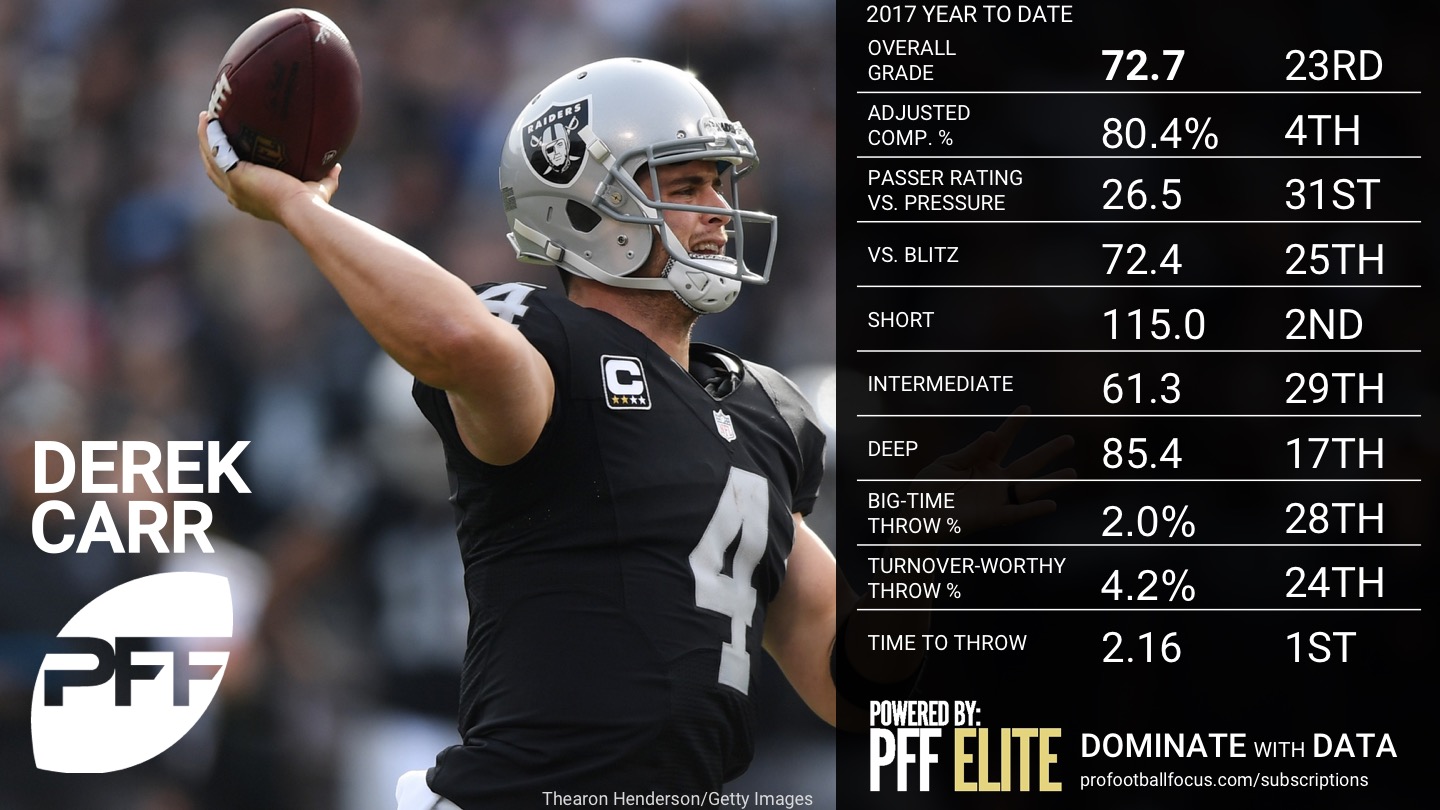 NFC East
Dallas Cowboys – QB Dak Prescott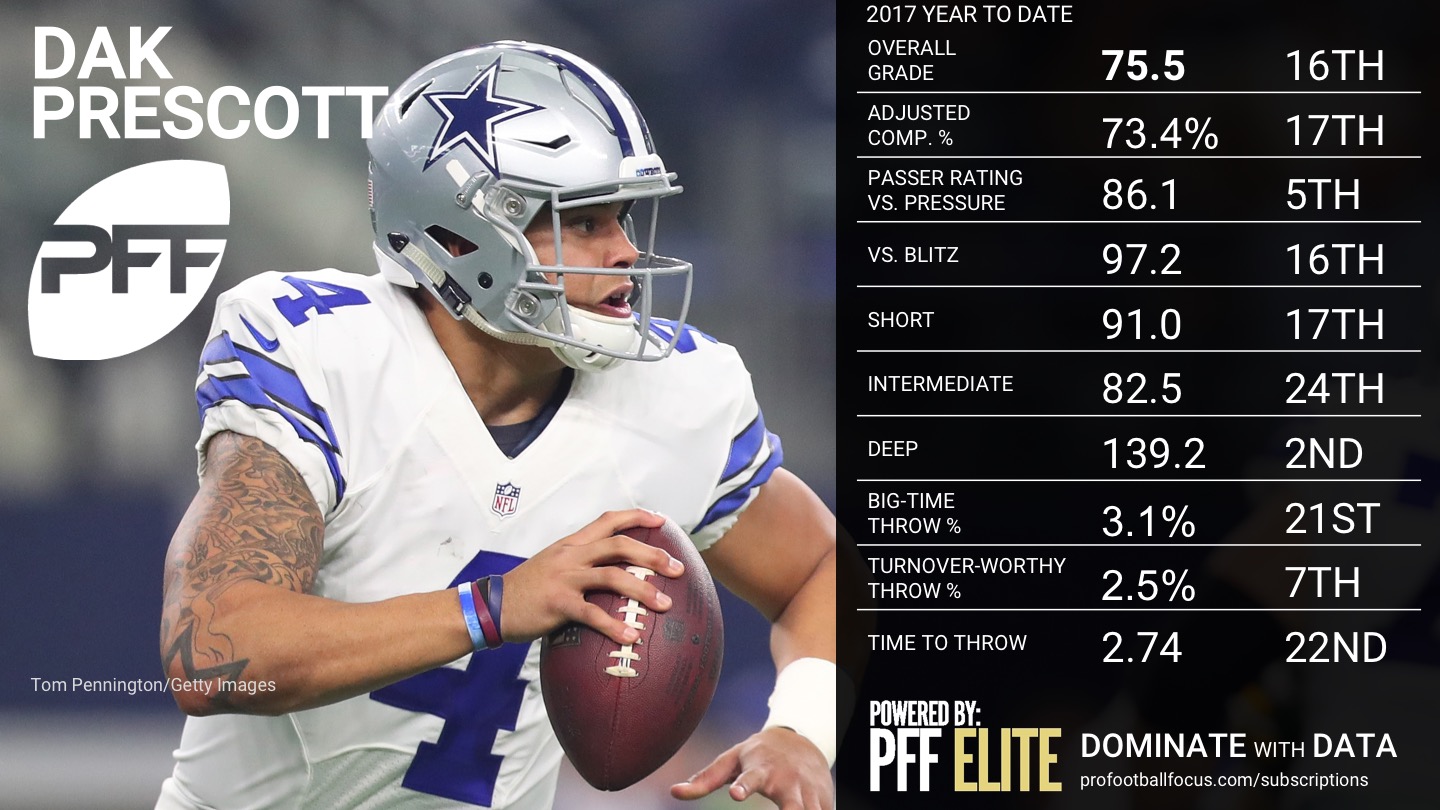 Prescott was a little off rhythm throughout the game as the Rams pressure effected him 43.9 percent of his dropbacks. Prescott made a number of good plays on the move outside of structure including a third-down play inside the 10 where he spun out of pressure in the pocket to find Brice Butler in the end zone for a touchdown. Prescott's decision-making and accuracy were a bit off in the second half, that helped aid the Rams to a win. When Prescott was not blitzed last week, he completed just 47.6 percent of his passes and also had his lone interception on a play where the pocket closed in on and he tried to find a throw.
Philadelphia Eagles – QB Carson Wentz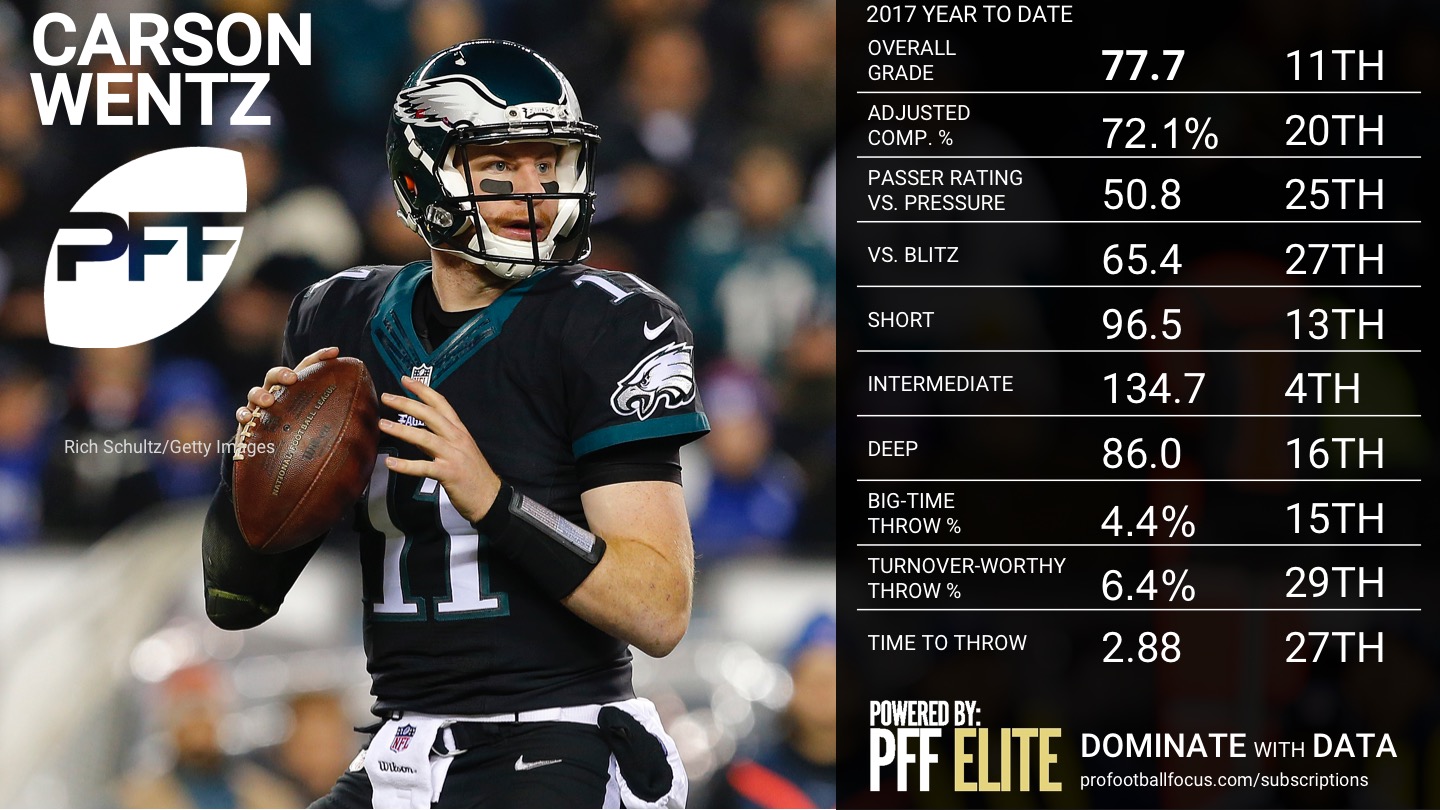 New York Giants – QB Eli Manning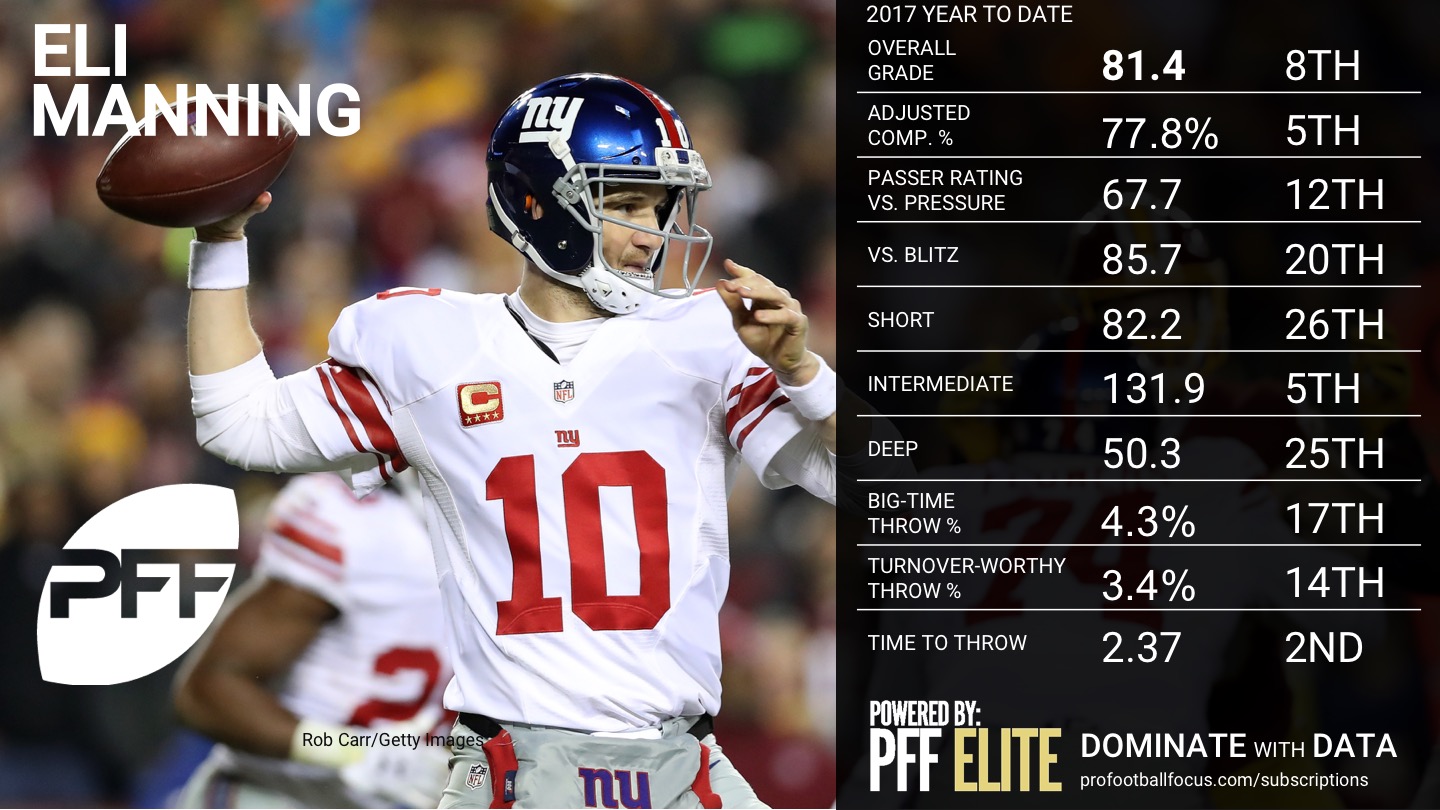 Washington Redskins – QB Kirk Cousins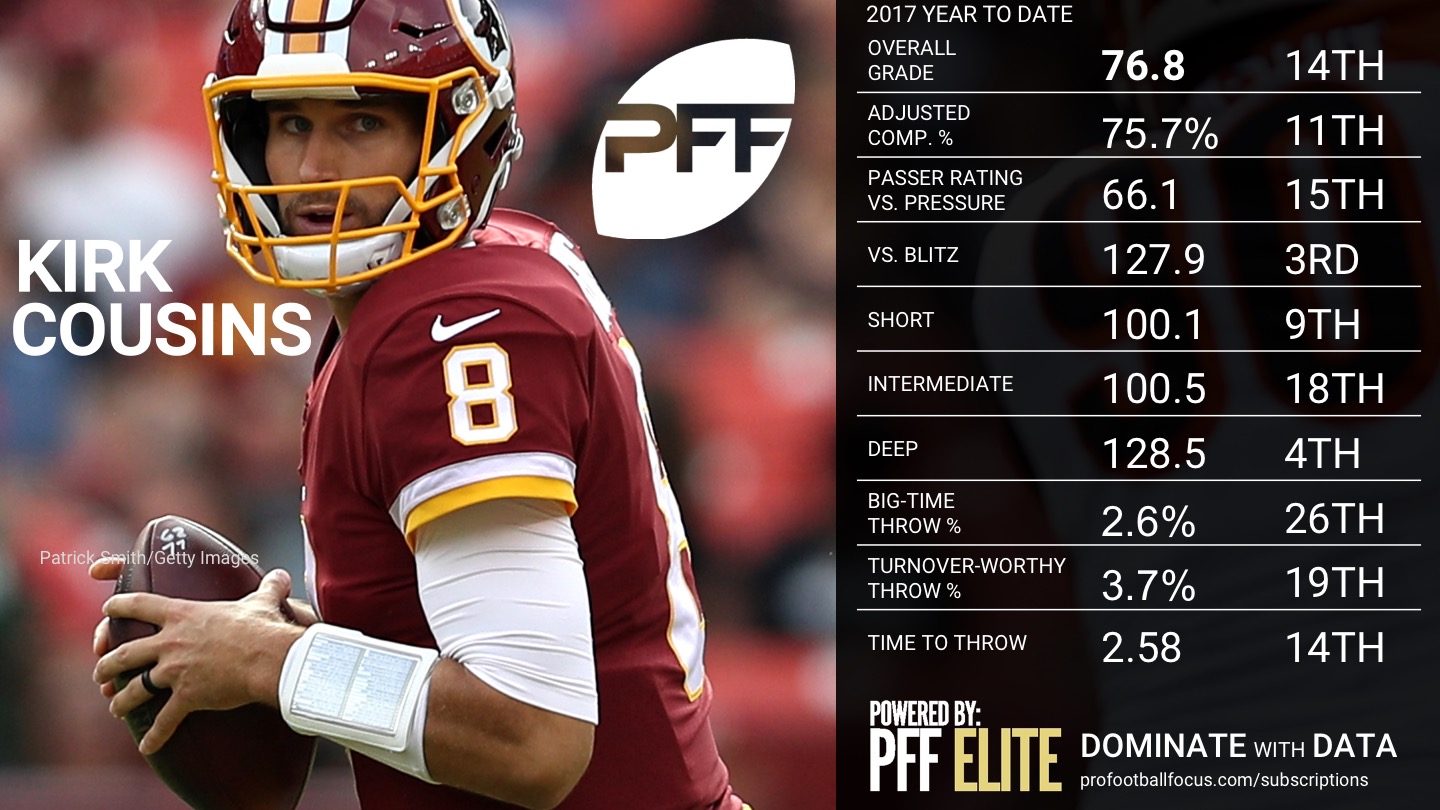 Cousins has found his rhythm after a tough start Week 1. On Monday Night, he threw accurately on a number of timing routes to the outside as well as hitting big throws down the field including and in stride seam ball to Vernon Davis for a big gain. The Redskins play action game was highly effective as it's been all season, with Cousins completing 5-of-7 for 103 yards and two touchdowns. Cousins played big in the fourth quarter, with a number of scrambles picking up first downs and his biggest throw of the night inside 1:00 on a seam route to Josh Doctson who was unable to complete the catch as he hit the ground for the would be go-ahead touchdown.
NFC North
Chicago Bears – QB Mike Glennon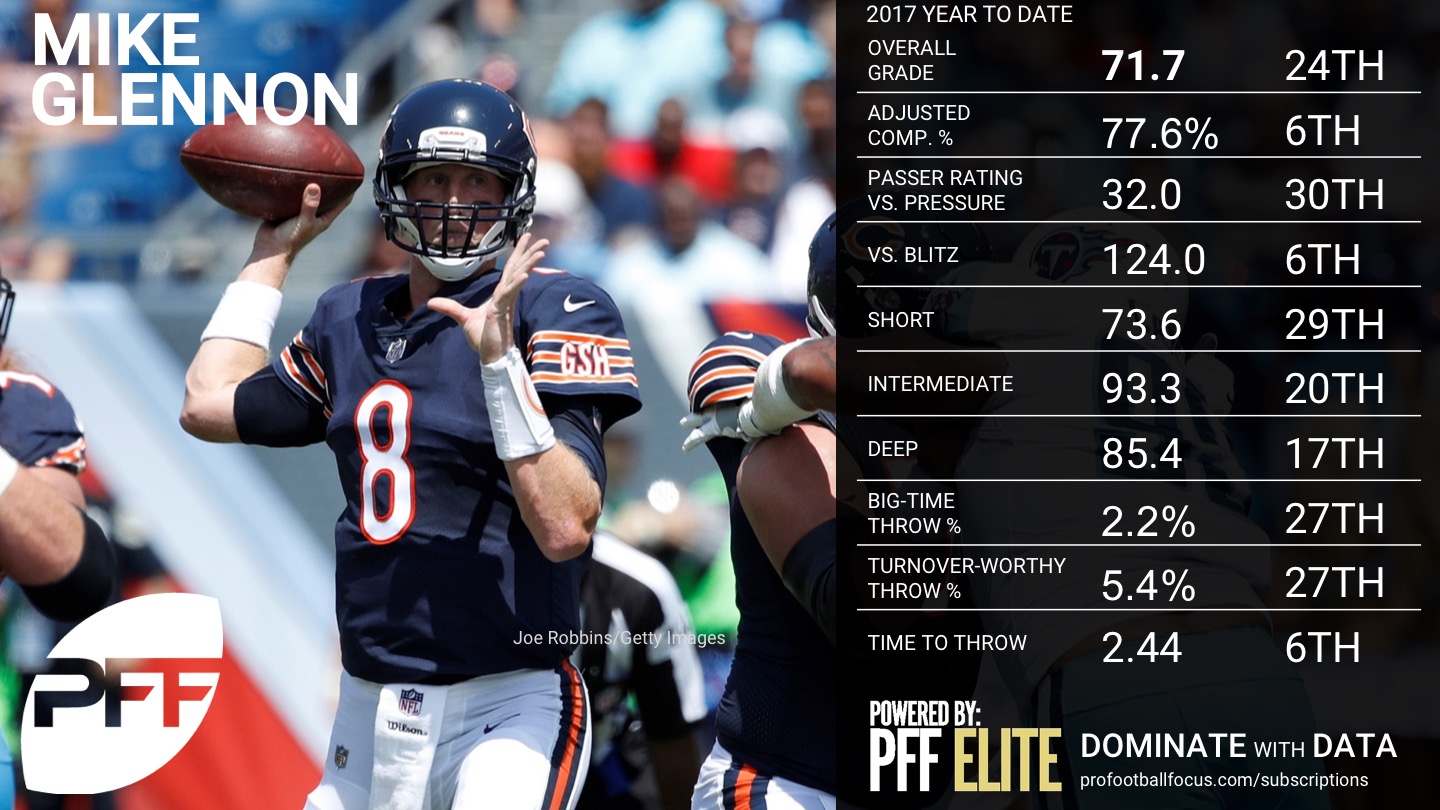 Detroit Lions – QB Matthew Stafford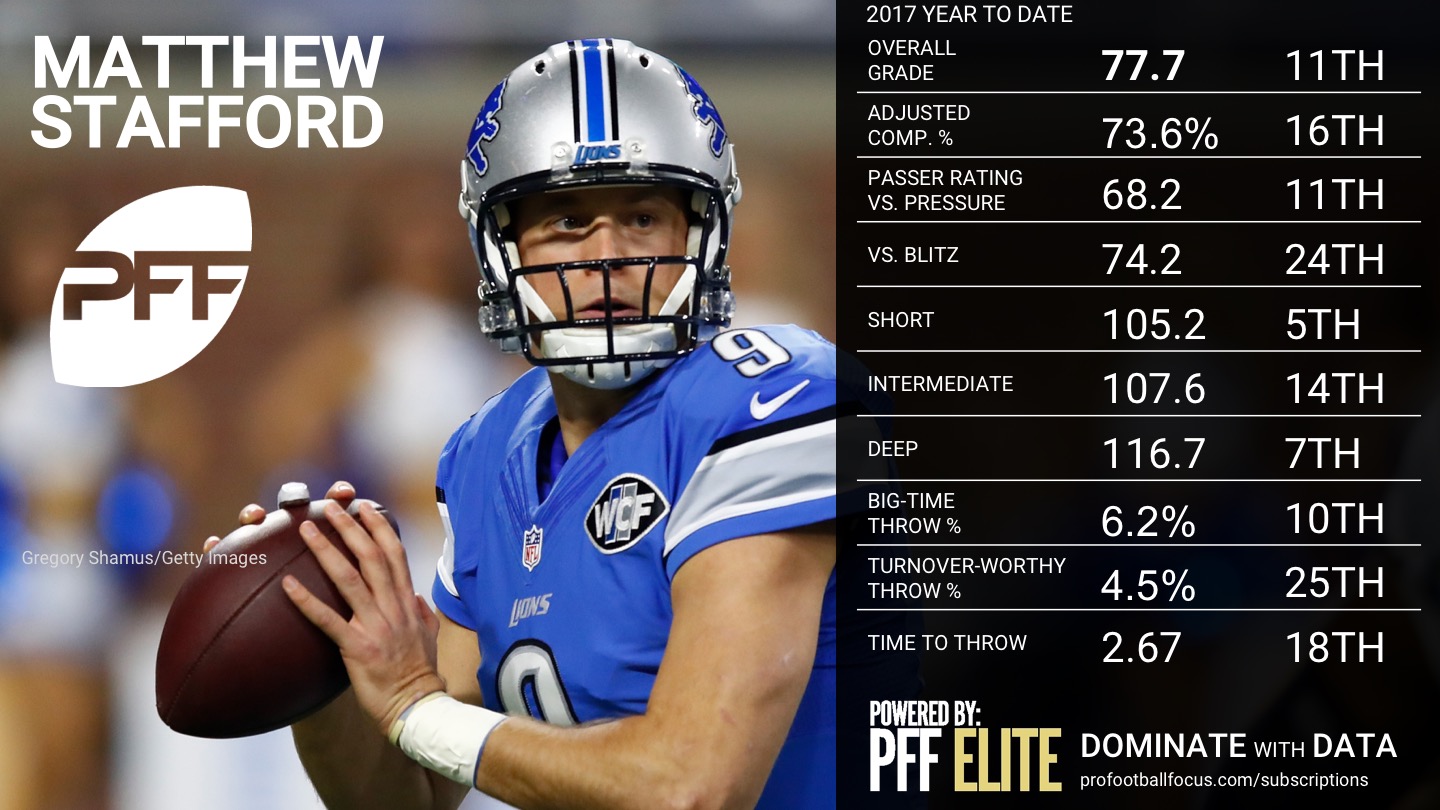 Green Bay Packers – QB Aaron Rodgers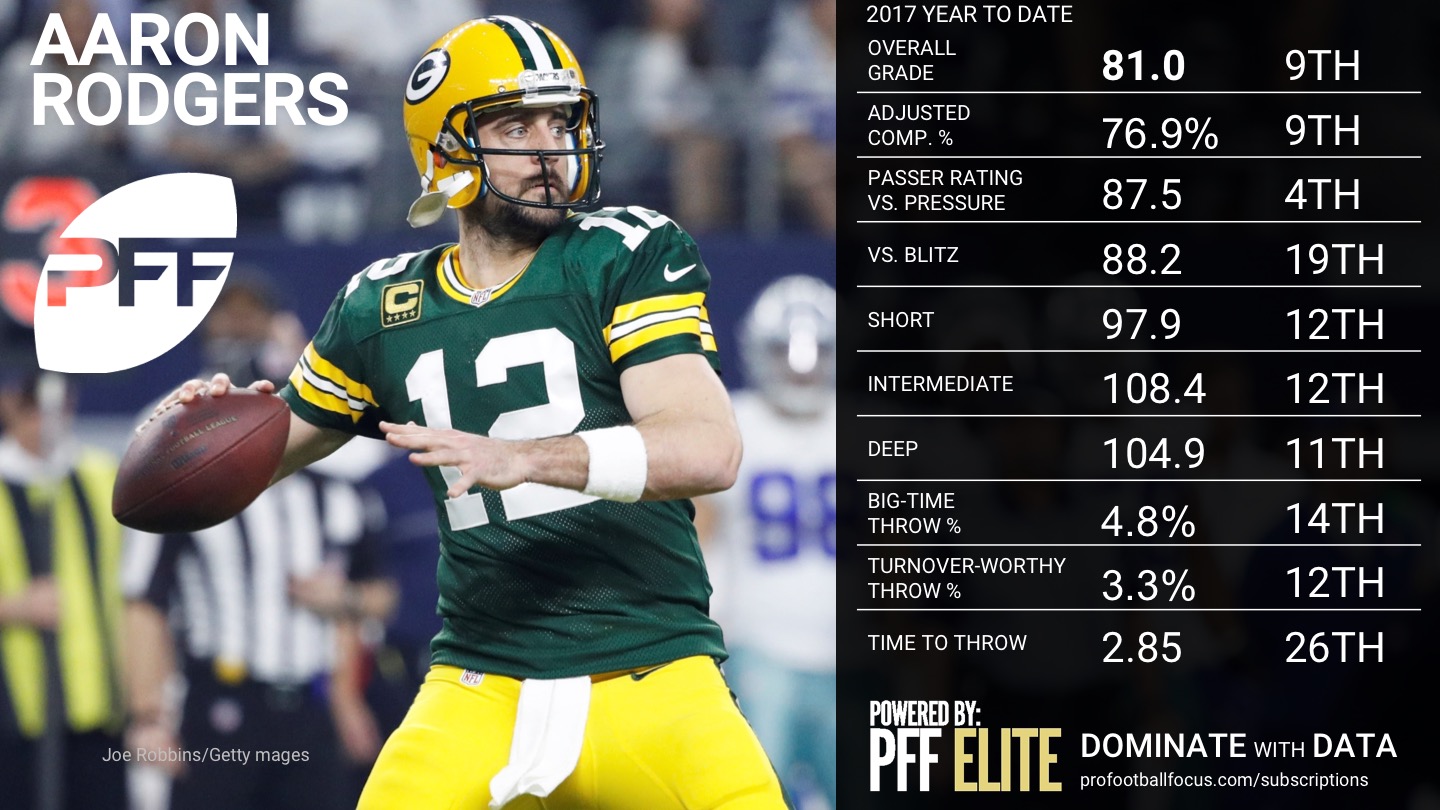 Minnesota Vikings – QB Case Keenum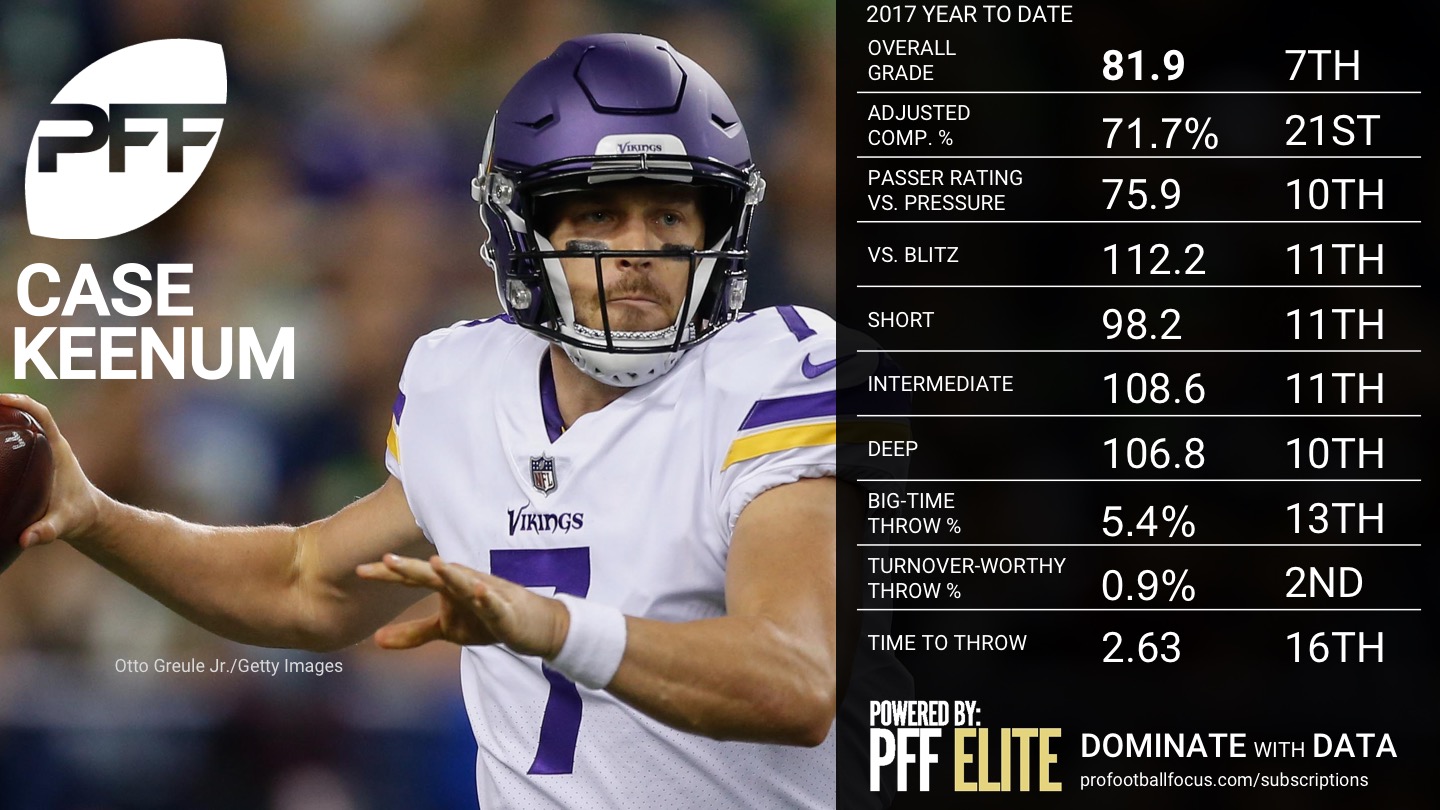 NFC South
Tampa Bay Buccaneers – QB Jameis Winston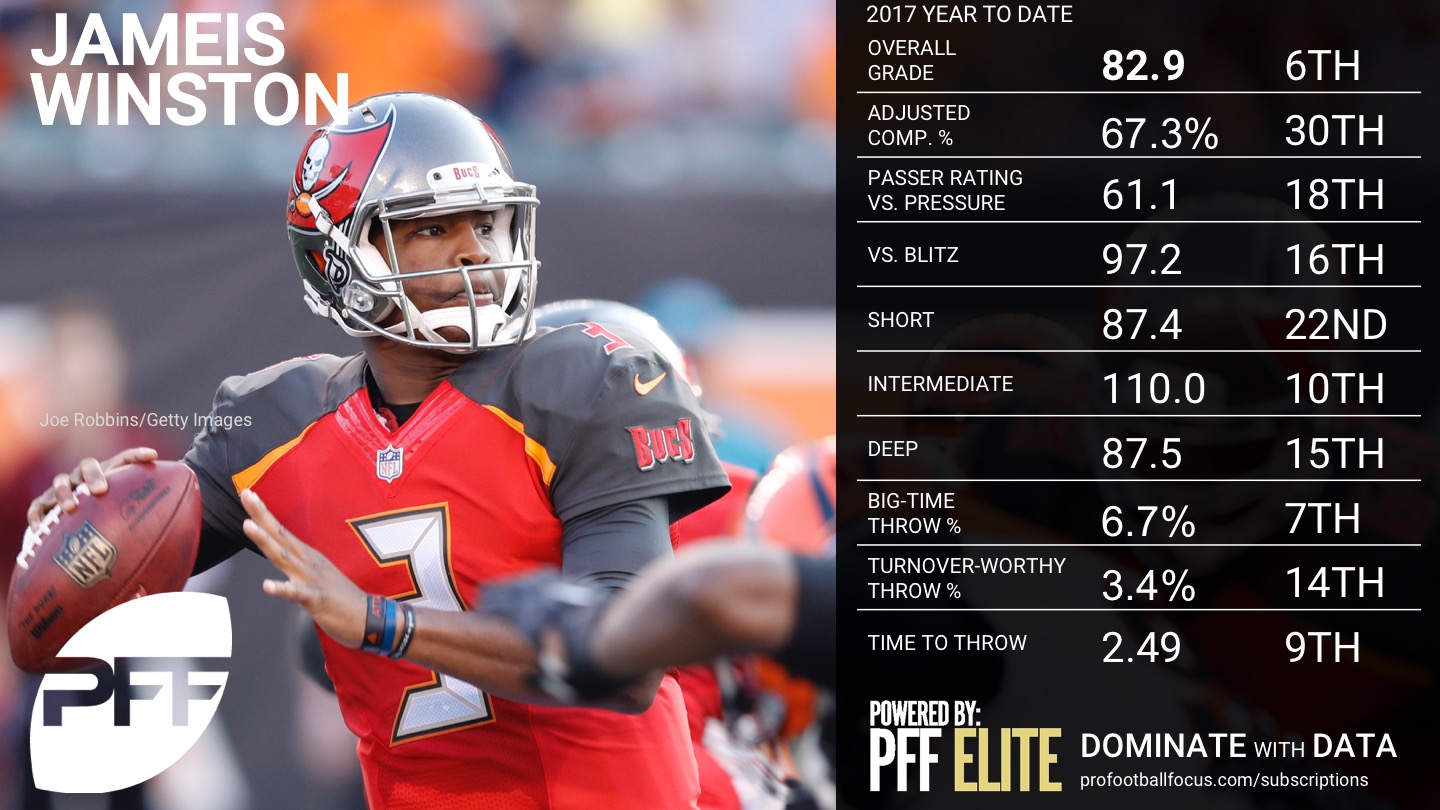 It was another classic-Winston game against the Giants as he moved the ball with a number of impressive throws, but also had a few head-scratchers sprinkled in. On the season, Winston has the highest percentage of positively-graded throws but he also has the third-highest percentage of negatively-graded throws. That boom-or-bust style works as far as making big plays and moving the chains, but we're still looking for Winston to cut back on some of the negatives in order to take that next step in his development.
Atlanta Falcons – QB Matt Ryan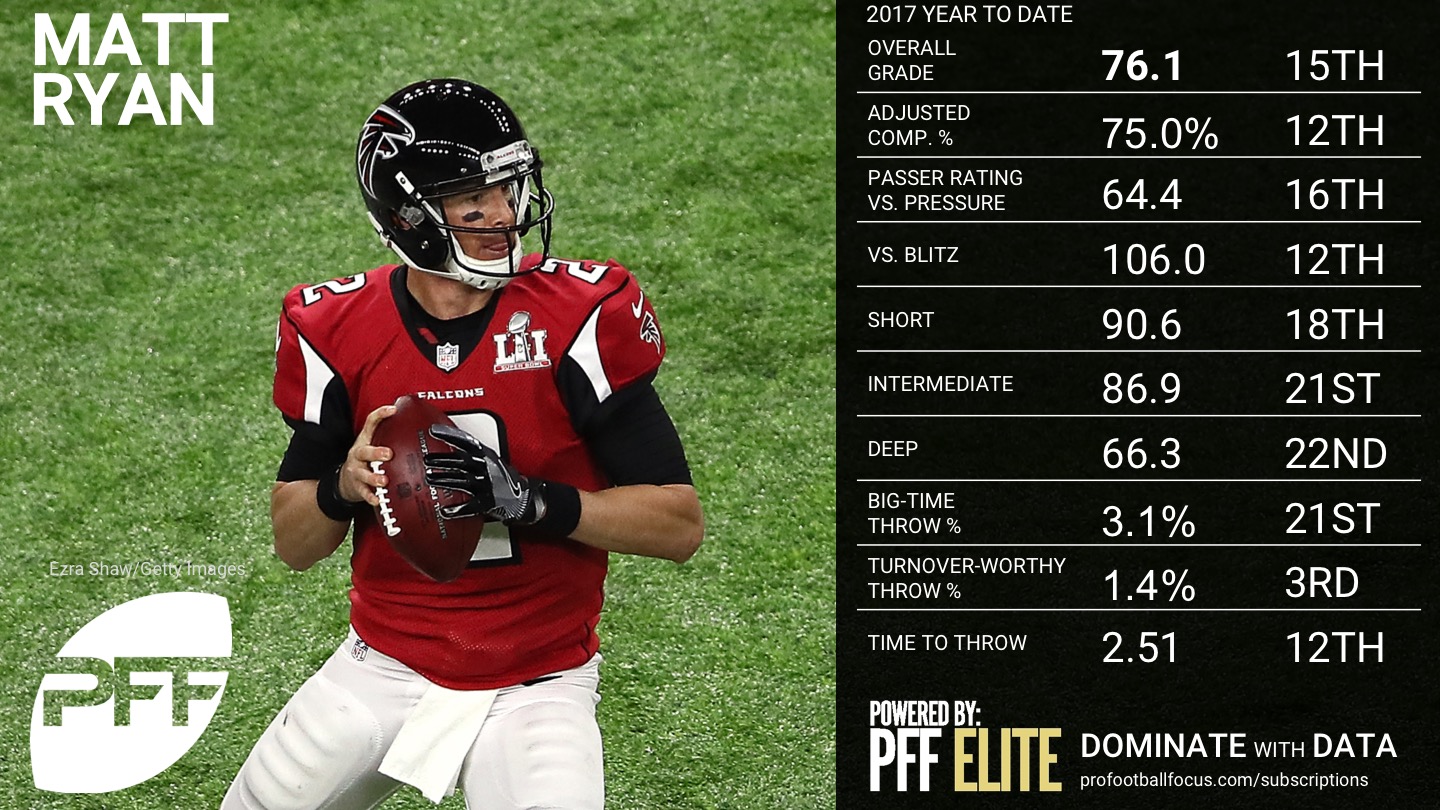 It's been a mediocre start for Ryan this season and the stats just started to catch up over the last two weeks. Even in the first two weeks, Ryan's accuracy has been off this season, particularly on the deep ball where his adjusted completion percentage of 20.0 percent ranks 32nd in the NFL after ranking second last year at 57.1 percent.
Carolina Panthers – QB Cam Newton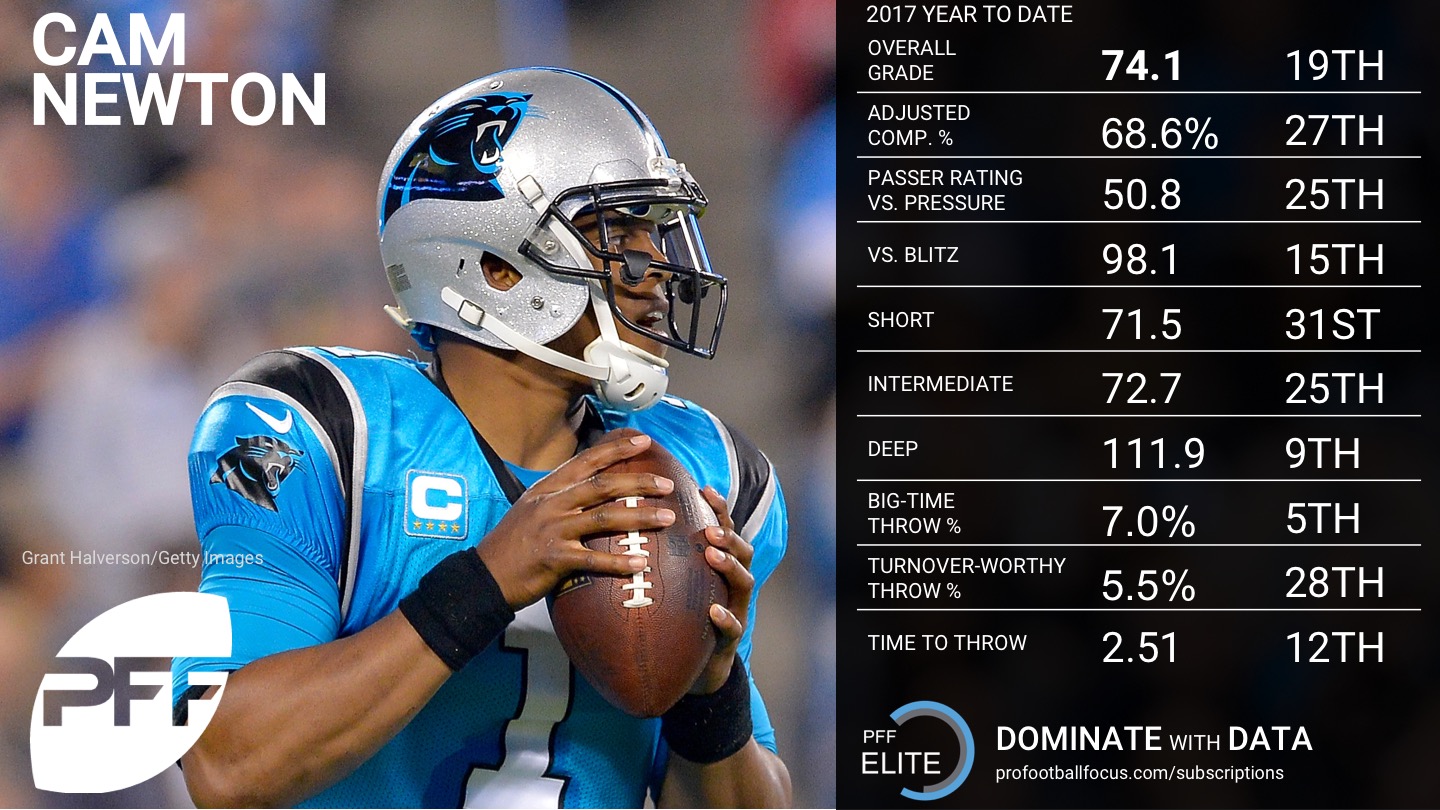 Newton had his best game of the season against the New England Patriots, grading at 81.5 overall. While the stats may have been inflated a touch by bad busted coverages from New England, particularly on a Fozzy Whitaker screen, Newton threw the ball well to all levels of the field. He was 5-for-5 at the intermediate (10-19 yard) level for 105 yards and two touchdowns and he made a number of big throws and runs while under pressure.
New Orleans Saints – QB Drew Brees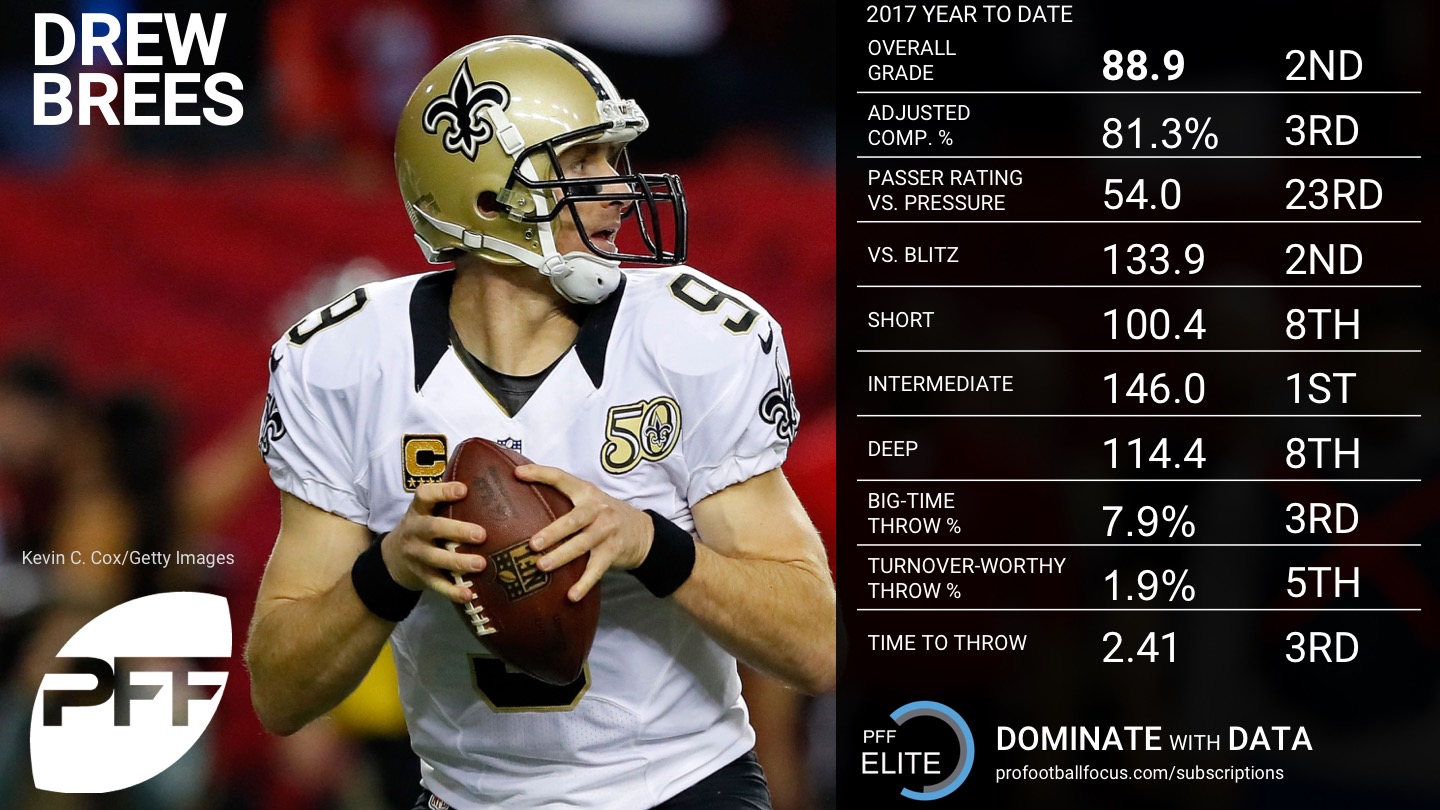 NFC West
San Francisco 49ers – QB Brian Hoyer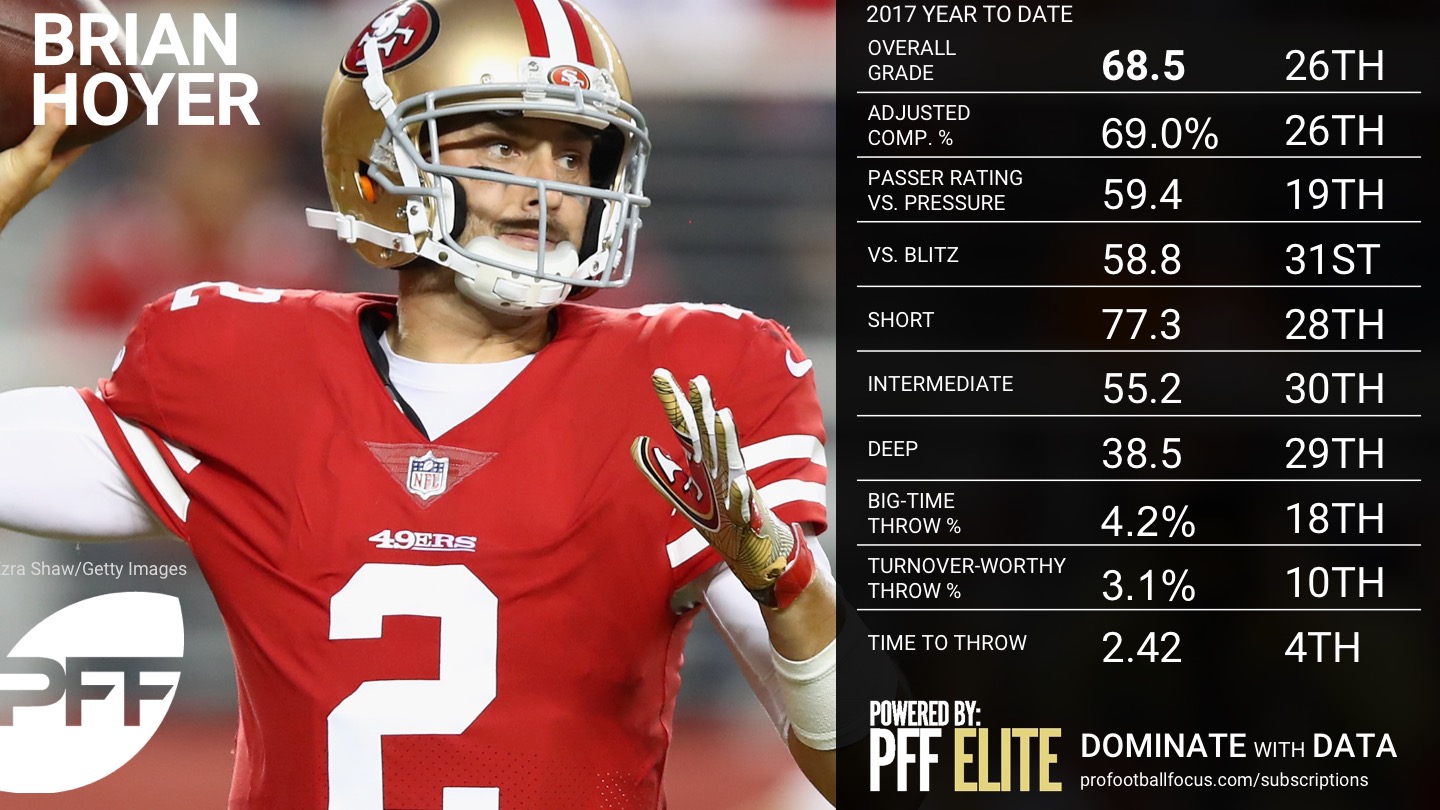 Arizona Cardinals – QB Carson Palmer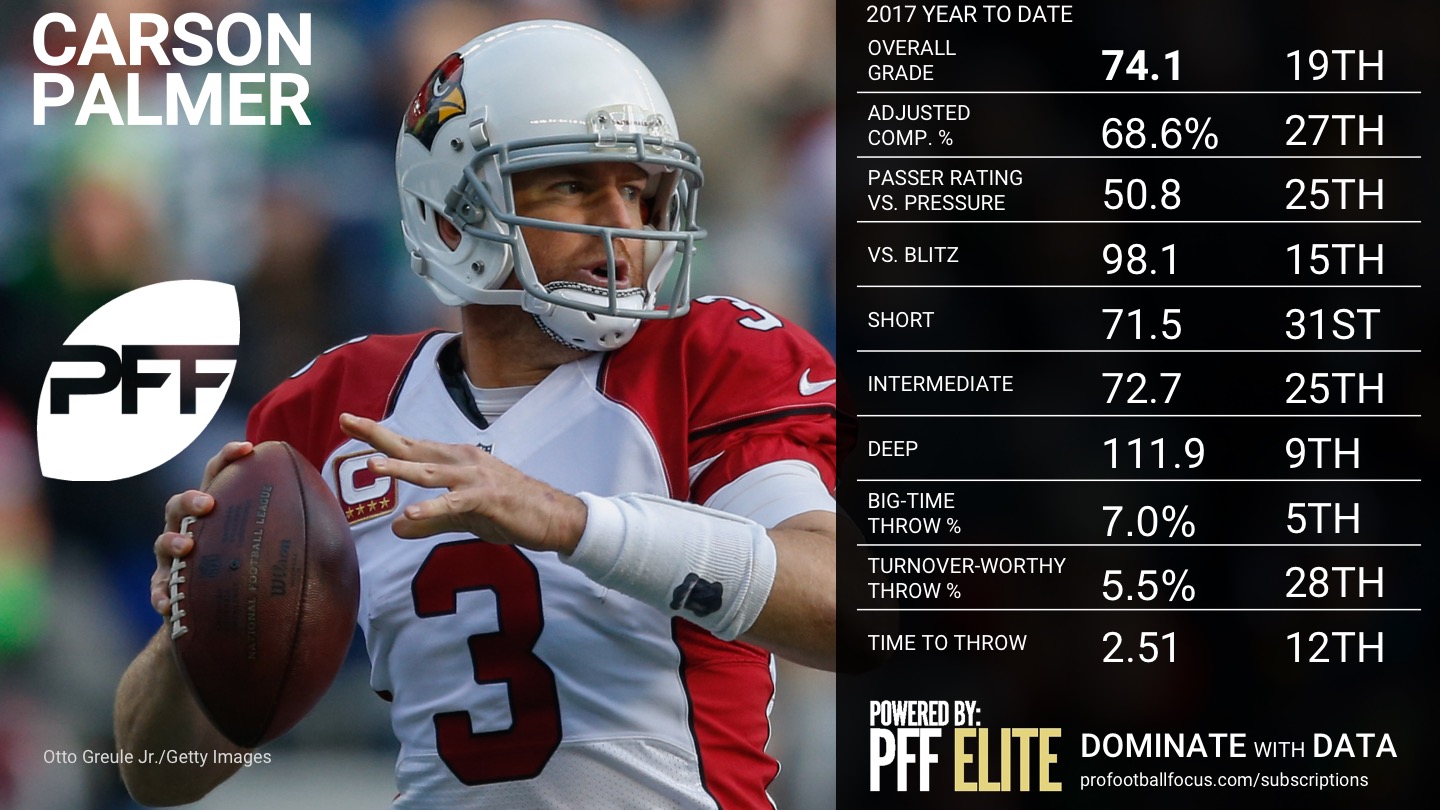 Los Angeles Rams – QB Jared Goff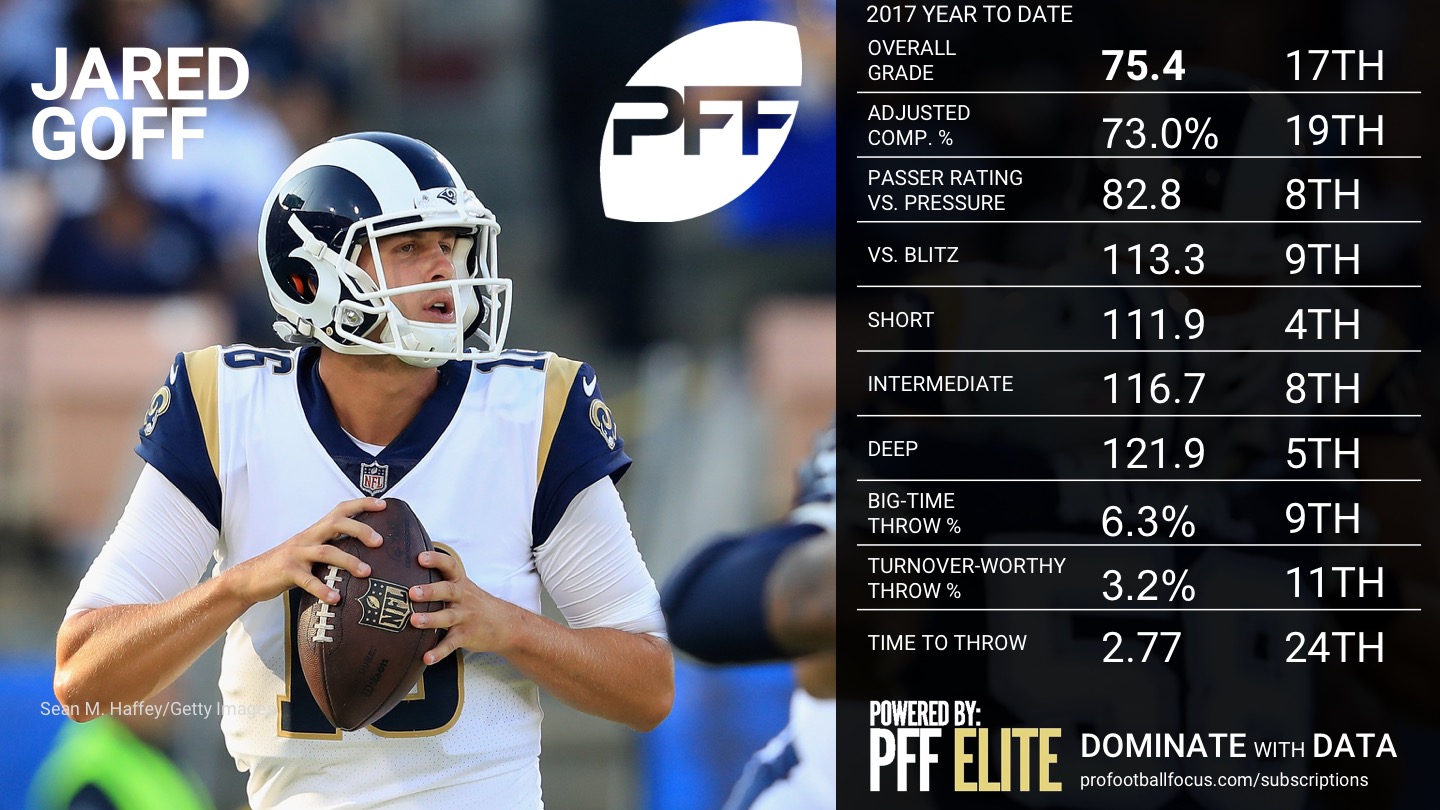 Goff was less than spectacular but made enough plays in the end for the Rams come away with a win. He missed a number of reads forcing shallow crossers into a lurking safety and struggled at times seeing the middle of the field in the 0-9 yard range. His best throw of the day came on a well designed play action pass to Todd Gurley up the seam that Gurley took 53 yards for a score. Goff in a clean pocket last week posted a 126.2 passer rating, while under pressure he was just 4-of-12 for 40 yards and a 43.7 passer rating. Through four weeks, Goff has the best passer rating in the NFL when kept clean, sitting at 128.0 and the second best completion percentage at 77.6 percent.
Seattle Seahawks – QB Russell Wilson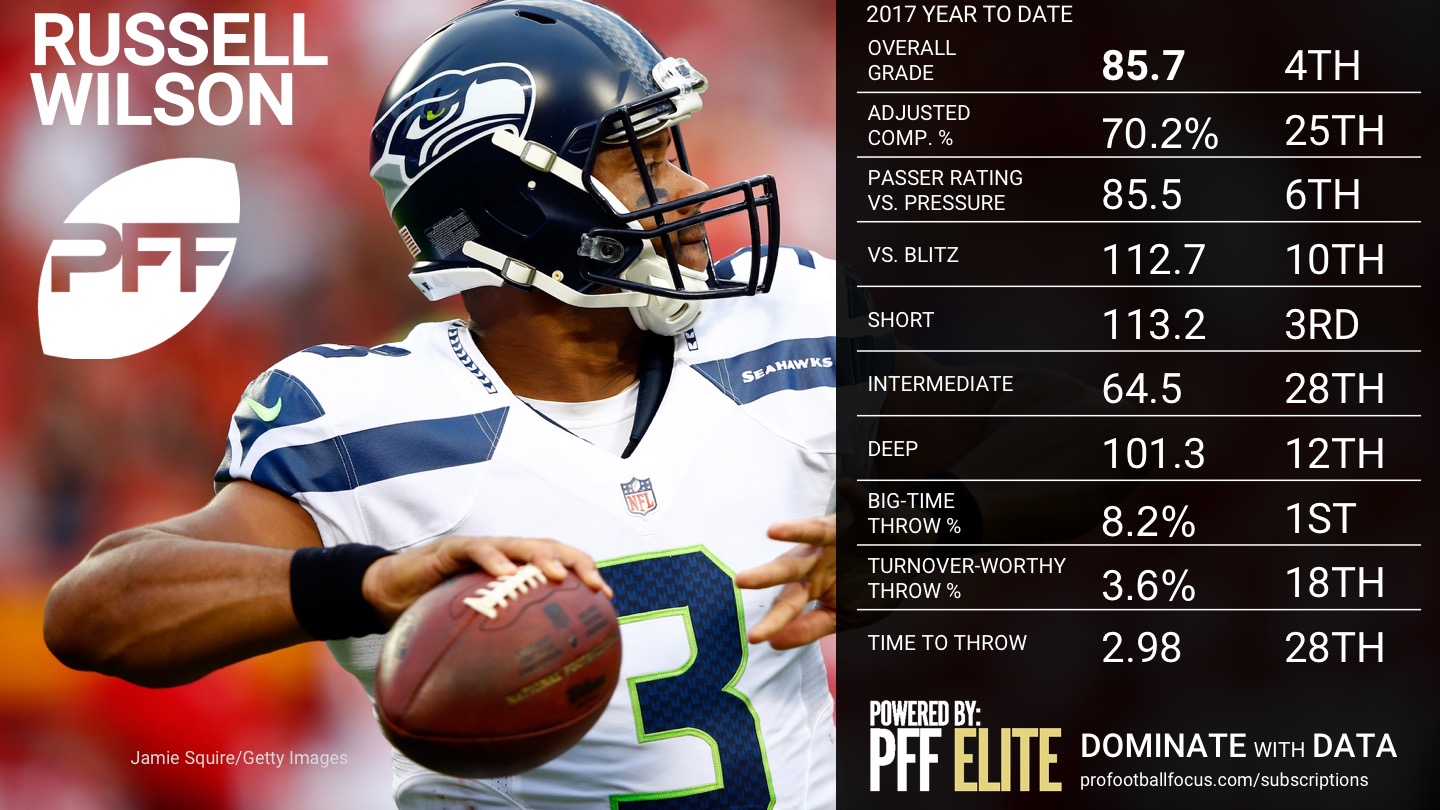 Wilson has been a roller coaster to start the season and it's a trend we've seen at various points in his career. As recently as two weeks ago, he was making terrible decisions and throws into coverage, but his past week was vintage Wilson as he littered the field with five big-time throws and took home Western & Southern QB of the Week. Top-end Wilson is as fun to watch as any quarterback in the league, and against the Colts, he hit on 5-of-8 deep (20-plus yard) passes for 165 yards, including one of the best throws of a week on the move to his left.