The franchise tag option is designed for an extended bargaining window regarding contracts for teams and players who are scheduled to be unrestricted free agents. From a team perspective, the tag option offers tremendous value in examining unique situations, such as Dee Ford's 2018 breakout campaign, in determining a player's long-term valuation.

Leading up to the 2018 season, the fifth-year edge rusher out of Auburn was flirting with the dreaded first-round bust label to begin his career. Ford's highest overall grade over his first four seasons was 63.5 during the 2016 season, in which he had 54 total pressures on 477 pass-rush snaps. Ford followed that up with an injury-plagued 2017 season where he logged only 316 snaps before a back injury ended the second half of his year.
To say that his 2018 breakout was coming would have been a shot-in-the-dark based on his past performance.
In 2018, Ford led all edge defenders in quarterback pressures with 84 a season ago. The former first-round pick was truly dominant at times, but more importantly, he sustained it at a consistently high level in which he's never reached before in his five-year career. His 84 pressures were 30 more than his previous career high, with 35 of those pressures resulting in hits or sacks of the quarterback.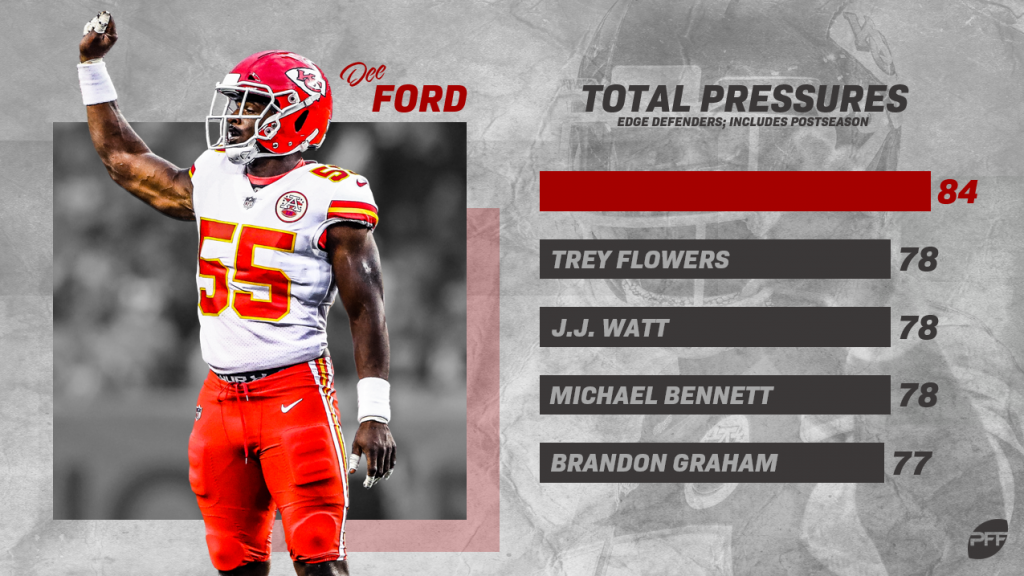 From a PFF grading perspective, his 2018 overall mark of 87.7 ranked 11th among edge defenders, including the postseason, and his pass-rush grade of 91.1 ranked first. His overall grade this past season was 24.2 points higher than previous best, and further, his 2018 breakout offered up eight games with an overall grade of 80.0 or higher with four games at an elite pass-rush grade.
Applying the franchise tag on Ford would be as obvious as it gets for a Kansas City Chiefs team with Super Bowl aspirations in 2019, especially with their current cap space of over $26 million, per Over the Cap. For Ford, he simply has to prove last season wasn't a fluke before the team should reward and commit to him long-term. Similar to Demarcus Lawrence's prove-it situation with the Cowboys from a year ago, the Chiefs' approach to applying the tag on Ford before the March 5th deadline will be a storyline to monitor leading up to free agency.