While the rest of the football world has been preparing for free agency to begin for their first real chance at roster overhaul this offseason, the Cleveland Browns spent Friday making moves all over the place to parlay some of their stockpiled draft capital into proven NFL-caliber players.
Without debating the merits of the trades themselves, we can dive into the kinds of players the Browns acquired with these moves.
Taylor has long been one of the most polarizing players in the NFL, but the bottom line is he represents a fantastic safety net for a franchise that hasn't been able to generate even respectable quarterback play for the better part of 20 years.
Taylor has ranked Inside the top 15 (but outside the top 10) in each of the past three seasons in overall PFF grade — 86.0 (12th) in 2015, 83.2 (13th) in 2016, and 83.0 (14th) in 2017.
Cutting Tyrod Taylor because he won't ever be Aaron Rodgers is like hitting on 17 in blackjack. Sure you can do better, but likely won't.

— Sam Monson (@PFF_Sam) March 3, 2017
That tweet is from almost this exact time a year ago when the Bills were debating moving on from Taylor, and it remains a salient point, but the difference here is that the Browns have two of the first four picks in the upcoming draft, which is as well positioned as any team will ever be to try and improve on that 17.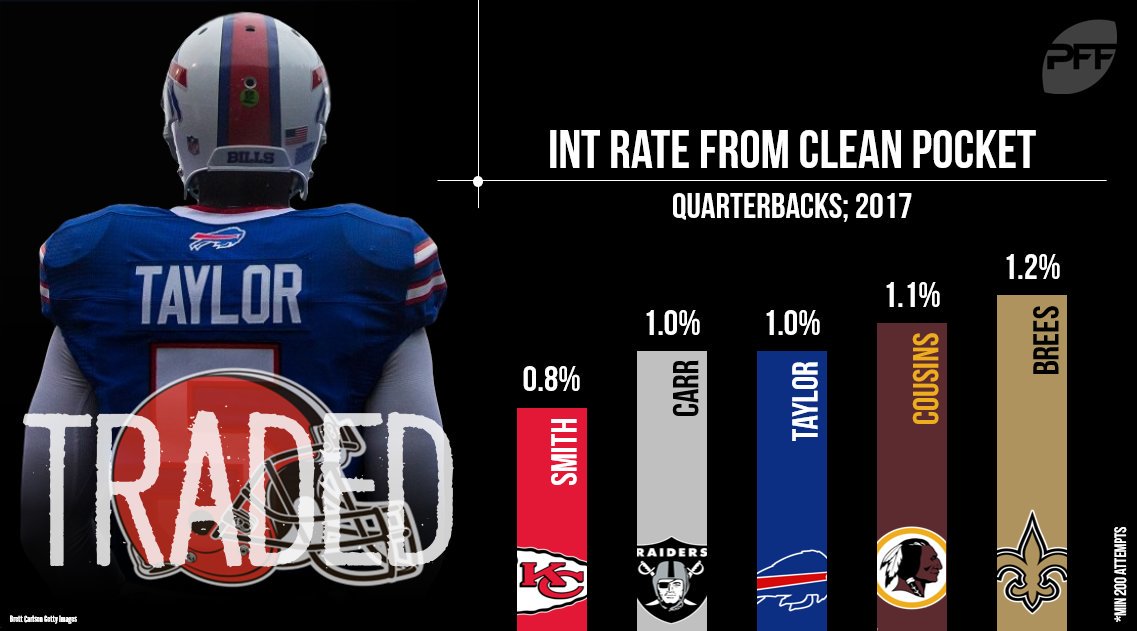 As for Taylor, he is one of the game's safest quarterbacks in terms of avoiding turnovers. He had the second-best turnover-worthy-play percentage in the league last season and consistently ranks among the best in that category. At his best he can team that with some impressive big plays, but those largely deserted him in 2017. He also brings a significant run threat and will spend a lot of time behind the line of scrimmage trying to avoid pressure and find somewhere to go with the football. No quarterback held the football longer on average than Taylor in 2017 (3.16 seconds per dropback), and he had top-10 marks in both passer rating and completion percentage on plays that lasted longer than 2.5 seconds.
Taylor won't ever become an All-Pro quarterback, but he now gives the Browns a fantastic bridge to any new rookie they bring in, and a fantastic safety net to a swing and a miss should the team select the wrong player at the top of the draft.
In many ways, Landry is the wide receiver equivalent of Taylor, in terms of how he polarizes opinion. There is a significant minority of people that believes he isn't very good because he operates underneath and brings little in the way of vertical threat to a defense.
Like Taylor though, the real merit is in focusing not on what he doesn't do, but what he can do extremely well, for there lies his value to any offense.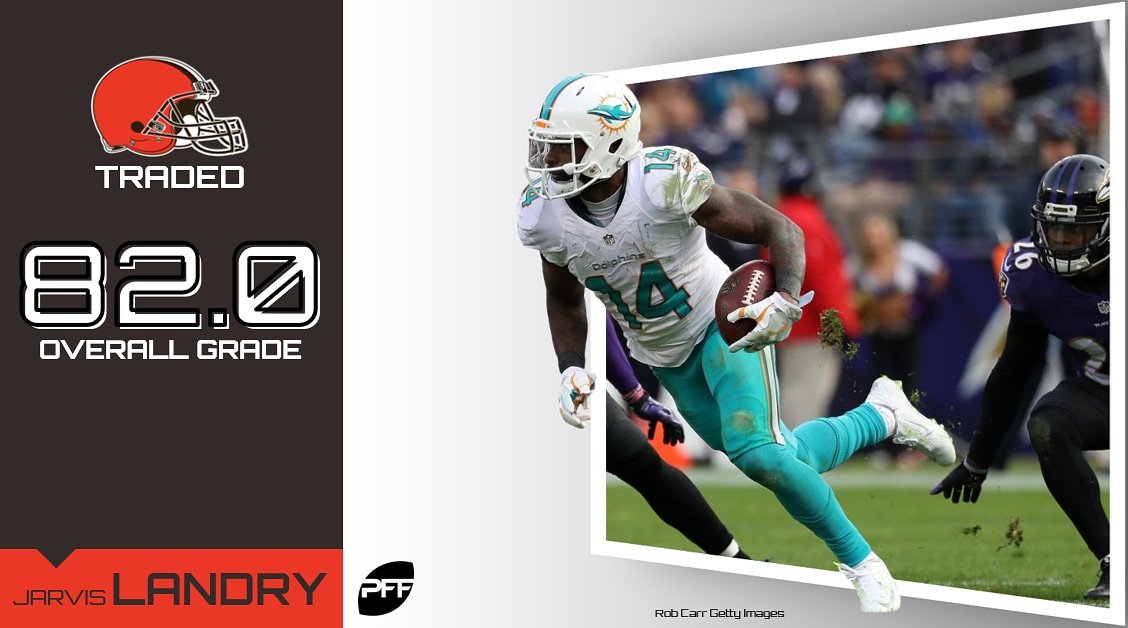 Landry led the league in yardage generated from the slot in 2016 and ranked sixth this past season. He has ranked top three in broken tackles among wide receivers in each of the past three seasons, notching 67 over that time and 76 for his four-year career. He has caught 74.5 percent of the passes thrown his way and dropped the ball only 21 times in his career, a drop rate of just 4.9 percent, which would have been a top-10 rank in 2017.
With Josh Gordon already in town offering the big-play vertical threat, Landry should be free to move the chains underneath and in the slot, giving the Browns the reliable target underneath that they haven't had in recent years.
The Browns also worked things out with the Green Bay Packers, shipping out last year's rookie quarterback DeShone Kizer and bringing in cornerback Randall.
Randall has flashed ability in his NFL career, but has been maddeningly inconsistent.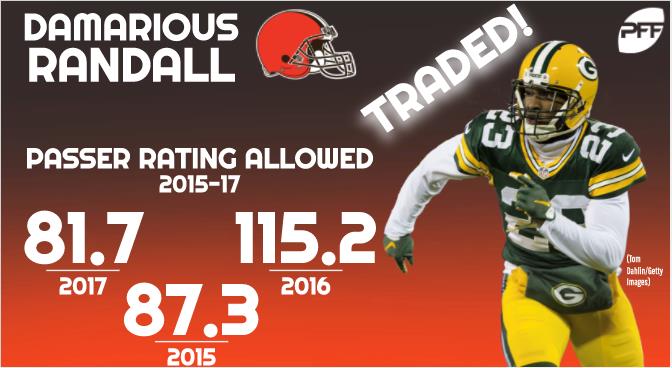 As a rookie, he allowed 58.2 percent of passes thrown his way to be caught, and they went for an average of 16.7 yards, but he had four picks and 11 pass breakups. In 2016, he regressed badly, and when thrown at over the season surrendered a monstrous passer rating of 112.8, thanks to surrendering 10 touchdowns (playoffs included). In 2017, he had some ugly games early in the year, but actually ended the season on a strong note, with four positively graded games in his final five outings. Overall, his PFF grade was 70.9, which actually represented the best mark of his career, but at this point Randall is still very much more potential than production.
A college safety, he might represent an intriguing position-switch option for the Browns, who spent last season playing Jabrill Peppers as a deep-lying free safety ostensibly because he was better than anybody else they had on the roster at it, even though it was a complete departure from the myriad roles he had in college at the University of Michigan.