Returning from injury in 2019, Cincinnati Bengals edge defender Carl Lawson showed briefly this preseason why expectations are high for him to enjoy a breakout campaign in his third season in the league.

Heading into the 2017 NFL Draft, the former Auburn Tiger was the 14th-ranked player overall on our big board, coming off a ridiculously efficient final season in college where he racked up nine sacks, 15 hits and 42 hurries on just 364 pass-rushing opportunities. What caused him to fall in the draft were injury concerns, something that hasn't been put to bed in the NFL yet, especially with him suffering a season-ending injury a year ago. There's little you can do when it comes to a season-ending injury, but fairly or unfairly, it adds to that perception.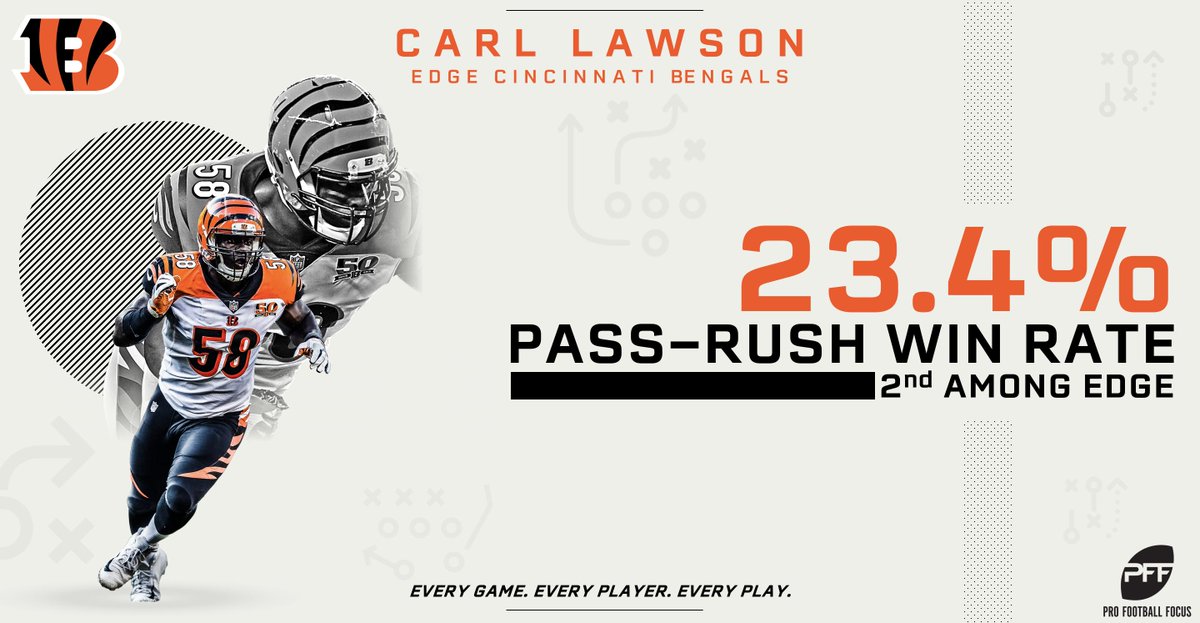 When he has been on the field, however, he has looked like the talented pass-rusher we saw him as coming out of Auburn. In his rookie season, he was a rotational player for the Bengals off the edge, rushing the passer on 389 of his 477 defensive snaps. He racked up 10 sacks, 11 hits and 38 hurries, ranking first or tied for first among rookie edge defenders in all three of those stats. His PFF pass-rush grade of 75.1 ranked second among rookie edge defenders behind only the number one overall selection from that draft, Myles Garrett of the Cleveland Browns. His speed off the edge was clear to see, especially being kept fresh with the rotation, which was key to him leading all rookie edge defenders with 50 or more pass-rushing snaps with a pass-rushing productivity rating of 9.6.
If you were judging him purely by sacks, you would view his second campaign as a disappointment, even before considering the injury. However, dig a little deeper into his numbers and play, and you'll see that while he has only registered one sack in the first seven weeks of the year before that season-ending injury, he has also registered seven hits and 17 hurries, giving him 25 total pressures from 184 pass-rushing snaps. That helped him to a pass-rushing productivity rating of 7.6, which was down on his rookie season but still ranked 22nd among edge defenders with 100 or more pass-rushing snaps in the opening seven weeks of the 2018 season. His PFF pass-rushing grade of 80.9, which takes into consideration how quickly blocks are beaten among other things, ranked eighth among edge defenders in the opening seven weeks of the season, as well.
All of that led to us naming Lawson as our breakout candidate for the Bengals for the 2019 season, highlighting that he has produced the 13th-highest two-year PFF pass-rush grade (81.0) of any edge defender in the opening two seasons of their career. We also noted that in that same span, he has a win-rate of 20.1%, something that only Los Angeles Chargers star Joey Bosa can better. 
While we didn't see much of him in the preseason, what we did see backed up this opinion, with Lawson putting on a show in a brief run out in the Bengals' third preseason game. In that game against the Giants, he was on the field for just seven pass-rushing snaps, but that was enough time to register a sack and a hurry. The sack, coming on 2nd-and-9 with 8:35 to go in the second quarter, came against left tackle Nate Solder and included a forced fumble on quarterback Daniel Jones.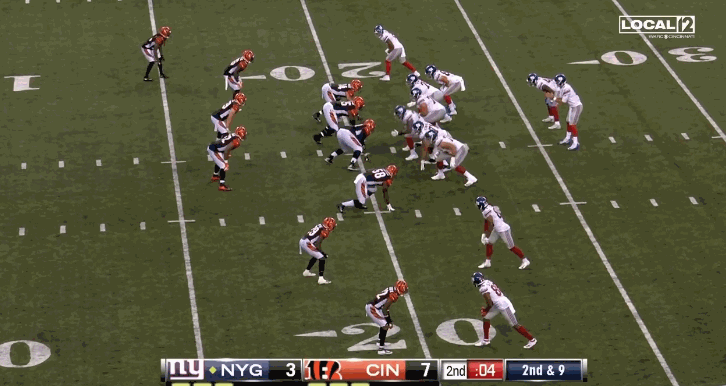 Provided he can avoid injury in 2019, Lawson is set up to make a big impact for the Bengals this season. He was doubted coming into the NFL out of Auburn, and he's being doubted again after his injury last season, but everything we've seen from him so far suggests that he has the talent to cause offensive linemen in the NFL a whole host of problems as a pass-rusher, and we expect him to prove those doubters wrong.
[Editor's Note: All of PFF's player grades and advanced statistics are finalized and made available to ELITE subscribers before 5 pm ET on the Monday following each weekend's slate of games during the season. Sign up today to gain access!]