Every year, talented true freshmen make their names known on the national stage with strong performances in their debut seasons at the collegiate level. While these strong impressions are usually made from those players who dominate the box scores on Saturday nights, we at Pro Football Focus are in a great position to highlight all the true freshman players who have performed at a high level no matter their position during their first year on campus.
This list is brought to you by Eckrich, the Official Smoked Sausage of the College Football Playoff.
With our grading of every player on every play of every game at the FBS level, here are the top-graded true freshmen through three weeks of football: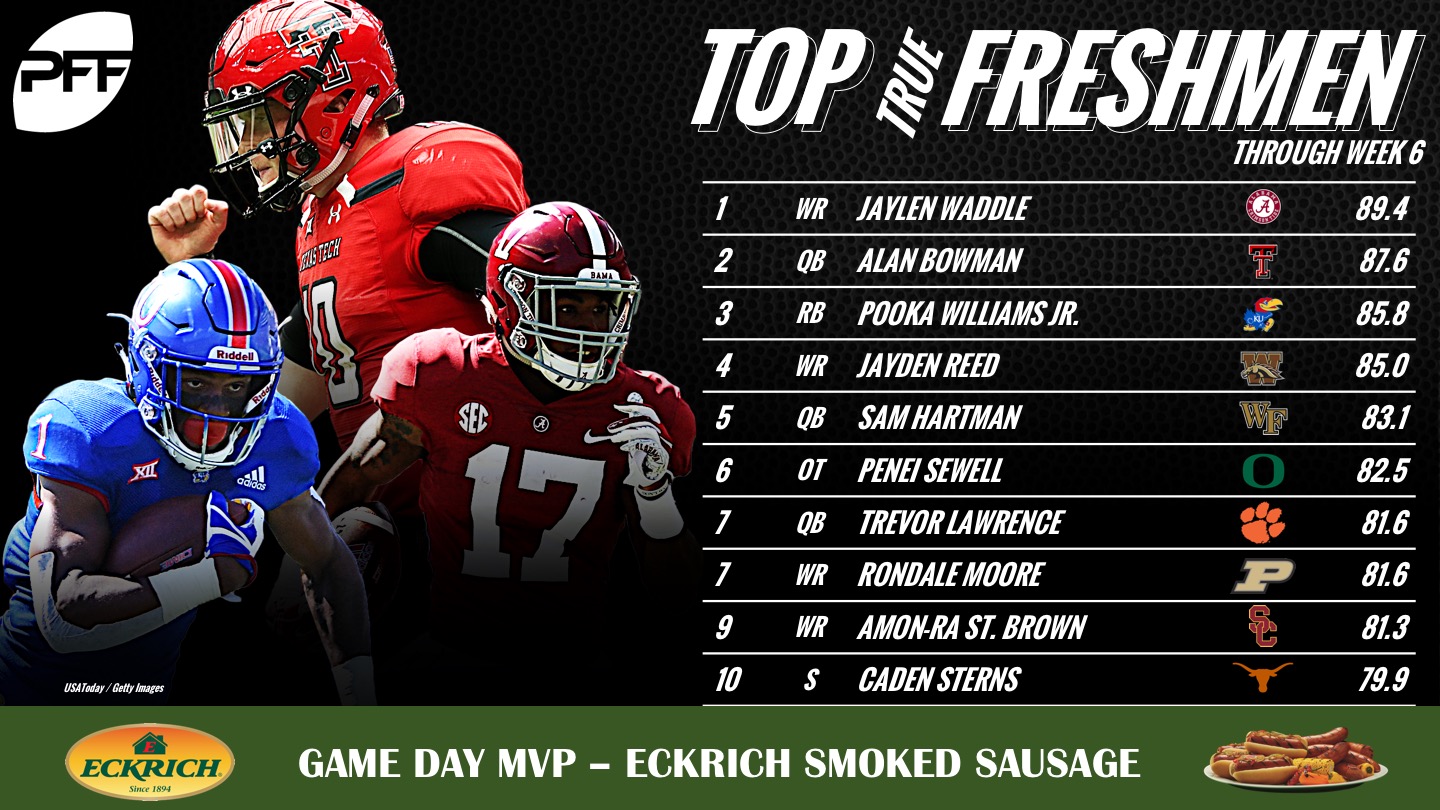 1. Jaylen Waddle, WR, Alabama
2018 season grade: 89.4
Waddle has helped the Crimson Tide replace Calvin Ridley in their newfound offense with Tua Tagovailoa at the helm, hauling in 15 receptions for 313 yards and two scores. He's recorded 144 yards after the catch, averaging 9.6 YAC/reception and eight other first downs. Combining his receiving ability with his return ability (20.3 yards per punt return, 1 TD), Waddle is an emerging talent that should only get better with time to develop with Tagovailoa at the college level.
2. Alan Bowman, QB, Texas Tech
2018 season grade: 87.6
Bowman currently ranks as the 14th-highest graded quarterback in the nation and the nation's top true freshman at the position. He's shown an ability to hit deep passes even in his first year at Texas Tech, completing 11 passes targeted at least 20 yards downfield for 346 yards and three touchdowns.
3. Pooka Williams Jr., RB, Kansas
2018 season grade: 85.8
Williams has needed just 72 carries to record 557 yards on the ground, averaging 7.7 yards per rush. Impressively enough, Williams has done a lot of the work himself, gaining 341 yards per carry after contact. He's forced 24 missed tackles and gained an additional 12 first downs for the Jayhawks offense on his runs.
4. Jayden Reed, WR, Western Michigan
2018 season grade: 85.0
Reed may not make national news (yet) but he's every bit as good as you'd want a true freshman receiver to be. He has sure hands and shifty moves after the catch as he currently holds the third-most receptions (32) without a drop in the nation while his nine missed tackles after the catch are good enough for 15th-most across the country.
5. Sam Hartman, QB, Wake Forest
2018 season grade: 83.1
Hartman has had his ups and downs this season, including a rough outing last week against a very strong Clemson defense but that shouldn't always be the level of defense against him. Despite struggles against Clemson and Notre Dame (Nos. 3 and 4, respectively, in our Top 25), Hartman has still thrown for 10 touchdowns and has fared very well against opponent's blitzes (61.1% adjusted completion percentage, 83.7 passer rating when blitzed).
6. Penei Sewell, T, Oregon
2018 season grade: 82.5
Sewell has slid right into the Ducks offensive line, filling in quite admirably for Tyrell Crosby. Currently grading out at 82.5 overall, Sewell finds himself as the ninth-highest graded tackle, right below fellow Oregon Duck Calvin Throckmorton, who is tied for seventh at 83.5 overall. Sewell has allowed just four pressures on 160 snaps in pass protection.
7. Trevor Lawrence, QB, Clemson
2018 season grade: 81.6
The Kelly Bryant-Trevor Lawrence saga is officially over and Lawrence is clearly healthy after his apparent head injury back in Week 5. He completed passes at a high rate against Wake Forest in Week 6 and of his five incompletions on the afternoon, only two were considered his fault (2 drops, 1 throw away).
7. Rondale Moore, WR, Purdue
2018 season grade: 81.6
Moore is a threat to take it to the house whenever he touches the ball and already has 41 receptions this season, 13th in the nation. Moore's 328 yards after the catch rank him sixth in the country and second in the Big Ten as he's shown he's a formidable threat with the ball in his hands, forcing 13 missed tackles after the catch.
9. Amon-Ra St. Brown, WR, USC
2018 season grade: 81.3
St. Brown's connection with fellow true freshman QB JT Daniels has paid dividends early as they both find their feet at the FBS level. 15 of St. Brown's 25 receptions have either gone for a touchdown (2) or a first down (13).
10. Caden Sterns, S, Texas
2018 season grade: 79.9
Sterns has made the plays you'd expect from an impact safety in coverage. In 235 snaps in coverage, he's been targeted 13 times as the primary defender. On those targets, he's allowed just four receptions for 46 yards while bringing in three interceptions and two more pass breakups for a paltry 2.9 passer rating when targeted.
Others near the top of this list:
Keaontay Ingram, RB, Texas – 79.9
Jake Ferguson, TE, Wisconsin – 79.4
Jevon Holland, S, Oregon – 79.2
Bryce Carpenter, QB, Syracuse – 78.2
Rashad Ajayi, CB, Colorado State – 76.1